The emulator you download for your PC depends mostly on what features you need. An Android emulator can allow you to play games and use other Android apps right on your desktop. As for LDPlayer Android emulator, one common reason for using emulators is that mobile gamers can run Android games on their computers to create a new gaming experience. They don't have to worry about the battery life of their devices and can make use of the advantages of PC gaming.
Android emulation on desktop becomes possible and more sophisticated with many emulators launching into the market. Below will show you how to use an Android emulator for Windows PC using LDPlayer.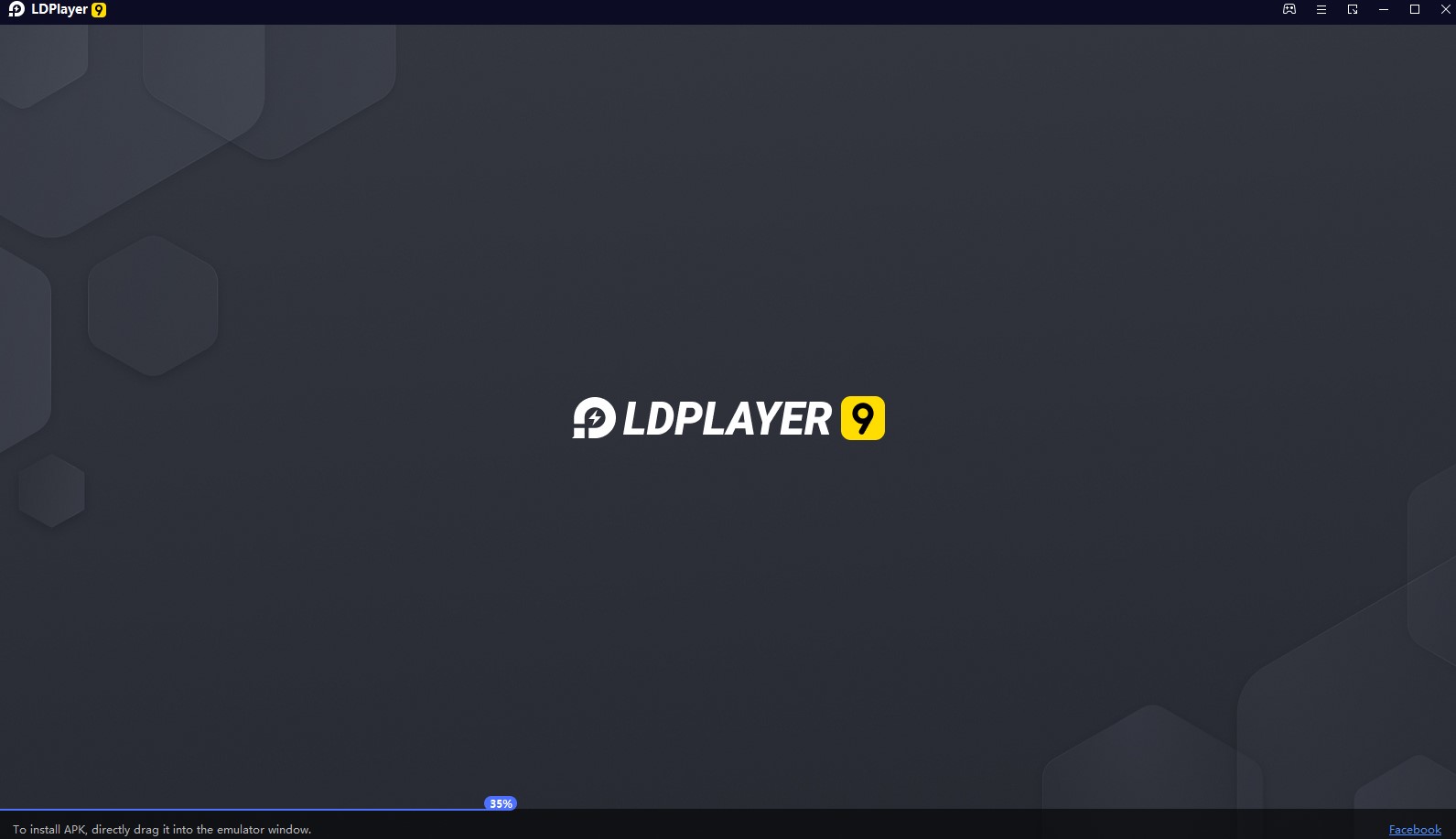 Lightweight Android Emulator - LDPlayer
LDPlayer is a free Android emulator using virtualization technology and it can help people experience Android operation system on their powerful computers. It is one of the best and lightest Android emulators for windows.
Though LDPlayer is designed by a Chinese software company, it was released for all the users around the world so that everyone can enjoy mobile games and apps on their large desktop. LDPlayer is a safe Android emulator for windows and it doesn't contain too many ads. It also doesn't contain any spyware.
Compared with other emulators, LDPlayer offers not only comparable performance but also blazing speed for running Android games on PC. As it says, "The Best Android Emulator for Playing Mobile Games on PC". Also, the company developed LD Store as play store for all players to download and install applications not only on the emulator but also on their Android phones. Download LDPlayer on your PC first!
LD Store: Download Your Favorite Apps&Games on Any Device
LDPlayer has come with a default App Store for downloading millions games and apps. One advantage LD Store can bring to you is that you don't need to sign in the store to download applications. Compared with Google Play, LD Store really makes the download process simpler and easier. This could be very useful and efficient for some mobile users to install various apps&games as a default play store. Moreover, LD Store offers more compatible APKs that should be running smoother on emulator.
Normally, LDPlayer emulator is packed with the LD Store. But if you want to download LD Store on your mobile phone, here is an official download link for LD Store APK.

Download LD Store for Mobile Use
NOTE: You can also download the app or game using individual APK files. Even if an app is not available on LD Store, it is still possible for you to download and install its APK file into the emulator. Just drag-drop APK files on the LDPlayer window and it will start installing the app automatically.
LDPlayer Emulator System Requirements
It's so true that the emulators consume most of the PC's hardware resources in order to function normally. This might be the reason that your computer stars acting slow while an emulator is running. So, for the best results and high performance, we tend to pick up a lightweight Android emulator and LD Player is one of the best choices.
It's also true that the performance of emulator depends on the computer configuration. Some people have a monstrous computer and others don't. But LDPlayer requires less to run smoothly on your computer because this unique emulator of Android OS focuses on providing you with the best applicability. So, what are the minimum system requirements to run LDPlayer on desktop?
Minimum System Requirements
·Intel or AMD CPU Processor x86 / x86_64
·Windows XP XP3 / Win7 / Win8 / Win8.1 / Win10
·Windows DirectX 11 / Graphic driver with OpenGL 2.0
·Minimum 2GB of system memory (RAM)
·Minimum 36GB of free hard disk space
·Hardware Virtualization Technology (Intel VT-x/AMD-V) enabled in BIOS
Read this if you don't know how to enable VT: Simple Steps to Enable VT on Your Computer

Recommended Specifications for LDPlayer
·CPU: Intel i5 7500
·RAM: 8GB
·Disk Space: 100GB
·Graphics Card: NVIDIA GeForce GTX 750 Ti
How to Check Computer Configuration on Windows?
If you're not sure about your computer specifications, you can use the feature of "Diagnostic information" in LDPlayer to check your device. LDPlayer has done a very good job offering this diagnostic feature and this design really helps those who're not familiar with computer specifications. The following are three simple steps to check your PC.
1. Open LDPlayer emulator first
2. Click on the "three bars" above
3. Click "Diagnostic information" and you'll see your computer specifications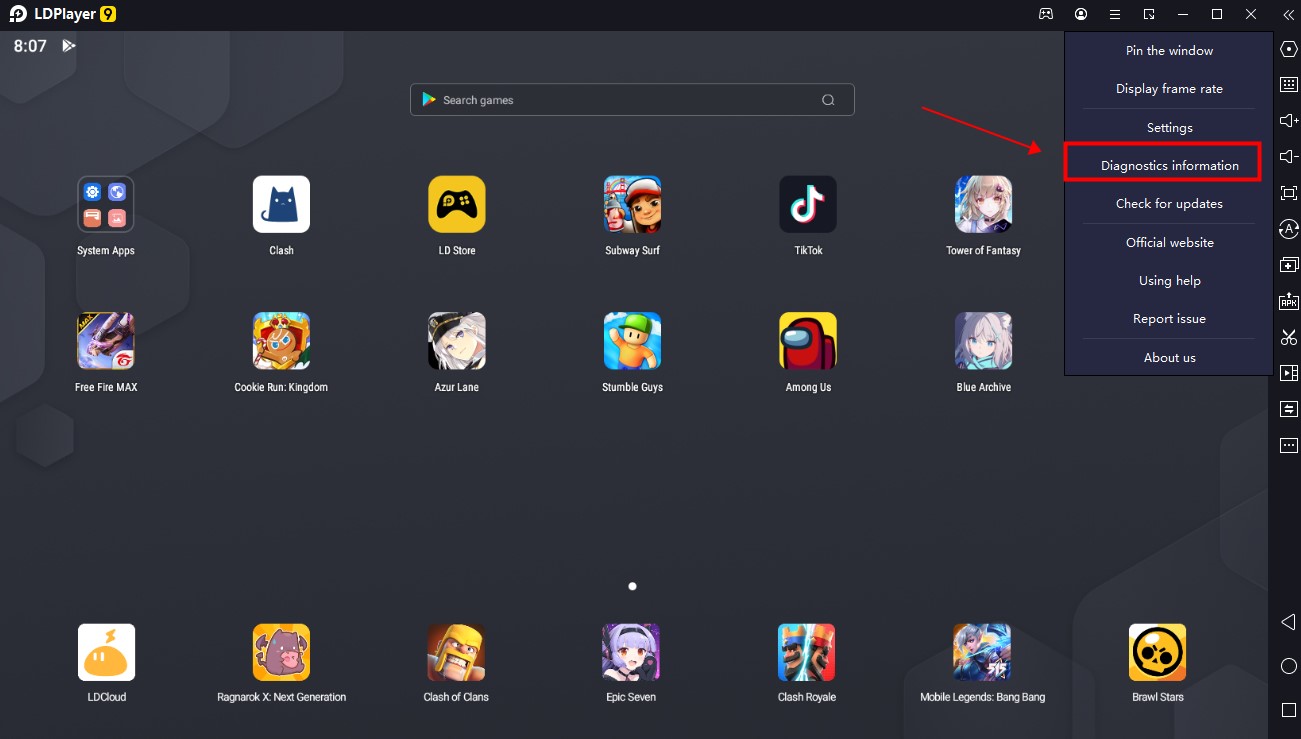 NOTE: If you encounter any problems with the emulator, you can report your concerns and send the diagnostic info to LDPlayer on the official Facebook page or Subreddit Community:
https://www.facebook.com/ldplayer
https://www.reddit.com/r/LDPlayerEmulator/

Read Also: Tips for Improving the Performance of LDPlayer Emulator (LDPlayer Optimization)
Top 5 Ways to Fix Lags in Android Emulator
[Solved] Apps/Games Keep Crashing on LDPlayer
Play Games at Higher Frame Rate on LDPlayer
Uninstall Windows Update (KB4100347) to Improve CPU Performance by 10%
Turn Off Windows Update to Accelerate Your PC
Features and Functions of LDPlayer Android Emulator
Running Android Apps and Games on Windows
Many of us are playing mobile game because of the many advantages of the mobile platform. So why would one want to go back to desktop and play mobile games on PC? There are actually good reasons why you should give it a try.

·Play Games on a Bigger Display - Show more details
·More Familiar and Better Controls - Play with keyboard and mouse
·True Multitasking - Run multiple windows simultaneously
·Faster Processing Power - No lags and crashes
·No Battery Draining - Longer gameplay and non-overheating

Many mobile gamers play Android games like PUBG Mobile, Free Fire, Epic Seven, Mobile Legends, King's Raid, etc, using LDPlayer on their computer. Here's a gameplay video from YouTube featuring Free Fire on emulator.
Keyboard Macros and Custom Mapping for Games
One of the biggest advantages of running games on emulator is that you can set macros and create a custom mapping for the games you're playing. This is pretty useful when you need different game controls to perform better in your gameplays.
Introduction to Keyboard macro
Introduction to Keyboard mapping
Synchronizer for Better Control of Multi-Instances
LDPlayer contains a built-in operation synchronizer, which is creative and important for controlling multiple instances at the same time. This feature will shorten your time when repeating the same operations in several emulators. Some gamers might want to use synchronizer to play several game accounts and generate more resources.
Introduction to Synchronizer
Video Recorder
One useful feature supported in LDPlayer is screen recording. Though the recorded videos might not be high definition, it's enough for showcasing a gameplay/app recording and sharing it on social media platforms. The default shortcut for video recorder is Ctrl+F1. You can reset the shortcut on the settings.
Introduction to Video Recorder
Gamepad Support
Besides keyboard and mouse, LDPlayer also supports gamepad controller, which will be great for those who love playing games using a controller. If you've connected your gamepad to your computer, you can enter the gamepad settings from the iron on the title bar of LDPlayer.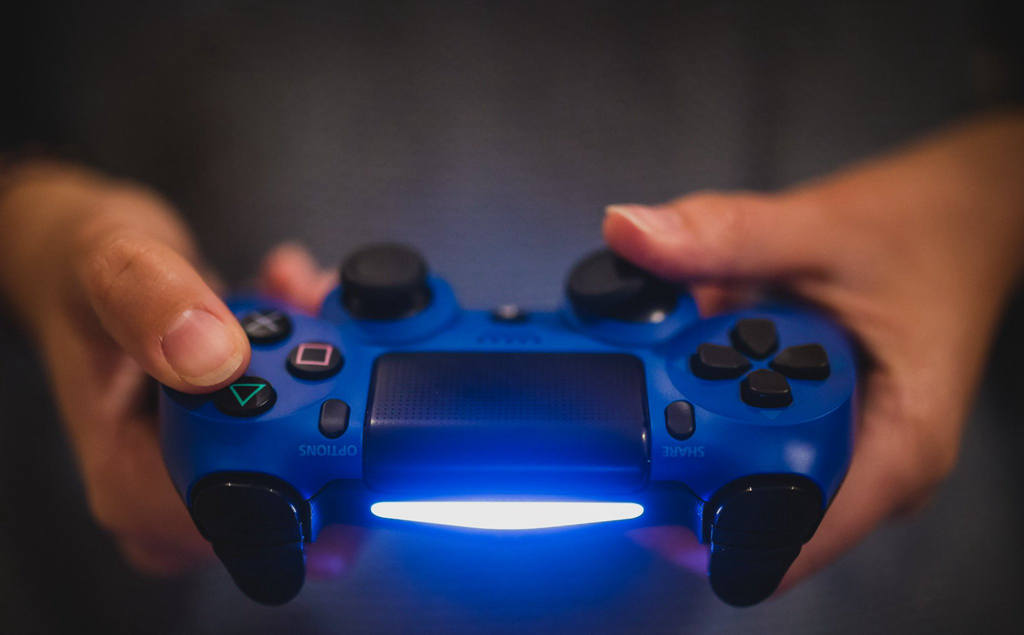 Customizable Settings
LDPlayer is a highly customizable emulator which allows the users to have control on all basic Android settings. Users can personalize their emulators by setting screen resolution, CPU, RAM, properties, shortcuts, game settings, etc. The custom version is more for app developers and specific gamer.
Downloading and installing LDPlayer on your computer is a simple and easy process. Once you have LDPlayer installed on your desktop, you can really run it as an real Android phone. If you want to play mobile games and use Android apps on LDPlayer, you just need to download them from play store. It's similar to what you normally do on your mobile phone.
Read Also:
LDPlayer Can't Detect Your Enabled VT?
Invalid Virtual Disk?Simple Way to Fix it
The Solution to Network Error on LDPlayer
The Solution to "Failure to initialize"
Fix Failed to Get COM Interface (InvalidVirtualBox)