As we know, a macro is a shortened version of a computer command which makes the computer carry out a set of actions. The main function of macro: multiple events could be triggered through one click. Now I will give some examples.

1. Press F (any keys can be set) to trigger 3 clicks, whose coordinates are as follows respectively, (800, 600), (900, 600), (1000, 600).
2. When you press F, the dot (800, 600) will be clicked automatically. When you release F, the dot (900, 600) will be clicked automatically.
3. Slide.
4. loop command: Long press F to execute click events.
5. Long press.
6. key command: Call the key that you have set. It will be easier to implement the combo. When you press 6, the skills of E and W will be released respectively and the direction of these skills follows your mouse.
7. text command: Chat with others through one key in Arena of Valor. Trigger the Enter key to open the chat window using key command first, and then copy the words that you have set previously to the chat text-input box via text command.
8. switch-mouse command: Show or hide the cursor in games like PUBG MOBILE. View the picture 1 below. Besides, please note that you need to drag the Shoot-view to LDPlayer if there is no keyboard mapping for it. For example, now there is no keyboard mapping for Rules of Survival, so you need to drag it first, as shown in picture 2 below.

In 3D games, it can be used to press right button to change your view and then show your cursor after you release right button, as shown below.

size 1920 1080
ondown
switch-mouse
onup
switch-mouse

9. mouse-lock command: It is used to lock your mouse and so your cursor won't be moved outside LDPlayer.
10. Click multiple dots. (Only available for the version 3.55 or later)
size 1280 720
press-1 855 487 #open/close doors
press-2 823 275 #pick up the first item
press-3 1155 322 #exit vehicles
press-4 640 440 #revive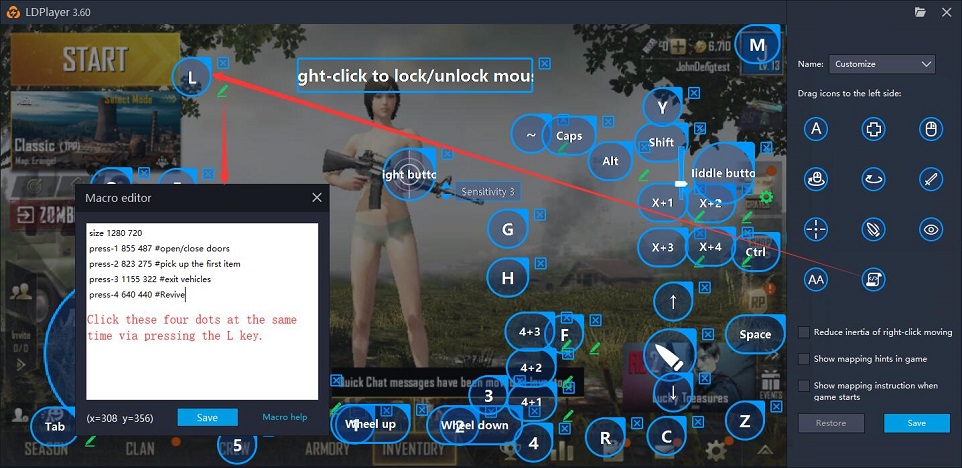 The way to get the coordinates: when you hover your cursor over one dot, the coordinate of that dot will be showed in the bottom left corner of Macro editor automatically. (Only version 3.24 or higher has this function.)
Many other functions can come true as long as you are imaginative.