Lords Mobile is a real-time strategy game and is one of the hottest mobile games with vivid 3D graphics. One of the best things about Lords Mobile is the guild system where you can join a guild and chat with friends like Clash of Clans. Besides playing Lords Mobile on your mobile devices, Android users can also play Lords Mobile on a bigger screen computer with a free Android emulator for PC - LDPLAYER. You can leave the burden of battery and RAM usage to your computer and enjoy longer AFK.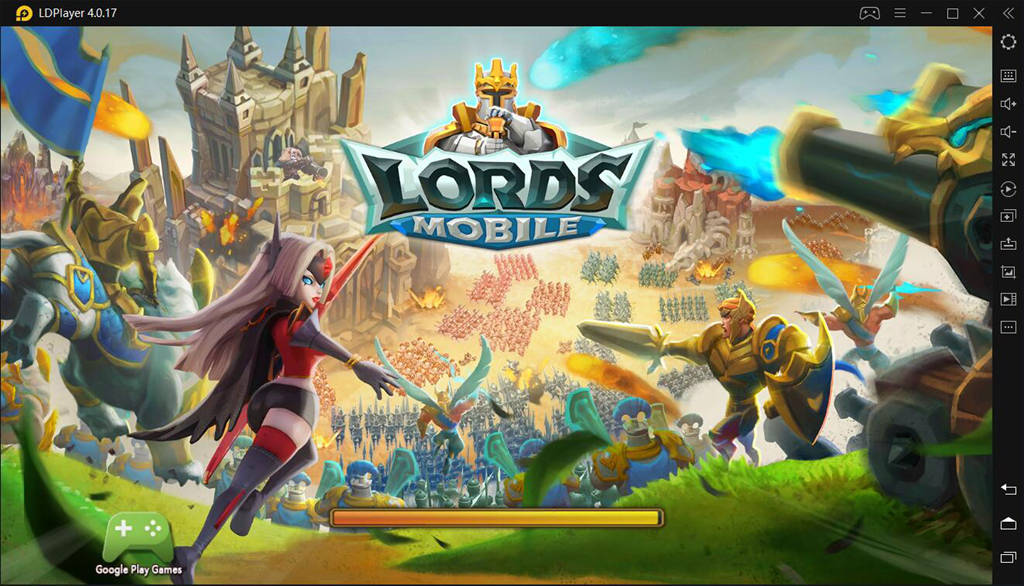 Why LDPlayer: LDPlayer is a free Android emulator that enables you to play most Android games on PC with keyboard and mouse. Trusted by millions of people from different countries, LDPlayer offers multiple languages including Korean, Portuguese, Thai, etc to make it more user-friendly. Besides simulating a basic Android OS, LDPlayer also contains many features that will bring your Android gaming to the next level on PC.
Full Android experience with well-developed Android 5.1 and Android 7.1

Flexible customization for CPU, RAM, Resolution, Device Model, Root Mode, GPS, etc

Support keyboard and mouse controls to replace screen touch

Support multiple instances to play several games simultaneously
Support script writing with Operation Recorder

Offer Local Installation from LD Store (Bypass Google Play to download other regions' games, no need to log in your Google account)

File sharing between Your Windows and Android

Fast APK installation by dragging and dropping
How to Play Lords Mobile on PC
If you are looking for the best way to play Lords Mobile on PC, then LDPlayer is the recommended Android emulator that helps you to power up the gameplay. The following will show you how to install Lords Mobile on LDPlayer.

Step 1: Download and install LDPlayer on your desktop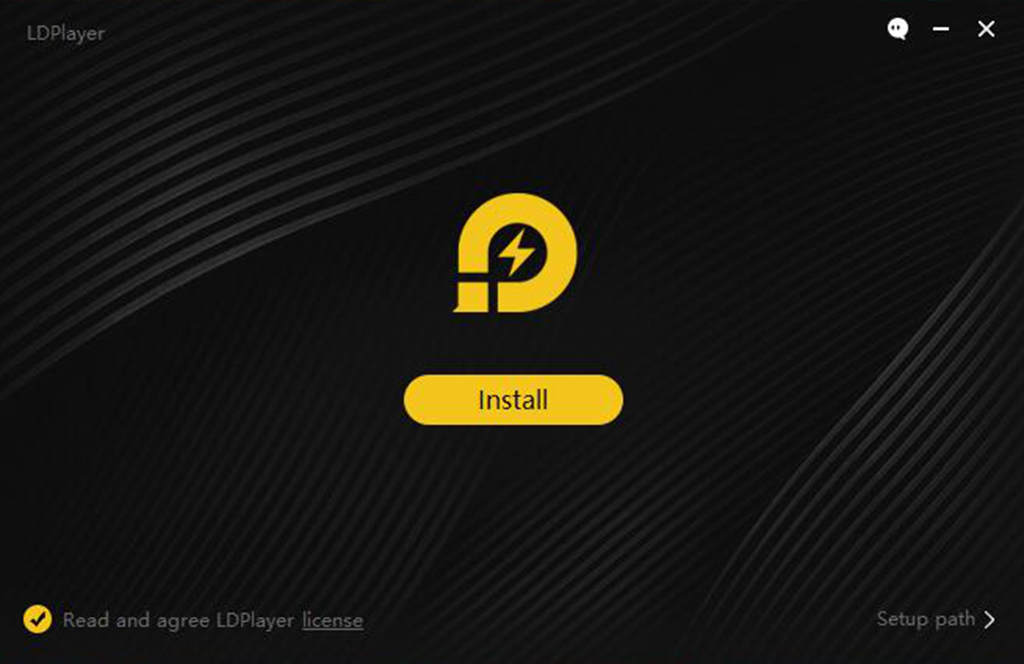 Step 2: Search and download Lords Mobile from LD Store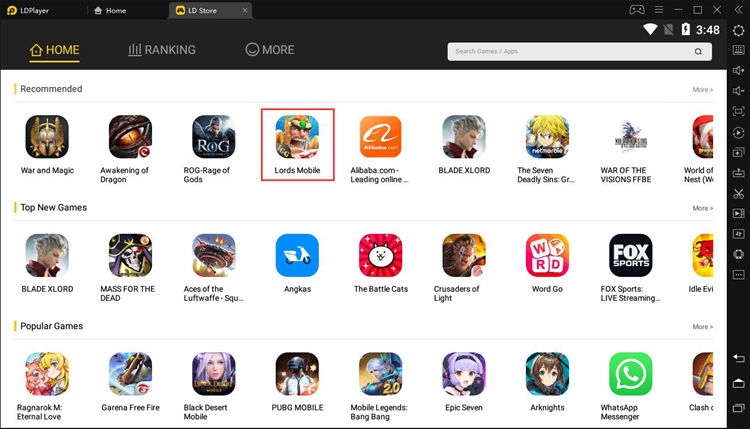 Step 3: Install Lords Mobile on your emulator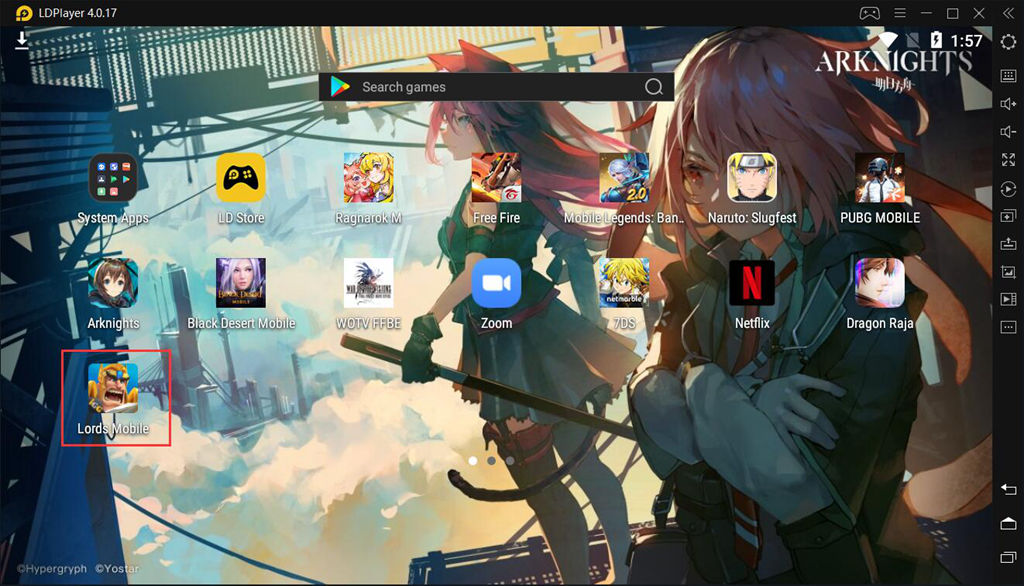 Step 4: Enjoy playing Lords Mobile on PC with LDPlayer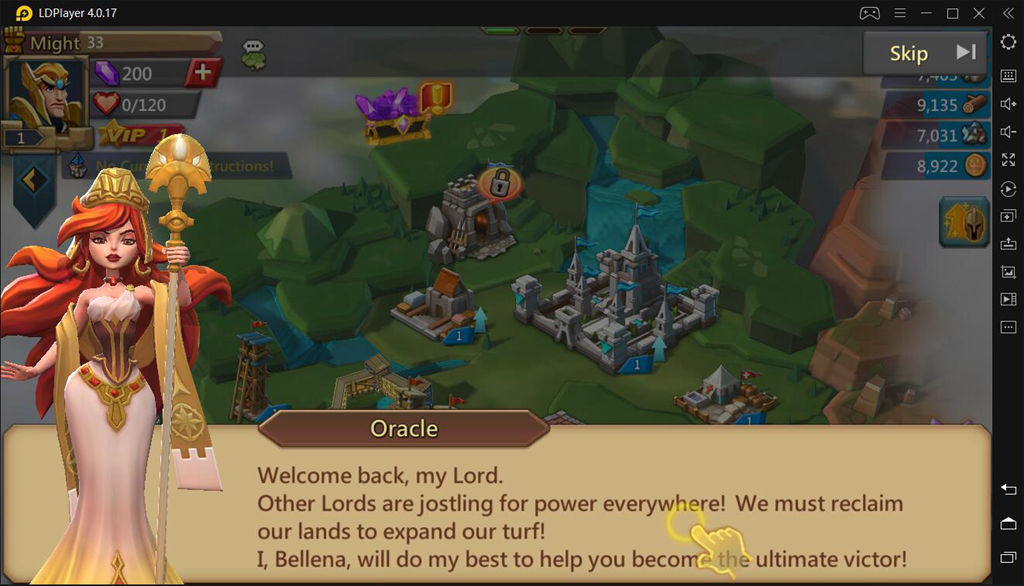 Setting up to play Lords Mobile on PC with LDPlayer is quite simple. You can download LDPlayer 3 simulating Android 5.1.2 or LDPlayer 4 using Android 7.1.2 first on your desktop. Both versions are capable of playing Lords Mobile smoothly on PC while LDPlayer 3 is more stable and LDPlayer 4 is faster. You can download LDPlayer 4 from our home page.
Note: If you already had LDPlayer 3 installed on your desktop and you want to try LDPlayer 4, then you should install LDPlayer 4 in a different path from your current version of LDPlayer 3. These two versions are separated.
How to Use Keyboard to Control Lords Mobile PC
By using LDPlayer Android emulator, now you can use your mouse and keyboard to operate your Lords Mobile gameplay. After you enter the gameplay of Lords Mobile, you can go to the tool bar and enable keyboard mapping settings. You will see a panel with several icons that command different actions. You just drag the one you need to the exact input position and assign a key for that command.
Maxing out the Performance for Lords Mobile
If this is your first time playing Lords Mobile on PC with an Android emulator, then you can check the following tips to optimize your gameplay performance for Lords Mobile.
Enable Your Virtualization Technology
Most CPUs come with the Virtualization Technology(VT) and this technology can enable your CPU to act as if you have several independent computers. It's designed to enable several operating systems to run at the same time on the same machine. That's how LDPlayer Android emulator operates on your computer. By enabling VT, you can boost the performance of LDPlayer and Lords Mobile.
Read: How to Enable VT (Virtualization Technology)
Update Your Graphics Driver for Maximum Gaming Performance
Graphics driver is the software that allows your operating system and programs to use your computer's graphics hardware. However, if you have both integrated graphics and dedicated graphics, you may want to make sure LDPlayer is using the dedicated graphics. After that, you can use a free Driver Booster to update your graphics driver, which will increase the graphics and FPS of Lords Mobile.
Read: How to Update Graphics Driver for Maximum Gaming Performance
Configure More CPU/RAM to LDPlayer
The performance of your LDPlayer emulator depends mostly on your computer. The most computer resources you assign to LDPlayer, the better performance you can get for your Lords Mobile gameplay. However, if you have a beast computer, there's no need to allocate too many resources to LDPlayer as well. It might slow down your computer.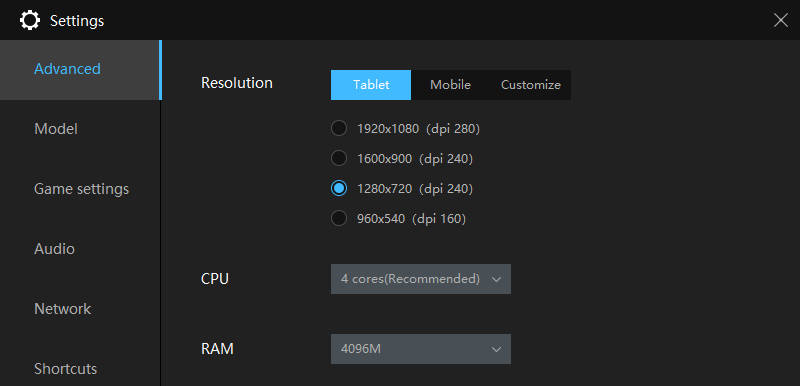 Advantages of Playing Lords Mobile on Desktop
If you try to play Lords Mobile on your computer, we believe that you will enjoy the process of gaming experience and there are some advantages of playing Lords Mobile on PC.
•Vivid 3D Graphics
Since the interfaces of Lords Mobile are very rich and the graphics are cartoonish, playing Lords Mobile on pc has a better effect.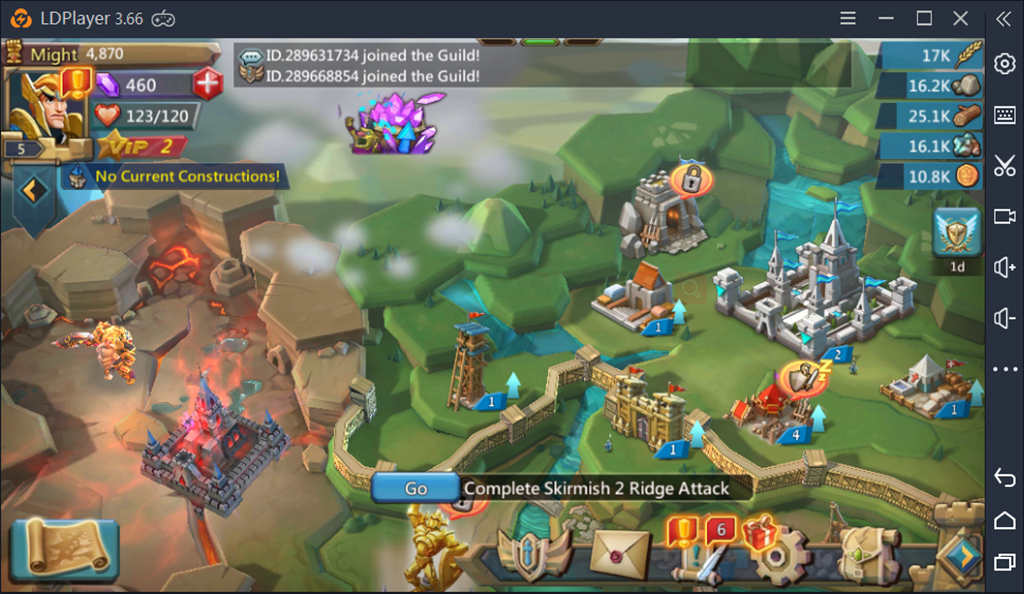 •Global PVP
The gameplay is focused on PVP that enabled the player to engage in flights at the center of every kingdom. The player also can join guild all over the world, chat with other players and battle on the map.
•Heroes Battles
The hero-battle mode is an excellent experience for gamers. The player can collect various heroes and also can join the RPG-style battles with bosses.
•Skirmish Battles
You will enter a set of army wars. Joining in a guild can help and be helped by other players even it is a fast way to gain free items, gems ad more.
Simple Tips for Lords Mobile
1. Scouting before Battling
Scouting is a great tactic to deploy before Battling. It is helpful that will increase the probability of winning a battle. However, not all battles are the same. Some may require you to bring more cavalry and others will require more infantry. "Drumyr" is a master of traps and formations, you can use "Siege Engines" to break his wall.
2. Treasure Trove can Get Crystals Fast
Treasure Trove is the most effective way to gain crystals fast. There are only 9 levels to upgrade and it will unlock when you complete Skirmish 8 Castle 17. Besides, don't forget to visit the Treasure Trove once in a while.
3. Don't Neglect to Collect Resources
The majority of the newcomer will spend most of their time building their army. However, the kingdom cannot grow well without enough resources. It is essential to do an Admin Quest that you can get to accumulate more resources while you are doing something else in the game.
4. Pay Heroes is not Equal to Victory Easily
As for some gamers which might be a newcomer will deem "paid" heroes are always better than free ones. Nevertheless, it doesn't mean that you can't win the game by free heroes. It is unwise that concern more to pay money to get better. The most effective way is making more practice and knows how to play.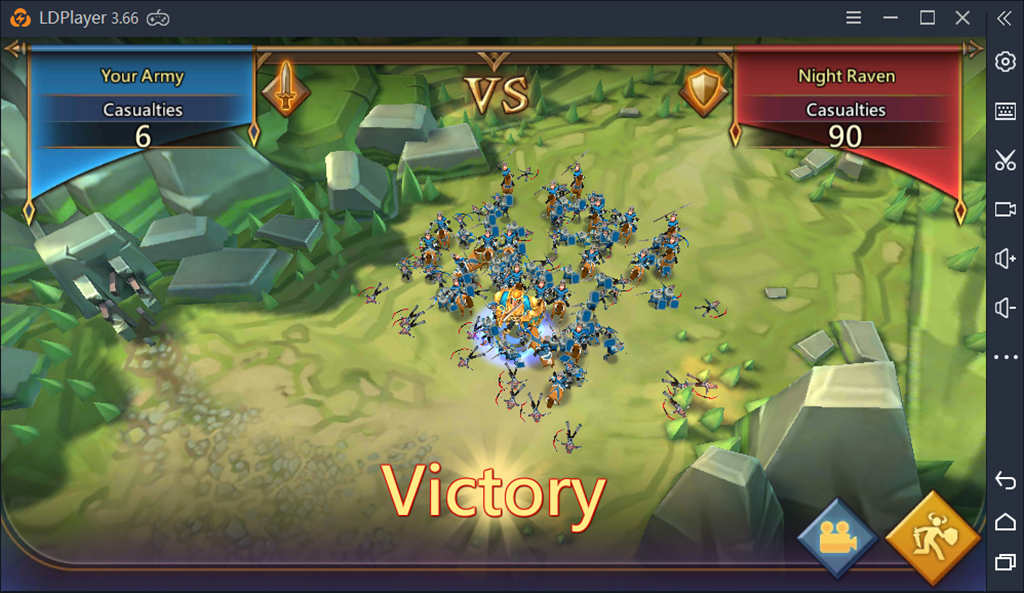 Conclusion
Playing Lords Mobile on laptop or PC has many merits and you can set hotkeys or macro through the keymapping feature to launch special attacks when heroes charge up. What's more, using an Android emulator on your desktop not only can enable you to play as long as you want, but it also can enable you to perform better in Lords Mobile. At the end of this blog, hopefully, you can make further progress by those simple instructions!