Released in 2016 by Microsoft, Hyper-V is a powerful competitor to Oracle's VM Virtual Box and VMware's Fusion. With Hyper-V enabled, you can run multiple operating systems as virtual machines on Windows. This article will explain what Hyper-V is and how to enable Hyper-V on Windows 10/11.
Notice: This article is specially written for beginners. So we pick the key points and explain them in simple words (not so tech-oriented.) Scroll down!
Content:
Hyper-V is a Microsoft technology that let users virtualize the operating environment so that users can run and manage multiple operating systems on a single physical server.

If you want to explore its inner technology, you can learn about virtualization. Currently, Hyper V and VSphere take the main share of the virtualization market. We prefer Hyper-V.
In other words, if you own a Windows machine and want to install a Mac- available only application, Hyper-V can help you. You can use it to run a macOS instance to install it. Considering this article is for newbies, you can learn what Hyper-V is through its usage.
Run multiple operating systems as virtual machines on Windows. As mentioned before, you can test and run MacOS available only software on Windows. Furthermore, you can run applications that require an older version of Windows. So you can make development and test more efficient without having to buy all the hardware you'd need.
Improve business continuity. With Hyper-V, you can run them all on a single desktop or laptop computer. These virtual machines can be exported and then imported into any other Hyper-V system, including Azure. Then you can save and migrate the data from a legacy system.
Increase security. If you want to run an untrusted file on your PC, using a virtual machine will bring an extra buff of security. Also, it's also available to enter into some dark websites.
---
Supported System Requirements for Hyper-V
Before diving into the steps of enabling Hyper-V, you need to check whether your system is supported to run the virtual machines.
System Requirements:
In general, an operating system that uses an x86 architecture will run on a Hyper-V virtual machine. In general, Hyper-V can be enabled on Win 10 Enterprise, Win 10 pro and Win 10 Education. It cannot be installed on Win 10 Home, Win 10 mobile and Win 10 Mobile Enterprise.
Note: For Win10/11 Home users, you can upgrade to Win 10/11 pro to use it (Settings > Update and Security > Activation.)
Minimum Hardware Requirements:
64-bit CPU with Second Level Address Translation (SLAT).

Processor must support VM Monitor Mode Extension (VT-c on Intel chips).

4GB of memory at a minimum. As virtual machines share memory with the Hyper-V host, you will need to provide enough memory to handle the expected virtual workload.
For more details, you can refer to this article by Microsoft: Windows 10 Hyper-V System Requirements.
---
Except the systems cannot support Hyper-V, Hyper-V is preinstalled with Windows 10 in general. You just need to enable it.
Step 1. Type "Windows Feature" in the search box. In the best match, you can see the control panel of "Turn Windows features on or off".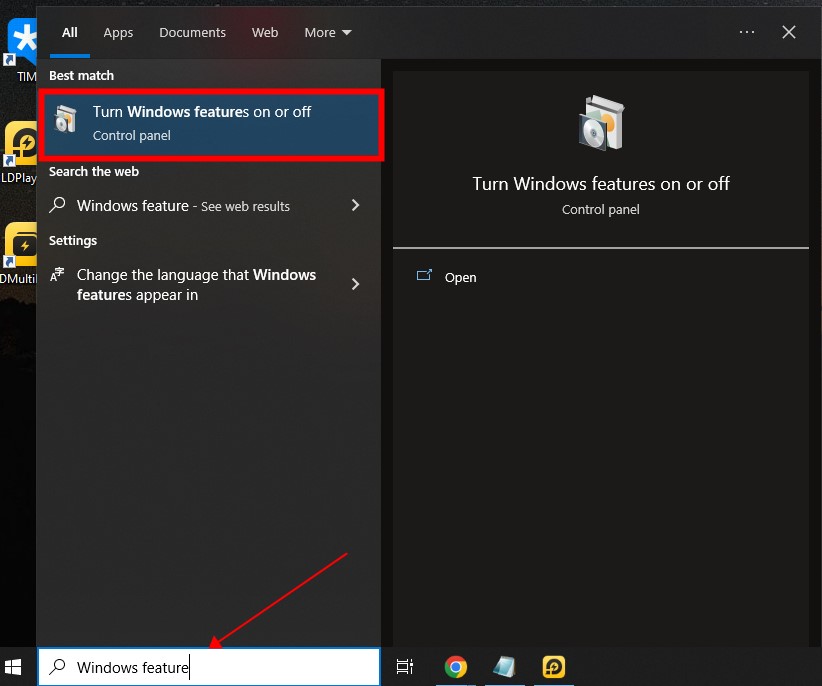 Step 2. Enter into the Windows Feature. Check the Hyper-V and then click "OK" to save the operation.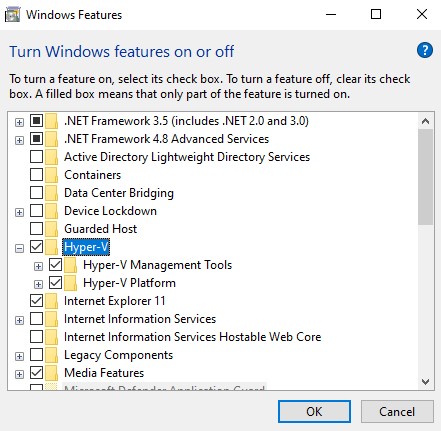 Step 3. Then you just need to wait for the activation. Restart your computer to use Hyper-V.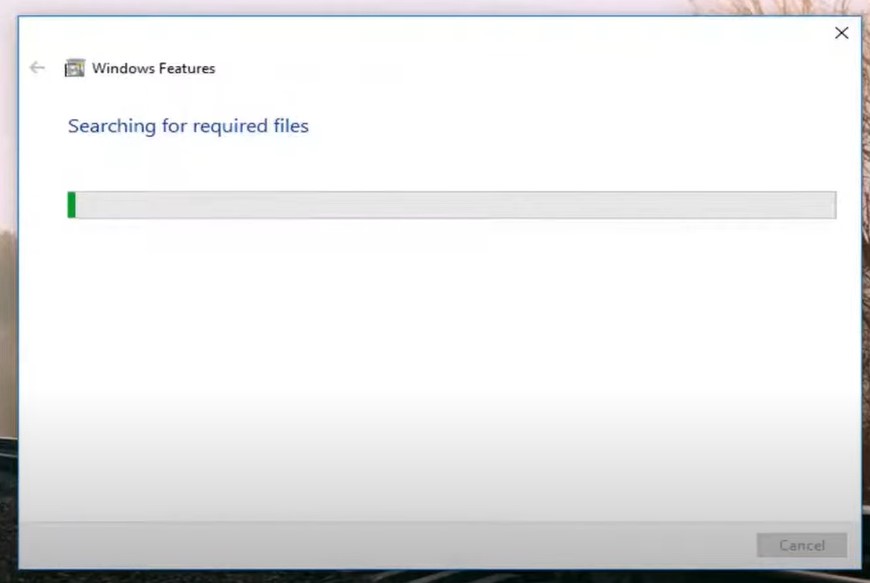 Now that Hyper-V is enabled, you may start creating your first virtual machine (VM).
---
For Android gaming players, to play Android games on PC is not a dream ever with the virtualization technology. There are many user-friendly and lightweight Android emulators in the market like LDPlayer. Compatible with V-box and Hyper-V, LDPlayer 9 enables users to play Android games and use kinds of applications on PC in a safe & stable environment.
Note: Most of the emulators in the market are based on Vbox (virtual machine) to support running Android apps on PC. While Vbox will conflict with hyper-v so that the emulator can not start when the computer opened hyper-v. LDPlayer 9 is compatible with Vbox and Hyper-V opened at the same time. But if you want to enjoy a smoother gaming experience, it's recommended to disable the Hyper-V when you use LDPlayer.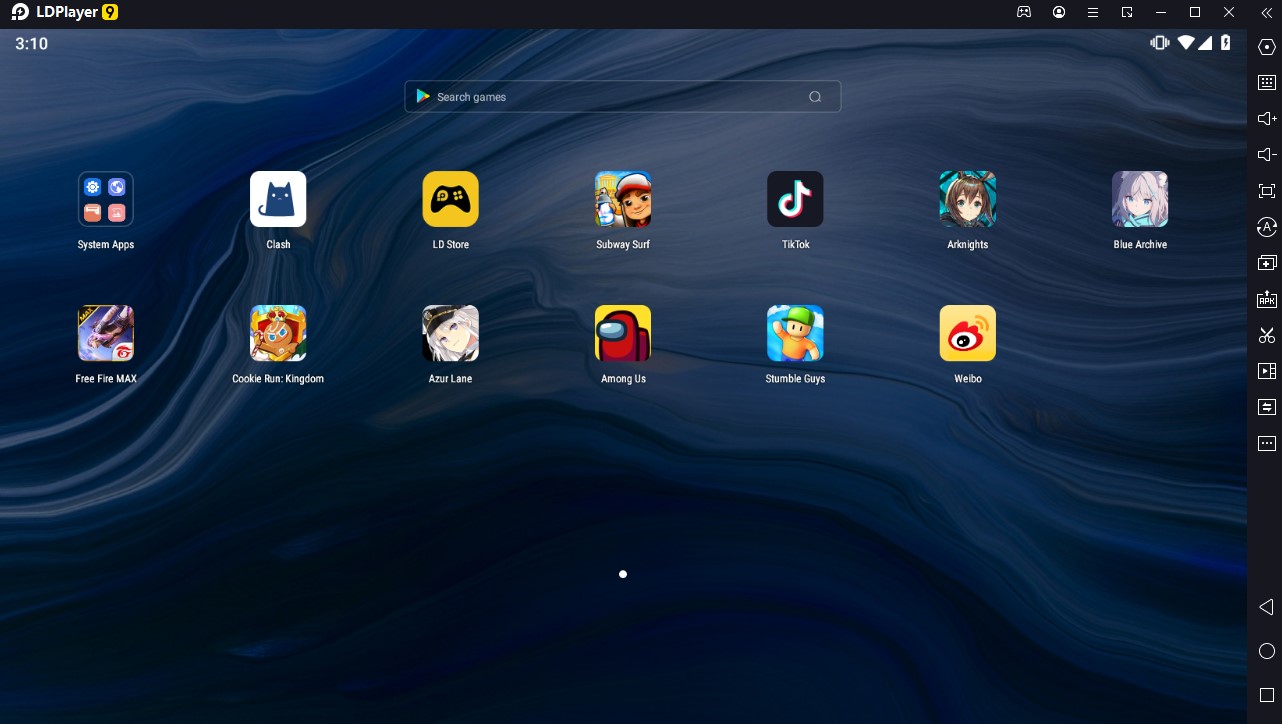 As mentioned before, using a virtual machine also makes sense for protection. With the virtualized OS, an extra layer of security brings into play. So if you want to run applications which is from untrusted sources, running on an Android emulator like LDPlayer 9 is also a good choice than testing it on your phone. In the meantime, LDPlayer 9 is equipped with functions like multi-instances, operation recorder, and keyboard mapping. It will improve your gaming/application experience.