Heaven Burns Red is a must to play game if you are a real JRPG game lover, and there is literally a world that has been attacked. There are girls that have been considered the last hope to this world, and you will be building the weapon Seraph to make them deal with this Cancer called mysterious creature because it literally makes this world destroyed day by day. And you better be prepared for these all as a beginner.
Table of Contents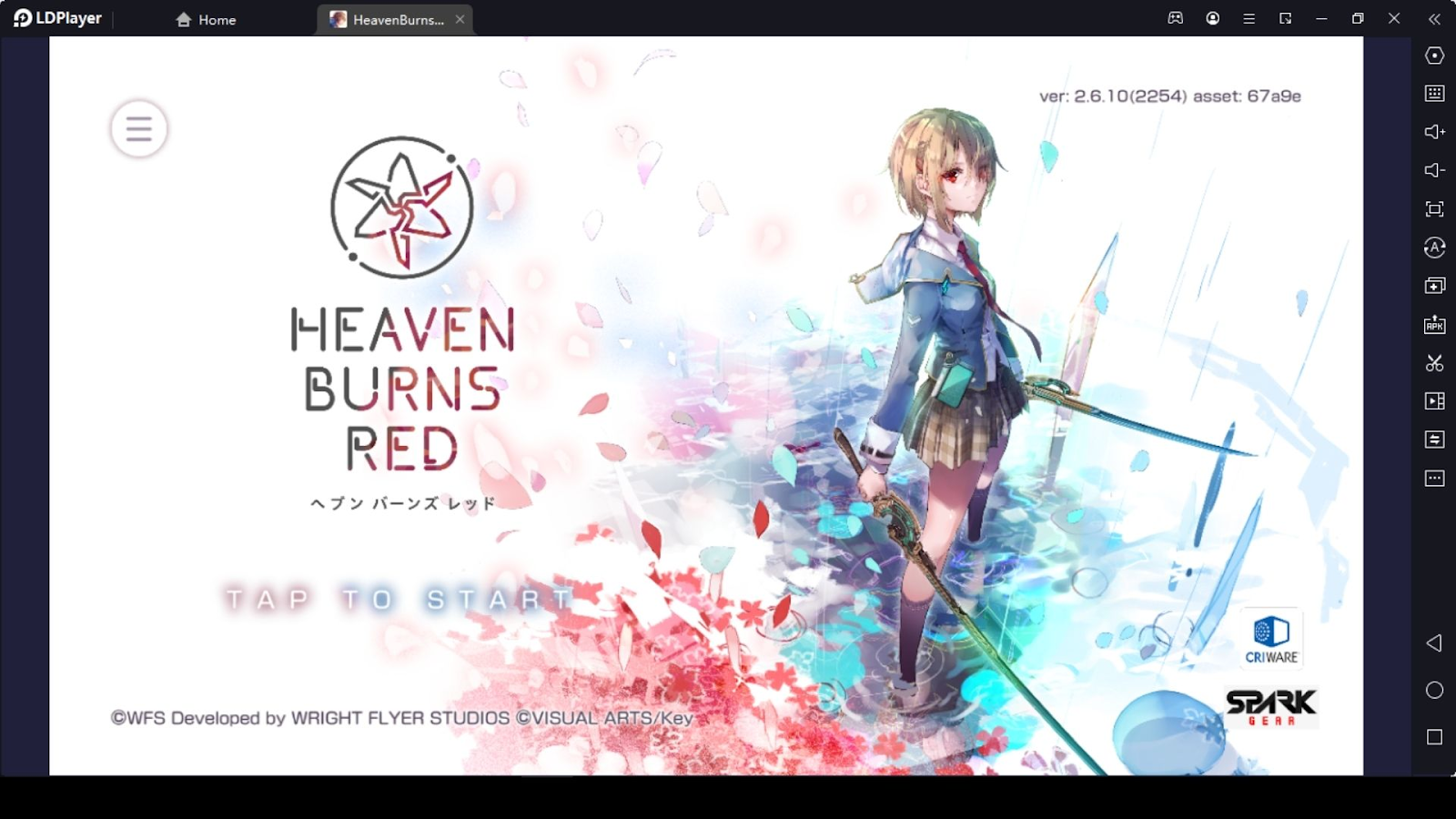 So for the people who love to get onto the Heaven Burns Red gameplay to the best, it is now your time to make it a better approach with a proper beginner guide, and here we are for it. There is nothing like good preparation that can prepare you for gameplay, which applies here too. So, have a play Heaven Burns Red on PC with LDPlayer 9 to reach for the best quality of gaming, and let's start the guide.
Get to Know About Your Characters
The first thing that you will have to learn as a beginner is about your Heaven Burns Red tier list because Heaven Burns Red characters matter entirely for your gameplay. They will be different in their powers and skill sets, so if you are focusing on making a better approach to the game, it is better to know them first.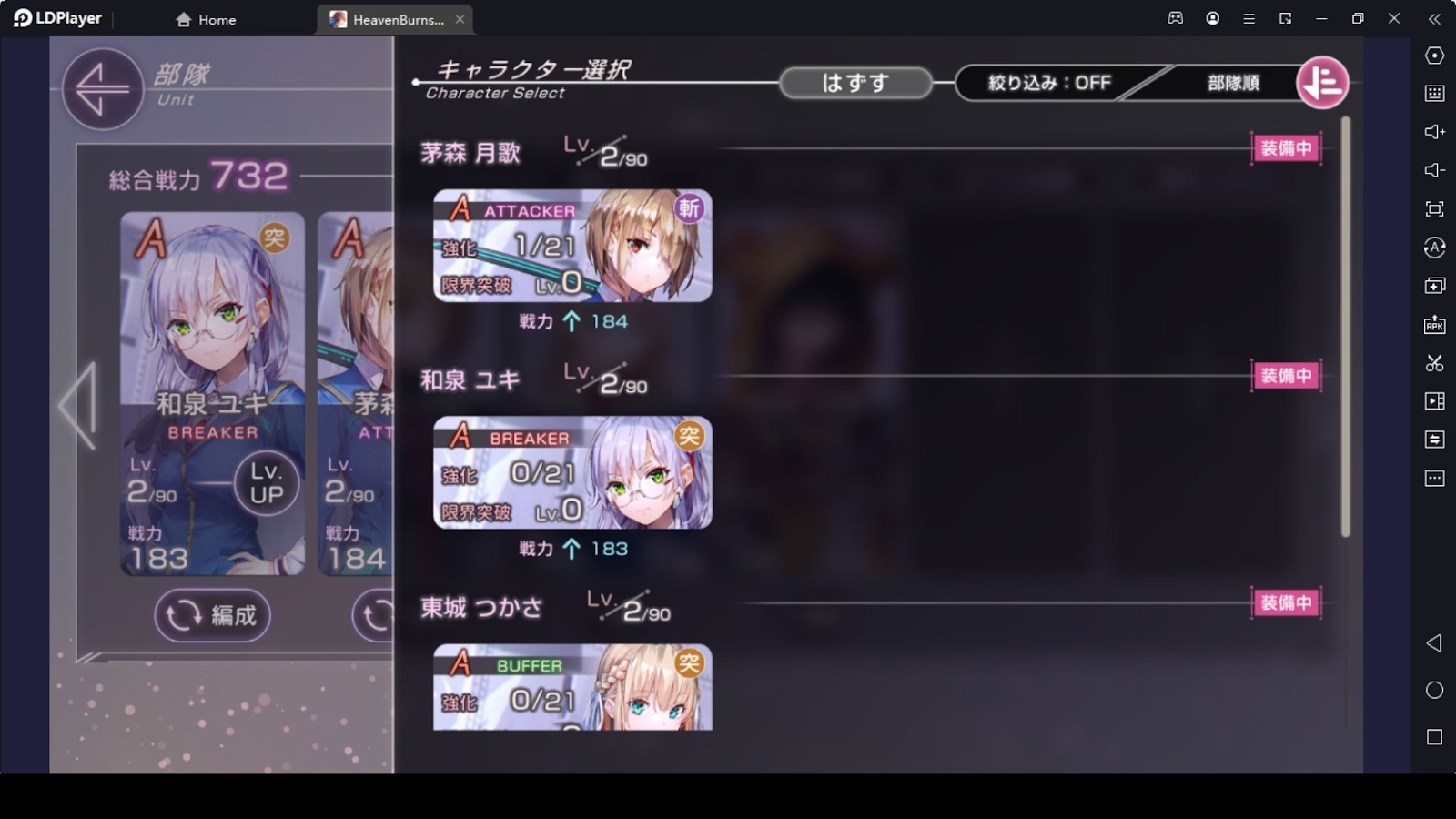 All the Heaven Burns Red characters have a specific rank that defines their strength levels in the game, and those focusing on doing a power movement should go for the highest rank. We can rank them up into four ranks S, A, B, and C, while S is the strongest and C is the weakest. So there is no chance for any of you to do the best for the gameplay if they go for a C rank, but you will always do the best with the S rank.
Heaven Burns Red Beginner Missions
The whole Heaven Burns Red gameplay comes with different types of missions that you need to take part in, and this is something that every beginner needs to focus on. Each and every mission allows players to earn breakthrough materials, which will be a real help for a level-up in the game.
The types of rewards you will be earning from each mission will vary for each day, and rather than making you level up, these are also one of the best Heaven Burns Red tips you can use to strengthen your abilities. It also creates a way to have more additional skills, so whenever you see that there is a mission that you can clear off, taking part in it will always give you better results.
Battle System in Heaven Burns Red
Let's now look into this game's battle system as a beginner. There are several rules applied here with the battle mechanisms, so if you are still a beginner, you better know these all before taking part in the battles.
First, in this game's battle system, you must keep your allies. If one of them gets killed by an enemy, the battle is going to be over. And also, you cannot decrease your HP to 0. So if you really want to protect your HP, then there should be a better focus on the DP. But in DP's case, they will not be respawned right after they get destroyed. And they are going to be revived for you once you exit the game's dungeon.
In combat, you are also not holding an HP recovery skill. So the whole combat can be relied on defenders as well with vanguards in such cases. Try your best to raise the powers of your characters to the best so that it can allow you to have more chances to face the damage in the best possible way.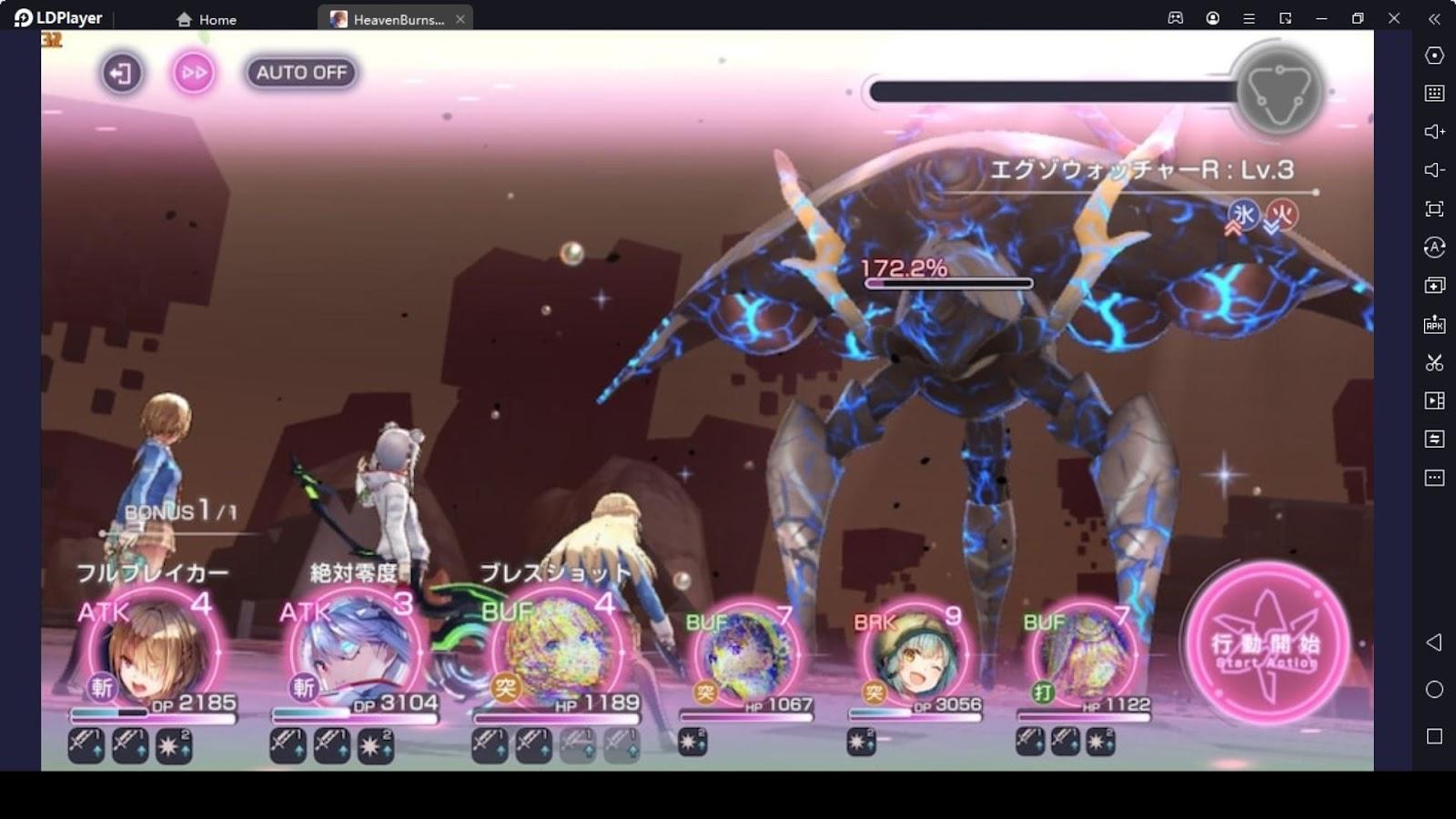 Quartz in for a Better Survival
Quartz has a special role in this new game, and these are generally helping a player to ensure their life with the game. This gives you a chance to restore your life, so try using quartz to your advantage in cases like losing your HP. At first, you will only need a few quarts as a Heaven Burns Red beginner to recover your life, but you will need more of them when you progress more.
There are several ways to collect this quartz from the game, and one of the top methods is to clear the story of the game. This allows you to earn quartz as a reward. Since there are several chapters featured in the story, the amount of quartz you receive will also vary with each chapter.
You can also complete more daily missions because it is one of the top methods to earn quarts. This guarantees to offer you 110 quartz, and you only have to take three lives for it. So try looking into each and every daily mission of the game so you will have more chances to restore your life, as they all have quartz for you.
Clearing the board mission will also offer you 200 quartz; note that this amount is there for each board mission completion. This means that the more you clear the board missions, there are more chances you have to receive quarts. There will be a total amount of 1420 quarts to gain here.
Clearing the exchange also gives you 200 quarts; in the clock tower, you can try beating the Cancer for 50 quartz to earn from each battle. Note that this beating is not only associated with quartz because it will also offer you memory fragments and a player rank EXP. Login bonuses, initial rewards earned from subjugation requests, cumulative missions, and memory stories are great ways to earn quartz from the game.
What is this Garden of Memory?
Garden of Memory is not a single unit as it has been made out of different game contents in this new game, and there is literally a map coming here with several gaming contents. You will access it here after you have cleared the third day from chapter 1. This is made out of the Clock Tower, Dungeon, Prism battles, Jewel prism battles, Accessory alchemy, Memory story, Labyrinth of jewels, as well as with the Orb system.
You can get into this Garden of Memories by clicking the Dungeon or the Clock Tower from the Train. Here you can give some effort to get items by battling, and those are going to be respawned daily from the Garden of Memories. Then there is also a GP shop where you can buy battle reports and purchase items here. When you do it within the Garden of Memories in the GP shop, they will be added to your main story progress. There will also be a GGP shop here to buy your enhancement materials.
The Garden of Memories will be opened up with the Clock Tower at first, and when you clear Chapter 1 from your 11th day, you will be able to take the dungeon as well as the prism battle. And then again, you will have to clear days 8 and 14 from chapter 2, as it will unlock more and more places within this Garden of Memory.
Leveling Up Yourselves for Better
As a beginner, if you are going to run out of your life, the best way to make it again is the arena. There are a lot of materials required for your style enhancements, and this means you can do as many laps as you want to, as each of them is going to be a real help on your side,
Fully automatic laps are going to be supported in the arena. So this means that even if you are not doing anything there, you can do some more work other than continuously doing the arena. It will be running with automatic laps for you.
Skill Enhancements and Beating Enemies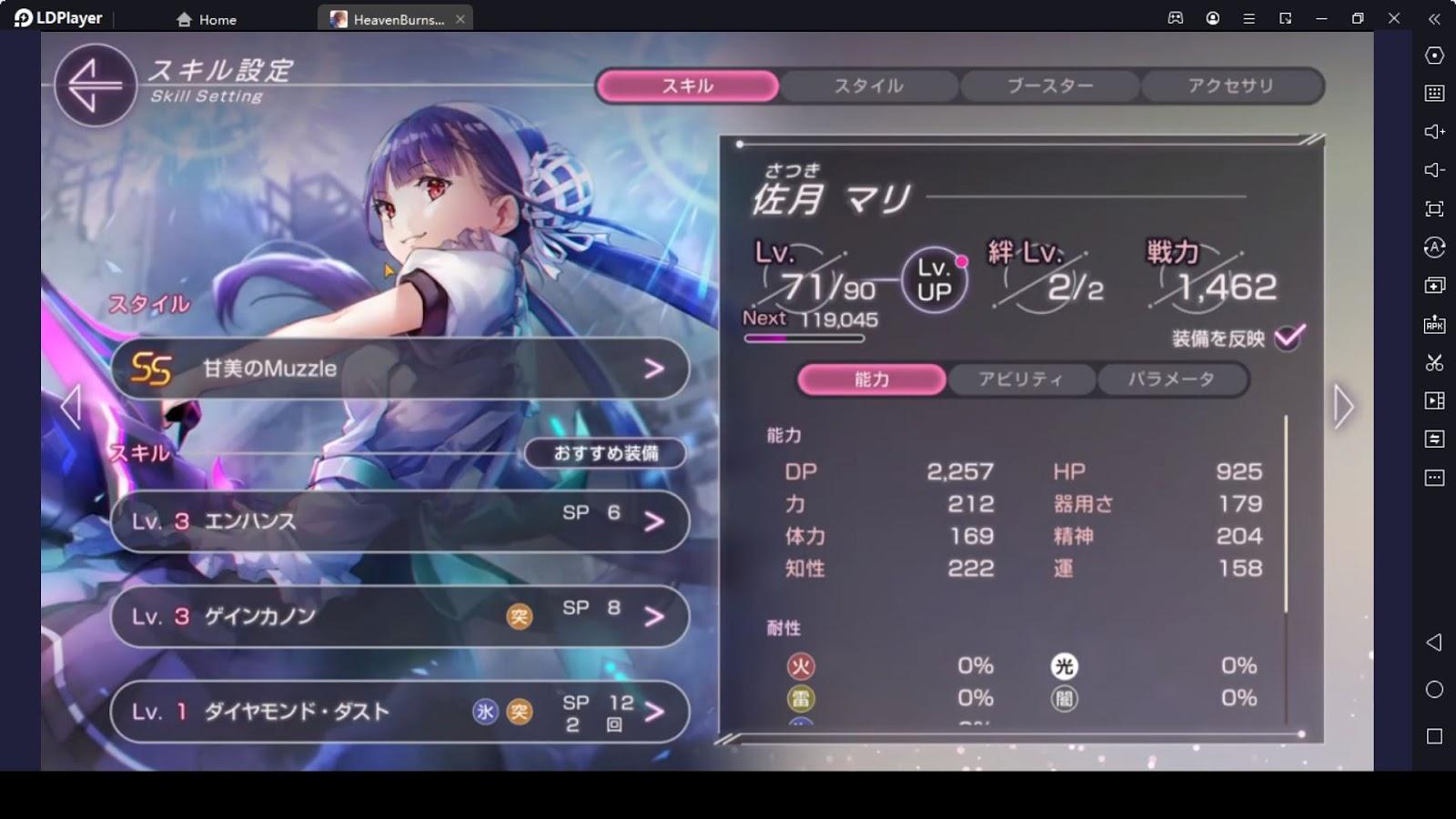 As for the last point from this Heaven Burns Red beginner guide, let's look into strengthening skills. You can go to the style enhancement for enhancing the skill levels, and please notice that your skills are going to be shared between all characters. So strengthening all of them from the game will be vital.
If you successfully beat an enemy, you will have more skill levels raised. If the beaten enemy is a more powerful one, it will be very easy to raise the skill level. You can go for beating more and more enemies from your stories as well as with dungeons, and searching for the most powerful ones will also benefit you in return.
Conclusion
With that all, we have marked an end for this Heaven Burns Red beginner guide, and we hope that all information will be a great benefit in return to engaging through the gameplay. Don't forget that you can have the best gaming experience here by taking the game with the best android emulator: LDPlayer 9, and let's continue to beat the Cancer with all these guidelines.