Elune, the new game from Gamevil, is finally out on iOS and Android. This latest gacha RPG features over 200 heroic characters to collect, train and summon in fierce battles. As Elune becomes popular, we've noticed that many Elune players are searching for a way to run Elune on their computers for some reasons. Thus, after some testing, we found the best way to play Elune on PC or laptop using an Android emulator.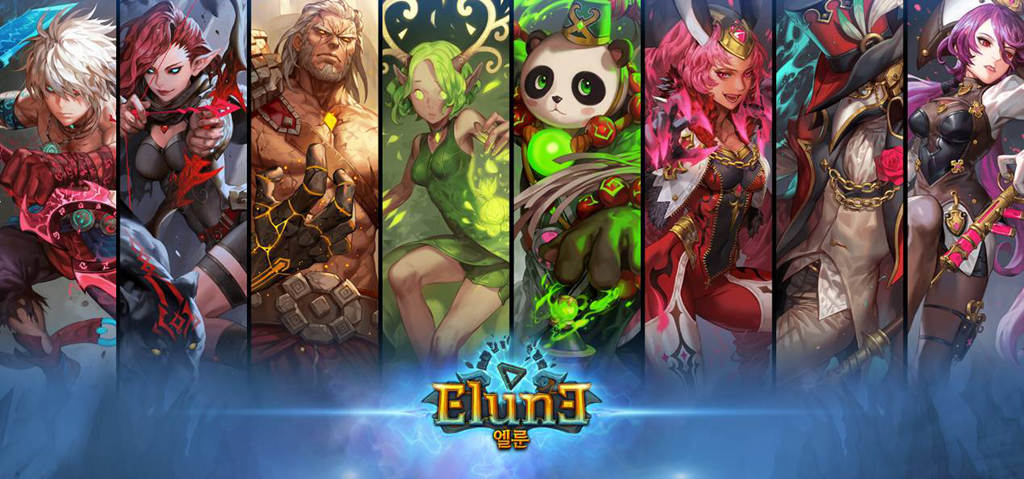 Android emulator is a third-party software that can simulate the mobile Android operating system on your computer. It can let you access all of your favorite Android mobile games and apps directly on desktop or laptop. In terms of Elune mobile game, LDPlayer Android emulator can offer the best and smoothest gameplay experience on your Windows computer.
Best Android Emulator for Elune
LDPlayer is an Android emulator for windows. It can be used to run Elune on your desktop with highly optimized performance. It offers multi-tasking for you to launch multiple Elune accounts and operation recorder to help you auto-battle. As long as you have a modern computer, you can play Elune easily and smoothly on your PC using LDPlayer.

Download and Install LDPlayer on Desktop
To play Elune on pc, you need to download and install an Android emulator - LDPlayer on your computer first. You can download the installer up there and run the installer to complete the installation. LDPlayer is a lightweight Android emulator so it won't take you too much time.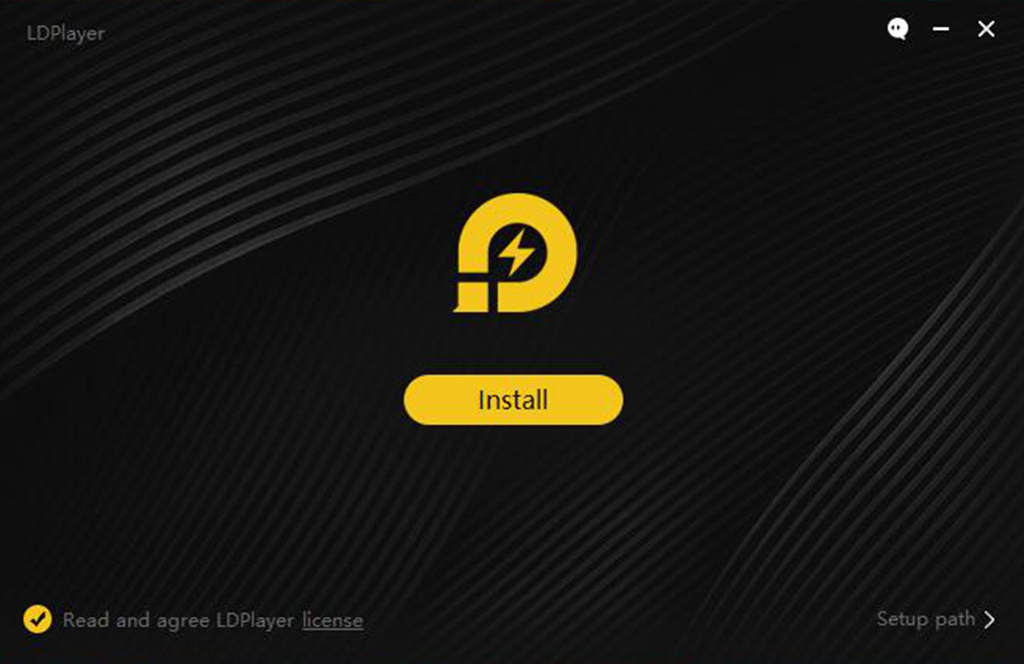 NOTE: LDPlayer is definitely a safe Android emulator. Though, LDPlayer may ask you to install affiliate software when you run the installer, you can choose to accept or reject it. It won't harm your computer at all.
Install Elune from LD Store
After you have installed LDPlayer on your desktop, launch LDPlayer app player and open LD store to search "Elune". You can download Elune from play store on LDPlayer just like when you download apps on your phone. If you stuck on the downloading process, perhaps you can switch to "Local Install" or download Elune apk from Apkpure, and then drag-drop apk file on the LDPlayer window. It will start installing Elune automatically.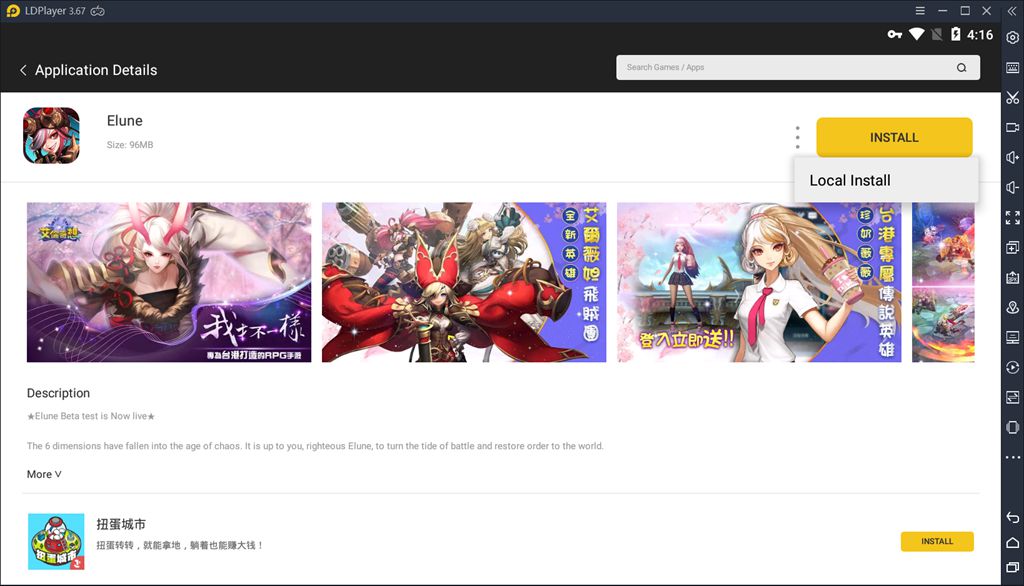 Now Play Elune on PC with Keyboard and Mouse
Once you complete the installation of Elune on your LDPlayer, you can launch Elune and enjoy playing it with keyboard and mouse. It will take a few minutes to load resources before you can log in. Also, if you have any trouble in technical problems or emulator settings for Elune, you can feedback to LDPlayer through Facebook or Reddit Community!

Things You May Want to Know About LDPlayer Android Emulator

• Free and Safe
LDPlayer is a free Android emulator using virtualization technology. It has almost all of the capabilities of a real Android device and you don't have to worry about the hardware restrictions that are usually present in our small Smartphone. Though LDPlayer is kind of new to overseas users compared with Nox, BlueStacks and Memu, LDPlayer keeps improving its performance and upgrading with new features. It actually has become one of the best Android emulator on the market.
• High Compatibility with Android Games
Although there are many brands of Android emulators in the market and all has the same basic functions, LDPlayer works better in optimizing the compatibility with mobile games. It performs more efficiently than other emulators and there's no need to worry about lags and crushes on Elune. In a word, LDPlayer supports excellent compatibility for most Android games.
•Multi-instances Feature: Run Multiple Windows Simultaneously
You can play several Elune accounts or launch multiple games at the same time on LDPlayer by using the multi-instances feature. You can cultivate as many accounts as you want conveniently on your desktop. If you are in particular need of controlling several windows synchronously, LDPlayer also comes with Synchronizer feature.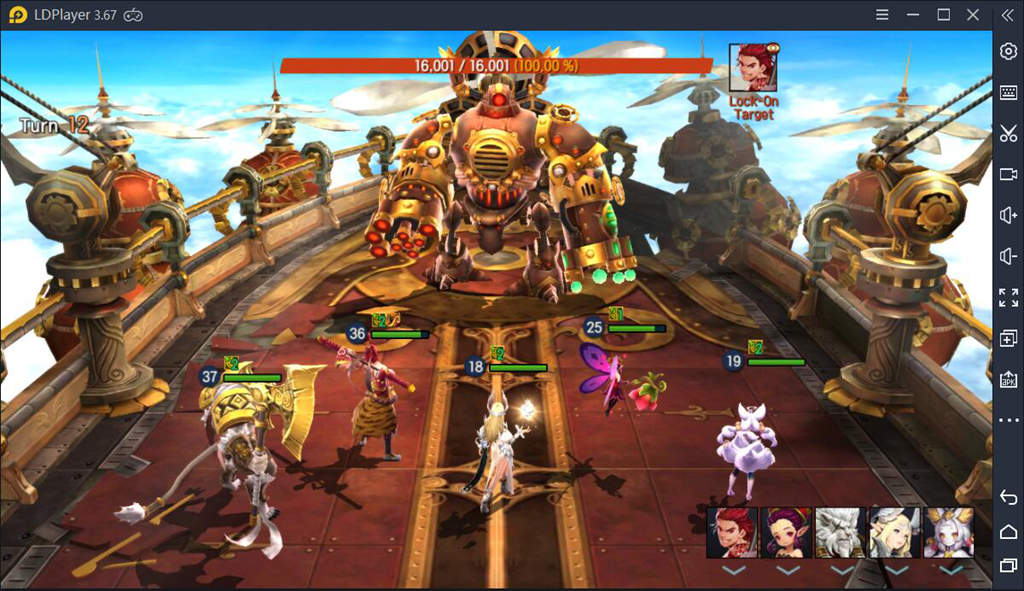 Advantages of Playing Elune on Desktop with LDPlayer
Like I said before, many Elune players are searching for the best way to emulate Elune on their computers or laptops for some reasons. But if you're new to emulator and don't know why people prefer to play mobile games on desktop, you may want to figure out these:
√ Make use of your computer and release the burden of overusing phone
√ Control better and more precise with your mouse
√ Battle on a bigger screen with stunning visual details
√ Add more game time to your account
√ Make faster progress on Elune
√ Manage several accounts simultaneously
Maybe there are more advantages you can find out related to Elune PC gaming. Playing Elune on PC with LDPlayer will surely give your different gaming experience and more interesting details are waiting for you to explore.
You might interested to read:
Best Way to Play Clash of Clans Online on PC 2019
Simple Tutorial - Best Way to Play Lords Mobile on PC
Fun Findings: Play Brawl Stars with Keyboard on Desktop
Play Auto Chess Mobile on PC with Mouse Guide 2019