COD Mobile is a free first-person shooter mobile game developed by Tencent Games and published by Activision. As a critically-acclaimed FPS mobile game, Call of Duty Mobile requires high technique and a good performing device. But instead of playing it on mobile, many players are looking for ways to play COD Mobile on desktop using keyboard and mouse.
Setting up to play Call of Duty Mobile on PC is quite simple if you prefer the comfort of your computer or you don't have a mobile device to use. Below is a detailed guide on how you can play COD Mobile on desktop.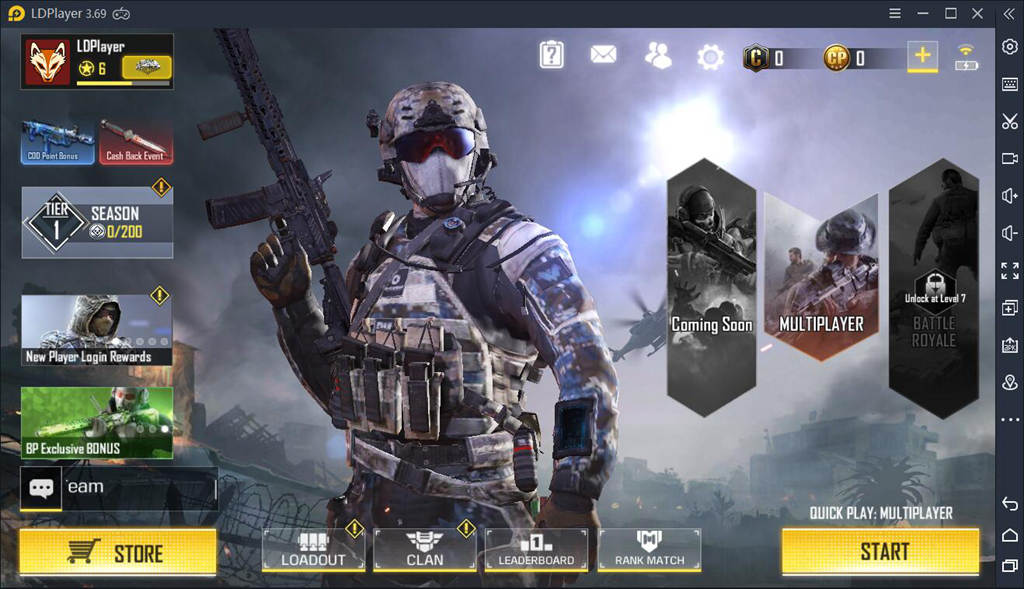 How to Play Call of Duty Mobile on PC
1. Download an Android Emulator (LDPlayer 4)
You'll need to download an Android emulator first on your computer. It's recommended to use LDPlayer 4 as it has been optimized to work with Call of Duty Mobile. Make sure you download the latest version of LDPlayer 4 from the homepage of LDPlayer. As LDPlayer is an Android emulator for windows, you might want to look through this ultimate guide for using LDPlayer.
2. Install Call of Duty Mobile on LDPlayer
Once you complete the setup of LDPlayer, open your emulator and search COD Mobile in the play store. LDPlayer offers a play store called LD Store, which is available for downloading most Android games/apps. You don't have to log in to your Google account if you use LD Store, but it's up to you since LDPlayer also contains Google Play.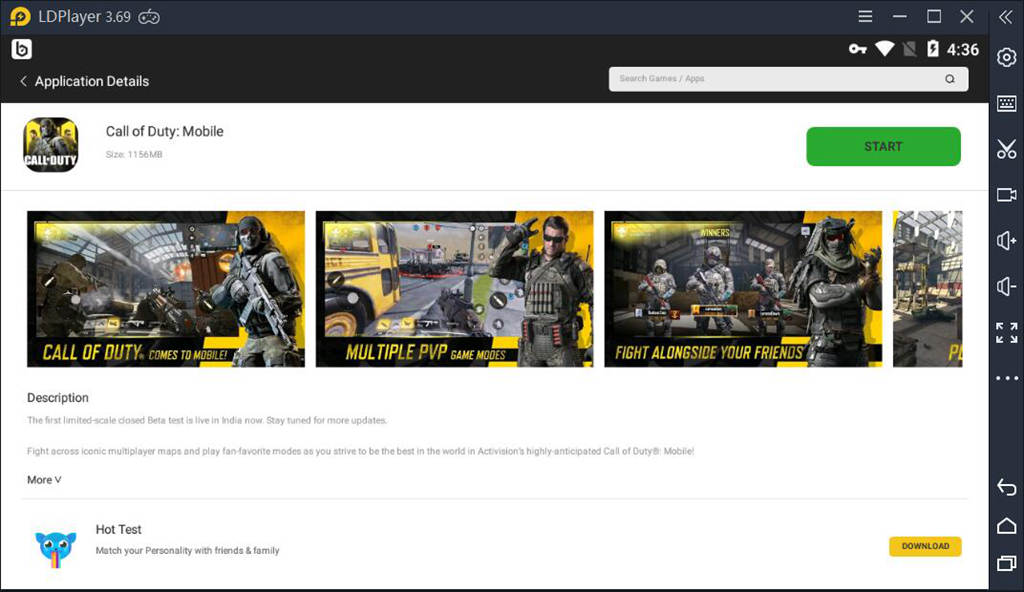 3. Adjust Game Settings on Call of Duty Mobile
This is very important when you first play COD Mobile on PC with keyboard and mouse. It's suggested that you get familiar with some basic settings, such as controls, sensitivity, etc. You will mess up in the battle if you don't even know how to shoot.
For example, you can adjust Aim Precision to Full Control for complete movement with the mouse. This is optional though. By default, it will auto-aim on targets when aiming close enough to them.
4. Set Your Customized Keymapping
Playing COD Mobile on PC is totally different from mobile gaming. All of the game's actions will need to be mapped to Keyboard and mouse. But no worries, LDPlayer has set two default keymappings for BATTLE ROTALE and MULYIPLAYER mode.
All the controls are mapped for you so you don't have to mess around with them yourself. The following blog will show how to activate the keymapping and explain the controls. Keyboard Map Setting Guide for Call of Duty Mobile on PC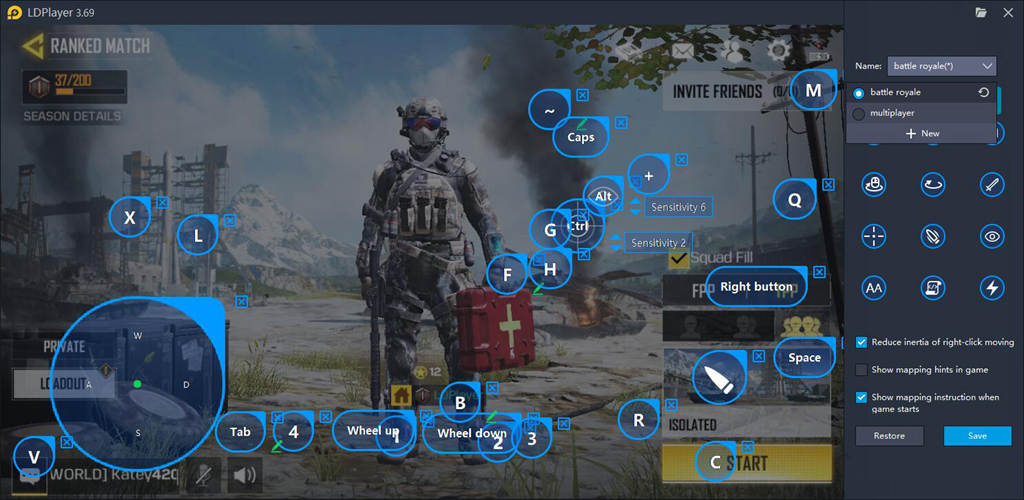 How to Boost Call of Duty Mobile on PC Performance
We definitely don't want to have a bad gaming experience when playing COD Mobile on PC. But if Call of Duty Mobile appears laggy on your first launch, you may need to check out the following tips on how to reduce lag on COD Mobile.
● Allocate More PC Resources to Your Android Emulator
Most of the time, an Android emulator will consume a lot of computer resources in order to perform normally. You have to make sure to allocate at least enough PC resources to LDPlayer. You can set higher CPU, RAM, and disk space for LDPlayer on advanced settings. But before you do so, be aware that the performance of LDPlayer also depends on your computer specifications. Make sure you have a powerful PC too.
System Requirements
Intel or AMD CPU Processor x86 / x86_64
Windows XP XP3 / Win7 / Win8 / Win8.1 / Win10
Windows DirectX 11 / Graphic driver with OpenGL 2.0
Hardware Virtualization Technology (Intel VT-x/AMD-V) enabled in BIOS
Simple Steps to Enable VT on Your Computer
Recommended Specifications for LDPlayer
CPU: Intel i5 7500
RAM: 8GB
Disk Space: 100GB
Graphics Driver: NVIDIA GeForce GTX 750 Ti
● Upgrade Your Graphics Driver
This is a very useful tip for improving COD Mobile on PC. A new upgrade for your graphics driver can help running Call of Duty Mobile more smoothly on LDPlayer. You can upgrade yourself or follow these simple steps.
1. Search and download Driver Booster from IObit
2. Run the software and scan for update
3. Update the graphics driver
How to update the graphics driver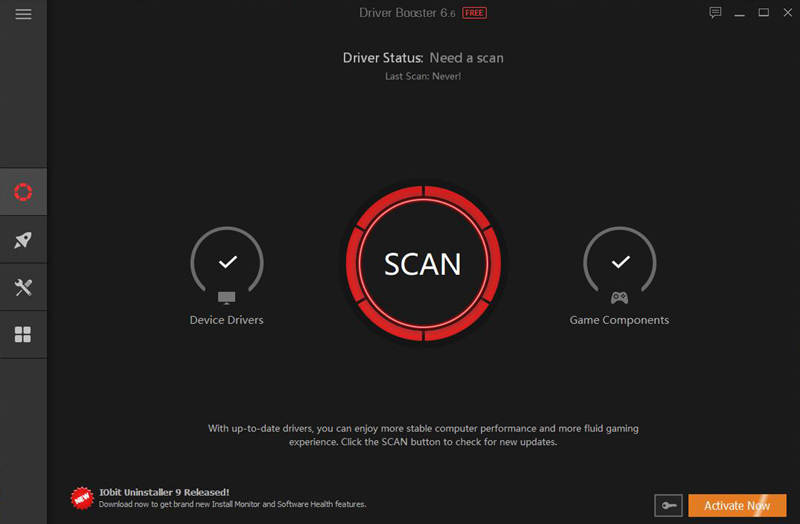 ● Set Lower Graphic Quality
If you have a more powerful computer, you may leave the quality at high. But it might be best to set it at relatively low quality if Call of Duty Mobile is stuttering or lagging frequently while playing on PC. Another note is that you should use low quality for regular play and high for speed plays even if you got a blazing fast computer. This is optional though. On COD Mobile, you can set the graphic quality to MEDIUM or HIGH depending on your PC's specifications.
● Enable Higher Frame Rate
The higher the fps, the more "smooth" your animation (gameplay) becomes. A good frame rate range is 50 to 60 fps. 30 is usually the baseline for playability. While playing Call of Duty Mobile, you can first enable "Display Frame Rate" on LDPlayer's menu to check your current FPS. This is also a pretty useful feature offered by LDPlayer. And then, you can adjust the Frame Rate to HIGH or VERY HIGH based on the performance of your computer.
Read this guide: 60FPS: Performance Settings for Call of Duty Mobile on PC
Call of Duty Mobile Gameplay on PC
Using LDPlayer is a powerful way of playing Call of Duty Mobile on your large screen computer. You can now experience stability and smoothness when running COD Mobile or even other demanding mobile games, such as Free Fire, PUBG Mobile, etc, on your PC. If you have any concerns or questions about the emulator or content, you can always contact LDPlayer through Facebook.