Here comes a reroll guide for the best characters with Arknights. As a beginner to the pro on this Tower defense game, you will need so many characters. And each has to be placed in their appropriate places. Every doctor in this game has to be the best doctor to deal with this excellent game ad that only comes from the best operator for sure.
Arknights owns so many units for players to select, and this is somewhat complex than the other games. It has seven different tier lists in the game, and each of them belongs to eight different classes. These all units are different. Their range of skills also changes with their tier rankings. So you might be a wonder on who the best characters are and how to reroll in here. Toady's guide in Arknights is dedicated to it, and let's start.
You can download Arknights on PC from here.
What is the Arknights Tier List?
The tier list consists of several heroes in the game of Arknights. It has different classes by the split, and we can rank them, from top to bottom, by measuring their skills from lower to high. Some units in their classes perform different roles within the game, and we can rank them from their very best performances.
Each of these operators has a specific role to play in the game, and they require some skills and talents to clear a stage. Stages are different from one to another, and it depends on the map and by the enemies. So the situation where you use any operator is depending on the position you currently face.
Each of the statuses of tier lists is made for the operator's final strength. And these all will be based on the updates of the global server. The tier list is made out with a comparison between the same class and its archetype, and it does not belong to the SS tier. There will be individual operator strengths, and these tier lists are made out of frequency in use and versatile.
So there are 7 tier lists available in the Arknights as follows.
Tier SS
Tier SS are the gods, and they are the strongest heroes in the game. If you want to use an all-time skilled operator and looking for an overpowered one, this is the best choice. SS tier heroes include a higher versatility and a better performance. They do their best within the class they belong, and at the same time, these heroes are helping other players to beat in the game super-fast.
There are some situations where SS tier heroes are acting beyond their class to achieve goals. When you reroll, the best recommendation for a reroll is going with the SS tier heroes. The best heroes in the Arknights belong to the Tier SS.
Tier S
These are the operators who have great versatility and also the most outstanding performers within their classes. Their archetype is also the best than other tier heroes, and you can consider them as the best selection in the classes they belong to.
Tier A
Tier A operators are the brilliants who excel great for their roles. There is some situation where these heroes have unique type of skills and talents. You can achieve more incredible performance with these A tier heroes, and they are quite the same as the S tier heroes from their performances.
Tier B
Tier B heroes are the ones who are best at their roles. They can complete their whole duties and tasks, and they are good with their skills. In some cases, these tier B heroes cannot perform well as tier A does, and simply they don't include an archetype of A heroes. You can use tier B heroes as a substitute in the gameplay.
Tier C
These are sufficient heroes for your gameplay in Arknights. They perform well in their roles and not the best option. But still, they do somewhat serve in their roles. If you had to choose one of this C tier hero, you could later replace him with a better hero when an increase of characters happens. We recommend using C tier heroes in the early game, and they will be helpful in those levels.
Early game levels are not much as competent, and there is only a low operator pool with a low level of players. So the tasks in the early game can be fulfilled by C tier heroes but when you grow in the game, consider replacing them with a better performing one.
Tier D
Tier D heroes can be named as the most ordinary operators. You can use them in the early game as C-tier heroes because those levels are easier to achieve. When it's low in layers level and the operator pool, D tier heroes will be useful.
Tier X
These are the special operators. You can't assign them for any kind of rate because they have some unique types of performances and skills within them.
Tier List in 2021
There are several heroes available within these whole tier lists, and those can be named as follows.
Tier SS and S heroes
Nian

Mostima

Eyjafjalla

Hoshiguma

Ifrit

Ceobe

HellagurSaria

Liskarm

Silbverash

Chen

Skadi

Rosa

Warfarin

Shining

Blaze

Throns

Specter

Silence

Exusiai

Bagpipe

Siege

W Sniper

Texas

Schwarz

Meteorite

Magallan

Suzuran

Shamare

Phantom

Weedy

Elysium

Angelina
Tier A heroes
Vigna

Reed

Grani

Myrtle

Zima

Mayer

Sora

Pramanix

Istina

Glaucus

Aak

Cliffheart

Snowsant

Feater

Ethan

Manticore

Jaye

Gravel

Waai Fu

Projekt Red

Shirayuki

Executor

Greythroat

Firewatch

Ptilopsis

Provence

Perfumer

Platinum

Blue Poison

Andreana

Nightingale

Ceylon

Broca

Lappland

Flamebringer

Astesia

Nearl

Hung

Vulcan

Cuora

Croissant

Asbestos

Bison

Beeswax

Gitano

Skyfire

Nightmare

Absinthe

Amiya
Tier B Heros
Bibeak

Breeze

Catapult

Courier

Franka

Frostleaf

Gavial

Greyy

Gummy

Indra

Leizi

Matoimaru

Matterhorn

Melantha

Meteor

Mousse

Myrrh

Rope

Scavenger

Shaw

Susurro

Swire
Tier C Heroes
Ambriel

Ansel

Beagle

Beehunter

Castle 3

Deepcolor

Doberman

Dur Nar

EarthSpirit

Estelle

Fang

Haze

Hibiscus

Jessica

Lancet 2

Lava

May

Midnight

Spot

Stewart

Vanilla

Vermeil
Tier D Heroes
12F

Adnachiel

Cardigan

Durin

Kross

Noir Corne

Orchid

Plume

Popukar

Rangers

Savage

Yato
What are classes in Arknights?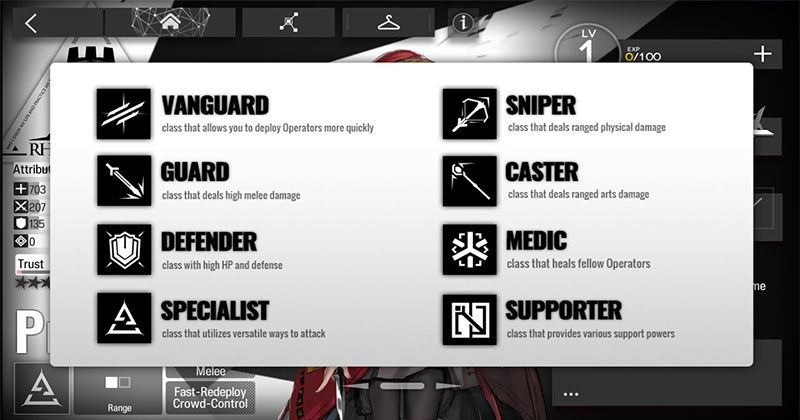 There will be a total eight of classes available in Arknights. The preliminary determination of an operator's class depends on the class, and you can deploy it into either Ranged grids or to Melee grids. Both of them together can also be used. Each of the operators available in Arknights belongs to one of these classes.
It depends on how they function, and they also hold archetypes and sub archetypes with them to operate. So every operator would be specialized by those archetypes from their abilities.
Here are the eight classes available within the Arknights.
Caster
Caster is a ranged class, and it can attack with a deal arts damage for its enemies. This class uses art damage as its primary attack type, and players can deploy casters in ranged tiles and inflict heavy art damage. You can use this class effectively where you see high DEF with some low RES holding enemies.
Defender
The defender holds a melee position in the game and uses physical damage as his primary attack skill. You can use these defenders to deploy melee tiles, and most of the usage of defenders belongs to blocking. You can use them to stop enemies and decrease their real damage.
Guard
Guard is a melee in position. She uses the physical damage most as her main attack and uses Arts damage as one archetype. You can deploy guard on melee tiles, and if we describe her skills, this class is the most varied and flexible in the Arknights. You will be offered many archetypes with the guard, and it will help fill up different roles.
Medic
Medic is a ranged character and uses the healing ability as the primary attacking type. This is the main healing class available for the game Arknights.
Sniper
Sniper's position is his ranged position. Its attack type goes mainly with the physical damage. They are the main physical damage dealers available in the Arknights. Their main task for the gameplay revolves around taking aerial enemies out.
Specialist
The specialist position is mixed in the game, and there are some archetypes available in them to deploy only on melee grids. Some of those can be ranged, and some come in both. Physical damage is the primary attack type for a specialist, and they include specialized archetypes for specific units.
Supporter
Supported uses the potion of ranged and deal with Arts damage in the gameplay. This class is beneficial in building the team's core performance and has various abilities based on the utilities of them.
Vanguard
Vanguard holds a position of melee and uses physical damage as his primary attack type. This class is mainly dedicated to generating DP, and it facilitates him all team to have a fast deployment. This class is usually deployed in the first and again will be recreated when satisfied DP needs.
Artknights Characters
There are multiple characters available within the game Arkinights as follows. Each of these characters is belonging to one class and a one-tier list.
| | | |
| --- | --- | --- |
| 12F | Caster | D Tier |
| Aak | Specialist | A Tier |
| Absinthe | Caster | B Tier |
| Adnachiel | Sniper | D Tier |
| Ambriel | Sniper | C Tier |
| Amiya | Caster | B Tier |
| Andreana | Sniper | B Tier |
| Angelina | Supporter | S Tier |
| Ansel | Medic | C Tier |
| Asbestos | Defender | A Tier |
| Astesia | Guard | B Tier |
| Ayerscarpe | Guard | A Tier |
| Bagpipe | Vanguard | S Tier |
| Beagle | Defender | C Tier |
| Beehunter | Guard | C Tier |
| Beeswax | Caster | B Tier |
| Bibeak | Guard | B Tier |
| Bison | Defender | B Tier |
| Blaze | Guard | S Tier |
| Blue Poison | Sniper | A Tier |
| Breeze | Medic | B Tier |
| Broca | Guard | B Tier |
| Cardigan | Defender | C Tier |
| Castle-3 | Guard | - Tier |
| Catapult | Sniper | D Tier |
| Ceobe | Caster | A Tier |
| Ceylon | Medic | B Tier |
| ChCh'en | Guard | A Tier |
| Chiave | Vanguard | B Tier |
| Click | Caster | C Tier |
| Cliffheart | Specialist | - Tier |
| Courier | Vanguard | B Tier |
| Croissant | Defender | B Tier |
| Cuora | Defender | B Tier |
| Cutter | Guard | C Tier |
| Deepcolor | Supporter | C Tier |
| Dobermann | Guard | D Tier |
| Durin | Caster | D Tier |
| Dur-nar | Defender | B Tier |
| Earthspirit | Supporter | C Tier |
| Elysium | Vanguard | S Tier |
| Estelle | Guard | C Tier |
| Ethan | Specialist | A Tier |
| Executor | Sniper | B Tier |
| Exusiai | Sniper | S Tier |
| Eyjafjalla | Caster | S Tier |
| Fang | Vanguard | C Tier |
| FEater | Specialist | - Tier |
| Firewatch | Sniper | A Tier |
| Flamebringer | Guard | B Tier |
| Folinic | Medic | B Tier |
| Franka | Guard | B Tier |
| Frostleaf | Guard | C Tier |
| Gavial | Medic | B Tier |
| Gitano | Caster | B Tier |
| Glaucus | Supporter | A Tier |
| Grani | Vanguard | A Tier |
| Gravel | Specialist | - Tier |
| Greythroat | Sniper | B Tier |
| Greyy | Caster | C Tier |
| Gummy | Defender | B Tier |
| Haze | Caster | C Tier |
| Hellagur | Guard | A Tier |
| Hibiscus | Medic | C Tier |
| Hoshiguma | Defender | A Tier |
| Hung | Defender | B Tier |
| Ifrit | Caster | S Tier |
| Indra | Guard | A Tier |
| Istina | Supporter | B Tier |
| Jaye | Specialist | B Tier |
| Jessica | Sniper | C Tier |
| Kroos | Sniper | C Tier |
| Lancet-2 | Medic | - Tier |
| Lappland | Guard | S Tier |
| Lava | Caster | D Tier |
| Leizi i | Caster | B Tier |
| Leonhardt i | Caster | A Tier |
| Liskarm | Defender | A Tier |
| Magallan | Supporter | A Tier |
| Manticore | Specialist | - Tier |
| Matoimaru | Guard | B Tier |
| Matterhorn | Defender | B Tier |
| May | Sniper | C Tier |
| Mayer | Supporter | B Tier |
| Melantha | Guard | B Tier |
| Meteor | Sniper | C Tier |
| Meteorite | Sniper | A Tier |
| Midnight | Guard | C Tier |
| Mostima | Caster | A Tier |
| Mousse | Guard | B Tier |
| Myrrh | Medic | B Tier |
| Myrtle | Vanguard | S Tier |
| Nearl i | Defender | A Tier |
| Nian | Defender | A Tier |
| Nightingale | Medic | A Tier |
| Nightmare | Caster | C Tier |
| Noir Corne | Defender | D Tier |
| Orchid | Supporter | - Tier |
| Perfumer | Medic | B Tier |
| Phantom | Specialist | A Tier |
| Platinum | Sniper | B Tier |
| Plume | Vanguard | C Tier |
| Podenco | Supporter | B Tier |
| Popukar | Guard | D Tier |
| Pramanix | Supporter | A Tier |
| Projekt Red | Specialist | - Tier |
| Provence | Sniper | B Tier |
| Ptilopsis | Medic | S Tier |
| Rangers | Sniper | D Tier |
| Reed | Vanguard | A Tier |
| Rope | Specialist | - Tier |
| Rosa | Sniper | A Tier |
| Saria | Defender | S Tier |
| Savage | Guard | C Tier |
| Scavenger | Vanguard | B Tier |
| Schwarz | Sniper | A Tier |
| Sesa i | Sniper | B Tier |
| Shamare | Supporter | A Tier |
| Shaw | Specialist | - Tier |
| Shining | Medic | A Tier |
| Shirayuki | Sniper | B Tier |
| Sideroca | Guard | B Tier |
| Siege | Vanguard | A Tier |
| Silence | Medic | A Tier |
| SilverAsh | Guard | S Tier |
| Skadi | Guard | A Tier |
| Skyfire | Caster | B Tier |
| Snowsant | Specialist | A Tier |
| Sora | Supporter | B Tier |
| Specter | Guard | A Tier |
| Spot | Defender | D Tier |
| Steward | Caster | C Tier |
| Sussuro | Medic | B Tier |
| Suzuran | Supporter | A Tier |
| Swire | Guard | C Tier |
| Texas | Vanguard | A Tier |
| Thorns | Guard | S Tier |
| THRM-EX | Specialist | - Tier |
| Tsukinogi | Supporter | B Tier |
| Utage | Guard | A Tier |
| Vanilla | Vanguard | C Tier |
| Vermeil | Sniper | C Tier |
| Vigna | Vanguard | A Tier |
| Vulcan | Defender | A Tier |
| W | Sniper | A Tier |
| Waai Fu | Specialist | A Tier |
| Warfarin | Medic | A Tier |
| Weedy | Specialist | S Tier |
| Yato | Vanguard | C Tier |
| Zima | Vanguard | A Tier |
Best characters in Arknights
The best characters of Arknights are divided based on their classes. So let's look at them one by one according to their classes.
Class Guard
Guards are the central melee DPS units in the game, and they do significant damage to the enemies. And they use a multi-hitting technique to deal with more substantial damage. In here, you can use Skadi, SilverAsh, Chen and Hellagur for the best six-star units. Spectre is an S-rank character who is dealing with AOE damage. All of her abilities give her immortality for a short run period.
Use the newcomer Swire in here as she is the best guard for the team. She comes with low defensive stats along with a middle attack. Swire can buff all of the unities with some huge attack boost, and it will allow this hero to pull enemies back from the defenders. She is so much reliant on the team.
Popukar is also another best hero to the team. She only has three stars, but she is more than her class. Popukar will be the baby version of Spectre and has a remarkable ability to deal with significant AOE damage. She can block two units and has some cheap upgrades and deployment costs. Those all can make Popular into a helpful starter for various maps.
Melantha is the first guard unit you get, and she also more than her class. She has a maximum stat pool with her, and Melantha uses a low re-deployment time for moderate and deployment costs. You can use Melantha till you take any A or S rank hero.
Class Vanguards
Myrtle is a stellar vanguard, and he has a first skill with some more deployment points. Myrtle second skill allows her to give up on some of the DP generations she has for taking a bonus heal. She is an excellent function for a tertiary healer. Myrtle does it when she is between her second and the passive traits. But keep in mind that this hero cannot block units when she uses her skills.
You can use Zima, Grani, and Texas as for best selections among vanguards. The strongest hero in this class would be Vigna, and she has four stars with her.
Class Caster
The Strongest S rank units for the caster class would be Ifrit and Eyjafjalla. Ifrit engages with significant AOE damage and reducing defensive skills. Eyjafjalla can also do significant AOE damage in the gameplay.
Suppose you want to put significant Arts damage, use Skyfire, Gitano and the Amiya. Skyfire is great in AOE damage, and Greyy in A tier would be best with AOE mini stunts and abilities. If you need any resistance piercing, use Haze.
Class supporters
Here Magallan would be perfect with the best working system for the jack of all trades. And also use Sora as the best hero to sing for bolster allies. Pramanix is a debuffing enemy unit, and it allows you to deal with colossal destruction.
Class Defenders
Hoshiguma and Saria will come to you as standard six-star heroes, and here Hoshiguma reflects the damages to her attackers. Saria is responsible for have a vast AOE healing is passive o her all allies. Use Coura to block four of the enemies in your counter at once. If you need some tanky supporters for your gameplay, it is better to use Vulcan, Croissant, and the Liskarn. Liskarn is a great damage dealer, and Vulcan will be best for self-sustaining.
Use Cardigan, Gummy, Beagle and the Matterhorn as your entry-level defenders in the gameplay.
Class Medic
In here, shining will be the best healer for a single target for great AOE healing. Silence is the greatest hero in medic who's capable of both roles, and she can generate medical drones for ten seconds in AOE. It can pulse on the passive healings. You can use a perfumer to be stuck on the corner to avoid damages. Use ptilopsis for AOE healer as a battery for map-wide skill. If you need to buff and heal within the same time, use warfarin.
Class Sniper
Use Firewacth and the Exusiai as the most deadly units on your gameplay. Exusiai will be a murder machine in Arknights and deals with the speediest damage. Firewatch will use a more extensive range of utility-based to drop bombs for enemies. Use Blue poison as your time dealer for AOE damage. Meteoite would also be great in AOE grenades. Blue poison is the one that can be counted on the Arts damage for high defense enemies.
In case of need, a close-ranged sniper, use the Provence. Excellent attacking can be made by Jessica and Kroos. You can gain a good range and massive damage through platinum, and the vermeil can do multi-targeting enemies.
Class Specialist
In class, specialist, you can take a great fight with FEater and the Cliffheart. FEater is a hero who can run away from enemies quickly and deal with some huge hitting. Cliffheart is a hero who can destroy several enemies at once, and it is excellent for you to tries in pulls.
Sometimes, you will need Manticore and Pojeck Red. It depends on the situation as Manticore can hit all the enemies within her range. So she is excellent for swarm maps.
Most Popular Characters in Arknights
These are the most popular characters available in the Arknights
Aak

Amiya

Amiya (Guard)

Angelina

Arene

Ash

Ayerscarpe

Bagpipe

Beeswax

Blaze

Blemishine

Broca

Bubble

Ceobe

Ch'en

Conviction

Dusk

Elysium

Eunectes

Exusiai

Eyjafjalla

GreyThroat

Hellagur

Hoshiguma

Indra

Magallan

Mayer

Meteorite

Mint

Mostima

Mudrock

Myrtle

Phantom

Rosmontis

Saga

Saria

Schwarz

Shining

Siege

SilverAsh

Skadi

Specter

Surtr

Suzuran

Texas

Thorns

W

Warfarin

Whislash
How to reroll the best character on Arknights?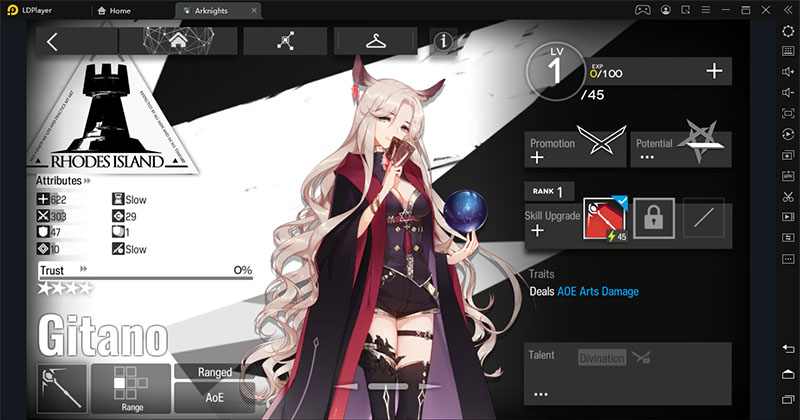 Every hero we need in Arknights doesn't come with easier as we have to reroll them until we get one. As this comes with different skilled heroes, you will need specific heroes to complete some stages. To that, you need a reroll. So here are the steps for rerolling on Arknights.
Start your game with the usual steps.
In here, you need to start Arknights; as usual, you used to pay and start it to play on a guest account. Start the game usually, and the only thing to change is your account as the guest.
There will be two battles in the tutorial in Arknights, and you need to play them to get in the second step of the reroll. You need to finish those all beginner tutorials and collect the 10x summons twice. You need to come to the beginner's pool then after and click on the search.
Getting the desired heroes
You can take your desired heroes by performing these all actions. But if you didn't receive the hero you need in your first draw, just open the LDMultiplayer and delete all the unwanted emulators in there; then after you need to again clone emulators and again repeat the guest logging and following the beginner tutorials.
If you take the opportunity to take the hero you needed, you can click the gear settings in the game, which is on the upper left corner. Choose its user center from the account settings and make sure to bind your account.
When you have finished the binding, you can log out from your account setting screen. If you do not get the character you need, you can repeat this process by clearing the data and exiting the game to do it all over again.
How to reroll Fast for Arknights by LDPlayer?
A fixed time has been set for every reroll, and usually, it will take 30 minutes for a one. If you didn't get what you need as a hero, you need to wait for a period and again do a reroll. So literally, a rerolling process will take so much time and waste from you. That is why LDPlayer has added a feature to their emulator to increase the rerolling experience better.
There is a feature called Multi-Instance Sync added to LDPlayer, and it helps you speed up the rerolling process for better. It saves your time a lot, and you can now play your game from several copies of your emulator continuously. So in each player, you are allowed to perform a reroll. So you can reroll until you get your favorite character.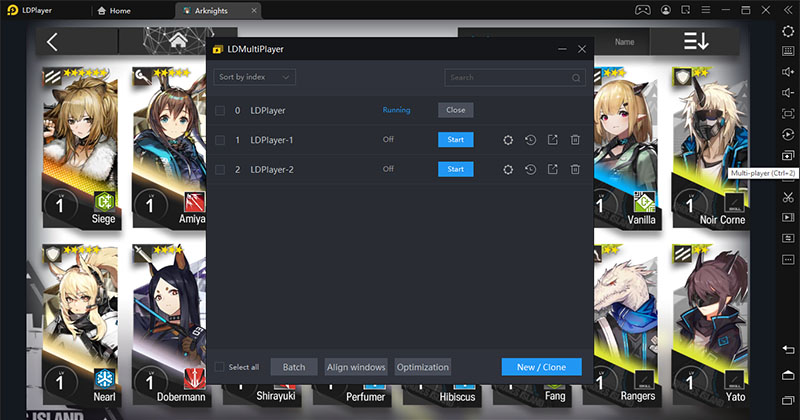 You can follow these steps to reroll your favorite character in Arknights through LDPlayer.
Download LDPlayer for your Desktop or Laptop

Install it and search Arknights from its store. Then download and install Arknights to your PC via LDPlayer.

When you finished downloading the Arknights, do not try to open it at first. You need to close down that from the emulator and open the

LDMultiplayer

. Take your first emulator and make clones from it depends on your hard disk storage.

You can copy as many clones as your need depending on your hard disk space

Open your all-cloned emulators and click on the

Synchronizer

feature. It is situated at the right toolbar, and you have to select them all. Then start to sync.

Through synchronizing, you now be able to stat Arknights from all your copies emulators.

Start the game Arknights through a guest account

Follow mentioned reroll steps.
Conclusion
Arknights comes with a lot of players and tier heroes. All skills are various to another, and they all have other skills within them. As we mentioned in this guide, you need to find the best ones, and those will take you to a definite victory for sure.