Solar Smash is a planet destruction simulator developed by Paradyme Games. The game allows you to use various weapons in your arsenal ranging from nuclear missiles to asteroids and lasers, to destroy whatever planet they choose. Thankfully, the mobile version of the game is completely free to play. With complete mouse and keyboard integration on LDPlayer, you can play the game to its maximum potential.
With limitless possibilities and several different ways for you to destroy planets, the game has only risen in popularity throughout a short period. You can expect more people to get into the game as the developer has been pumping out constant seasonal updates.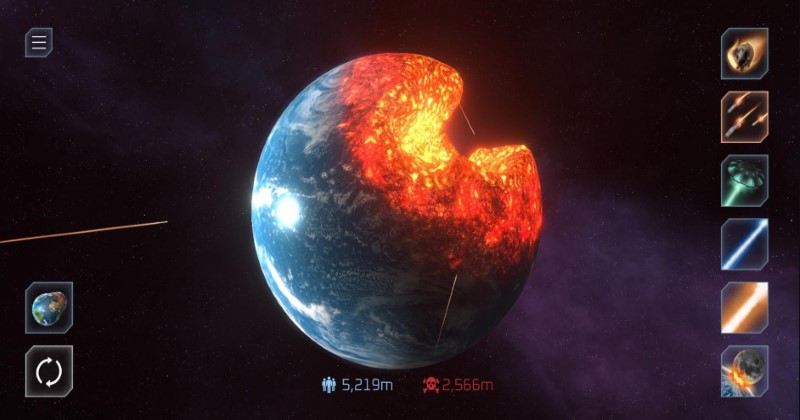 It can be quite an intriguing and enjoyable experience for you to try and see how much damage your home planet can sustain before it topples over. When you are tired of Earth, you can always switch to another planet to fulfill your destructive needs. With impressive collision physics and somewhat realistic physics, the game is quite addictive even for mature players who can't wait to try out their next best destructive combination. Here's how you can download and set the game up on your PC:
Step 1: Download and Install LDPlayer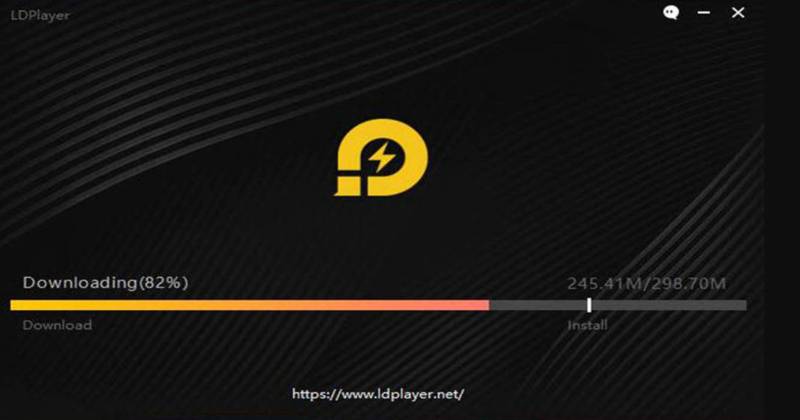 Step 2: Open LDPlayer's LDStore and Search 'Solar Smash'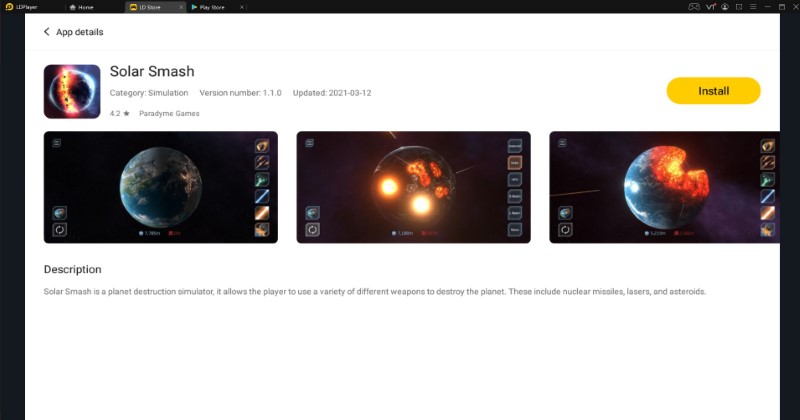 Step 3: Install Solar Smash on your LDPlayer Android Emulator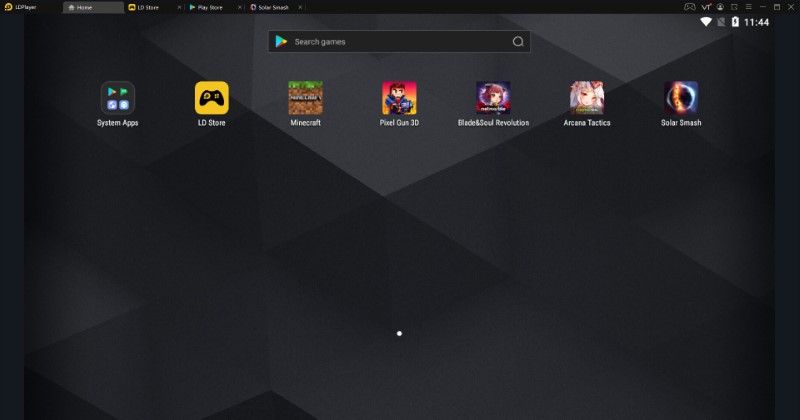 Step 4: Open the game and enjoy playing Solar Smash on PC with LDPlayer.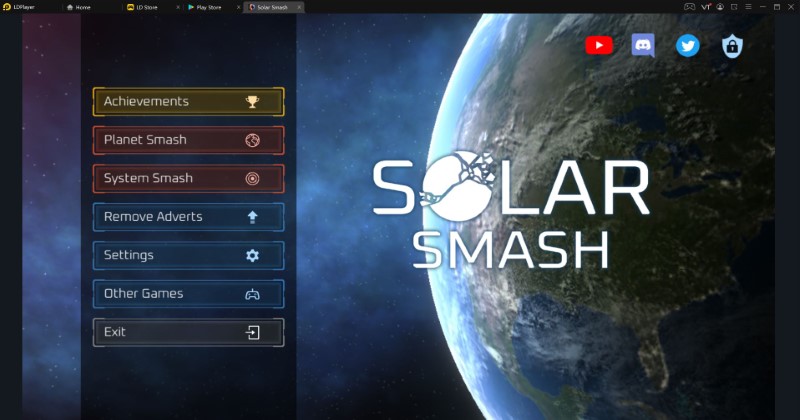 Why LDPlayer for Solar Smash?
LDPlayer is arguably one of the best Android Emulators for you to try and play Solar Smash on. Even so, the Emulator features numerous features that help cement itself as an excellent platform to play the game. Firstly, the Emulator supports multiple languages that you can switch languages like ranging from Portuguese to Thai, adding to the Emulator's overall usability.
With its intricate features that have cemented itself as an epic emulator, LDPlayer contains tons of little quirks and nuances you should probably try and take advantage of when playing the game.
Why Play Solar Smash on an Emulator?
Solar Smash is generally considered a casual game. This means that the game encapsulates the mindset of someone who is very new to gaming and general and is still not engulfed in more serious RPG games. Playing casual games on an Emulator allows you to get a taste of what the particular features of an Android Emulator like LDPlayer are and how they can provide a direct impact on your gameplay. For this game Solar Smash, you are suggested to set up a high frame rate, which the gameplay picture will be more exciting and inspiring! Here you can get the tutorial on High FPS Settings about LDPlayer. In this way, you could enjoy the high graphics to play this game.
Moreover, when interacting with larger objects, you end up facing a lot of performance hitches on mobile phones, which simply is not the case when playing on a dedicated Android Emulator.
How to Play Solar Smash with A Mouse and Keyboard?
LDPlayer offers complete keyboard and mouse integration for all the games it supports. Suppose a certain game is not supported and its key binds are not automatically detected. In that case, you can open the keyboard mapping setting of the toolbar on the Emulator and choose from the different icons available to assign a button and action to teach the virtual trigger provided to you.
With the help of keymapping, the sky's the limit when it comes to customization. You can constantly keep making new control binds and schemes that add to your comfort and leisure, providing you with an unprecedented experience.
Solar Smash is generally a game that does not require a lot of movement with your keyboard, as you can use your mouse to select most of your weapons of destruction. However, you can still set key binds for your favorite weapons and assign them to a particular key.
Useful LDPlayer Features for Solar Smash:
As mentioned earlier, having your dedicated key binds is extremely useful in Solar Smash. However, there are a few other features to take advantage of, even playing a sandbox simulation game like Solar Smash. Firstly, with all the destruction you will be causing around, you will probably be consuming a lot of resources out of your system.
Thankfully, LDPlayer is arguably the most well-optimized Emulator out there, ensuring that the Emulator consumes a low amount of resources, ensuring that system performance remains smooth even on beefier systems. So, you can throw down all the nukes you want. Even with tons of animation rendering, the Emulator still manages to keep its frame rate smooth and stable.
Solar Smash on your Mobile Device:
A majority of players will probably be playing Solar Smash on their phones. However, one must understand that sandbox games are known for their limitless potential. A graphically game like Social Smash takes it to the next level with its high demands. Therefore, you might end up overheating your phone or damaging the battery due to excessive usage.
In any case, mobile phones are not known for their excellent thermals or epic long-term performance. These caveats are why most players prefer to play their Android Games on a dedicated emulator like LDPlayer, as while it provides them with a lot of features, even playing games of a more casual nature like Solar Smash will not be affecting the performance of your mobile device.
Moreover, it provides users with the satisfaction that they will be playing the game on the highest graphics settings and frame rates possible due to the much higher amount of system resources available to Emulators than native Android mobile phones.
Conclusion:
Solar Smash is an epic Simulation and Sandbox title for both curious casual players and those who enjoy looking at the world burn from a bird's eye perspective. In any case, LDPlayer provides you with tons of unique features that distinguish it from the rest competition.
The game itself has risen in popularity over the months, even though it has an extremely simple premise in terms of its nature. The developer has been pumping out constant updates for the game by adding new weapons, planet types, and general optimizations, which has kept players constantly hooked on the planet destruction simulator.