Revived Witch is an adventure RPG from developers YoStar Limited. It comes with dynamic pixel art and 3D lighting for players as they play as a witch who enters an unknown tower and must now travel through the various worlds to fulfill her destiny.
On this journey, you'll stumble upon different companions with interesting sets of personalities, and together you must battle against formidable enemies to progress on your journey.
There are many interesting features to admire in this game, such as its high-resolution, exquisite lighting effect, team building, character cultivation, and various dynamic characters to choose from or play.
In this guide article, we'll be giving you the beginner's guide to some of the game's features to get you up to speed in no time. So without further ado, let's get into it.
Starting out – Early Rewards
---
If you're starting with Revived Witch and passing through the game's tutorial, you'll be rewarded with your first character, the Warped Hymn Cynetia. There isn't much to fancy about her other than the fact that she's a single target and an AoE (Area of Effect) healer. But she's a valuable asset for starters at the early stages of the game, and if you love to Reroll, then you may not need to do so once you get her.
Apart from your first character, you'll also be rewarded with Cryolites. They're like in-game currencies that you get at the early stages of the game, and while it may seem like they're worthless, they can be used to purchase items so amass as much as you can as you'll need them later.
And if you're lucky enough to get lots of mana early on, you best save them too because they're very important when it comes to upgrading items, equipment, and pretty much everything else, really. We recommend aiming for at least 5-10,000 mana in order to easily upgrade your items at the early stages of the game. So save up those Manas.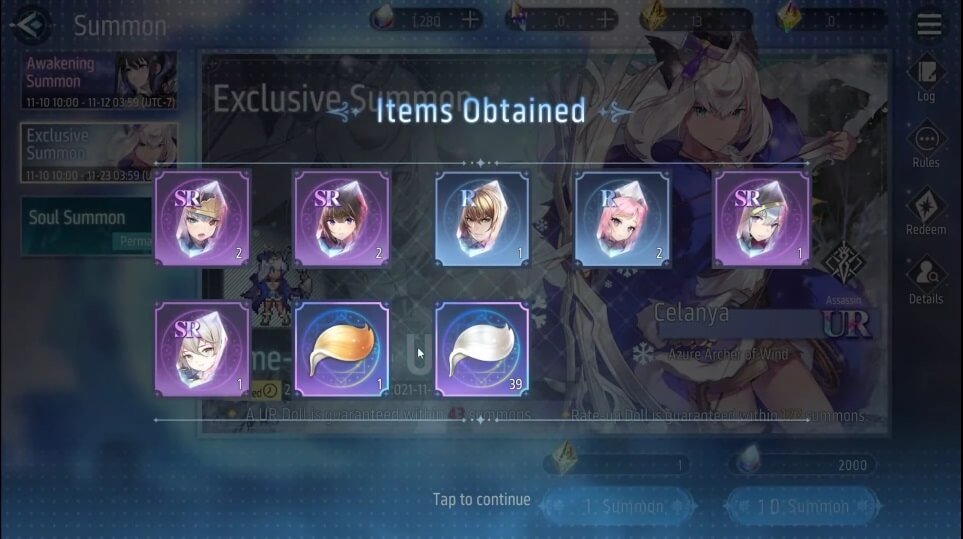 Understanding Elements and Ascension Materials
---
Elements
There are several elements in the game that players need to familiarise themselves with to better understand how they work. The game's elements include red brimstone, blue-colored mercury, and a yellow-colored salt stone. And then there's the Aether skill that is only usable by the Witch of the void.
She possesses a lot of abilities indeed, but to some extent, some of her downsides are damage reduction skills. She's an interesting character overall, and she's likely to fall into the Mage variant category. It'll be quite difficult to get your hands on her character at the early stages of the game, but she's attainable at a later time.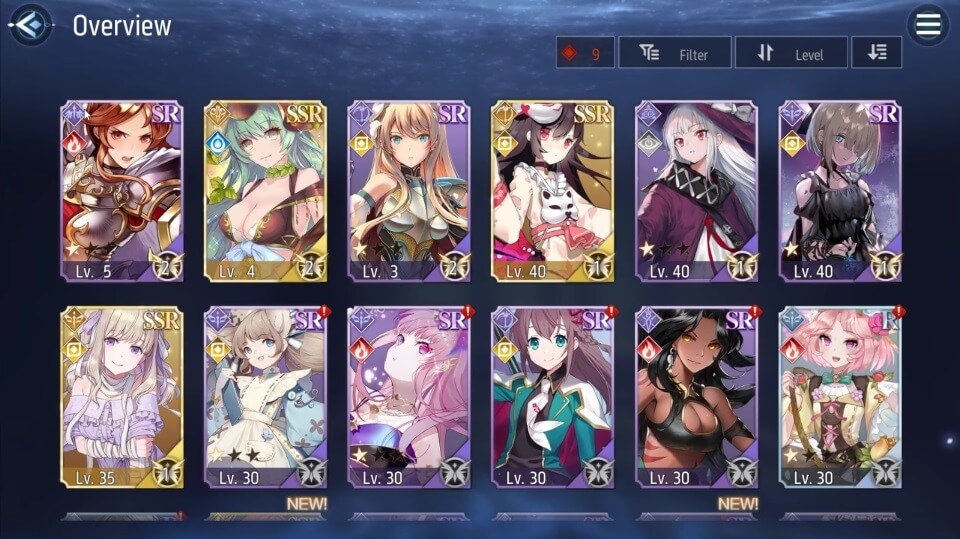 Ascension
Unlike other RPG titles, Ascension materials differ a bit in Revived Witch. This game is elaborated in such that you'll have a healer stage, guardian stage, assassin stage, destroyer stage, and lastly, a mage compeller stage. However, you'll be required to have two waifs and two dolls in any of the recommended stages to complete the ascension stages in Revived Witch.
So in order to better prepare yourself for the ascension stages, we advise that you have your doll equipment ready to go as well as your skill materials. You don't necessarily need to lay a lot of focus or emphasis on materials or gears at this stage. Your entire focus should be placed on ascensions, mana, and leveling up, and doing it faster.
To ascend, you will be required to choose a similar rarity to your character or gear. Ascending is a way of unlocking up to 10 new levels after you've reached the maximum. You can ascend for both types of equipment and dolls in Revived Witch. However, dolls often need different unit types to ascend.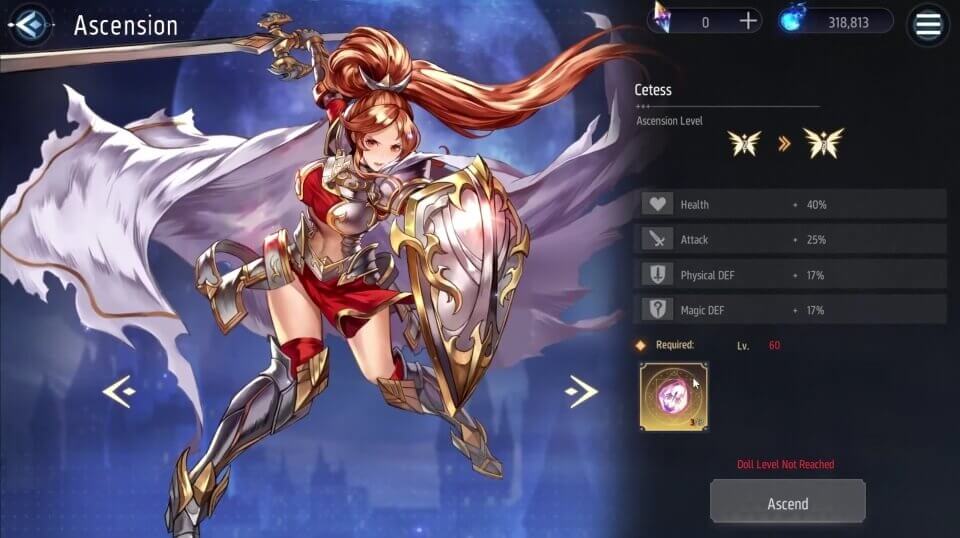 Utilizing and Managing your Stamina
---
Every stage in Revived Witch is going to cost you a certain amount of stamina before you can play. Skipping the mobs refund you with some of your stamina but not all of them. And if you are refunded with just enough stamina, you could spend them by playing the stages and levels that require less stamina, such as the Dreamworld. Such stages let you save up stamina rather than spending over 20 stamina on playing stages that aren't really worth spending such stamina count.
Players can purchase cards every month as well. The game also allows using Celia, an exclusive pay-to-play character that you can pay to use whenever a particular stage becomes a little too challenging for you to complete. Anyhow, Celia is a physically oriented character, so a couple of your characters and abilities may not be able to pair well with her or even pair with her at all.
How you use your stamina in this game becomes a relevant part of your gameplay and an essential mana item, doll equipment, and even skill materials. So if you wish to complete levels and progress faster, then you ought to refill your stamina often.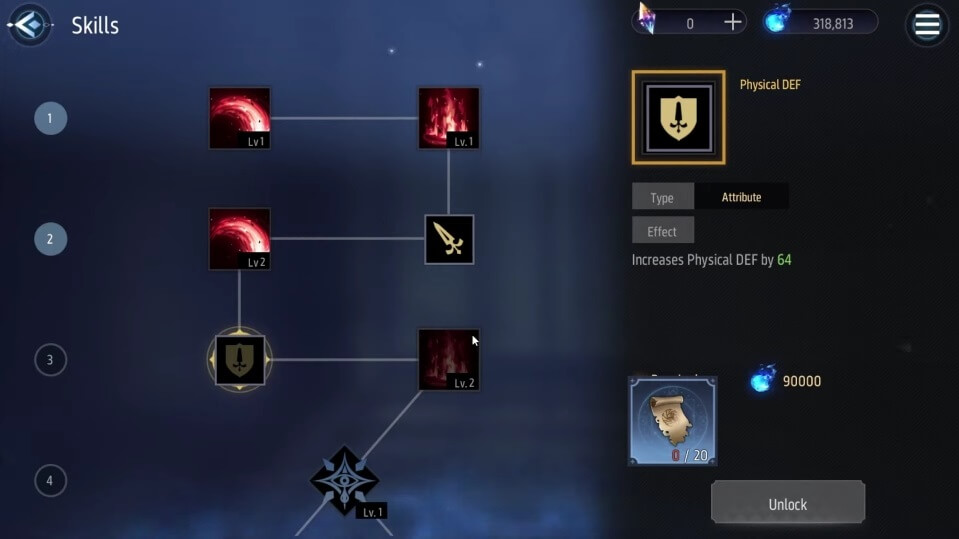 Using Equipment and Enchantments
---
In the process of going over a particular doll, you will come across a section titled Equipment. By tapping on the Forge button for every piece of equipment, you can level up items and characters. This method of leveling up ultimately increases all of your character's Power Level to a certain extent.
On the other hand, Enchanting is a feature that helps you change the attributes of any equipment. Assuming you have a stat on Physical Damage, enchanting will randomly provide you with an entirely different attribute such and a similar number. And it is totally up to you if you want to keep that, throw it away or simply use the enchantment feature once again.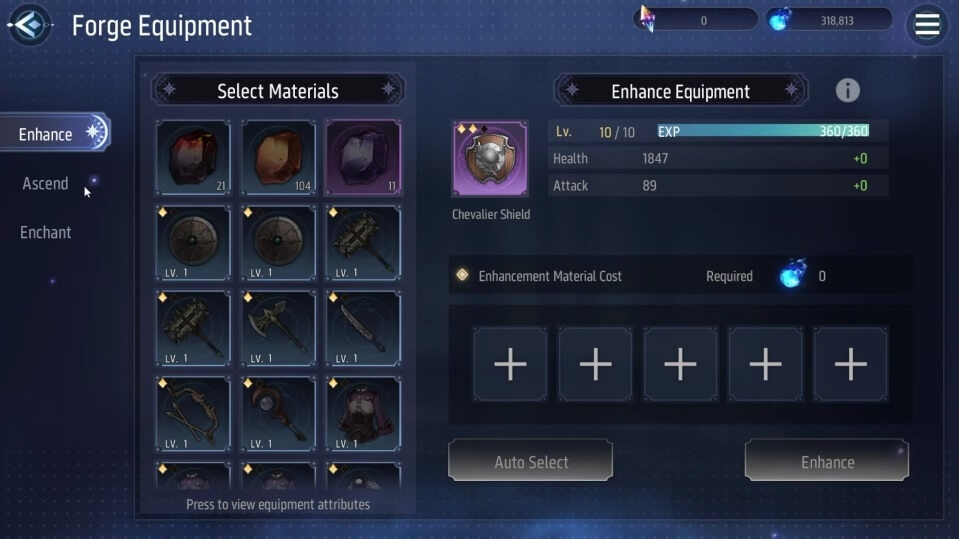 And lastly, you can use Evolve. This feature simply increases your overall star rating as well as your character's level. So basically, Ascension lets you go past your max level cap while evolve lets evolving increase the number of levels.