Ragnarok Online is a very famous title and has a variety of new and unique aesthetics, provided to all players with a class system. Unlike other games in the genre, players of Ragnarok origin will be starting off as a normal Adventure class rather than having the option to select their starter class.
Once a player reaches level 10 they can select which class to shift into and then progress into a different but more specialized job afterward. The same concept applies to this game since Ragnarok Origin is a replica of the mobile version of the actual game.
All players start off on similar grounds and must go through the tutorial prior to switching classes because your class choice will greatly affect your general gameplay style and, ultimately, your in-game experience. The reason for the same is that classes in Ragnarok Origin are very different, and every class has something unique to provide to any group.
Players who have played the original game will already know about the classes in Ragnarok Origin since they are the same, even in the mobile version. New players who will be playing the game for the first time will immediately notice that the class system is complex, and understanding which one to select can be quite a chore.
Class type: Swordsman - also known as Knight
---
The Swordsman or Knight is your primary melee damage dealer. A different class can be changed into a crusader but hasn't been unlocked yet. Hopefully, it will be accessible in the future. Crusader is nothing but a tank version of the regular Knight. Being one of the best early game characters that also can tease the opponent. Ultimately, he's an excellent early-game damage dealer and a capable PvE tank.
Hence a swordsman or Knight is a primarily recommended class because a Knight is essential on a dungeon expedition or a group. Additionally, the Knight or Swordsman is one of the simpler classes to explore and play. Even for newcomers, this is a perfect and optimum class to start. In terms of PvP, this is a good choice. It might not be perfect, but it's also not horrible.
The main stats of a Swordsman are STR, AGI, and DEX.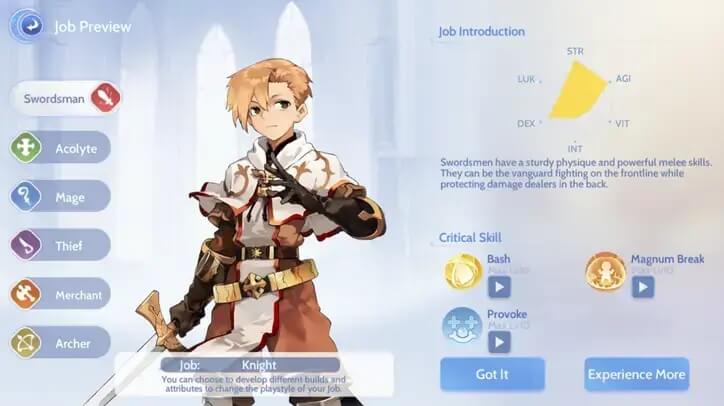 Class type: Acolyte - also known as Priest
---
Acolyte is among one of the most crucial classes of any group because of their strong healing ability, and also they provide significant powerups to their allies or teammates. Their aiding mechanism makes them not very exciting to use, but surprisingly their solo kill times can be significantly high due to their lack of quality of offense.
However, Acolytes can grow offensively and power up their farming capabilities, but they will never compete in more offense-oriented jobs. Players can consider putting this class in front of a swordsman as it's quite robust compared to others in the PvE class.
The Acolyte can be considered one of the most powerful classes in the game and an optimum choice for PvP. If you wish to have an excellent healer, you will be required to prioritize intellect, dexterity, and vitality while building this class.
The main stats of an Acolyte are INT and DEX.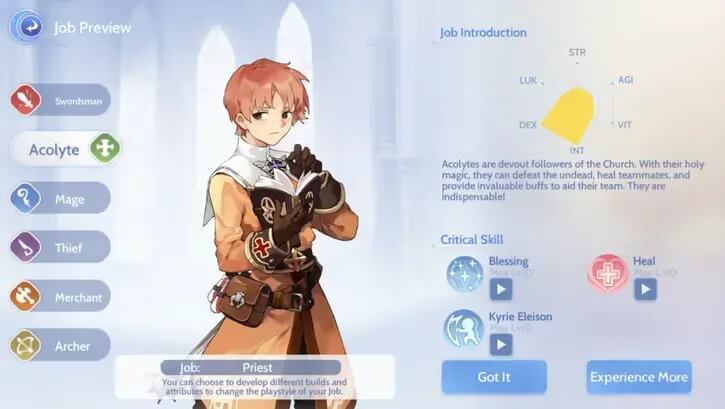 Class type: Mage - also known as Wizards
---
The next class on the list is the Mage, who also can transform into a Wizard. This is a quite simple magic damage dealer with unique abilities of fire damage, water damage, and also thunder damage-causing thunderstorms. As it's a mage class, staying at the backboard is very advisable because mages and wizards are very poor at hand-to-hand or frontline combat.
Focusing on replenishing intellect and abilities will provide great assistance in not letting your level fall too far behind. The SP has to be kept in mind as it is a necessary tool for magical abilities. Most of the people use Mage due to their raw damage-dealing factor. The only disadvantage a Mage or Wizard has is that they have long cast times, but Mage is an excellent PvE class despite this disadvantage. Avoid using the Mage if you are looking for a great PvP class.
The main stats of a Mage are INT and DEX.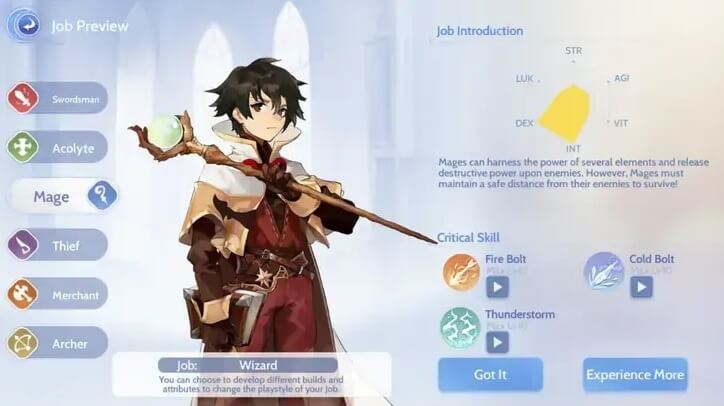 Class type: Thief - also known as Assassins
---
The Thief can be very well placed into the Assassin class and is very similar to other Assassin classes in terms of mechanics. Being a thief, agility is one of the most important things to be kept in mind. This means that using this class will include a lot of melee physical damage while constantly upgrading your agility; hence enhancing your attack speed also becomes quite necessary so that attacks can be performed more swiftly.
Additionally, an assassin class also can poison enemies. A very interesting stealth elimination ability enables them to go invisible to the eye, capturing their enemy off guard. Having a lot of tricks up its sleeve, this class can also be mentioned as the trickster class. It is optimum for PvE and also a good choice for PvP because of the high crit damage potential.
The main stats of a Thief are STR and AGI.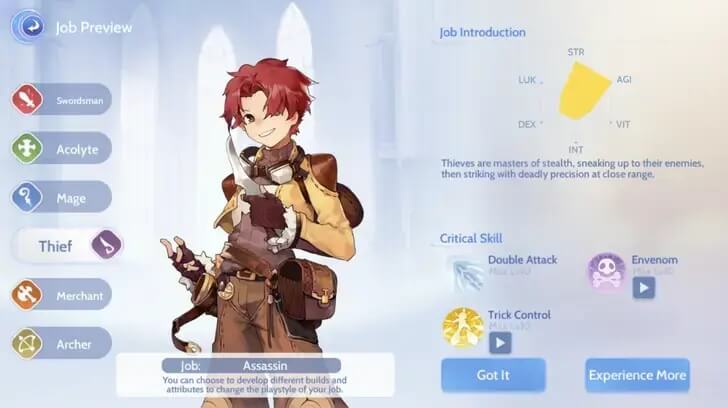 Class type: Merchant - also known as Blacksmith
---
Merchants are a very unique and interesting class considering their strengths and abilities are not necessarily required in the battle arena; instead, it resides in the trading sector of the game. This class has the abilities that allow the user to generate income. Additionally, while they can cause severe damage in the long run, they typically do so at a monetary cost.
Merchants have an interesting ability to change into a Blacksmith and also into a Whitesmith. If efficiency is your primary game plan, then a Merchant can be very useful. Even though having a moderately powerful playstyle, they can help generate revenue which in turn will assist in progressing quickly and keeping your inventory full of essential items.
The main stats of a Merchant are STR, AGI, and DEX.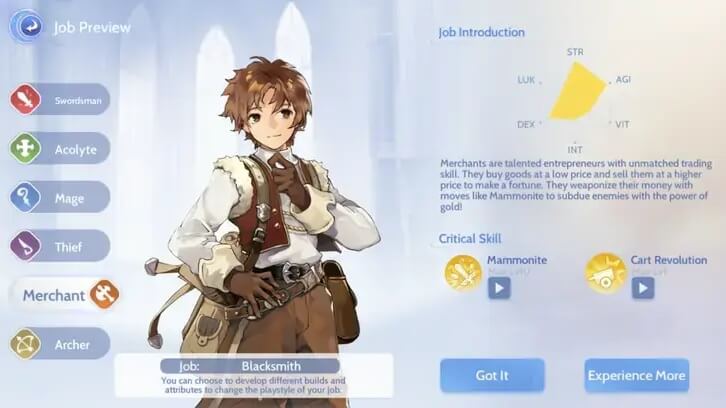 Class type: Archer - also known as Hunter
---
The name itself suggests that this will be a long-range attacking class. An Archer can shoot arrows at enemies and deal significant damage to them in an orderly fashion. To fire arrows quicker and attack faster, make sure to focus on the dexterity and agility of the character. Investing money into an Archer prematurely in the game might not be a good option.
An Archer can use high-quality equipment to overcome its disadvantages to some extent because the Archer can prove to be one of the best classes once you have optimum equipment. Surprisingly, even after not being a good choice early on in terms of monetary investment, this class deals with one of the greatest amounts of damage. The Sharpshooting class deals an extraordinary amount of damage to the opponent. This class is optimum for both PvE and PvP situations.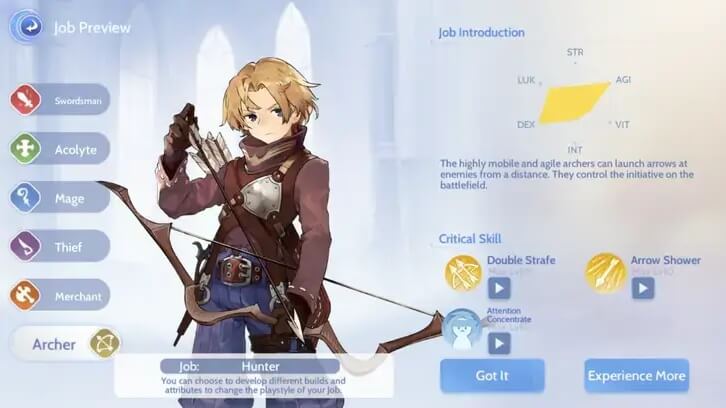 Conclusion
---
Choice of initial class in the game will vary according to the player's play style. For beginners, the Swordsman is the best option. But the Archer is best for solo play as they have great damage-dealing abilities. If engaging in a group is a priority, Acolytes are a great choice. Simultaneously, Mage and Thief classes are great to deal huge damage with a tinge of uniqueness and complexity.
Last but not least, Merchants are very important if revenue generation and expenditure are among the priorities. Nonetheless, all classes are unique in their way and very much fun to explore.