Ragnarok Online is an extremely popular game developed in the anime-styled theme with massive multiplayer online RPG support is finally going to be released onto mobile platforms after two decades of being playable on PC.
The game Ragnarok has been very successful and loved by its player base, and even today, it has its servers working and running for all players and a humongous 57 million player base. The mobile version is developed by Gravity Co. Ltd. and is currently up for pre-registration on both android and iOS devices.
About the developers and the game
---
Gravity Co., Ltd. was established in April 2000 when the Korean online gaming industry was still in its initial stages. The company has now progressed into a worldwide online game company and has launched the successful game Ragnarok Online across 93 regions. 'Ragnarok Online' has bagged many awards over the last ten years. It also received 1st position for one of the best-exported games for three years, and now the franchise has gathered over 120 million players all over the globe.
Ragnarok Origin was in fourth place in terms of overall sales on the Google Play Store and App Store just after 5 days of release in July 2021 in the Korea region. It was also ranked in first place as a free download game on the iOS App Store and Google Play Store in Japan. This was shockingly on the first day of the game's release.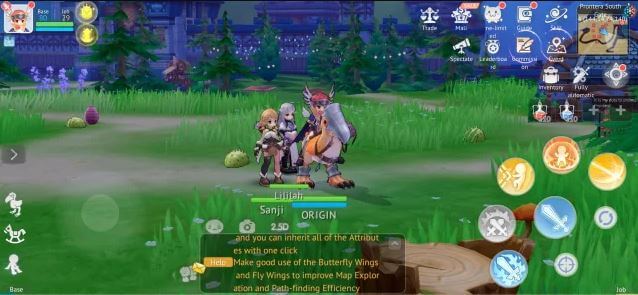 Ragnarok Origin will provide the players with a brand new and upgraded gaming experience
---
Ragnarok Origin is not the only game by Gravity to get launched for mobile devices. Most of the previous games have gained good reviews from the player base, but Ragnarok Origin would mostly have a better experience in terms of its unique gameplay.
As the storyline is explained in Ragnarok Origin, there has been peace for thousands of years now. But always peace is simultaneously followed by chaos. Uncertainty and confusion must emerge when issues begin to appear on Midgard after hundreds of years of peace.
In this latest game, Gravity has added many new features like enhanced customization, upgraded graphics, visually realistic battles, quests, and tasks. Additionally, players will have the freedom to choose either to play on their own or form guilds with fellow players in Ragnarok Origin.
Ragnarok Origin is now available for pre-registration
---
Ragnarok Origin is presently up for pre-order or pre-registration for Android and iOS devices on the Google Play Store and the iOS App Store, respectively. Pre-registration for the game has already begun, and there are many exciting rewards for the game that the developers have in store for the player base.
After every milestone has been reached and on achieving a million pre-orders, a lucky winner will be gifted a brand new Tesla Model S. Some of the other in-game gifts players will be receiving on specific milestones are:
200,000 players signed up– Ring for beginners, Box of Potions, Gym Pass
400,000 players signed up– Lucky Farming and Combat Acceleration Candy, Quality Reincarnation Stone
600,000 players signed up– Meow Meow Flu Mask, Hairstyle Changing Box, Bank Expansion Ticket, 1-Star Potion Selection Pack
800,000 signed up– Souvenir Profile Photo, Neutralizer, Bronze Coin, 1-Star Dish Selection Pack
1,000,000 signed up– Poring Turban, Worn Card Album, Zeny, 3-Star Dish Selection Pack