The fantasy world of Rahil, where The Summoners War: Chronicles takes place, is run by a monarchy that doesn't work well. In recent years, threats to the stability and well-being of the monarchy have come from places nobody knows about. The king has chosen you to lead the defense of the country, so there is still a chance that everything will work out.
Table of Contents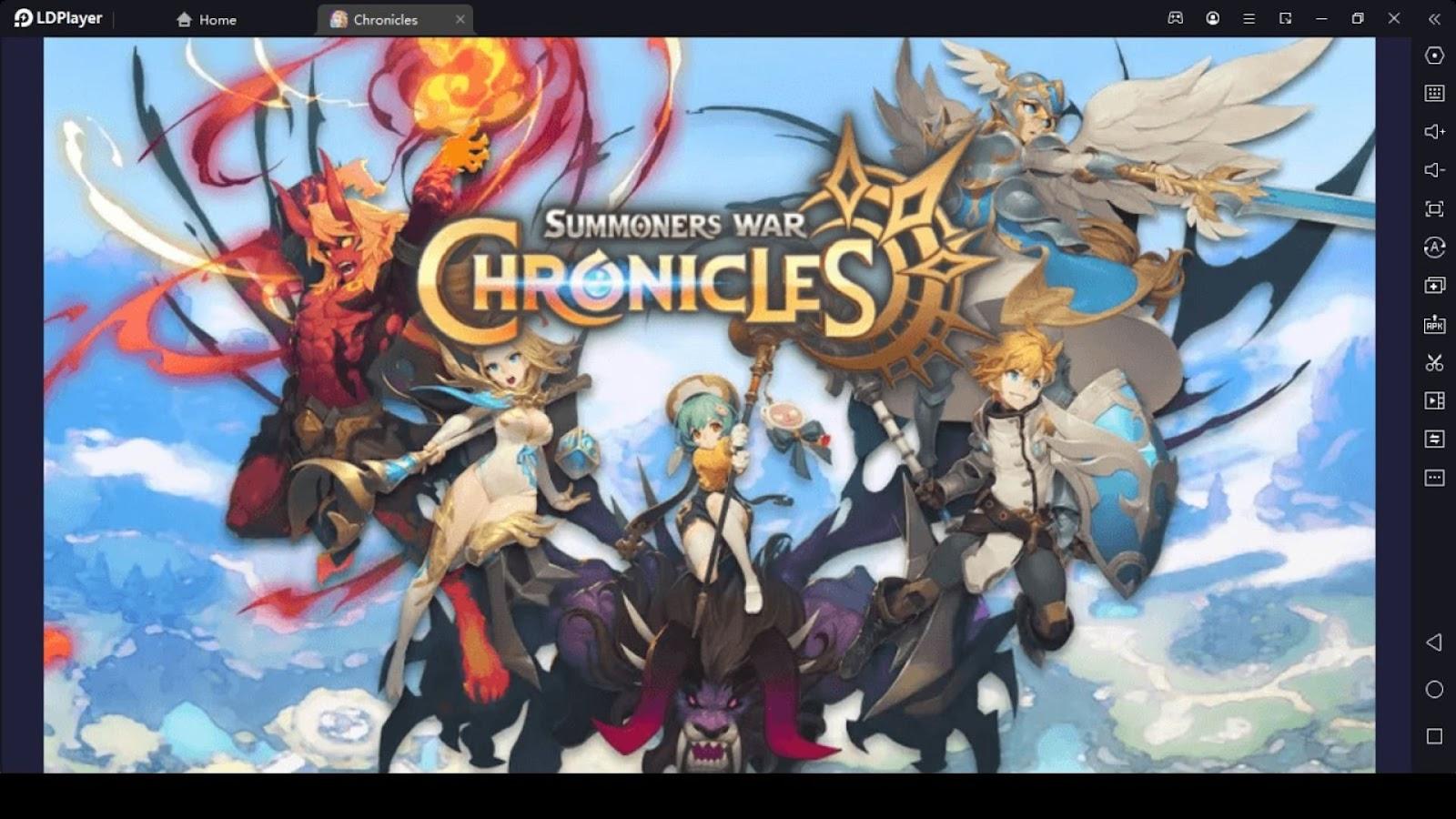 Download Summoners War: Chronicles BETA on PC
As you keep traveling, you will eventually find yourself in a big, open world that is full of danger and fun. On the map of the world, there are a total of five different sub-continents. Each one has its own kind of weather and set of problems. Even though Rudelin is a great place to visit, you should know that it is also the stronghold of enemies who want to steal the old ruins and other strange things you might find there.
The next stop will be in Tesca, a desert area where once-majestic cities have been left to fall into ruin. You'll also find Ayah, a place with lots of trees and friendly elves who stay to themselves. The weather in Florence is cold and snowy, and blizzards and high snow peaks are possible. Your trip will end in Rukurangma, a terrible place where the Banians rule. This will be the last place you go. Lets see how you can play Summoners War: Chronicles on PC with emulator.
Summoners War: Chronicles Gameplay
As a Summoners War: Chronicles beginner, you play the part of a skilled summoner who can call on powerful monsters to fight on your side during battle. At the start of the game, you have three choices, and you can pick one of them to play the role of you, and you can later summon monsters to fight beside you. You are up against fierce and relentless enemies, but if you have a team of monsters on your side, you will win.
As you fight, you'll need to get good at avoiding attacks and putting yourself in the right place to get the upper hand. Your monsters have a wide range of abilities, from active powers that do a lot of damage to passive abilities that give you powerful benefits. You can also deal a steady amount of damage with basic attacks, and you have some skills that let you avoid attacks from enemies.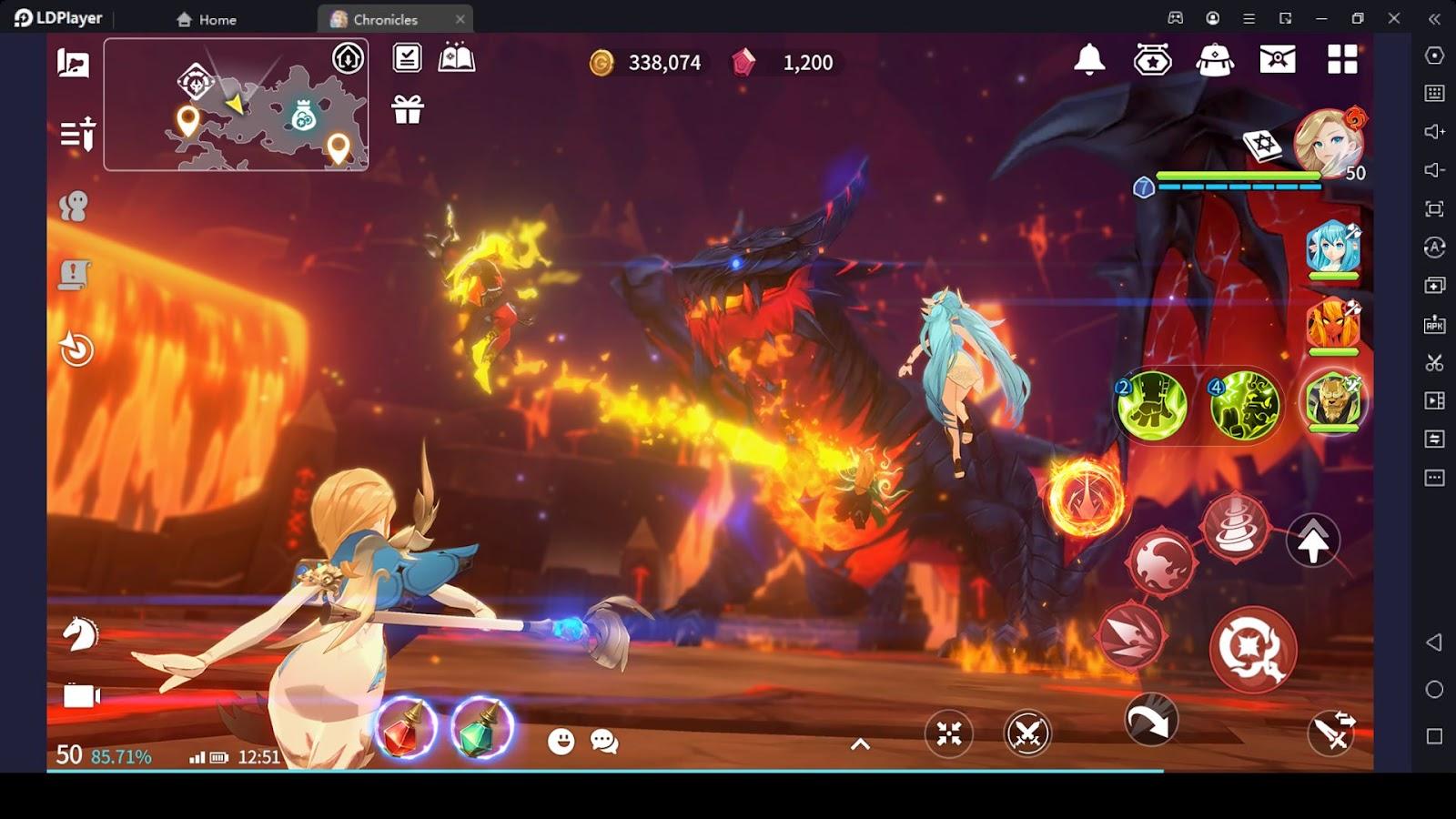 You will face problems in both player-vs-player and player-vs-environment fights, and each one requires a different strategy to win. You will face off against other players and their armies of monsters when you engage in Player vs. Player battle. When you engage in Player vs. Environment battle, you face off against mighty bosses and armies of foes all at once.
As you progress through the game, you'll face stronger enemies, but each victory will also make you stronger and bring you closer to your ultimate goal, which is to protect the kingdom of Rahil and become a legend in the world of Summoners War: Chronicles.
During your travels across the five subcontinents, you will find ancient treasures, fight deadly enemies, and learn about the country's secrets. However, the battles themselves will be the true test of your tactical skill and flexibility. With each fight, you'll get better at summoning monsters, and with each victory, you'll grow into a real warrior who can make your monsters great and powerful under your command.
How To Play Summoners War: Chronicles With an Emulator?
In order to achieve this task, there are a few ways you can follow. In this section of the Summoners War: Chronicles review , we'll show you how to use an emulator to play the game easily.
For players in Blocked regions:
First, go to the LDPlayer website and download the LDPlayer and install it on your PC.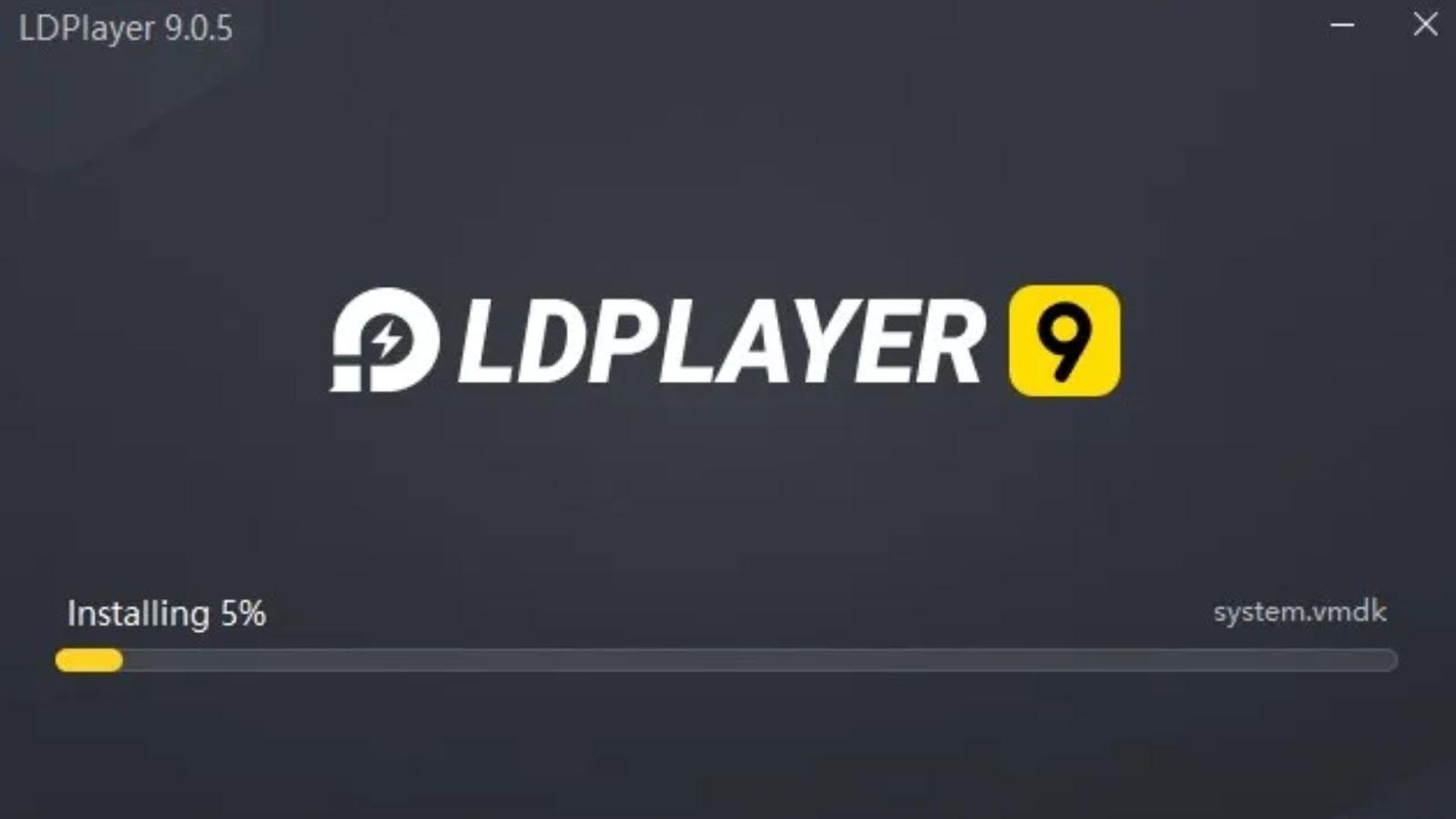 Now run the LDPlayer and log into the google play store and download your preferred VPN.

Now go to google play info by dragging the play store application onto the "app info" option appearing on the left side of LDPlayer.

Now in the next window, go to storage and clear all data.

Now go to settings and type in the search bar "Account," and go to account and remove your google account.

Now run the VPN and select the country as US or Koria, and log in to the google play store with a new account that hasn't been logged into the google play store.

Now you should be able to download Summoners War: Chronicles to LDPlayer and play on your PC without any problem.

If you are in an available area, then you can skip the VPN part and directly download Summoners War: Chronicles into LDPlayer and enjoy it on your PC.
Setting up the Controls
Once the game is up and running, go to the Keyboard Mapping feature by clicking on the keyboard icon. You will see a little explanation when you hover the mouse pointer over each option.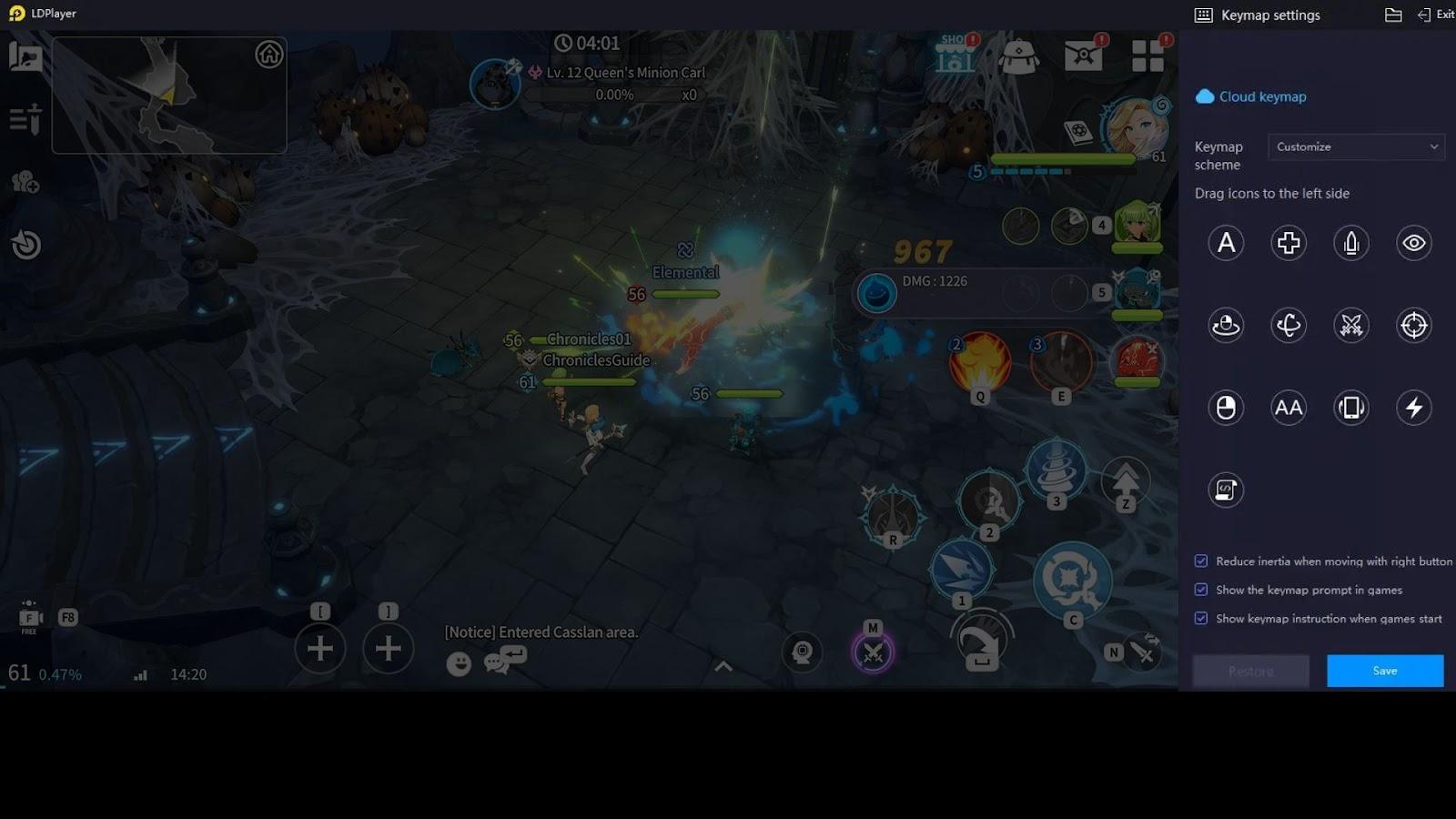 First, drag and drop the control move direction option onto the game joystick.

Find an option with an "AA" icon on it and drag it onto the regular attack button. (This will spam the regular attack as long as you hold it down and help you avoid breaking your keyboard)

Now click on each skill and set your favorite keys to them.

Also, make sure to drag and drop the mouse to control the direction option on the screen. Through this option, you can control the camera with your mouse.

Once you save these settings, you can start using them right away.
Graphics/Sound Quality and How to Improve It
This game's graphics are very fun to look at. They have a cartoon-like style that brings the game's different characters and demons to life. The effects of the spells are especially impressive because they add a new level of visual spectacle to the game. Even though these effects won't look as good on lower-end devices as they do on higher-end ones, the game will still run well on those devices.
The game's soundtrack, which includes sound effects and background music, is well-made and helps make the experience more immersive. The background music is made up of two different kinds of songs, and each one plays at a different time during the game. This makes the sound more dynamic and fits with the different parts of the game. As a whole, the game gives players an experience that is both visually appealing and interesting, which is sure to make them happy.
When you play Summoners War on LDPlayer, you are not limited like you are on a mobile device. By giving LDPlayer more resources and changing some settings, you can fully enjoy the game as it was meant to be played. If you're interested, here's what to do.
First, go to LDPlayer's Settings by clicking the hexagon icon in the upper right corner.

Then, go to the Advanced tab and choose how much RAM you want to give LDPlayer. You can also find the option to Increase the number of cores here.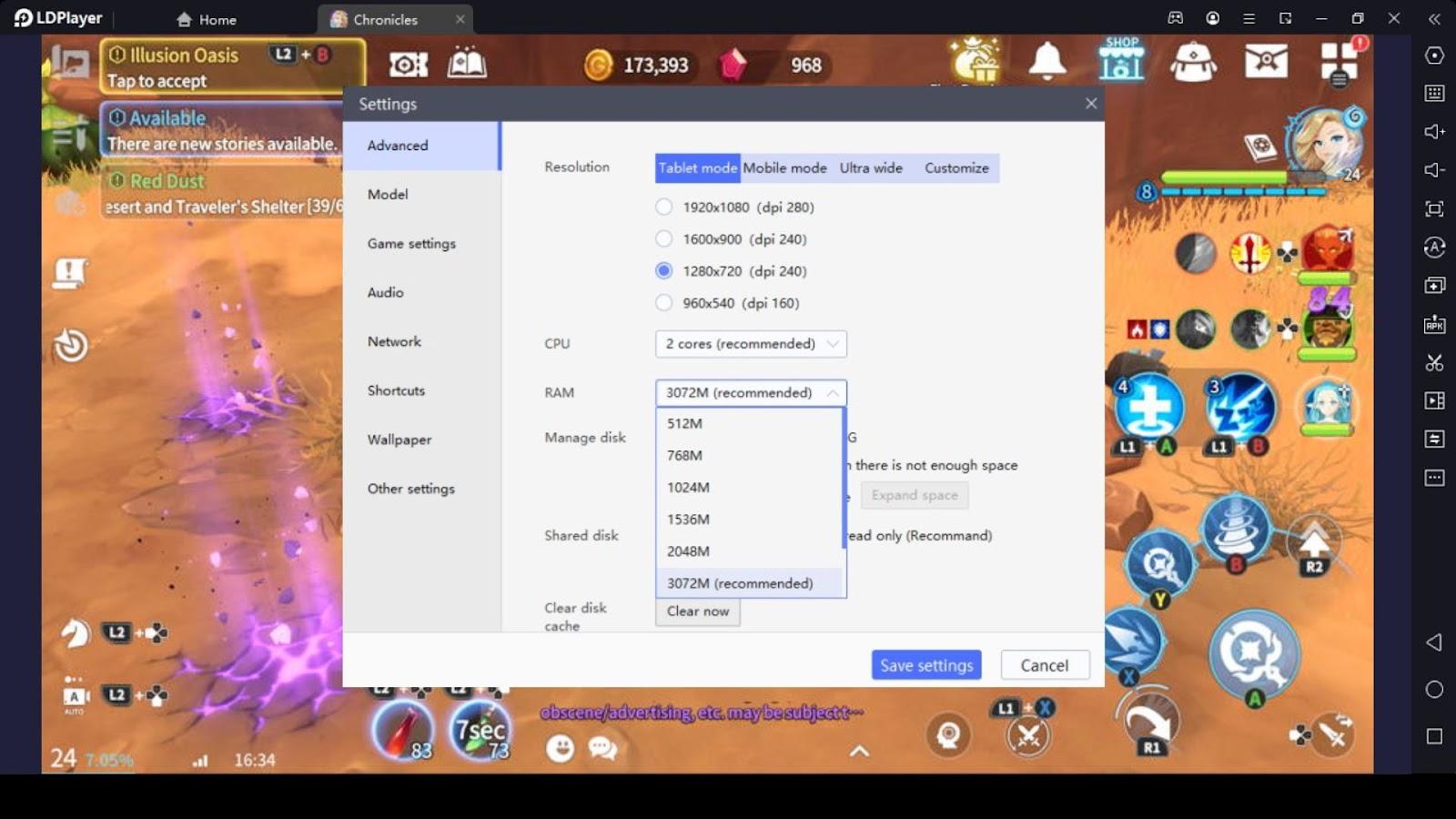 Now, go to the game settings tab, check the box next to "Enable high frame rate," and choose the highest frame rate.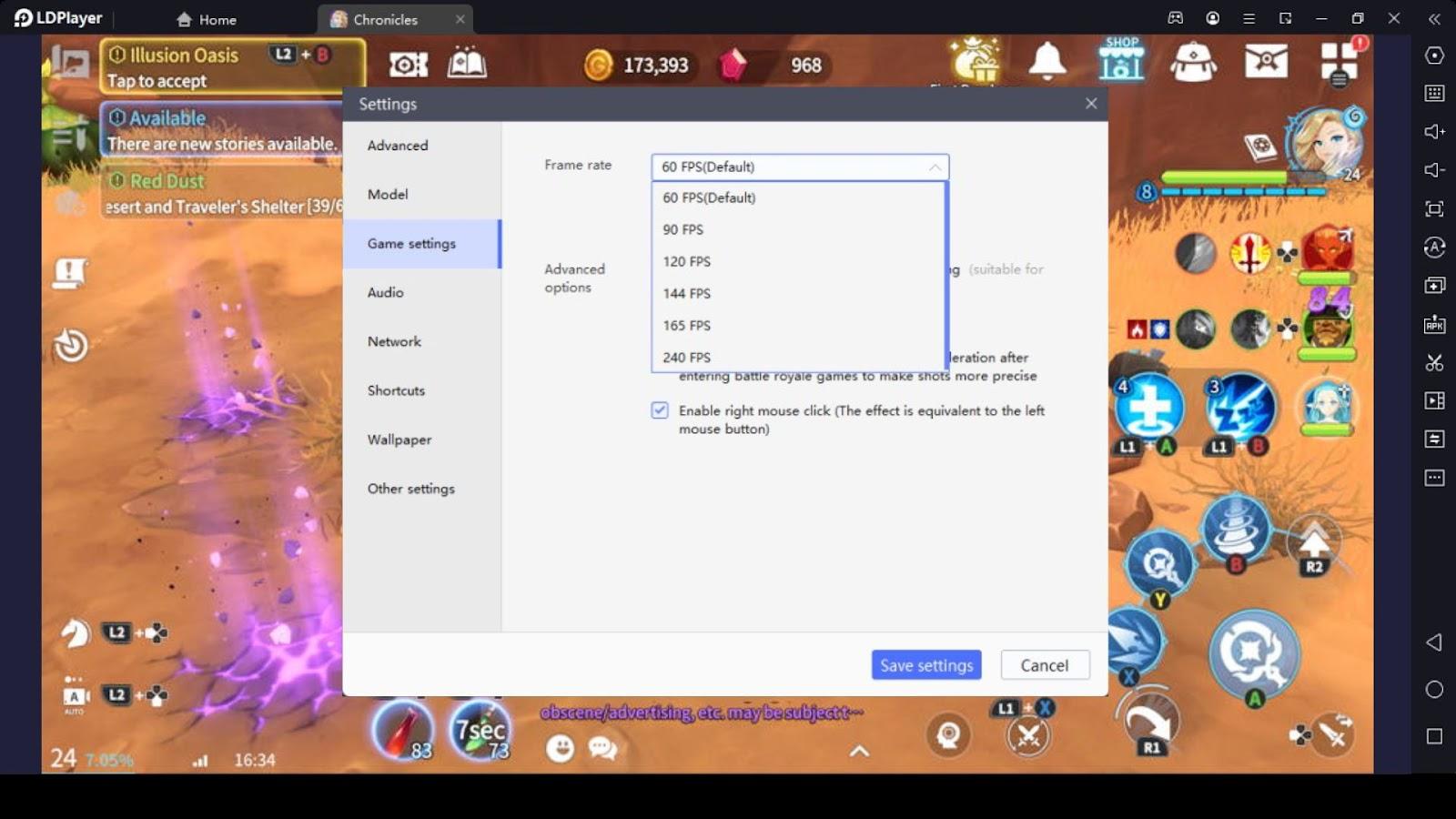 Why Play Summoners War: Chronicles With LDPlayer
How well you can play the game actually depends on how many powerful Summoners War: Chronicles characters you have; if you don't know, you will see that referring to a Summoners: War Chronicles tier list. But the chances of getting the most powerful one on your first try are very slim, and you will have to start over a few times until you get satisfying results. This task is a little tedious, but with the LDPlayer Multi-instance Manager and Multi-instance Sync feature, you can run more than four copies of the game at once and choose the account with the best result easily.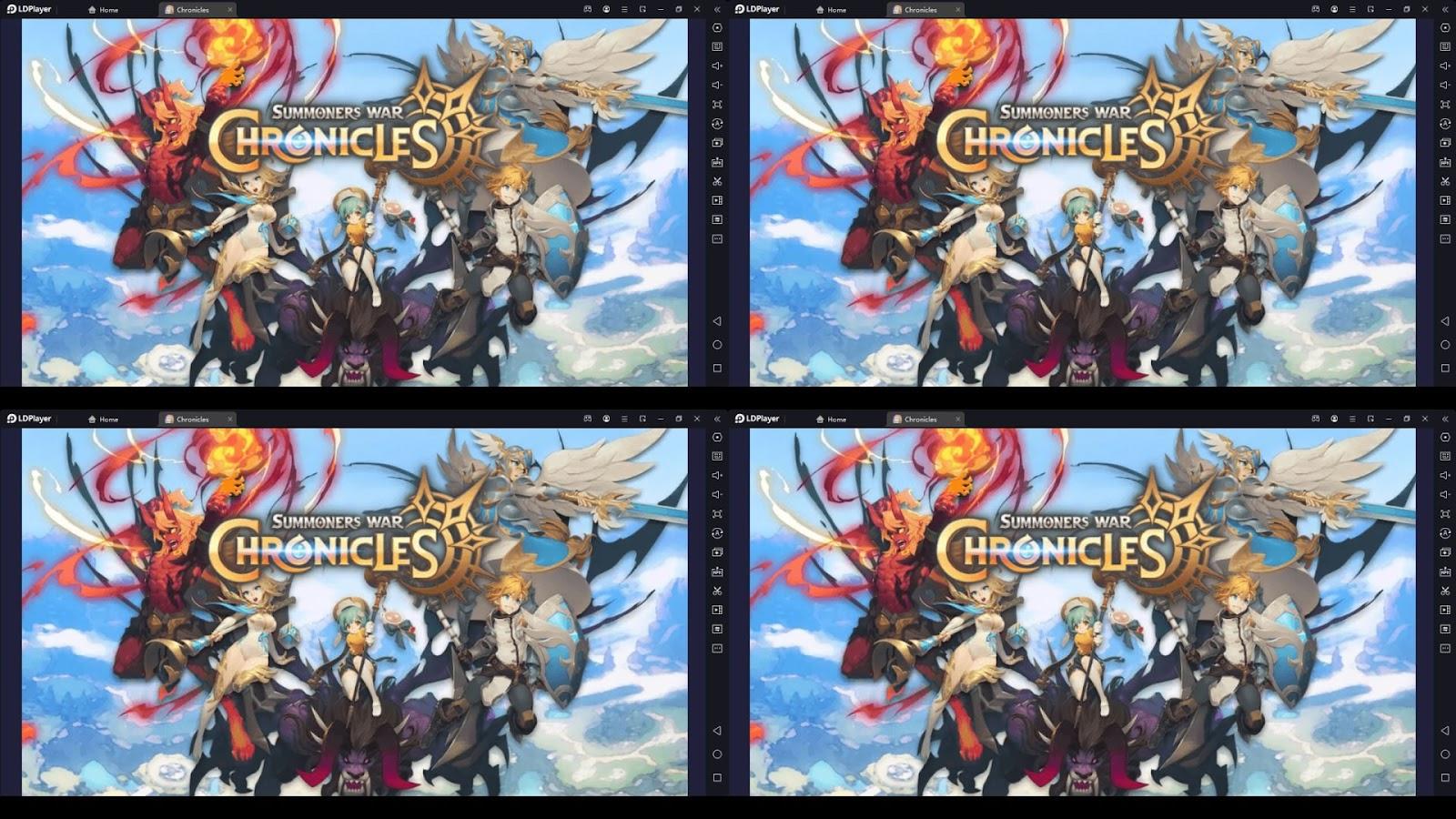 Simplify the Summoners War: Chronicles Gameplay
You know that the game isn't in full auto mode, so you have to play a dungeon a few times before you can run it auto mode. This means you have to manually control the game in battles; when you play on a mobile controlling the characters and using skills, dodging enemies' attacks during combat will not be easy. The sheer number of options and actions you need to do could cause you some mental stress.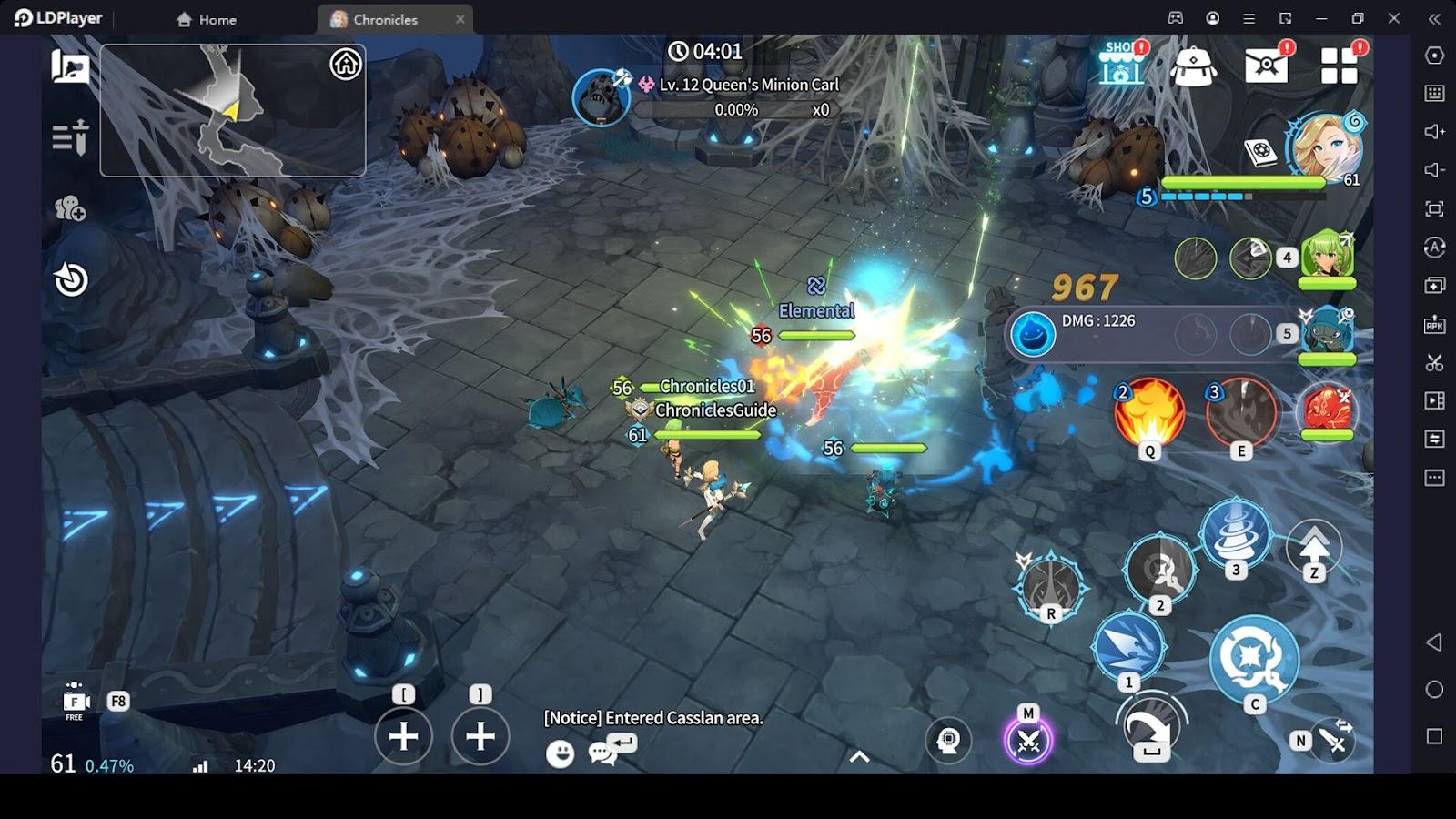 However when you play Summoners War: Chronicles with LDPlayer, using its Keyboard Mapping tool, you can set up your favorite keyboard buttons to control the game. Because you have your usual controls to play the game, you can move around easily with WASD keys and play the game without even thinking about controls. And additionally, when you don't feel like smashing buttons, you can use the "simulate continuous tap" option to do the attacking for you.
Conclusion
This guide and review for how can i play Summoners War with an emulator covers the basics of using an emulator to play the game, as well as some of the game's most notable features. We hope the Summoners War: Chronicles tips we provided here are useful. We will now close this guide and wish you a pleasant day.