Guns of Glory is a popular Strategy MMO where you build vast armies towering castles and wage war to rid the Kingdom of your foes using your Airship along with your forces to ascertain dominance over your region. You will forge alliances to crush your enemies or betray your allies when needed to become the true Emperor you always dream of.
We can help you realize this dream by helping you through this farming resources guide. All you're upgrades, research, and deploying soldiers require heavy amounts of investments in the form of resources. We will guide you with extensive tips to farm these resources and come out on top.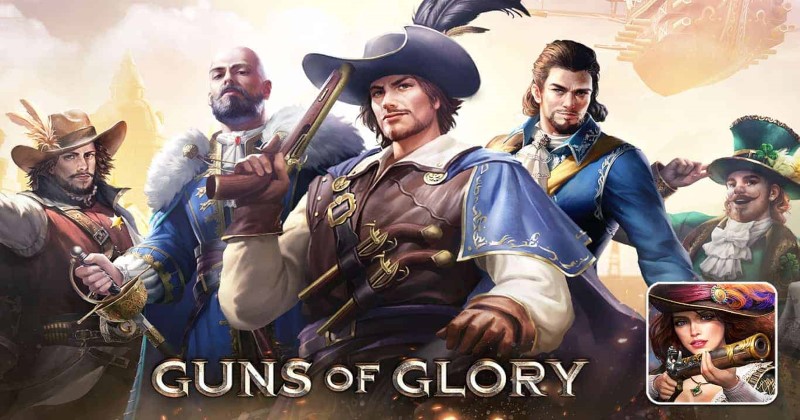 You can also download Guns of Glory on PC for free to increase your gaming experience.
Farming resources:
You need resources to build buildings, upgrade them and do research, and train your troops. To do that, first, you need to build resource management buildings inside your city. You'll need to gather these resources out in the wilderness. Attack opponents that you can steal your resources from and get rewards from looting them. You'll have enough resources to spend on building your empire.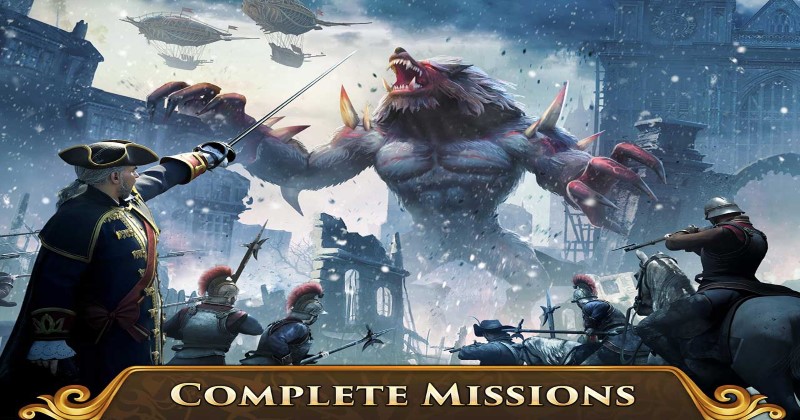 In the beginning, when you are not as strong, keep your resources in your backpack when they are not required so they can't be stolen that easily or plundered. Take them out of your backpack when you are going to be spending them. The same is the case with speed-ups.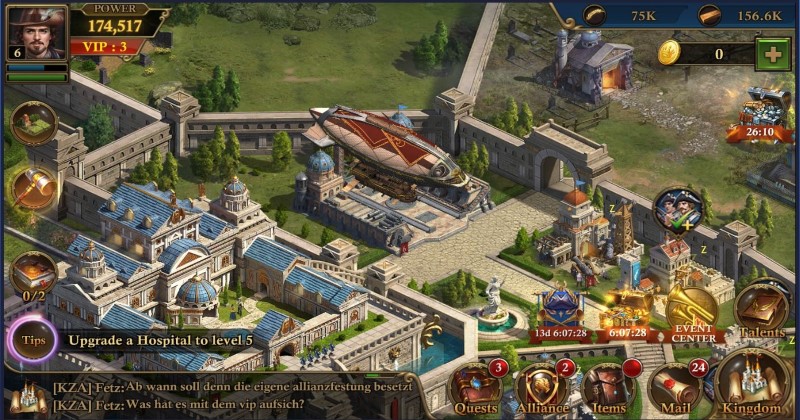 Do keep in mind that initially, you need to train as many soldiers and make a few battalions to send out as many marches as possible to different locations to gather as many resources as possible.
Constantly refresh the map as often as possible as there might be newer tiles spawning near you, so either you need to take care of the enemies, or you can farm more resources quickly if you are strong enough to send more troops out.
When you are done with initial upgrading and farming, and now you want to take farming to the next level, you need to farm with multiple accounts, which we have discussed in detail on how to do.
Farming with Farm Accounts Method:
It should take note that it can become tough to reach the resource requirements for buildings upgrades, research, and training in Guns of Glory. Even though you can send out multiple marches each day to farm as many resources as possible, it would still not be enough. To overcome this obstacle, you can set up farming accounts.
By using a farm account, you build another city just for the sake of gathering resources. These resources can be transferred or gifted to your main account city to boost the power of your Kingdom.
Level Recommendation Making Farm Accounts:
Before starting on the multi-instance path, we recommend you to be at a certain level to be beneficial to both of your accounts. You need to upgrade your account to at least level 10 to start mining Iron, but for mining Silver, you should be at least level 15. Leveling up is necessary because you have added benefit of unlocking different areas, allowing you to build more resource production buildings.
After reaching these levels, you can start your farm account and be ready to teleport your farm account as near to your main settlement as possible.
Teleporting:
You can do this by using the teleport scroll found in your bag when you start your fam account. Remember, do this teleportation as soon as you start your farm account because this scroll is only available for the first five days of the account creation.
Now, the process to do teleportation should begin with joining an Alliance from your main Guns of Glory account. Joining an Alliance provides protection and other exclusive buffs and benefits, but it is also essential because you can only trade with your farm accounts through your Alliance.
After the Alliance, you find out the coordinates of your main city. You'll also need to note the Kingdom number of your main Guns of Glory account.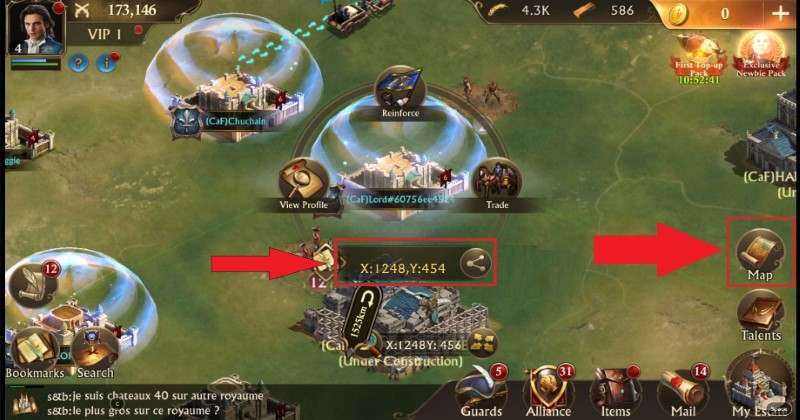 As soon as you use the teleportation scroll from your bag of your farm Account, the Search Kingdom search pops up. Enter the Kingdom number and then scroll down to the Castle number that was assigned to your estate, or if the menu takes you back to your farm account estate, press the lens icon and enter the coordinates of your main Guns of Glory account city. The game will teleport your new city nearest to your main city. Sometimes it may not be as near, but you can send some of your armies to save-guard your farming city.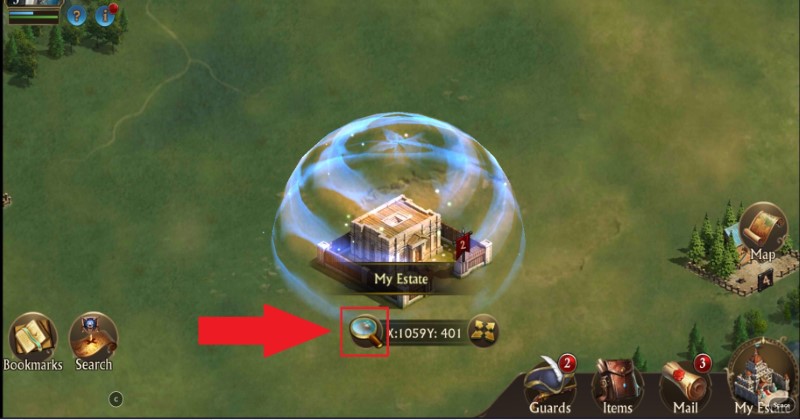 After arriving, join the same exact Alliance that your main Guns of Glory account has. This way, you have your farm account, and the main account is in the same Kingdom and same Alliance. You can now start gathering resources to send you to your main city.
Transferring resources:
The moment you think you have gathered enough resources, you should transfer them to your main city. There are two ways to transfer the resources to your main account:
Trade and pay a fee – By this method, you can transfer the gathered resources quickly from your farm account to your main Guns of Glory account, but you will have to pay a premium fee for the trade-off.
As we have said before, your main Guns of Glory account and farm account have to be on the same Alliance.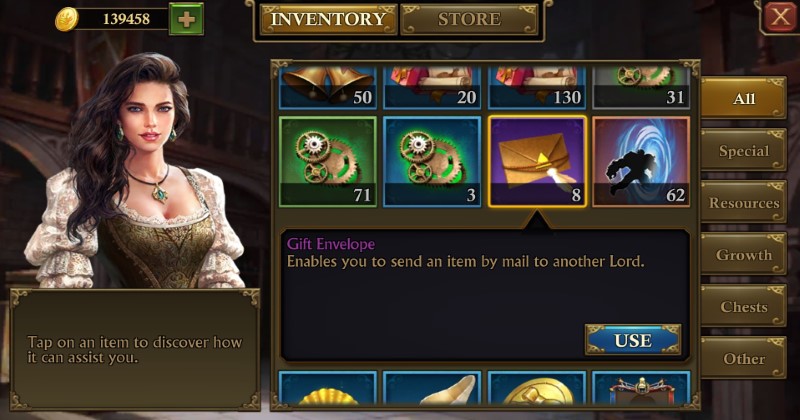 To transfer resources, click on Kingdom at the bottom right corner and then select your main game account. Tap to send resources and then choose how much. You will see here how many will be deducted as a premium. Just click send, and the resources will be on their way. The time taken to reach your main settlement depends on the distance between your two settlements.
Attack and Conquer – The Attack method is when you want to get the resources from your farming account by attacking that account city by using your main Guns of Glory account.
By attacking your farming settlement, you avoid the fee for trading resources that you would otherwise pay during the Trade method. Be warned as this method takes time because you may have to attack your farm estate more than once. To achieve this method, both your accounts not be part of an alliance.
The first step is to sever the ties with Alliance and leave it, recommended being done by your Farming account if you don't have any strong enemy forces nearby. Then go to your farming account city and click rally your troops there, and then press march.
Your troops will attack and steal as many resources from your farming account as possible, as you may need to do that more than once to plunder your farming account thoroughly. These extra resources can be instrumental in strengthening your main Guns of Glory account even further.
Farming Red Guard Camps:
Rallies on Red Guard Camps are an excellent way to get resources where rather than focusing on the chests, setting two extra rallies on the Red Guard camps would get you and the Alliance a lot more resources.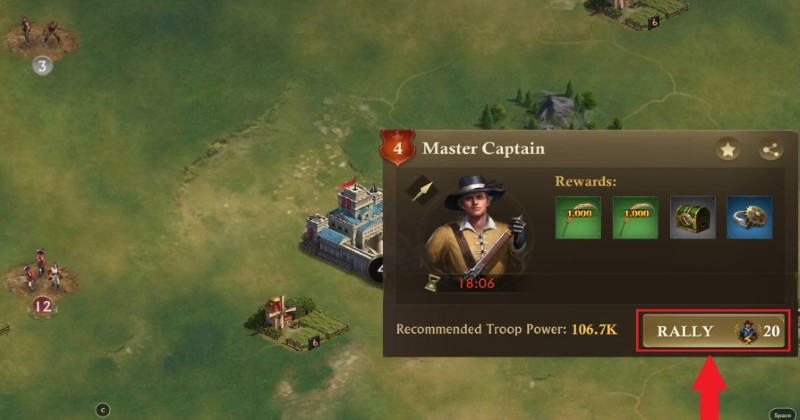 The above-mentioned Farm Account usage described in this guide provides you with information for getting the most out of Red Guard rallies, which is easiest if you have multiple Farm Accounts or you team up with different players with clear agreement to clear Red Guard rallies.
Red Guard Camps provide you with Food or Wood. If you want Food, in which case you look for a camp with Food/Food. Or wood if that's what you need and so on.
The amount that is distributed is as follows: up till level 12 100k, from level 13 to 18 200k, from level 19 to 24 300k, and above 400k. It is good to focus on reaching the next level and so on, so start as soon as possible with level 13 camps, soon after making the target for level 19, and finally 25 (although the higher is still better because of the Victory loot, and the better Chest).
Using LDPlayer's Multi-Instance Feature for Farm Accounts:
Easy steps to send out resources to your main account city using what you gained from your farm account is to create an entirely new account using the multi-instance function of LDPlayer. Make a new google account in that instance, download a new game of Guns of Glory. Sign in to the game and try to find a tile near your main account city, if possible. Otherwise, we'll use the teleport feature. being nearby will make it easier to trade and transfer resources.
You can run three different instances at the same time to send your tips to different mines to farm resources. This number has been confirmed by the game developers to be the maximum, any more than that, and you may get banned.
You can farm up to 20,000 iron per hour per instance, for example, this way if you have enough troops. You can normally march up your troops of more than ten marches combined between these instances. For this, your city should be upgraded as much as possible and account level higher than 15 because you need an increased number of troops to march and farm these mines.
The same above method can be used for silver as well.
Conclusion:
Guns of Glory is an expansive game due to its map mechanics, and sometimes the wait to gather resources to be able to upgrade your city and other buildings to the next level can be cumbersome sometimes. Thanks to the multiple account solution provided in this guide, it can give you the boost that you sorely require. To read more about the game, you may look into our other guide, Guns of Glory Game Guide and Tips and Tricks.