Arcana Tactics is an advanced Role-Playing Game developed by GAMEVIL studios. In anticipation of its release, several rewards are being provided to players for those who register in the game's open beta phase. Currently, you can claim these rewards till 4/6/21. As soon as the beta ends, all progress made will automatically be reset. However, the main advantage of playing in the closed beta is the rewards you get, which will permanently stay on your account alongside the amount of experience you will gain when playing in the closed beta.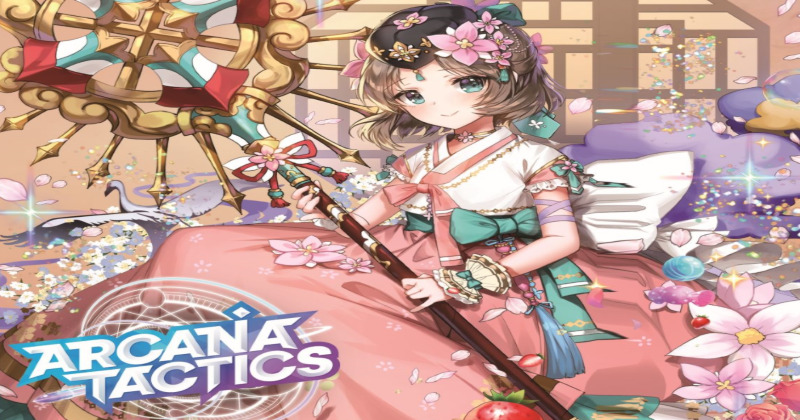 How To Download Arcana Tactics on PC?
The following steps will teach you how to download and play Arcana Tactics on any Windows device, a computer, or a laptop. Since not everyone at home has high spec computers, we recommend using LDPlayer as it provides the best optimization for lower-end systems and ensures a demanding game like Arcana Tactics can run smoothly on the Emulator.
Downloading Arcana Tactic on the PC provides you with a few inherent advantages that make it a worthwhile decision. For example, you can enjoy the game on a bigger screen while also making sure that your phone's battery does not take a toll and overheat from excessive gaming.
Step 1: Download and Install LDPlayer on your Desktop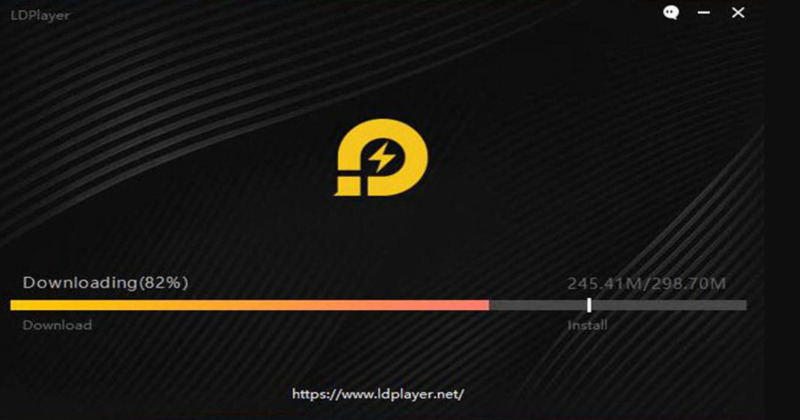 Step 2: Open LDPlayer and search Arcana Tactics from LD Store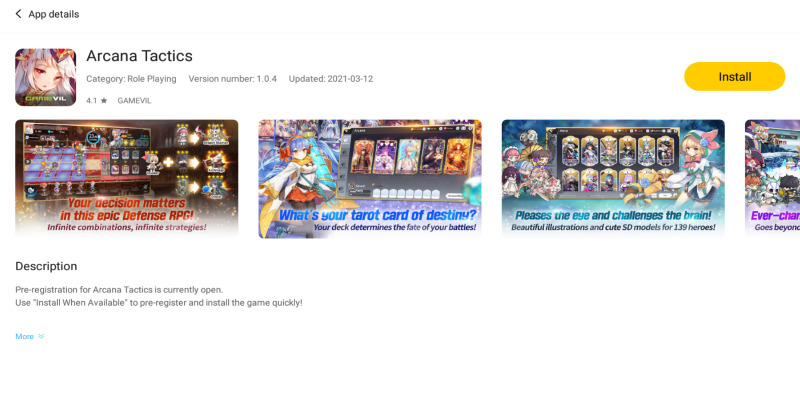 Step 3: Install Arcana Tactics on your LDPlayer Emulator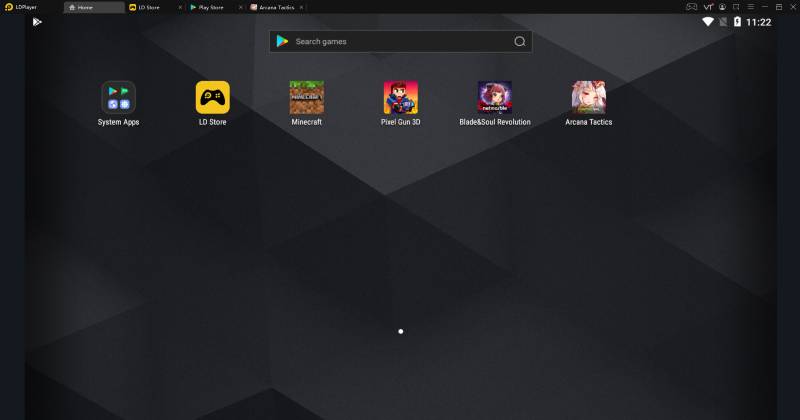 Step 4: Open the game and Enjoy Playing Arcana Tactics for Free on PC With LDPlayer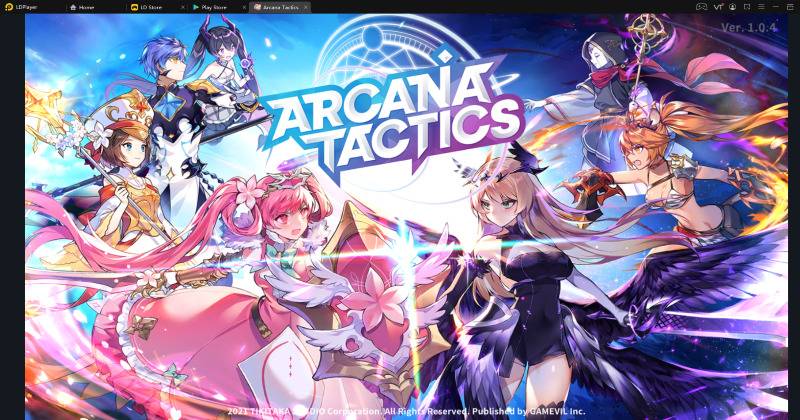 Why Play Arcana Tactics on LDPlayer?
Arcana Tactics is an advanced strategy RPG game that combines a lot of intriguing concepts into one. Tasked with controlling your squad with each character having their unique roles, abilities, and skills, the game might seem incredibly daunting at first.
However, you can use a few inherent advantages when using an Android Emulator like LDPlayer. Alongside multiple quality of life features that enhance your gameplay experience, the Emulator offers support for various languages, including Portuguese, Thai, Korean, to help provide a more globalized experience.
Useful LDPlayer Features to Play Arcana Tactics:
As mentioned earlier, Arcana Tactics is packed with tons of features that you can take advantage of to help elevate your gameplay to the next level. As an example, the Emulator allows you to take complete control of the game by using your Keyboard and Mouse to play.
Now, you can use your Keyboard and Mouse to play Arcana Tactics through LDPlayer.After you've entered the game and have logged in, make sure to go to the toolbar and enable keyboard mapping. You will see different icons that correspond to other actions. You will then need to drag the particular key bind to its specific spot and assign it action and key.
You can now emulate movement and simulate the press of a button on your touchscreen with a dedicated key on your keyboard.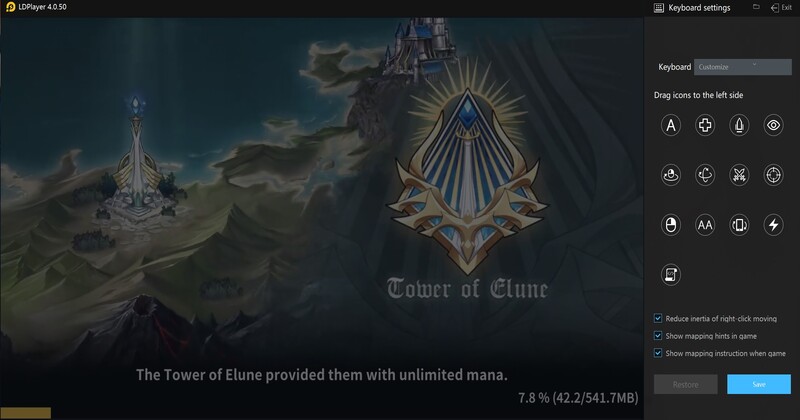 Using Macros For Epic Combos:
Arcana Tactics is a fast-paced RPG game that revolves around making a lot of split-second decisions. Usually, these decisions require some degree of mechanical fidelity. However, you will not be able to execute them properly every time. This feature is where LDPlayer's in-built Macro feature comes in. By recording an action and assigning it to a key bind, you can instantly execute the combo you want perfectly every time with no margin of error whatsoever.
LDPlayer Synchronizer – Taking Re-Rolling To The Next Level:
The multi-Instance function helps you run multiple accounts, you only need to copy multiple emulators, and then click the synchronizer function to run the operation synchronously. After selecting a primary instance, all other secondary instances will repeat the same instance. This action can range from a simple click to something more complex, like typing.
The Synchronizer is a prevalent feature, especially for games that require tons of re-rolling. As soon as the Synchronizer is enabled, you can now synchronize all the instances of your game. You can then perform the same action simultaneously.
In Arcana Tactics, you will need to re-roll quite often as you will not always be happy with the character you re-roll. Usually, this involves creating and logging into multiple accounts, you can open multiple accounts until you get the best role possible. Using the Synchronizer feature, you can re-roll using all your instances simultaneously, helping you take control of several accounts, making the process go much quicker than usual. remove unnecessary ones, and keep the account you like in the end.
The Synchronizer tool lets you control multiple instances without switching from one to the other, which saves you time. Ensure that you use your primary instance for performing all your actions, as all other instances will do the same.
For more details, Arcana Tactics' best tier list and reroll guide will help you realize each character and know which character to pick.
Performance That Never Disappoints:
LDPlayer is known for its world-class optimization for RPG games, and Arcana Tactics is no different. With our developers working hard to make sure that you experience the smoothest gaming experience possible, you will not experience any stuttering or lag.
As mentioned earlier, LDPlayer has the capability of smoothly running games like Arcana Tactics, even if your system seems to have a lower spec. We recommend turning on Virtualization Technology on your BIOS, upgrading your Graphics Driver, and configuring LDPlayer to let it consume more of your RAM and CPU for maximum performance.
Make sure that you turn off all other windows before doing so!
Conclusion:
We're very excited to see what the developers have in store for Arcana Tactics as the game nears its release. If you want to experience the game in the best way possible, LDPlayer is the way to go. With complete integration with any keyboard and mouse, you can enjoy streamlined gameplay that is both responsive and smooth at the same time.
The game itself has been downloaded thousands of times even though it is still in its closed beta phase. This speaks volumes about the overall popularity of the game amongst RPG fans around the globe. With the closed beta going down soon, expect a boom of players as soon as the game gets its global release.