Infinity Kingdom is a cartoon-style MMO Strategy game developed by YOUZU Singapore PTE. In the game, you are a resourceful lord who must defend his land of Northeim against evil gnomes while also protecting yourself from other players who wish to take over your kingdom. With your territory under dire situations due to constant Gnome attacks, you must form barriers and walls to protect your city while enlisting powerful mystical troops to fight your battles for you and defend your lands from Invaders.
Using the power of 50 different Immortals available to you, each has different perks that help your city. Moreover, with seven new epic dragons added to the game, you can turn them into fierce fighters while also perfecting your strategic mind to ensure that your base is well-protected and your army is forever glorious. Now, you can download and play Infinity Kingdom for absolutely free on LDPlayer while also taking advantage of all of the unique features that it offers.
How to Download Infinity Kingdom on PC?
Here are the steps you need to follow to download and play Infinity Kingdom on your Windows Computer or Laptop. Currently, LDPlayer is the recommended Emulator for Infinity Kingdoms on PC due to numerous advantages which provide you with amazing control and smooth high FPS gameplay. Before you hop right into the game, here are some tips that can help you build a strong kingdom in Infinity Kingdom.
Step 1: Download and Install Infinity Kingdom on your Desktop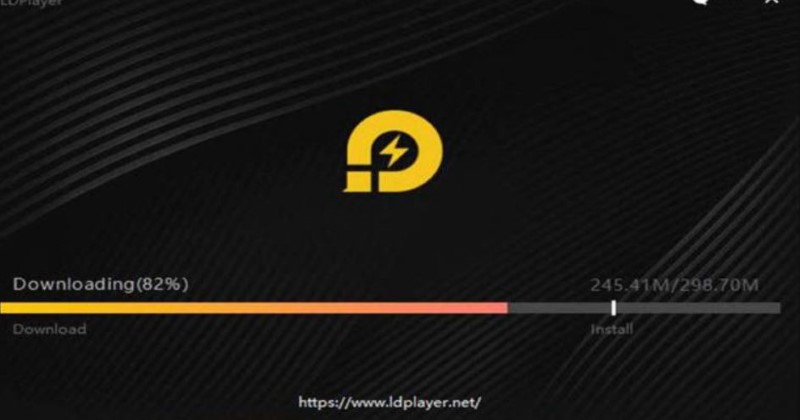 Step 2: Open LDPlayer and search Infinity Kingdom mobile game from LD Store.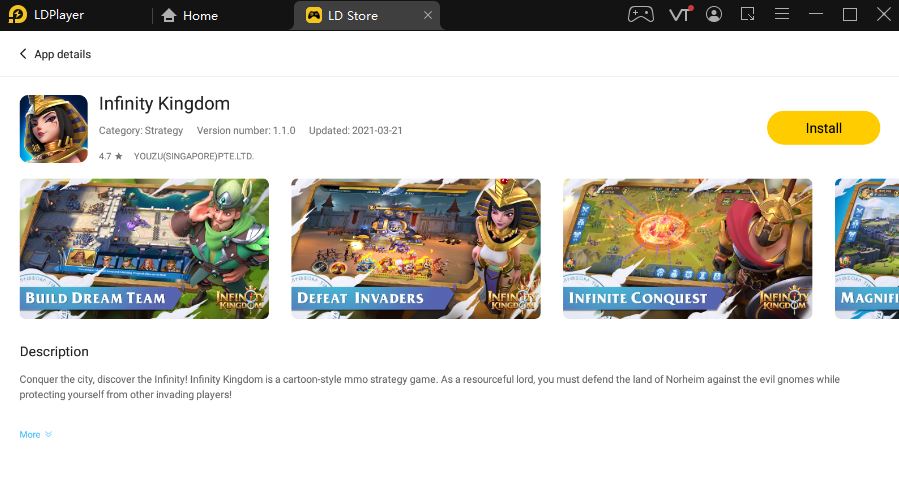 Step 3: Install Infinity Kingdom on your LDPlayer Android Emulator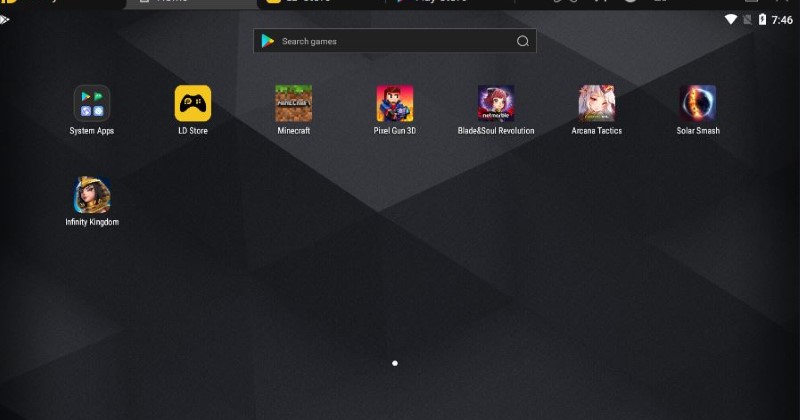 Step 4: Open the game and enjoy playing Infinity Kingdom on PC with LDPlayer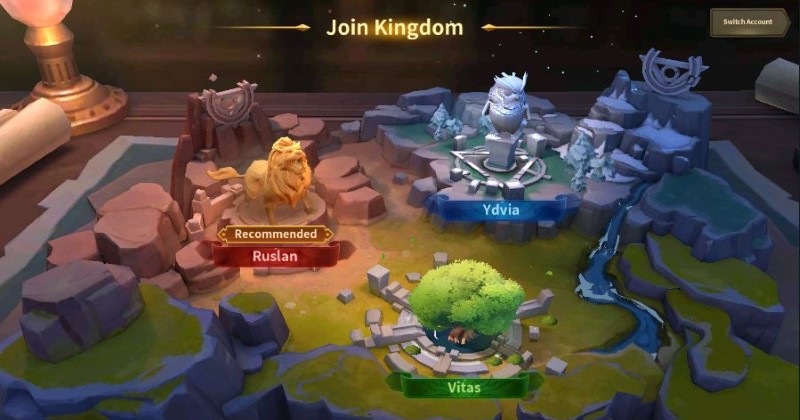 As mentioned in the steps above, getting Infinity Kingdom for free on your Windows PC or Laptop is fairly easy. We recommend that you download LDPlayer 4, which emulates Android 7.1. With it, you can enjoy all recent Android Applications and titles. You can download LDPlayer 4 from our home page here.
Why Use LDPlayer for Infinity Kingdom?
LDPlayer is arguably one of the best Android Emulators out there. With support for multiple applications and games, it features a wide variety of use cases. However, its main captivating feature is that it takes Strategy games like Infinity Kingdom to the next level due to its vast array of features that separate it from the rest of the competition.
An important quality of life feature that LDPlayer possesses is that you can switch your language to whatever you please, adding to the Emulator's overall ease of use. Besides this, the Emulator has tons of features that add to your gaming experience, allowing you to just focus on the game's strategic aspect. At the same time, the Emulator handles all the grunt work. With all of these properties combined, LDPlayer has cemented itself in gaming legend by being one of the best Emulators to play all kinds of games, including Infinity Kingdom.
Why play Infinity Kingdom on an Android Emulator?
Infinity Kingdom is an extremely competitive strategic game. Therefore, you will need all the help you can get to the top of the leaderboards and establish yourself as a staunch Lord. Playing Infinity Kingdom on an Emulator allows you to get an idea of what an Android Emulator like LDPlayer has in store for you when you move onto other titles while also providing you with a unique experience like no other.
While you're not going to be experiencing a lot of high-stakes action-paced gameplay in Infinity Kingdom, having a smooth frame rate certainly does help with the overall quality of the game. As such, here's a tutorial on how you can crank up your FPS to the max in Infinity Kingdom using LDPlayer.
Moreover, as you expand your kingdom in the game, you will be managing a lot of troops, units, and buildings. Since you'll be using a much larger screen on an Emulator, you can easily interact with all your kingdom without needing to zoom out or pan out.
Useful LDPlayer Features for Infinity Kingdom: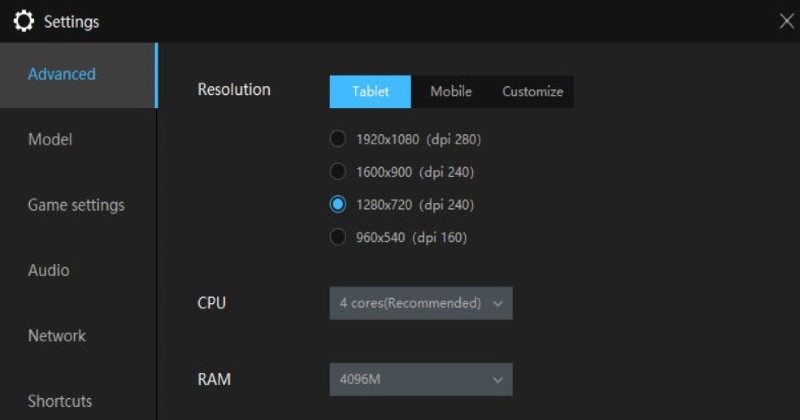 Infinity Kingdom consumes a lot of resources as you move along further in the game. Thankfully, LDPlayer is known for its great resource optimization features allowing you to easily play at high FPS with no graphical hiccups or glitches.
Even with Immortals running down your screen, Dragons with their intricate animations and clusters of troops marching down enemy kingdoms, you can expect the game to always run butter smooth with all of its integrated features working completely fine at all times.
Playing Infinity Kingdom with a Mouse and a Keyboard:
Infinity Kingdom is a strategy MMO game like no other. It requires a lot of nuanced troop placement and requires you to interact with multiple buildings, objects, and troops simultaneously. It can sometimes be extremely difficult for players to perform complex movements on their mobile phone touch screen.
Thankfully, LDPlayer offers a solution due to its complete mouse and keyboard support for Infinity Kingdom. You can now use your mouse and keyboard to move around the map and interact with all objects in the game with your mouse's click. Moreover, suppose there are particular tabs that you use a lot. In that case, you can open the keyboard mapping setting of the toolbar on LDPlayer and choose from the different icons available to you and assign each action to a particular virtual trigger.
So, you can have all your tabs and set them up to a particular bind which you can then access to open them up at any time in Infinity Kingdom.
Raid Multiple Kingdoms At Once – Multi Instance Manager: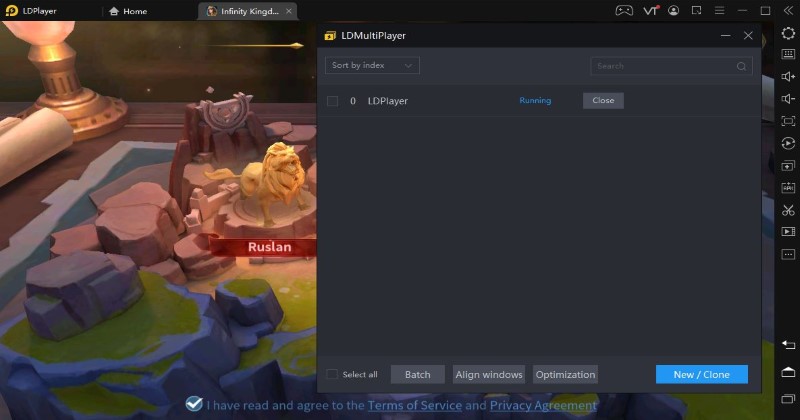 Sometimes, you cannot just have enough of Infinity Kingdom. In those cases, one account simply just does not seem to be enough. You can take advantage of LDPlayer's Multi-Instance feature, which lets you open multiple instances of the game at once. You can even create an entire guild made up of kingdoms that only belong to you! Moreover, with multiple accounts, you can launch multiple raids on the same enemy or take your skill to the next level by practicing multiple accounts.
As you get further into the game, you will notice many players using LDPlayer's Multi-Instance feature to get ahead of their competition by using the combined power of two or more accounts to completely overwhelm their enemy.
Share Your Epic Moments With Friends – Screen Recorder: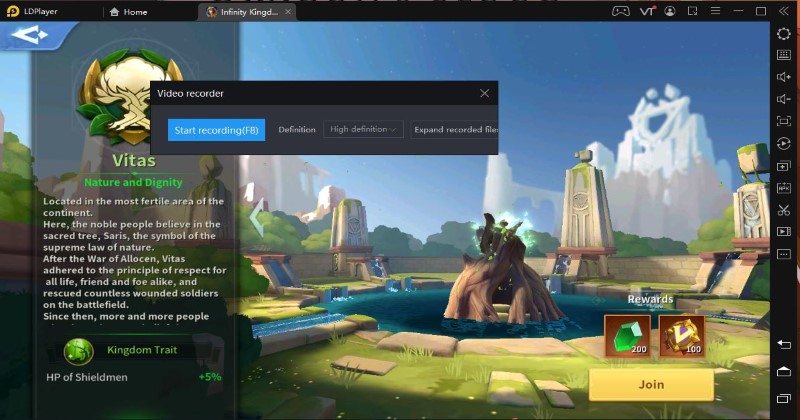 With LDPlayer's built-in Screen Recorder function, it's time to let the world know about your glory. The Emulator lets you take screenshots and record videos of your epic plays in the game. You can then share these images and videos with your friends all over social media. Best of all, these images and videos' quality will be truly life-like with no system resources of yours being consumed whatsoever!