If you want to get the most out of Cookie Run: Kingdom, you'll need all the Cookie Run Kingdom codes you can find. Casting you as the leader of a band of baked-good heroes, this mobile RPG is tasked with constructing your fortress and defeating other sugar-based adversaries. From a general world exploration mode to severe guild fights and combat towers, it's jam-packed with game modes and story stuff to discover.
Our Cookie Run: Kingdom codes list is intended to help you get some of Devsisters Games' goodies. They provide you with some special decorations to liven up the vibrant ambiance in your budding village.
All Working Cookie Run: Kingdom Codes
---
REALTOUGHCOOKIES - 500 Crystals

KINGDOMWITHSONIC - 1,000 crystals

SAMSUNGCRKINGDOM - 1,000 crystals

COOKIEFOOLSDAYS2 - 500 crystals

getur1sugargnome - One gnome

getur2sugargnome - Two gnomes

getur3sugnargnome - Three gnomes

getur4sugargnome - Four gnomes

getur5sugargnome - Five gnomes

getur6sugargnome - Six gnomes

getur7sugargnome - Seven gnomes

XYOKSPZLLUJYFKJN- 10,000 XP

TIYSVCUKYDPPHTNP - 50,000 coins

KINGDOMYUNIKO720 - 500 crystals

KINGDOMIAMSIXTAN - 500 crystals

KINGDOMBERYLLULU - 500 crystals

IELLBHSLKSKZHBGD - 3 cookie cutters

2CHAMCOOKINGDOM2 - 500 crystals

BESTGAMEAWARDTHX - 3,000 crystals

COOKIECHICKENRUN - 500 crystals

CHIMNPERLKINGDOM - 500 crystals

WELCOMETOKINGDOM - 500 crystals
The codes listed below were last verified and confirmed to expire on October 9, 2021.
PARFAITSUBSCRIBE - 1,000 crystals

HAPPY100DAYSGIFT - 1,000 crystals and jellies bonus

TAMAGIFT500TOYOU - 500 crystals

TK2PO5GA87DBJALQ - 500 crystals

POONGDENGKINGDOM - 500 crystals

KINGDOMWELOVEYOU - 3,000 crystals and 100 stamina

KINGDOMLILKA2021 - 500 crystals

KINGDOMSWAMP0130 - 500 crystals

KINGDOMSUNBA0128 - 500 crystals

KINGDOMKING5927 - 500 crystals
What Are Cookie Run: Kingdom Codes?
---
Codes may be highly useful in Cookie Run: Kingdom for expanding your squad of cookie warriors and customizing your hub environment. Cookie Run: Kingdom, like many other world-builder games, allows you to customize your characters' base with specific buildings and decorations to lay down. The current active codes are especially handy here since they offer you 28 beautiful gnomes to embellish your base.
On the other hand, cookie Run: Kingdom codes frequently reward you with a large number of crystals. These are the premium money in the game, and you can use them to buy coin bundles at the store. Unfortunately, this is their primary purpose, as the majority of the products in the Cookie Run: Kingdom store need real-world money to acquire. On the other hand, the crystals will offer you money, which you can then spend on things in the building store. This is where you may buy new structures and improvements for your Kingdom, as well as some of the more unique things. As a result, these coupons will assist you in saving money to acquire fascinating in-game structures.
A few of the expired codes grant access to various jellies, which act as stamina in Cookie Run: Kingdom. Missions need the usage of jellies as energy, with most early-stage bouts requiring five jellies. You can't fight fights or get awards until you have jelly, which means you have to wait for them to replenish. These codes can be useful since they reduce the amount of time you have to wait before you can play, allowing you to play right away.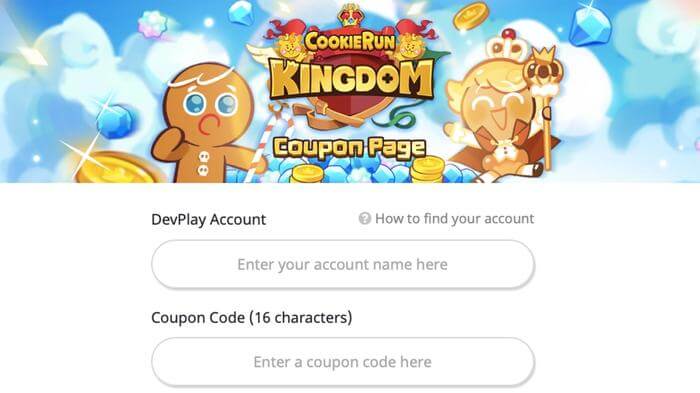 How Do I Use Cookie Run: Kingdom Codes?
---
The process of utilizing Cookie Run: Kingdom codes is surprisingly tough for a mobile game. In reality, they cannot be redeemed from within the mobile app. As a result, your only choice is to redeem using a PC or online browser.
1. Navigate to the Cookie Run: Kingdom coupon redeem page, which is accessible via this link.
2. Enter your DevPlay account information, which can be found on the 'Info' tab of the 'Settings' page of the mobile app.
3. Fill in the code in the box below, then click the 'Claim Reward' button.
4. If the code is genuine, a notice will appear on the web page informing you of this.
5. The things will be in your inventory after restarting the Cookie Run: Kingdom app; however, you will not receive a pop-up indicating this.
How Do I Get More Cookie Run: Kingdom Codes?
---
Unfortunately, Cookie Run: Kingdom codes are seldom released. As a result, it's difficult to anticipate when fresh codes will be released. However, official Twitter Handle is updated regularly; therefore it is the greatest location to look for fresh codes. Additionally, the game's Instagram account is operational along with the Discord server - which may be used to search for codes.
Likewise, there are several methods for obtaining Cookie Run: Kingdom freebies without the need for codes. The official Twitter account organizes competitions and giveaways from time to time, where anyone may win new goods. The most recent was in September to commemorate the game's crossover with Sonic the Hedgehog. Completing the event levels and providing a screenshot to prove it was all that was required. The rewards, which included a large number of Crystals, did not go to all. However, while there aren't any fresh promotions right now, it's worth keeping an eye out for new ones.