Pearl Abyss has made Black Desert Mobile available to download and play globally on both mobile platforms. For Android users, there's an option to play Black Desert Mobile with an Android emulator and get a better gameplay using high-performed computers. There are also multiple emulators available to play this game but LDPlayer has been optimized to reduce lag and increase the frame rate for Black Desert Mobile, which would be a great improvement.

Setting up to play Black Desert Mobile on PC with LDPlayer is quite simple. You can hit the big download button to install the latest version 3.82 or the coming versions of LDPlayer 3, which has been optimized for Black Desert Mobile as well. But of course, you can also try out the new version of LDPlayer 4 which is running a faster Android 7.1.2 OS but not as stable as the versions of LDPlayer 3. Download LDPlayer 4 on our home page.
Note: The LDPlayer 4 should be installed in a different path and avoid covering your current version of LDPlayer 3. These two versions are separated and you can launch them simultaneously.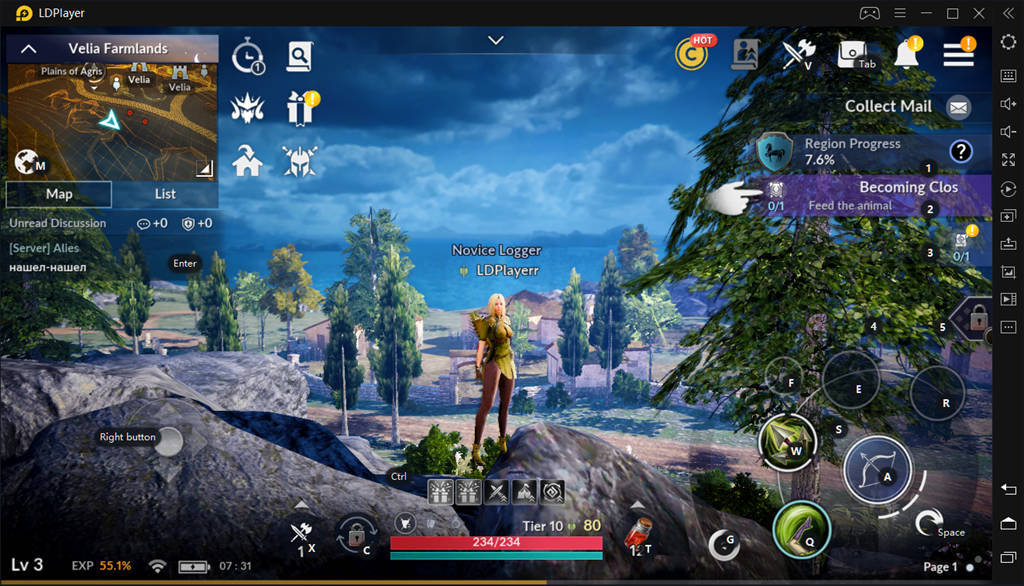 Best Settings to Play Black Desert Mobile on PC
Before you're going to run Black Desert Mobile with LDPlayer, you should be aware that your computer specifications depends mostly the performance of LDPlayer Android emulator. So, you have to check if your computer meets the minimum system requirements for powering up Black Desert Mobile with LDPlayer. But no worries, most modern computers can surely handle the situation here like a piece of cake.
Minimum System Requirements for LDPlayer
Intel or AMD CPU Processor x86 / x86_64
Windows XP XP3 / Win7 / Win8 / Win8.1 / Win10
Windows DirectX 11 / Graphic driver with OpenGL 2.0
Minimum 4GB of system memory (RAM)
Minimum 36GB of free hard disk space
Hardware Virtualization Technology (Intel VT-x/AMD-V) enabled in BIOS
Read this if you don't know how to enable VT: Simple Steps to Enable VT on Your Computer
Recommended Specifications for LDPlayer
CPU: Intel i5 7500 and better
RAM: 8GB and above
Disk Space: Over 100GB
Graphics Driver: NVIDIA GeForce GTX 750 Ti and better
Android Requirements for Black Desert Mobile
Size: 86MB (around 3GB with game data)
System requirement: Android 5.0 and up, minimum 2GB of RAM
Content rating: Rated for 12+, moderate violence
You can also check your PC configuration through LDPlayer by clicking the "Diagnostic information" on the menu.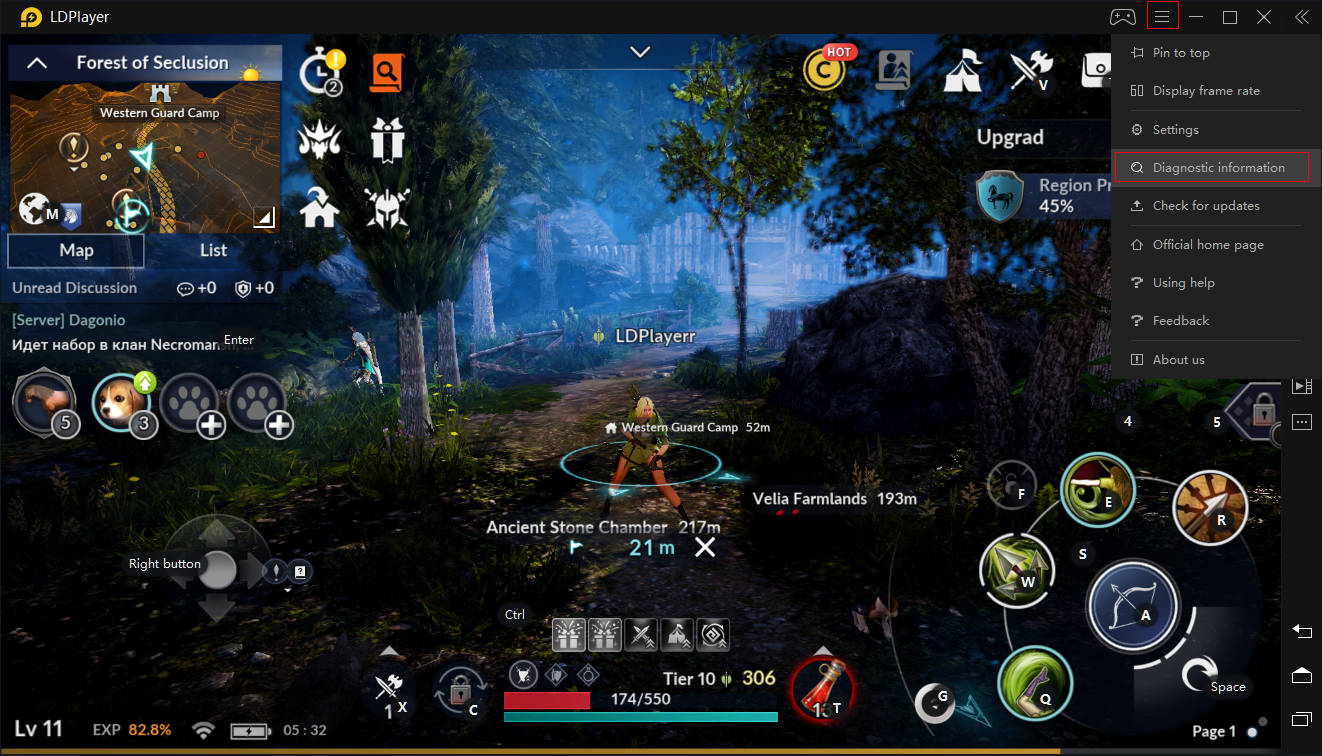 Setting #1: Allocate more computer resources to LDPlayer
This first step is to open the emulator settings and allocate more CPU cores and RAM to LDPlayer. This will guarantee the emulator performance for running high demanded mobile games. For example, you can set the CPU cores to 4 and allocate 4GB ram to LDPlayer, but don't click "save" yet.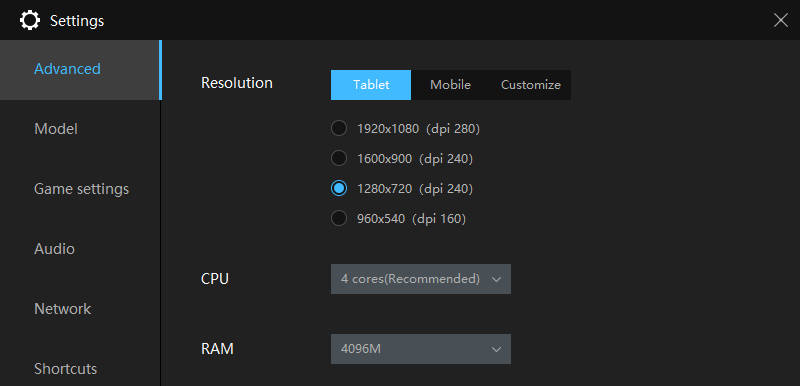 Setting #2: Enable full HD for Black Desert Mobile on LDPlayer
Now go to the Properties or Model setting where you can change the IMEI, Manufacturer, Model, and Number for your virtual Android device. There you will see an extra setting developed to help you quickly customize the model settings for specific games. You can choose "Full HD for Black Desert M" and click "Set" to automatically modify the manufacturer and model. Now click "Save" and restart LDPlayer.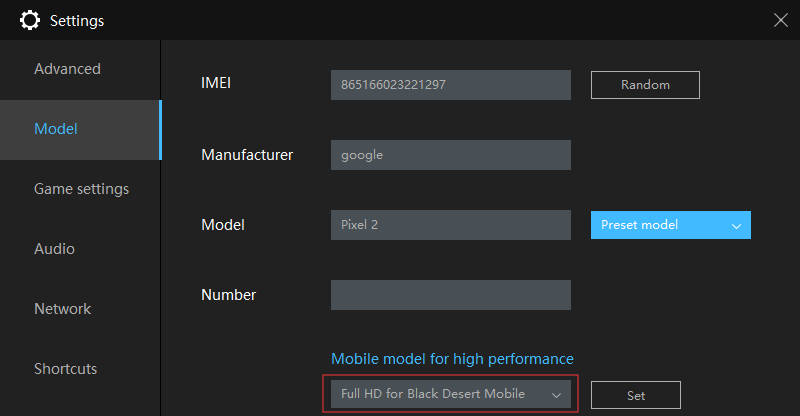 Setting #3: Enhance ultra graphics for Black Desert Mobile
Since you're playing Black Desert Mobile on your computer with LDPlayer, we want to help you get the highest level of graphics and the best gaming performance. Follow the steps below to set the max graphics for Black Desert Mobile.
Step 1: Open Black Desert Mobile and click on the menu button on the top right of the game window
Step 2: Find the "Settings" button to enter the settings menu
Step 3: Once you have entered the menu, navigate to "Graphics" setting
Step 4: Enhance "Resolution" and "Frame Limit" to the maximum level
Step 5: Confirm the changes made in the steps above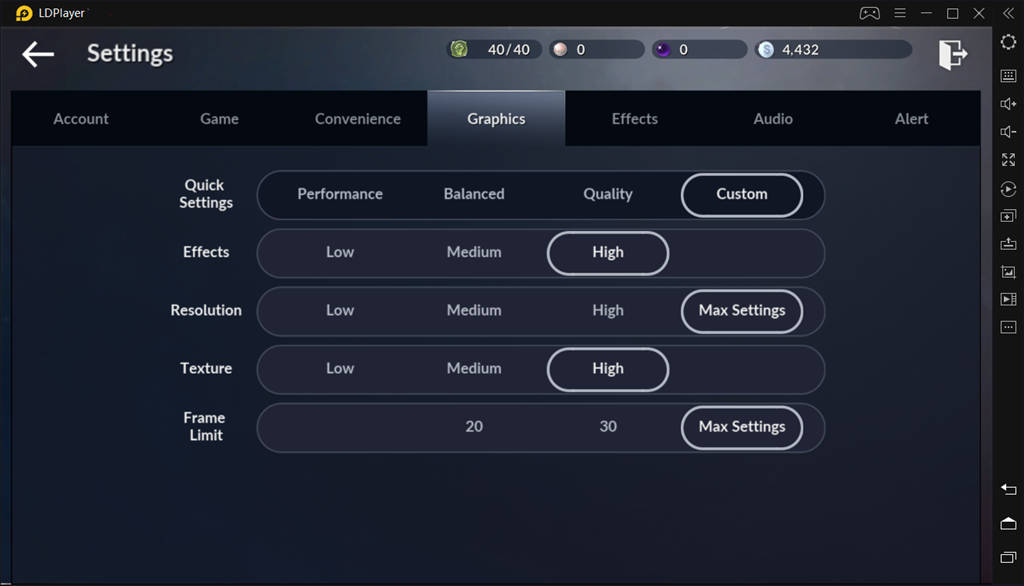 Making those changes will enable Black Desert Mobile to run at the highest resolution while not being limited to a certain frame rate (FPS). However, if you feel the game is lagging or stuttering after you set the highest graphics settings, you can try to lower the Effects, Resolution, Texture, but keep Frame Limit to the max.
Setting #4: Adjust graphics effects
Navigating to the Effects settings, you can turn on the "Shine" and "Screen Optimization" to get vivid graphic effects, or shut them down to improve the performance. But it's truly recommended that you can turn on the Vibration Effect and use Vibrance graphic filter to enhance the visual effects. For the Action Camera settings, it's up to you to adjust the level of Shake and Blur.
Setting #5: Activate combat mode
This is a very useful setting for playing Black Desert Mobile on PC. You can navigate to "Convenience" to turn on the combat mode, which will allow you to scroll your all skills quickly with one click. LDPlayer has mapped most functional commands on the game and provided two default keymappings for Black Desert Mobile. For switching skills, you can press G on your keyboard.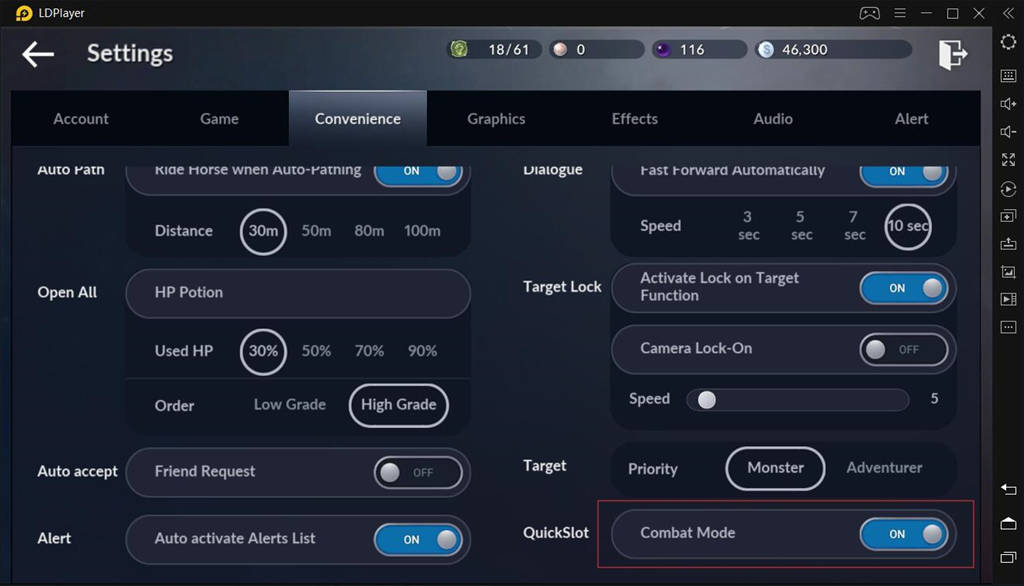 Setting #6: Extra tips you can use for better gameplay
On the Game settings, you can display your title and guild mark to make the vision more open. You can also turn off the sleep mode to avoid performance degradation as you're playing Black Desert Mobile on PC.
On the Convenience settings, you can turn on Auto Path and set the distance to 30m. Also, turn on the feature of fasting forward the dialogue and set the speed to 10 sec. What's more, turning off the Camera Lock-on will let you control the camera more flexibly on the battle.
Last, if you don't want too many pop-up notifications, you can go to the Alert settings to turn off those annoying notifications. But just don't disable some important alerts, such as major notices and game alerts, as they might guide you through some steps.
Conclusions
Black Desert Mobile is definitely the most enjoyable MMORPG you can play on PC with an Android emulator. The action-based gameplay, superb graphics, excellent customization, and a quality control scheme, all can be experienced on this well-anticipated mobile MMO. Now, start your new journey on Black Desert Mobile with LDPlayer and we hope you enjoy using it.