Black Desert Mobile, a revolutionary MMORPG, creates a brand-new world where you can challenge imps, bandits and even demonic entities with your friends. With a player-driven economy, intense action combat and a seamless world to explore, Black Desert offers an experience that has rarely been offered on other MMORPGs. Thus, for getting better gaming experience, many mobile players are looking for a way to run Black Desert Mobile on PC. This has become possible with an Android emulator targeting on gaming.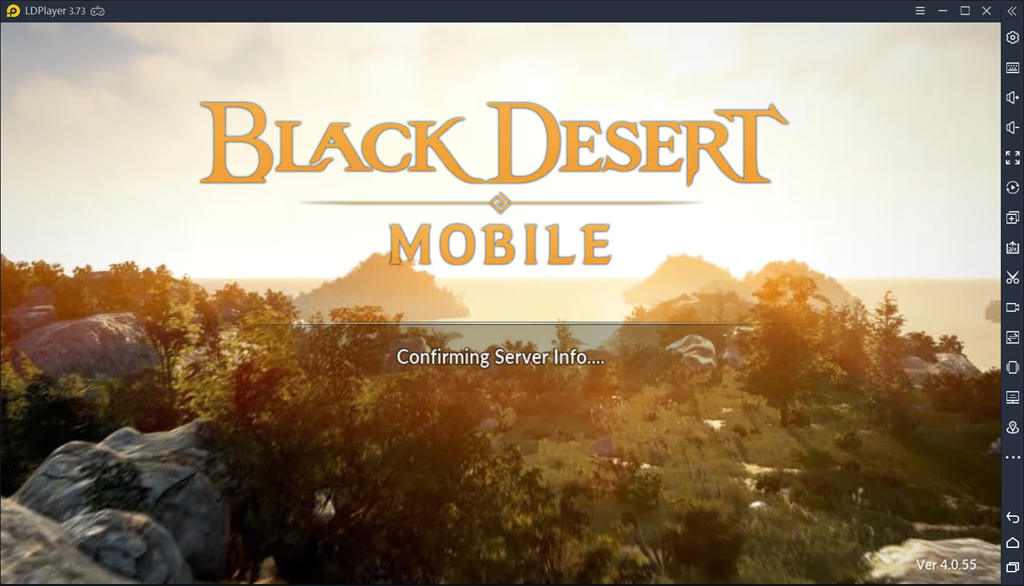 What is LDPlayer?
As one of the best free Android emulators in recent years, it can help you easily run Android games and apps on your computer with high performace. LDPlayer is designed to optimize the PC gaming experience for mobile gamers by emulating the Android system on PC. Moreover, LDPlayer will offer you many powerful extra tools such as Multi-Instance and Operation Recorder, to take your gaming experience to the next level.
How to Play Black Desert Mobile on PC with LDPlayer
Below is a simple guide about how to install and run Black Desert Mobile with LDPlayer on your computer. Some antivirus software, like Kaspersky and McAfee, will prevent your computer from running LDPlayer due to wrong identification sometimes. We assure you that LDPlayer is a definitely safe and clean Android emulator. It will not cause any harm to your system.

STEP 1: Click the Download button up there to download LDPlayer and run the installer.
STEP 2: Open the installer to complete the setup and then run LDPlayer on desktop.
STEP 3: Head over to the search bar and search for Black Desert Mobile.
STEP 4: Click Install icon to download it from Google Play or choose Local Install.
STEP 5: Follow the on-screen instructions to finish the installation of Black Desert Mobile.
STEP 6: Once installation completes, click the Black Desert icon to launch the game
After you've installed LDPlayer on your desktop and downloaded Black Desert Mobile on your virtual Android device, you can look for the Best Settings for Gaming Black Desert Mobile on PC and get smoother gaming experience with LDPlayer. However, if you still feel you are capped below 60FPS, try How to Unlock 60 FPS Cap for Black Desert Mobile PC.
How to Improve Game Performance in Black Desert Mobile
Black Desert Mobile optimizes the original online game to fit mobile devices while offering the same high-quality graphics, character options and gameplay formats offered by the game's PC version. But high-quality graphics of the game may also cause some lags when you are running the game using emulator to replace mobile.
Here we will offer some tips for you to fix those lag issues. And you should check whether your computer meets the following recommended configurations before you adopt our methods to improve game performance of Black Desert Mobile.
System Requirements
Intel or AMD CPU Processor x86 / x86_64
Windows XP XP3 / Win7 / Win8 / Win8.1 / Win10
Windows DirectX 11 / Graphic driver with OpenGL 2.0
Minimum 2GB of system memory (RAM)
Minimum 36GB of free hard disk space
Hardware Virtualization Technology (Intel VT-x/AMD-V) enabled in BIOS
( If you don't know how to enable VT, check this article to learn about it: Enable VT on Your Computer)
Recommended Configuration for LDPlayer
CPU: Intel i5 7500
RAM: 8GB
Disk Space: 100GB
Graphics Driver: NVIDIA GeForce GTX 750 Ti
Update LDPlayer to the Latest Version
The version of your emulator will also decide the game performance. You should make sure that LDPlayer is always the latest version. Head over to the "check for update" button on the menu of LDPlayer homepage and click it. If it is not the latest version, you can start the update program directly. If it is, you should try to reinstall LDPlayer to fix the lag issues.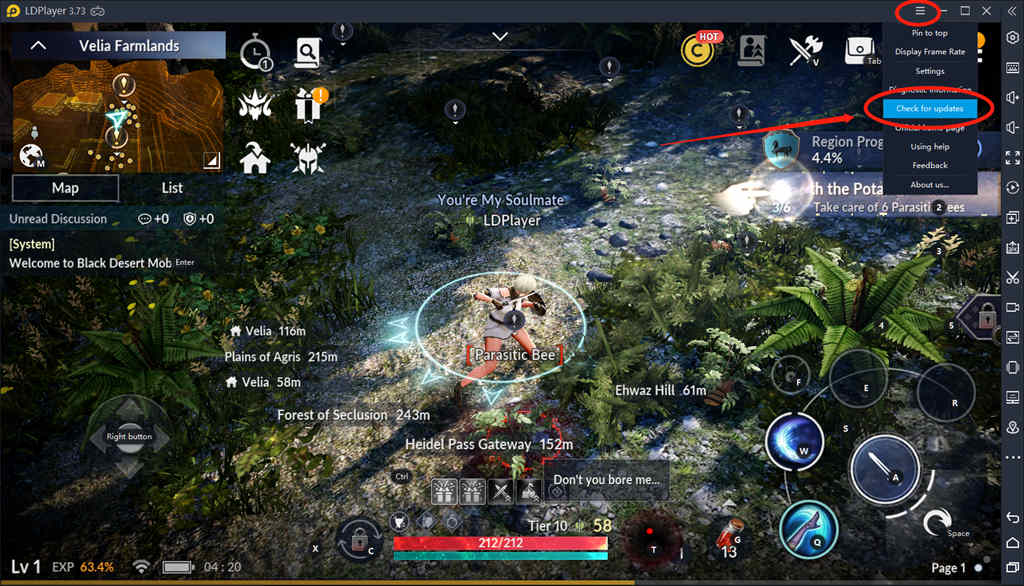 Enhance the Performance of Graphics Card
When you run some games with high graphics quality on desktop, the graphics card and its settings always influence whether you can run those games smoothly. Black Desert Mobile is no exception. You can try to upgrade your graphics drivers or change the graphics card settings on your computer to improve the graphics performance.
Check more detailed guide about how to boost the game performance at Top 5 Ways to Fix Lags in Android Emulator.
Benefits of Using LDPlayer to Play Black Desert Mobile on PC
Better Visual Experience with Larger Screen
The sophisticated, life-like graphics of Black Desert Mobile has exceeded most of MMORPGs in the current market. Compared to the small screen on mobile device, you will truly enjoy these excellent battle scenes and graphics with large screen if you choose to play Black Desert by using emulator on PC.
Longer Duration than Mobile Devices
When you step on the adventure at the world of Black Desert, you are destined to spend a lot of time and energy to level up your heroes, guard your territory, and fight against enemies and so on. Now, LDPlayer provide you with a chance to ease the concerns about the duration of your mobile devices. That's one of the most attractive features for players to run Black Desert Mobile on PC.
Smoother Control with Keyboard and Mouse
There are many fantastic NPCs, mythical creatures and game systems in the Black Desert Mobile. With LDPlayer, you can protect your country, fight against devils, and freely explore the world of Black Desert using keyboard and mouse. Especially the keyboard mapping, one of the most powerful tools on LDPlayer, will provide you more suitable and smoother gaming experience.
Refer to this article if you want to learn more details about keyboard mapping on LDPlayer: Keymapping on Emulator - How to Use Keyboard Mapping.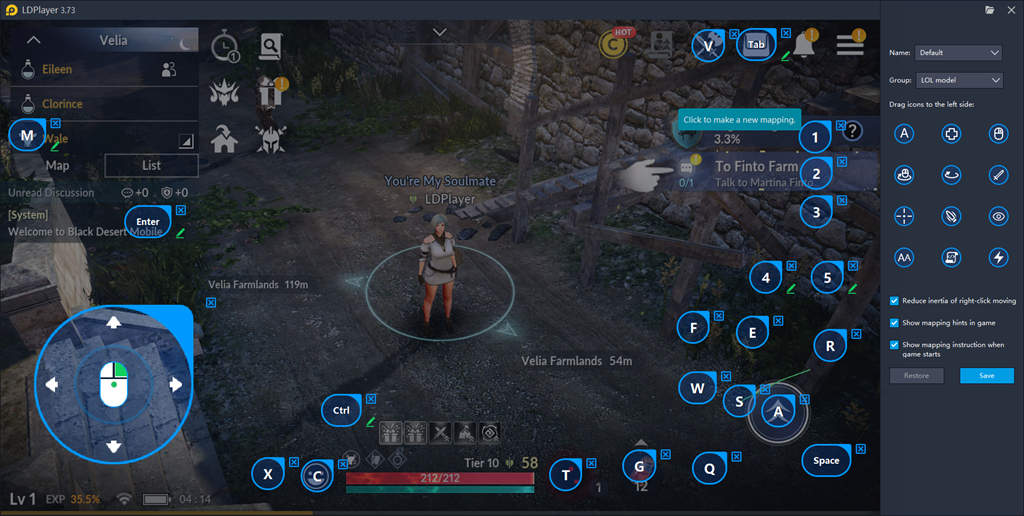 Conclusion
LDPlayer is a very powerful emulator that can help you play Black Desert Mobile on your large screen computer. Most notably, you can stably and smoothly run not only Black Desert Mobile but also other MMORPGs such as Lineage2: Revolution, Perfect World Mobile, etc, on your computer. Now, download the latest version of LDPlayer and start your new journey on black desert!