Mabinogi is a MMORPG where you can live a fantasy life by building a homestead, stitching clothes, raising animals, composing music and getting married. As an anime-inspired game, you would get better gaming experience on a larger screen if you play Mabinogi Fantasy Life on PC. To achieve this, you need an Android emulator to help you run Mabinogi Fantasy Life on your windows and LDPlayer is just the one.
What is LDPlayer?
LDPlayer is a free Android emulator that provides high compatibility and amazing graphic quality in running Android games or apps on PC. It comes with a ton of great features that you can't get on mobile devices, such as keyboard mapping, operation recorder, multi-player, shared folder, and more. It means that you would get faster and more powerful gaming experience if you play mobile games on PC with LDPlayer.
How to Install Mabinogi Fantasy Life on PC
Download and Install LDPlayer
First of all, you should download LDPlayer for your PC, which is very simple. Click the Download button to download an installer. And then you can run the installer to download the whole package. Once the installation completes, you will see LDPlayer on your desktop. The whole installation just takes you a few minutes.

Search for Mabinogi Fantasy Life on LDPlayer
The next step is that you should launch LDPlayer and search for Mabinogi Fantasy Life on the search bar. And, you can click Install button to download the game on LDPlayer, or you can choose Local Install to make the installation easier and faster.
Set Configuration for Mabinogi Fantasy Life PC
If you finish installing Mabinogi Fantasy Life, you are free to launch the game from the home screen, and create or sign in an account to start your adventure on LDPlayer. But before you start to enjoy a new way of playing Mabinogi Fantasy Life on PC, it's recommended that you customize the settings for the game.
Recommended Requirements
If your PC system doesn't meet the basic requirements, Mabinogi Fantasy Life will fail to run at high performance. In order to get an ideal gaming experience, you might want to check if your computer meets the requirements.
OS: Windows 7 or higher
CPU: Dual Core 2.5 GHz or better
RAM: 4 GB or higher
Graphics: GeForce 7600GS/Radeon x 1300 or better
HDD: 8 GB
Direct X Version: Direct 9.0c or newer
Benefits of Playing Mabinogi Fantasy Life on Desktop
Smoother Control with Keyboard and Mouse
Mabinogi Fantasy Life is console quality game designed for mobile. However, you can get convenient gaming control with keyboard and mouse when playing Mabinogi Fantasy Life on PC with LDPlayer. LDPlayer provides you with Keyboard mapping feature, meaning that you can create custom control scheme to fit your personal preference.
Stunning Graphics on a Larger Screen
As a 3D fantasy MMORPG, Mabinogi Fantasy Life has unique art style with hand-drawn character. If you play the game on desktop, you will enjoy exquisite visual effect on a larger screen that maximizes all graphic details and character details during the gameplay. LDPlayer will help you realize playing Mabinogi Fantasy Life on PC for better visual experience.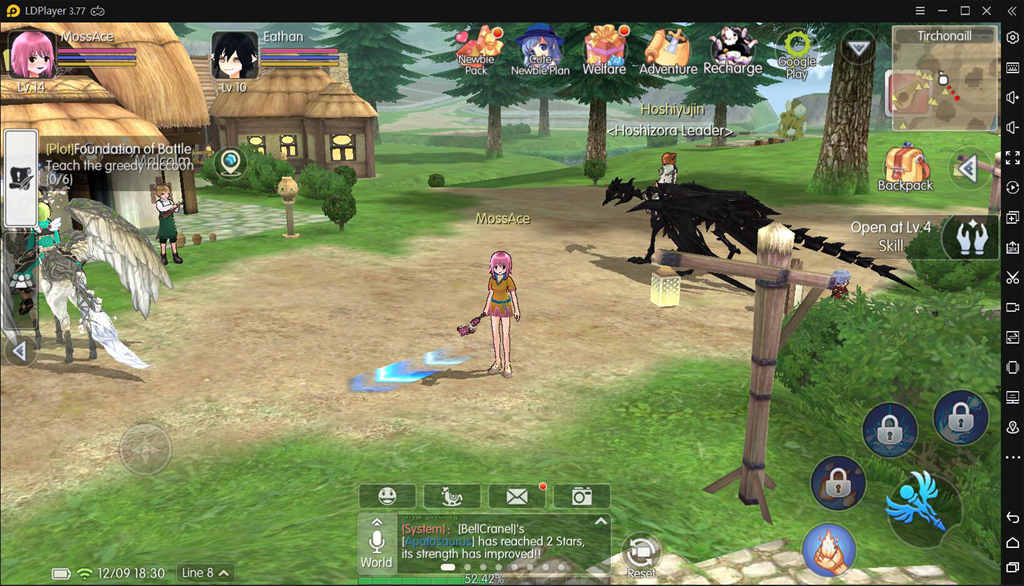 Longer Duration than Your Mobile Phone
In Mabinogi Fantasy Life, you should spend time in countering oncoming blows. More importantly, Mabinogi offers a host of social and recreational features that do not involve combat. Thus, this game will take you a lot of time and energy to play. Compared to your mobile phone, LDPlayer will help you play the game longer.
Basic Guides for Mabinogi Fantasy Life
Character
If you are a new player, you will get the first chance to customize your character, like hair, clothes, eyes, mouth, gender and age. But that's not permanent because you can change your character appearance through reincarnate in every 30 levels. (30, 60, 90, 120, and more.) This is a funny stage as you can create different characters with different looks.
Daily Event
There are many activities can help you to get EXP, Gold, and other equipments from the daily event. After finishing these events, you will get some activeness points and rewards when you reach certain activeness points. In addition, please notice that you should check if you finish all events before they reset on 5 a.m.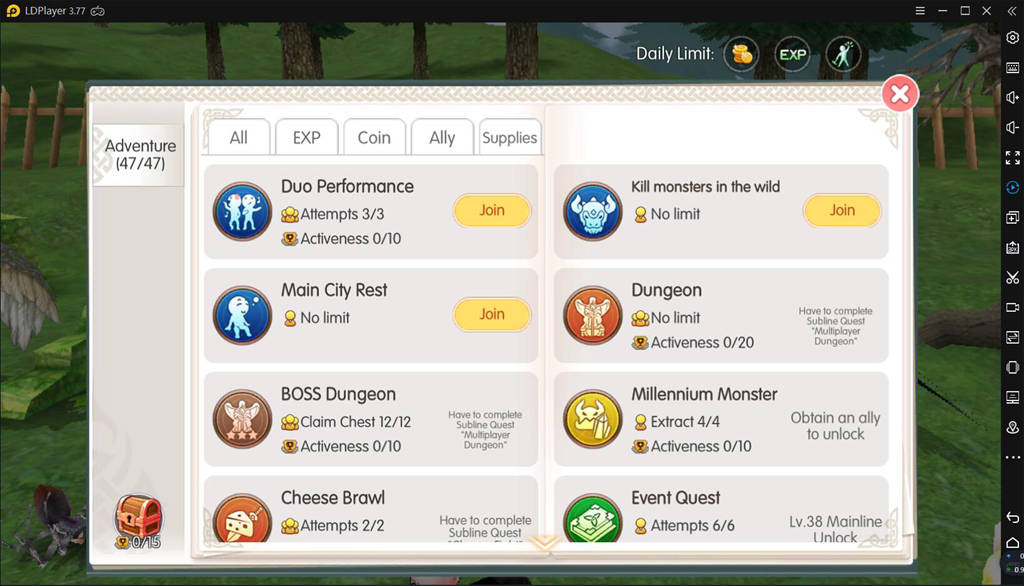 Gameplay
Mabinogi Fantasy Life allows you to finish your quest by the Auto Quest feature. However, if you want to take some challenges, you can turn off the Auto Quest from the settings and finish your quest by yourself. Also, there is auto attack feature that can help you. But this feature will be unlocked in level 25.
Conclusion
As a free Android emulator, LDPlayer not only offers you stunning graphics quality that enables you to enjoy excellent visual effect, but also provides you with additional tools which will help you get better gaming controls. Also, the most important part is that you can have superb performance running Mabinogi Fantasy Life on PC with LDPlayer. Now feel free to download LDPlayer for your computer.