Download Exos Heroes on
PC with LDPlayer
Game Info
Exos Heroes:
Exos Heroes is one of the most trending turn-based RPG games. The game was released in South Korea on 21st November and 28th May 2020 in the EU and NA. Exos Heroes is available on both Android and iOS devices. Exos Heroes was developed by Oozoo and published by LINE Games. LINE Games is famous for its Destiny Child, Xross Chronicle, The First Summoner, and many more. LINE Games is all about good graphic, great story, unique art style, and much more and the Exos Heroes is no exception.
Exos Heroes Features:
Players will have to summon different heroes through the gacha system and work on them and through them. They will have to build the best team from the heroes which they can summon in the game. Players can build a five heroes' team according to their location to get the better results of the battles. The game features 3D models with extreme details to give the players a real feel of the heroes. Each hero doesn't just have the looks; they also have the backstory attached to them, and the best part is there are over 200 unique heroes to collect for fiery, intense battles with 3D graphics. The developer has added more features in season 2 of Exos Heroes, including a new story, new nation 'Brunn,' nation hero enhancement system "Signature Force," nation hero recruit system "Nation Recruit," Awaken Hero, Rank Equipment, and much more.
Exos Heroes on Pc:
Playing Exos Heroes on Pc is a great option for RPG and MMORPG players. What these games require is a bigger screen with better graphics and high fps to fully shine. To play Exos Heroes on Pc, you will need an android emulator. LDPlayer is one of the most downloaded android emulators for every game from Free Fire to Eve Echoes, from Exos Heroes to Epic Seven.
Why choose LDPlayer?
LDPlayer doesn't just provide you a bigger screen and better graphics. It also provides a special boost for multiple games, optimization, High FPS, Multi-Instance Sync, Macros, Custom controls, and a lot more. LDPlayer has almost every game on its app store. So, you can download the emulator right now to enjoy all the great features in once place, and that is the LDPlayer emulator. The best emulator to play games on Pc.
How to download and play Exos Heroes on Pc?
Download the LDPlayer from its website on your Pc. Install and launch the emulator. Go to the Google Play store or LDPlayer app store and search for Exos Heroes. Download it and start playing for free. You can also save all of your progress into a Gmail account. All you need to do is log in to the game and attach your Gmail account with the game to save the progress.
FAQs about Exos Heroes:
Is Exos heroes worth playing?
Exos Heroes has impressive visuals and an intricate way of storytelling. It revolves around a grand adventure, myths, fantasy, and mysticism. This RPG game has been a dream come true for all the RPG lovers.
What do you do with dupes in Exos Heroes?
Duplicate heroes are known as dupes. You can disassemble dupes to get Powder of Light, or you can sell them for gold. You can use Powder of Light in the Exchange shop to exchange for different items. However, the Power of Light is preferable over the gold, but in the end, it's your choice.
How to download and play Exos Heroes on Pc?
Download and install LDPlayer on your PC. Sign in with your Google account to access the Google Play Store or LDPlayer app store. Search Exos Heroes in the LDPlayer app store or Google play store. Download and Install Exos Heroes from the search results. Click the Exos Heroes icon on the emulator's home screen to launch the game, and you are good to play.
What is the Best emulator for Exos Heroes on Pc?
LDPlayer android emulator is the best emulator for Exos heroes on Pc. All you need is to log in to the emulator, and after completing all the procedures of downloading and installing, you can start playing Exos Heroes from where you left if you have saved the progress. To save the progress, you will have to sign in with your Google account just once, and it will automatically save all your progress.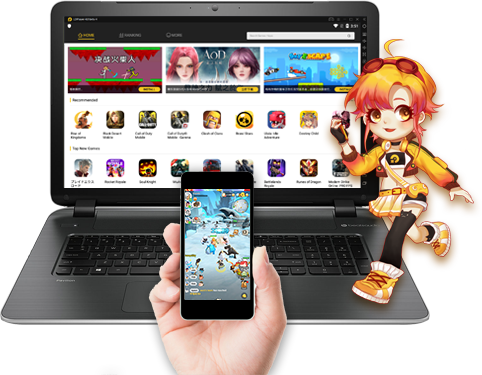 Download LDPlayer