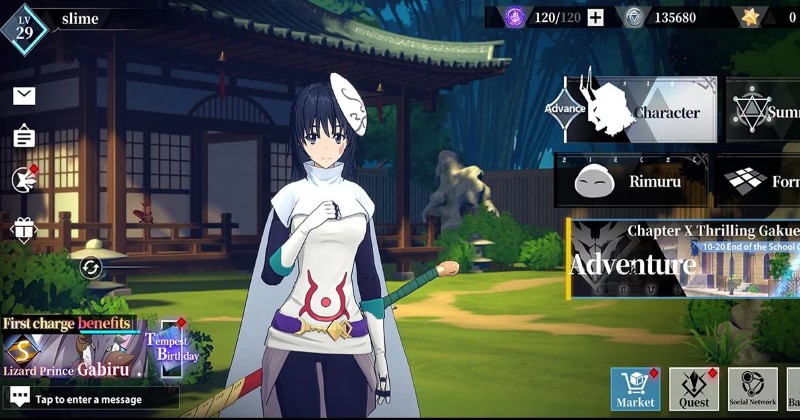 Tensura: King of Monsters is an RPG game developed by Hoolai Game Private Ltd. The game is based on the Anime with the same name. It presents you with different units that are divided into classes based on their roles in the game. You need to dispatch heroes with synergies that match each other to use them as combos and ensure that you deal with the most damage you can.
The developers have been quick to balance the game and make sure that it is enjoyable for everyone and has a lot of replay value by introducing regular content updates that have kept players coming.
Start Redeeming Codes in The Game:
Codes in the game provide you with many benefits that help you get an edge in the long run. There are a few steps you need to follow to redeem codes in Tensura: King of Monsters. Firstly, you need to tap on your profile icon, which you can find in your screen's top corner.
Next, you need to go towards the Code Redemption option. After you have found the code, you wish to enter from the list down below, copy and type it down and then tap on confirm. Here are all the codes that are available in the game.
Redeem Codes: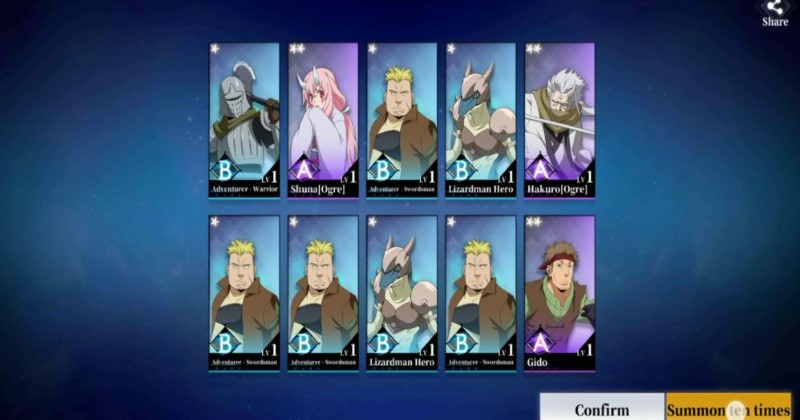 RimuruTempest (You get a Fetter Contract x5 and a Random Rank A Contract as well.)
Slime0216 (Use this code to get x50 Crystal Rock, x18888 Silver and Elementary EXP Magic Bottle x18)
Slime888 (Redeem this code to get another Fetter Contract, x100 Crystal Rock and x8888 Silver.)
Slime666 (Get more Fetter Contracts, x100 Crystal Rock and an Elementary EXP Magic Bottle x6)
Sliime2021 (Use this code to get x100 Crystal Rock, Silver x8888 and an Elementary Magicule Potion.)
Slime1215 (Use this code to get x20 Crystal Rock, Elementary EXP Magic Bottle x6 and a Random Rank B Contract.)
Muselime2021 (Redeem these codes to get Stars Contract x3, Crystal Rock x388 and an Intermediate Magicule Potion)
All these codes are available for absolutely free, and we recommend that you redeem them instantly if you haven't done already as they do not cost anything. These codes might expire soon, so be quick with the redeeming process. The contracts that you get if you complete them reward you with a lot of XP, which is quite useful as you move forward with the game.
Do Not Re-Roll:
As mentioned in our characters guide, higher rarity does not always equate to a better unit in this game. Therefore, re-rolling generally does not make sense. Plus, the pool right now, since the game is relatively new, is quite small. So, there is a high chance that you might end up getting the same units again. Re-Rolling generally will not provide you with any sort of added benefit.
Surprisingly, the game's highest rarity character (0.25% S Class Character) is much worse than the closest A-Class character due to skill synergies. You should probably make do with what you have, especially since re-rolling in the game is not appreciated, so the developers have made it quite hard to do so effectively.
How to Get Stronger After A Fight: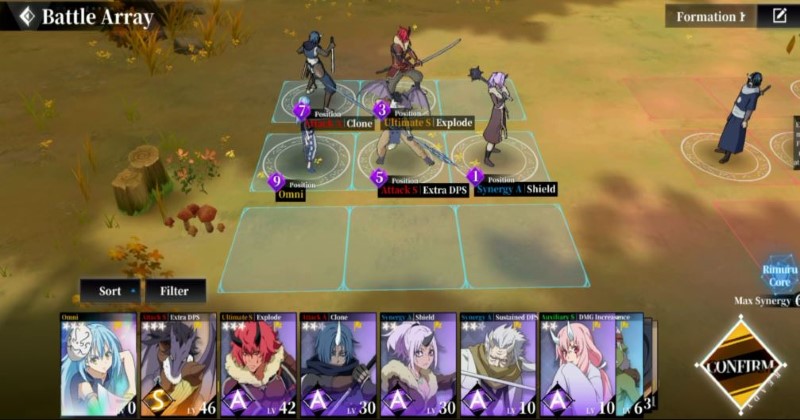 After every match, characters that are present in your party get some XP, which is not dependent on whether they were killed in battle or not. Grinding your characters to the maximum possible is not so useful as there isn't a lot of stat gain. Therefore, the smartest way to do this is perhaps using EXP Magic Bottles.
Using these bottles is the quickest way for you to reliably level your characters up while not taking a lot of time. After you have reached max level with a particular unit, you can start aiming for a Breakthrough, which is the next step for a character.
Going for A Breakthrough:
A breakthrough allows you to increase your unit's skill cap and unlock new skills or upgrade pre-existing ones. To successfully breakthrough, you need to spend Souls and Marks. You can get Souls quite easily by playing the General Story missions. However, Marks are much harder to get, and you can only get them through doing Elite Story missions, which you can only enter by giving up Elite Tickets. If you wish to spend real-life money, you can always buy Marks in the Market. They are not extremely costly, but a lot of them are needed for a Breakthrough.
Character Advancement:
If you are not too keen on Breakthroughs but still want to advance your character, another method you can go for is Advancement. For this, you must permanently give up another character and also have their Advance Materials consumed. This particular Advancement allows one character to get a massive boost in stats while having better abilities.
Advancement is recommended only when you are sure of your character's strength and know that upgrading them will benefit you in the long run. Remember to always save duplicated units that you might think are worth advancing later on. Never spend Advance Materials on random characters as they are quite valuable and can only be found in the Market or through the Story Missions.
You can also equip your character with Gear when advancing them, which helps increase your overall stats.
Conclusion:
Performing a culmination of all these tips should help make your characters extremely strong in Tensura: King of Monsters. You should always be sure of what particular units you wish to upgrade as the materials you get are quite limited.
Especially if you are a free-to-play player, advancing the wrong character might mean that you probably will not be able to progress the way you wanted as you move on further. Do not focus on more than two characters at once, no matter how strong an advancement on a third might seem, as it will only dilute your resources, and you will end up with a lot of weak characters rather than two extremely strong ones by the time you reach the late game.