Stickman Ninja - 3v3 Battle Arena is an Arcade fighting game released in 2022. The game is all about Shinobi fighting. Action lovers will love this game if they are looking for some awesome fighting game with no background story to follow. The game allows you to focus only on defeating enemies, level up to become stronger, and unlock more shinobi to help you in your battle. Like other Stickman games, this 2D game is also about completing different levels, defeating mini-bosses, and unlocking the next set of levels.
Content
It does not follow any story, and you get to fight endless enemies with seemingly endless levels. So, again if you are looking just mindlessly to fight in a game and pass your time, then Stickman Ninja - 3v3 Battle Arena is definitely for you. In this article, we will be reviewing the Stickman Ninja - 3v3 Battle Arena and list down the Pros and Cons of the game. We will provide you with detailed information about what we liked it didn't like in this game. We hope that you find it much easier to decide whether the game is worth your time or not with this review. Without wasting any more time, let's begin with the game's pros.
THE GOOD
---
Thorough Gameplay
Stickman Ninja has very simple gameplay. All you need to do is fight all the enemies, clear all the Chapter levels, and unlock more chapters to fight more. Meanwhile, collect rewards to upgrade your heroes or unlock new heroes. You will need powerful heroes because the enemies keep on getting stronger and to level up, you have to power up.
The enemies are CPU players who will get stronger at every 5 level interval. That's when the boss character arrives to fight. These levels will offer the most exciting fights you will get in the game. You will also get more rewards than usual at these levels.
Straightforward Controls
Stickman Ninja offers simple and easy controls. A joystick to move your character and various other options on both sides of the game screen. On the left-hand side, you will have the joystick to move your hero and the option to change your character during the fight and gain Chakra to fight the enemy.
On the right-hand side, you will find options such as attack melee, fire energy, special attack, block attack, move immediately, and the option to use the ultimate attack. The controls are easy to master, and their placing makes it much easier to get used to them. They are placed like most Arcade games, so you might not find it that difficult to learn.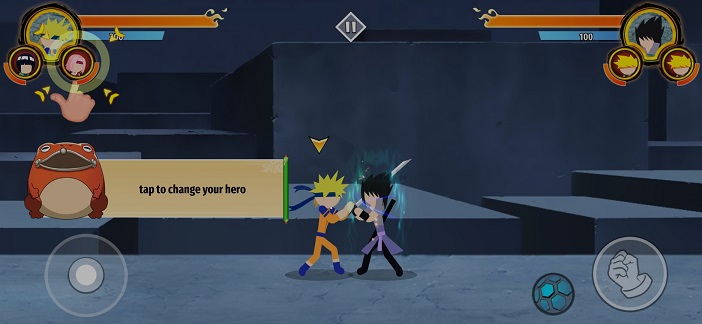 Great Graphics and Soundtracks
The overall graphics of the game is amazing. Although it's a 2D game, graphics are worth mentioning. The game has everything in terms of Graphics and soundtracks. The soundtrack enhances the overall gaming experience. With the right soundtrack, you can make a game more indulging, and the developers have done a great job with this game.
Also, it's worth mentioning that the buttons, game modes, and other menu options are well placed and designed in a way that improves the overall visuals of the game's menu.
Highly Rewarding
Apart from simple gameplay, indulging graphics, and awesome music, the game is highly rewarding. Stickman Ninja offers many rewards in the form of daily rewards, weekly rewards, 3-day rewards, Ad-rewards, and speed the wheel rewards. With this many rewards, you will easily upgrade your heroes. But to unlock new characters, it's all a different story. It's really hard to unlock characters. That's why we have placed this in the cons section.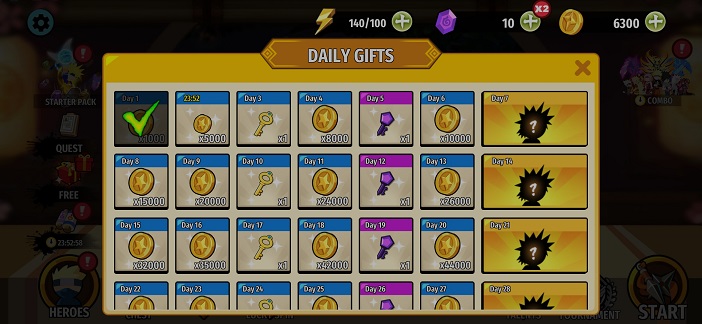 THE BAD
---
Gameplay has a very limited variation
The gameplay might be simple and all, but it becomes boring soon. It does not offer much in terms of fighting and hero's attack. Each hero has a unique attack, which is quite the irony here. The attacks are just for display; there is nothing unique about them. They are all the same with different colors and animations. Also, there is not much to offer in gameplay as it remains almost the same throughout the game. The CPU players and fights seem repetitive and tedious.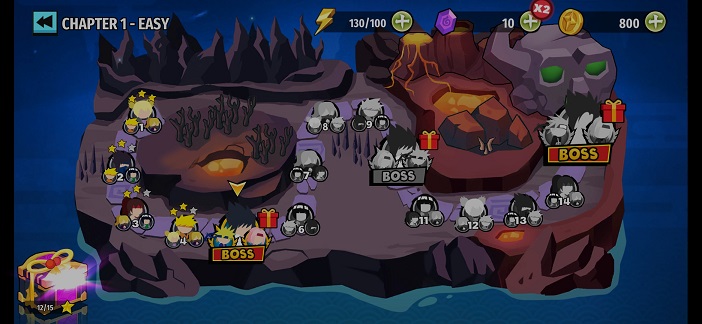 Ads, Ads, and Ads everywhere
This heading pretty much sums up the topic. The game is filled with ads, hiding in the form of rewards. The game sure offers a lot of rewards, but if you want them, you have to watch video Ads. Free rewards are offered initially, and then when you complete a level, but after that, you have to watch an Ad for each time you want a reward. For opening Chests, too, you will have to go through the Ads. It isn't very pleasant.
More Game modes can be Included to make it more fun
The game has two different game modes as of now. One is Chapter mode, and another a Tournament mode. Chapter mode will help you understand the game mechanics, but it's repetitive. Tournament mode is fun for only a short time. The developers can add more game modes to increase the players' overall experience. The developers can also try to upgrade the existing gaming modes.
Conclusion
---
Stickman Ninja - 3v3 Battle Arena is an average game with nothing much to offer. This game is certainly for all those who are into action games and would like to indulge in mindless fighting. Repetitive gameplay and the number of Ads are two of the main factors which make it irritating and tedious.
From my experience, I would like the rate the game 2.5 out of 5. It lacks variety in terms of fights and characters. Yes, some characters are more powerful than others, but that is just it. All attacks are similar except the animation of the attacks. It's completely up to you if you want to give this game a chance or not.