Stickman Ninja - 3v3 Battle Arena is the latest Arcade game developed by PhanGia. Like other Stickman games, the game is where you fight your opponents and knock them out to win. But, in this game, your characters will be Ninjas (clearly takes inspiration from 'Naruto' anime). The game was released recently, on 13th January 2022. It is a Mobile game where you have to fight your opponents in a 3v3 battle and level up to unlock more Ninja or upgrade them to make them powerful. Stickman Ninja offers multiple game modes, which we will be discussing later.
Content
In this article, we will tell you about the basic game mechanics and features so that anyone can get started with the game. This article will surely help beginners who are looking to play this game. We will discuss the game's features, gameplay, controls, game mode, rewards, and Heroes. So without further delay, let's get started by giving you the game description.
About the Game
---
Stickman Ninja - 3v3 Battle Arena offers simple but exciting gameplay. With simple controls and attack options, all you need to do is dodge, jump, increase your chakra level, perform basic and advanced skills, transform your hero and defeat your enemies. Stickman Ninja offers amazing graphics and attractive Sound effects to let you experience some of the epic battles. Now, let's move on to the features of Stickman Ninja.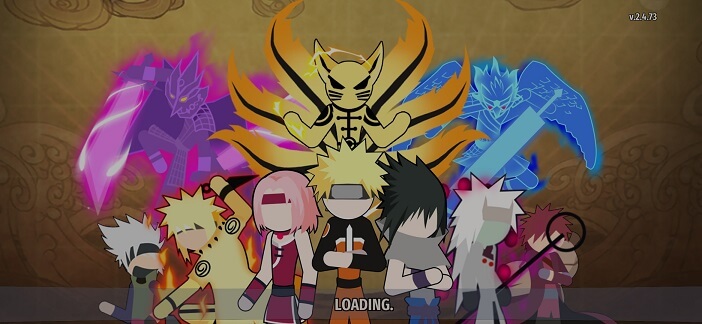 Features of the game
---
Offers 3v3 battles with enemy ninjas in easy and hard difficulty levels.

Easy and simple gameplay

More than ten heroes (or ninjas) to choose from. Offers a wide range of heroes with different classes and strengths.

Ultra instinct characters

Each shinobi Ninja has a unique special attack and move.
If you are aware of the shinobi world of Naruto anime, you will love this game. You will be able to identify the characters and their special powers. Although, if you are not familiar with anime, you will also enjoy the game since it's very easy to play and learn.
The Gameplay and Getting Started with Stickman Ninja
---
The game can be downloaded from the Play Store on Android. It does not require any signup or additional downloads. After installation, you can start playing right away.
Tutorial
The tutorial is quite good even for such a simple game; it teaches you everything about the game. The tutorial will not tell you everything initially but will guide you from time to time, for instance, when you unlock a new game mode. The tutorials are good, and you can skip them, too, if you want.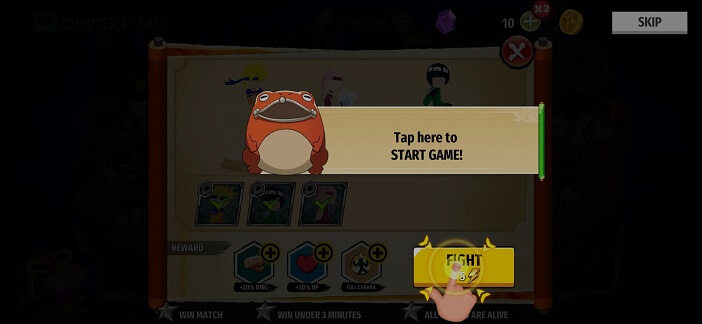 How to Play?
You will start with Chapter Mode, where you will fight a 3v3 battle with enemy shinobi Ninjas. After defeating the enemy, you will move to the next level in the same chapter. The battle will last until either team's Ninjas run out of Chakra. The game ends when any team is defeated. You can change your Ninja at any point in the game. Also, you can power your Chakra throughout the battle to attack the enemy with more power.
The Chakra is essential for a Ninja to fight. If a Ninja runs out of Chakra, he won't participate in the ongoing battle. Also, you will require Chakra to use powerful attacks and throw ninja stars. Every time you use a chakra attack or an enemy hits you; you lose Chakra.
Controls
---
On the left-hand side, you have a joystick, an option to power Chakra and Change your hero. The joystick can be found at the bottom left corner of the screen. About that is the option to increase Chakra during battle. On the top left corner of the screen, you can find your characters available for the battle. You can click on the ninja icon to change your character during a fight. Use the joystick to move up, down, right, and left to reach the enemy and dodge attacks.
On the right-hand side, you will find the options such as - attack melee, fire energy, special attack, block attack, move immediately, and the option to use the ultimate attack.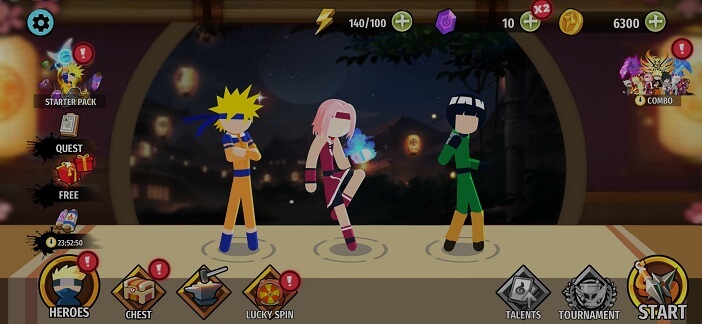 Game modes
---
You can play each level in Chapter Mode with Easy and Hard difficulty levels. But to unlock Hard difficulty, you have to complete Chapter 1 in easy mode.
Besides chapter mode, the game offers the Tournament mode that you can unlock after completing ten levels in Chapter 1. After completing five levels in Chapter 1, you also unlock Talents.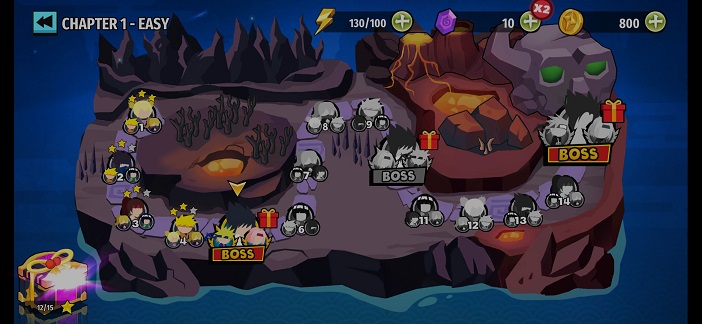 Heroes
---
The game offers a total of 15 different characters as of now. Each of these characters has a starting level that can be upgraded to a maximum level which can be seen when you click on the character icon.
You will receive three characters with basic power levels. Using them, you fight and earn rewards and points, which can be used to upgrade them or unlock more characters. The basic level ranges from S (highest level) to D. This basic level of a character can be upgraded to a fixed Maximum level. For instance, characters of S level can be upgraded to SSS level (most powerful character). Other characters also have a Maximum level beyond which they can't be upgraded. This maximum level depends upon the hero.
You have to use Ninja Tickets and gems to unlock characters. Gems and Ninja Tickets can be earned from daily rewards and the "Spin the Wheel" option. You can also buy them in exchange for real money. Moving on to the final section of this article, we will be discussing the game rewards. We won't be covering all the rewards, but the basic ones you should know about. Fragments are also required to upgrade your heroes. Fragments can be obtained from chests.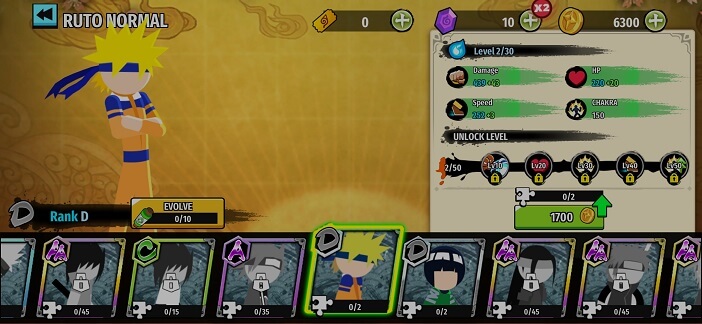 Rewards
---
Gold Coins - these can be earned by completing levels in Chapter Mode. With gold coins, you can upgrade your character, buy additional spins, and exchange them for other rewards. You can also collect them from the shop by watching Ads.
Gems - you can collect them from the shop by watching ads. Gems are used to unlock characters.
Fragments - these are required to upgrade heroes. You can obtain them by using chests. The common chest gives you 16 fragments; you can open it once for free every 24 hours. While Epic chest gives you 32 fragments. You can open Epic chest for free every three days.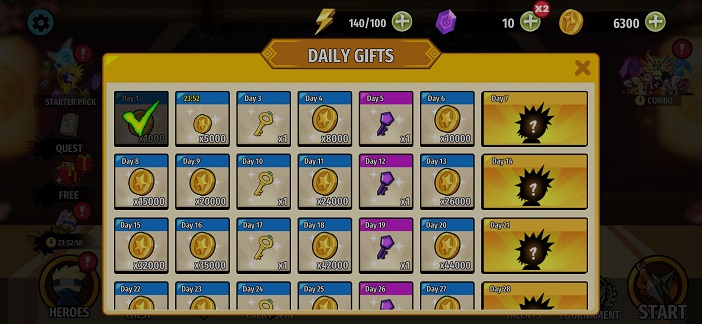 So this will be all from us in this article. Stay tuned for more updates.