Soccer Manager 2022 is the latest Soccer Manager game that allows you to control a whole football club, perform managerial roles, and make decisions that will benefit and add to your club's overall growth.
The game is pretty straightforward to get around, and if you're an avid fan of the sports, you'll most likely have no problem whatsoever when playing this game. However, for players that are not very familiar with such games, don't worry; this article is for you.
We'll be giving you a detailed Tips and Tricks guide of Soccer Manager 2022 that'll help you manage your team well, sign the right players, generate more revenue, and many more. So please sit back, relax and enjoy our tips and tricks guide for SM 2022.
Planning Your Tactics & Studying your opponent's
---
Tactics play an important role in any team, and without it, they might as well just play without a coach. One of the main relevance of a team manager is to develop the playing tactics that the player's will use in matches.
The same thing applies to your opponents. You will be given a scout report of your next opponent before you face them. This is a good thing because the scout report will contain important information, such as the team's planned formation against you, the key playmakers, and other information that you will find useful, such as suspended players and injured players.
Knowing your opponent's tactics before a match gives you the chance to set up the right defense to tackle the team's key players however they can because they will most likely be the ones who will hurt your team if given a chance.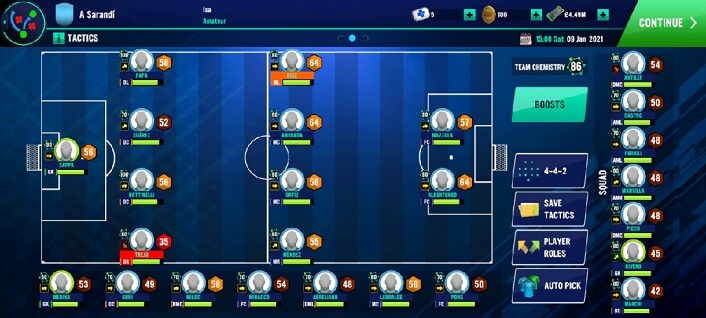 Let your players play in the position they excel
---
Like in real-life soccer, it is always best to allow a player to play the position which they're good at. If a player's position is LWF (Left Wing Forward), you shouldn't place him in RWF (Right Wing Forward) or CF (Center Forward) position unless you want to try out the player in a new position.
So this as best as you can and place your players in their natural positions to perform their on-field responsibilities much better. And even when signing new players, pay attention to their positions and make sure you need them to fill in a particular and less competitive position rather than a competitive one that's being controlled by one of your active playmakers.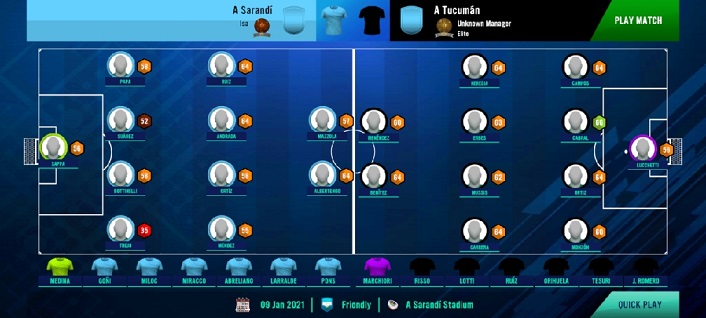 Recruit Some of Your Youth Academy Players to the Main Team
---
This isn't necessarily recommended in heated matches or competitions. Still, you should recruit promising young stars from your club's youth academy and give them a chance to shine in the senior team amongst the big boys. This lets you combine players with experience and youth players with less experience, which could be a positive ROI by boosting your team's chemistry.
Your players will fare better in matches with a boosted team's chemistry, and ultimately it is never a bad idea to pick a talented player or two from the youth academy and add them to the main squad. You don't always have to do it, but you can do it per season depending on when you feel your team needs new talents and don't want to spend cash on the transfer market.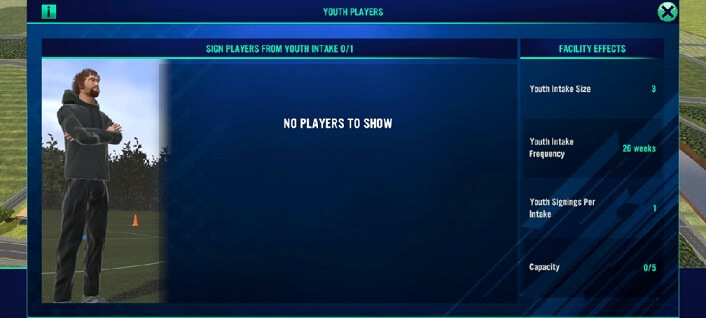 Setting your team's formation
---
If your team has a bunch of creative playmakers, you should set the instructions to a high level of creativity that allows them to put their playmaking skills to good use. And if you have a ton of players who play their game at a slow pace despite being good, you can set your formation tempo at low speed. You should do this for any other tactics that you play with.
Additionally, you should try to set up your team's tactics and style of play in time before a match if you have a deadly frontman as your CF (Center Forward), such as Cristiano Ronaldo, Harry Kane, or Robert Lewandowski. Then you may want to set up your tactics to allow your wingers to bring as many crosses to give your frontman lots of opportunities to score a header.
Taking advantage of the Transfer Market
---
Like many Manager games out there, the transfer market is arguably the most fun and interesting part of being a coach and handling a club because you only get to sign new players. Still, you can also get offers from other clubs wanting to buy your players as well. So that's always cool.
In Soccer Manager 2022, there are certain tips that you should know about the transfer market and how you can use it to sign the best players to your team.
Assign your Scout to Scout for Specific Players
---
Sending scouts on assignments is a regular in this game. Other than sending your scouts out for assignment and having them return with random player reports, you can send a scout to scout on a specific player where they'll return with more detailed information than scouting random players.
You should only do this for fantastic players you want to buy so you don't send out your scouts for anything.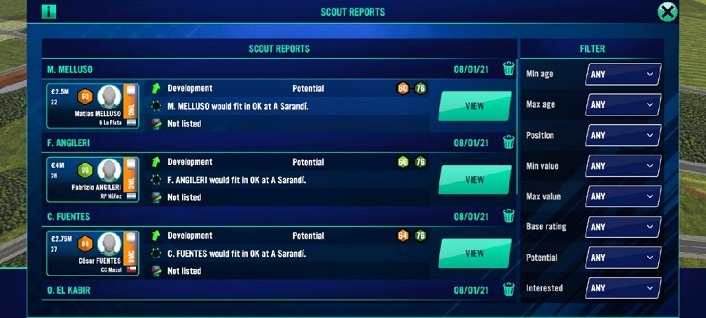 Visiting the Free Agents section often
---
Many players don't usually do this, but you can get a fantastic player from the free agent section in any soccer game that has manager mode. Free agents are usually players whose contracts with their club have ended, and there has been no renewal ever since.
So if you visit the free agent section often, you might get lucky and sign talented stars for free by sorting out their contract details and getting them ready to join your club. Free agents are free to sign, which means you won't be paying their former club any fee, but before signing them, you'll have to make them a salary offer, and if they accept, they'll join your club.
Take Advantage of the Loan Offers
---
Sometimes you may want to sign a player so badly, but you don't have the financial capabilities. But there's an alternative to this problem, and that's loans. Instead of signing a player to join your team in a permanent transfer deal, you can request to sign them on loan for a certain number of seasons, usually 1-2 seasons.
You will discover that several clubs are willing to send out some of their promising youngsters on loan to other clubs to help them build experience before returning to their main team. This is an opportunity for you to buy them on loan and add them to your squad for a time before their contract expires, and they'll have to return to their former clubs.
Handling Incoming Offers from other Clubs
---
Often, other clubs will approach you with interesting and lousy offers to sign some of your players. Clubs usually aim for the best performing players in your squad, which means you should carefully go through the offers and make sure you don't sell off a crucial member of your squad even if the money's good.
Sometimes if the money's good enough, you can sell off a crucial player as long as you'll have someone better to replace them. For instance, if you're selling off a player like Phillipe Coutinho, then be sure to have enough money to sign the likes of Paulo Dybala to replace him.
Conclusion
---
That's it for our tips and tricks guide for Soccer Manager 2022, and we hope our tips have been detailed enough and helpful towards your coaching career. Soccer Manager 2022 has tons of features to offer, and by carefully following our tips, not only are you going to benefit from them, but you'll also discover tips and tricks of your own.