From the beginning, the battle royale game initiated by NetEase Games has attracted and joined thousands of players to the Rules of Survival. The players have the space of selecting the gaming mode, either solo, duo, or squads and the ranking mode from casual or normal. The combatting features in the game are challengeable and unique. The game has several exciting strategies where the players have good freedom to take decisions and proceed.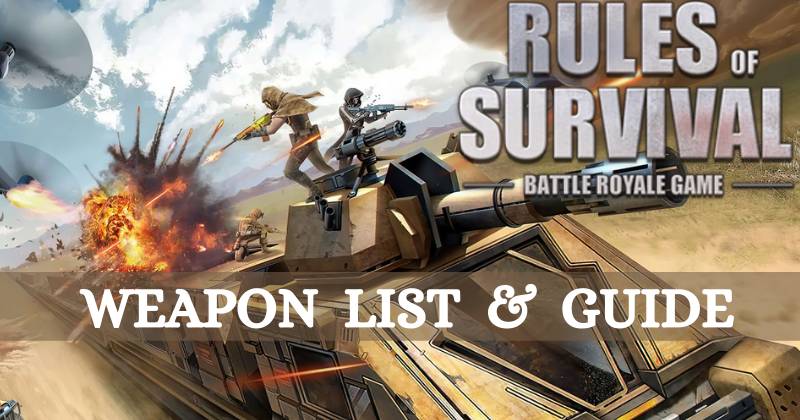 The game offers a high range of weapons that can use by all the necessary players and combat. So, as there is a relatively high range, it is recommended to learn about the different types of weapons and their uses in different situations in the game. The accurate usage of weapons will be more effective, and it will support climb the rank. So, now let us explore the different categories of weapons and their usage to you at the battle. First, download Rules of Survival on PC and then start to dive into weapons.
Melee weapons
When you have equipped this, it can reduce the visual and audio signals. There will be a rapid increase in run speed also. For example, you can see the following,
Rubber chicken – there will be an added movement speed with the equipment. It can defect hitting bullets.
Grenades
These weapons can throw when you use them correctly. Grenades and Molotovs are the types that can do massive damage within a limited time. This is good to force opponents who are out from their covering spots. For example, you can see the following.
Stun grenade – can use to unsettle the enemies to escape, and they will not be able to do anything after that.
Smoke grenade – it can minimize visibility. When you need privacy or a hidden attack, you can use this to hide from enemies.
Grenade – this can make high explosions where the enemies will die or be thrown away.
Molotov –over time damage and throwing of enemies within 6-8 seconds to a determined area.
Chicken grenade – this can enhance the radius of the damage like a normal grenade.
Rocket Propelled Grenade (RPG) has a tube of the lethal rocket, and it is a portable missile launcher.
MGL – this can see only in airdrops, and it matches for medium-ranged battles.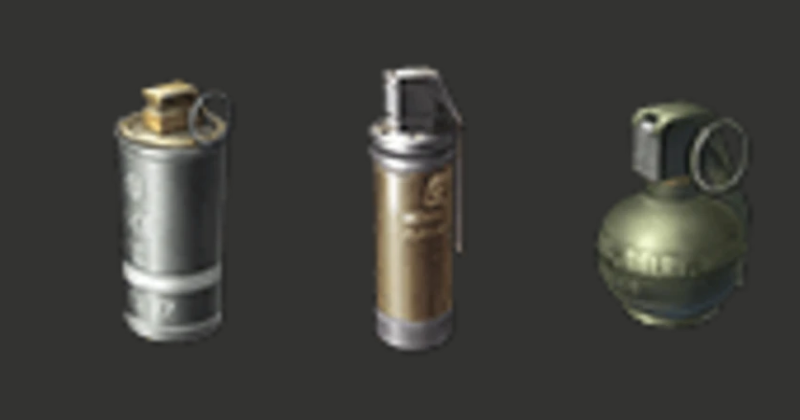 Sub-machine guns
These are close-range weapons with relatively low damages. It was offset by the advanced rates of fire and low recoil. This will make highly effective close-ranged battles. For example, you can see the following.
PP19 – This is an advanced Russian sub-machine gun.
Vector – this is also known as the Kriss Vector, which belongs to classic American SMG. It has high stability and fire rates with low damage. It Will be a small magazine, and it will be similar to the PP19.
MP5 – this gun has replaced MP7 in Fearless Fjord, and it belongs to the category of classic German SMG. There will be great damages to the stability. It has the same potentials as a pistol.
P90 – it can handle 4x scopes, and it is a Belgian creation. It does not need several attachments to deal with different fights. You will need a dash and destroy enemies, and this can use to kill enemies with less effort.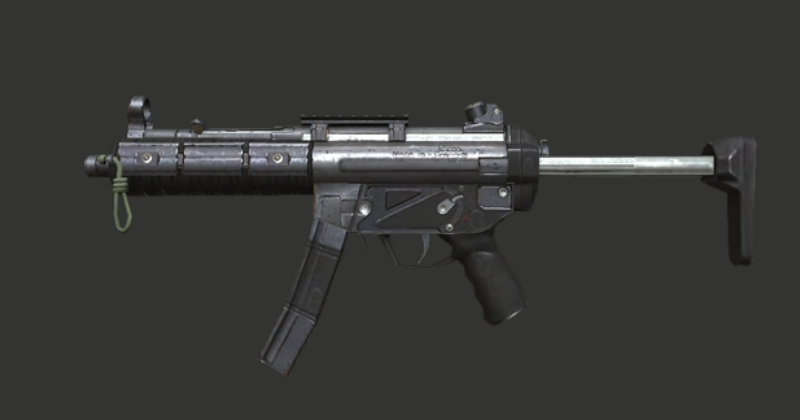 Rifles
It is a heavy firearm that can hit effectively with the correct equipment. They have a good range, but some can find only in crates. For example, you can see the following.
M4A1 – it is a commonly used assault rifle that can maintain all the available attachments. This weapon will commonly be available on the map, but it will be relatively less effective for long ranges.
AR15 – this striking rifle has two optional modes of firing. The civilian version of the weapon is M4A1 and will be seen throughout the map.
ACR – this weapon has restored AR15 in the Fearless Fjord map. But there are shown benefits in the recoils. You can find this on the building, and it will be more like other loot weapons.
AN94 – this is a creation of Russia and is similar to M14EBR. It will do relatively fewer damages. But, there will be accurate damages in single and burst fire modes. The single-fire mode will activate for damages after the AKM. This weapon is highly efficient in long ranges, and it will lose only 10% of damages at that time. Most professional players prefer to use this as they consider it the best weapon in the whole game.
AKM is a powerful weapon with a high range of damages, and it will be available in different places on the map. It has a single shot and automated firing modes. There is a high recoil, and it will be difficult to control if you do not use the single shot with the scope and the compensator.
M249 – it is a strong light machine gun, which is available only in the supply crates. It has the largest magazine and can do great damage, but it will handle the sight only. It will make huge noises while operating.
AUG – this will be available only in the Supply crates. It also has single and automatic firing modes, and the weapon can share the same attributes as AR15 and ACR. There will be damage-wise similarities to AKM.
QBZ97 – this is a jack of all striking trade rifles. It will do low damages, but it can do a good job of stability and high firing.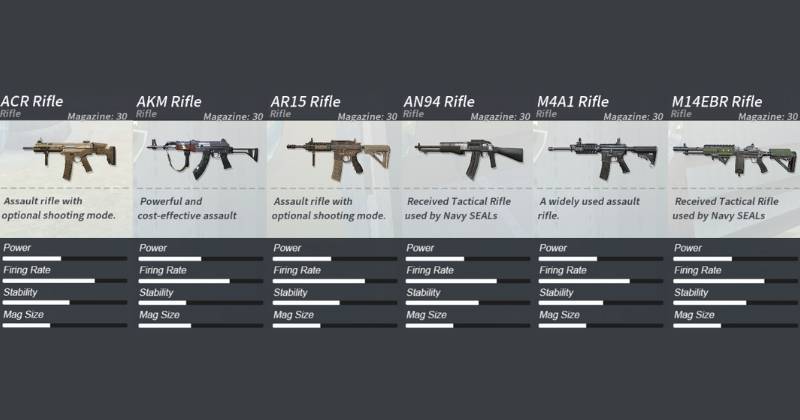 Shotguns
This is the best gun for the close-quarters battles as they have a relatively low range. For example, you can see the following.
SAIGA-12 – this is a semi-automated shotgun that has a clip. It has a muzzle and low powered scope attributes, and it can enhance stability, and there will be second-highest damages.
WRO – this can fire before you need a reload. There will be powerful mid-range damages to the longest range. As a hunting rifle, there are units on bullet belts. That will make the mid-range shotgun more powerful. The SG bullet can enhance the mag capacity up to two, and the reload time. The SG choke can make highly accurate damages at the initial and late gaming encounters.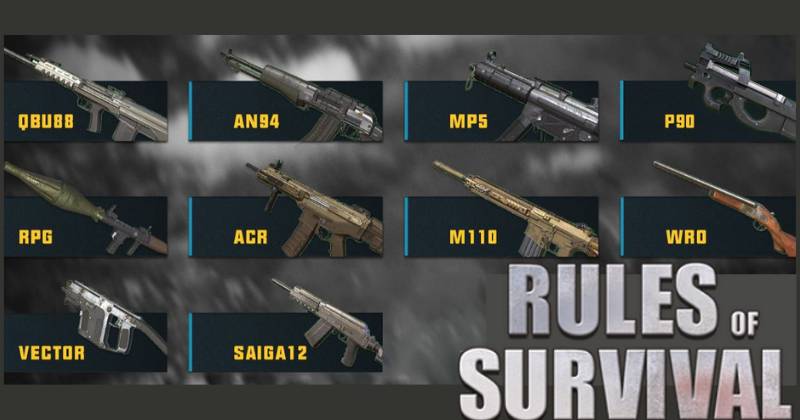 Sniper rifles
These firearms can cause massive damages to a long-range. The weapons are equipped with the sight as default, but there will be other remaining attachments. For example, you can see the following.
QBU88 – this is also a semi-automatic bullpup sniper rifle with the same features as the SVD, and it also comes with a holographic sight. There is a grip in this weapon to support the recoil.
Kar98K – this is a bolt action sniper rifle, and it can do average damages. This weapon has 2x scope.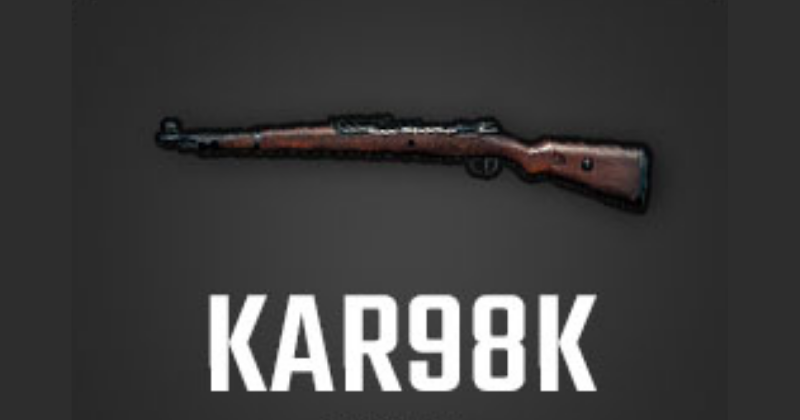 Best Loot Places? Find here.
Best Weapons in Rules of Survival
So, apart from all weapons mentioned above, some weapons in the game can be categorized as the best weapons. They will become the mainstay of beginner players. They are as follows.
M110 – this is also a bolt action sniper, which can have the damages and range of AWM.; it will take the place of AMW in the Fearless Fjord map. But, it can do massive damages than AWM and attack a range of 800 meters. The main advantages are the 4x scope, great damages. It can fire without a break by maintaining accuracy. But, it makes a loud noise while operating.
M1887 – this can hold two shells simultaneously and has high ranges of damage output but with lower accuracy rates. This weapon is designed to platers with high rates of accuracy, and it has a short reach and great damage making abilities. So, it has wide use for in-house attacks.
MP7 – this is a famous German sub-machine gun. Although this cannot do massive damages, the main advantage is the fast reloading ability. But, you cannot use it above the scope of X4. With this range, you will not be able to shoot distance enemies.
M14EBR – this is a rare weapon on the map. As it is an automatic weapon, you can use it for burst fire modes and single shots. If you have no sniper rifles, this marksman rifle is a good choice to use. When you have a good sight, there will be no damage reductions in the longer ranges. The weapon has good rates of accuracy and stability for both short and long distances.
Barret – this is a sniper rifle that can cause the biggest damage. It can attack the enemy who is at a longer distance. The main disadvantage of barret is the inability to mobile.
AWM – this has the scope of 4x and can cause massive damages with bolt action, and it often appears on the map. It can cause extra damages depending on the range. The slow speed of firing and the large noise while operating are the main disadvantages of AWM.
AKM is a powerful weapon with a high range of damages, and it will be available in different places on the map. It has a single shot and automated firing modes. There is a high recoil, and it will be difficult to control if you do not use the single shot with the scope and the compensator. This weapon is suitable for an experienced player as it has less stability, but it is highly reliable.
WRO – this is a shotgun, and it is the biggest damage maker in that category. This is the best weapon among players who want to make a short distance attack. There are some disadvantages of this weapon. This weapon can store only up to two weapons. So, the players should have a high rate of accuracy. There is a lower rate of firing. It is the best selection on short distance and small circle attacks.
M4A1 is the advanced version of M16 and commonly used assault rifle that can maintain all the available attachments. This weapon will commonly be available on the map, but it will be relatively less effective for long ranges. M4A1 can make massive damages and ammo with less effort, and it has become one of the favourite weapons among the players. This is a reliable weapon for any player.
Thompson – this is a world-famous gun that has the biggest magazine of 45 rounds. It has an extended mag that can reach up to 60 rounds. For best attacks, you can use this with the Ex-mag. As the main weapon, this has good stability and can find the map without any confusion. The main issue of this weapon is, it can attack only about 30 meters. So, you cannot use this for faraway targets from the player.
G18C – this is the most flexible handgun for single shots. It can make massive attacks on the enemies who are at the beginner level of the game. The damage will be more advanced if they have not worn the armour.
Desert eagle – this is a powerful magnum pistol that can go through the armours of the enemy. The high recoil is the issue of this.
AA12 – it is a fully automatic shotgun with extendable peripherals of EX, QD and EX-QD magazine with five round clips. It cannot move with the SG bullet loop or the choke, which is useful for close combats. You can easily alarm the enemy by rushing the position with a fully loaded magazine. You can kill them just by three or five hits when you catch them off guard.
M870 – it can hold five shells simultaneously and can move with SG bullet loop and SG choke. Like all shotguns, it has relatively low damage ranges. It has the action of pumping and is good for beginners to use against enemies. But, it takes considerable time to reload.
Damascus knife – it has high swing speed than other melee weapons. This weapon can create great damages by stabling the enemies in close range. This will work positively with the enemies are close by. But, think before you use it because the weapon loses its purpose after usage.
Crowbar – this weapon can create great damages, and it has a big hitbox. This is the most important weapon while finding the treasures in every game. Apart from that, it is a tool to escape and fight with opponents.
SVD – the semi-automated sniper rifle can damage 30-35, and it has developed with a holographic sight. It has commonly found in the map can cause great damages. The main disadvantage is the recoil.
AS VAL- this is a striking rifle that is highly used for ammunition, and it has a scope of 4x. There will be benefits from this as an integrated suppressor, and it can attack well for short distances.
To have the best controls with these weapons, engage with the Keyboard Mapping Feature. You create your own key sets from here and take control of your game for delivering a quick victory.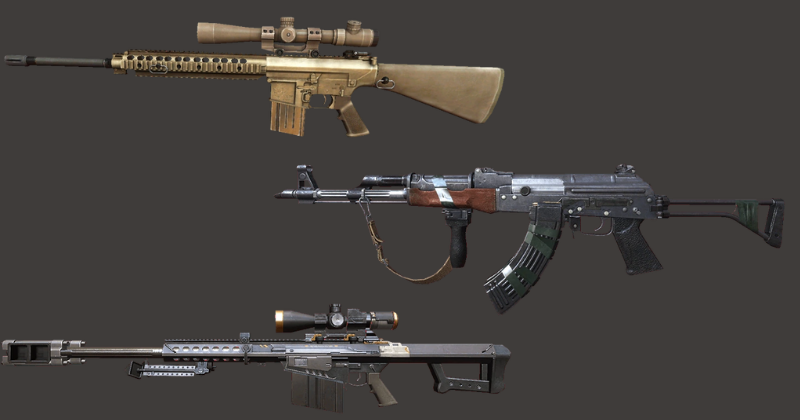 Conclusion
The game, Rules of Survival, is a combatting game that has a unique kind of weapon. The weapons have different advantages and some disadvantages in different situations. So, it is really important to know the types of weapons and their usages before you go to the battle. With that, you can face the battles skillfully and defeat the enemies while taking maximum advantage of the weapons.