Punishing: Gray Raven is the latest free-to-play 3D Action RPG mobile game published and developed by Kuro Games, which is built on a game engine called Unity3D. Punishing: Gray Raven, receiving a good appraise in China/Japan Servers, was recently launched for the Global user base. The game was already under the radar of many global players due to its combat mechanics, touted to be quite similar to Nier Automata, and a good slew of characters to play and collect.
The characters in Punishing: Gray Raven are called Structures or Constructs, where each character has its personality, which is personified by their unique playing styles, combos, skills, and abilities. We are sure that you can find a few Structures to your liking based on their playstyle and cuteness, which it has tones of in the game.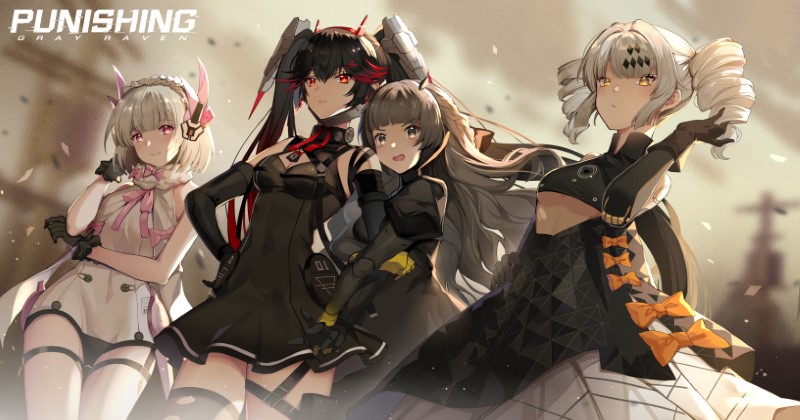 This guide will discuss two Variants of gloomy but fun Karenina; good things do come in small packages. She has two Variants known as Karenina Ember, the S-Rank Variant, and Karenina Blast, the A-Rank Variant. Other than their names and their primary weapon, both of them are unique. Both of them have their skills and playstyles, having vastly different personalities because of that. Before we get on with the discussion, please go ahead and read our Tier List guide to know more about other structures.
After reading the Punishing: Gray Raven's Tier list and other essential guides, you will have enough information about the most crucial Structures in this game and help you further decide which of these lovely girls you want to progress in the game till the end.
After you follow our guide and choose to roll for Karenina, your journey to the end-game will cruise along just fine as she is an attack-based structure and one of the unique playstyles due to her cannon weapon, which she heaves and hoes to destroy the enemies. With our build recommendations, you will be able to clear most content and don't have to worry about the Combat Power requirements of various stages. Just make sure to follow the combos we have mentioned in each Variants section, and you are good to go.
Content:
Karenina – Ember, S-Rank:
"The full form of Karen after unlocking the limitations placed on her weapon. Taking off the jacket that was hiding the fire, showing combat instinct, and releasing high heat is her determination to burn out all obstacles."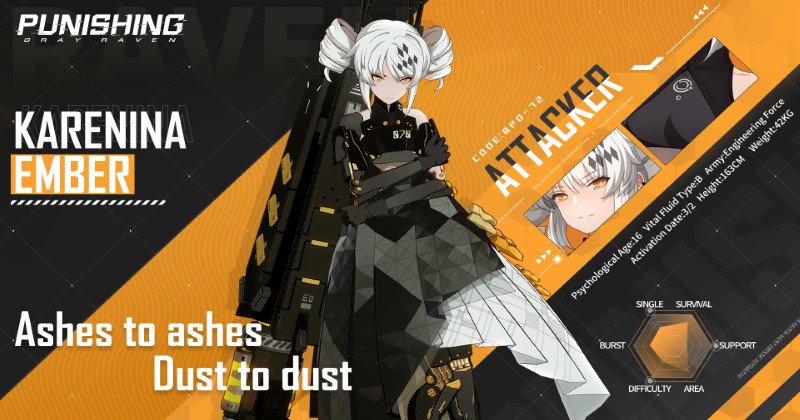 Karenina Ember is one of the best melee Structures in Punishing Gray Raven. One of the best things about this character is that she has a unique fighting style as she takes a freaking cannon and hits unsuspecting enemies with it. She can deal massive PHY and fire damage while sometimes dealing mixed damage and is considered one of the best selections while using from the S-Rank selector.
Based on the number of pings, her abilities and damage can almost exponentially grow into a powerhouse. There's a lot more to Karenina Ember that you should know about, and that's why we have prepared this fantastic guide for you about Karenina Ember's skills and abilities, builds and team synergies, and more.
Stats and Background:
Elements

Physical 30%

Fire 70%

HP

1820

DMG

403

DEF

287

CRIT

191

Service Time

4 Years

Activation Date

03-Feb

Height

163cm

Weight

42kgs

Fluid Type

B

Mental Age

16
Skills and Abilities: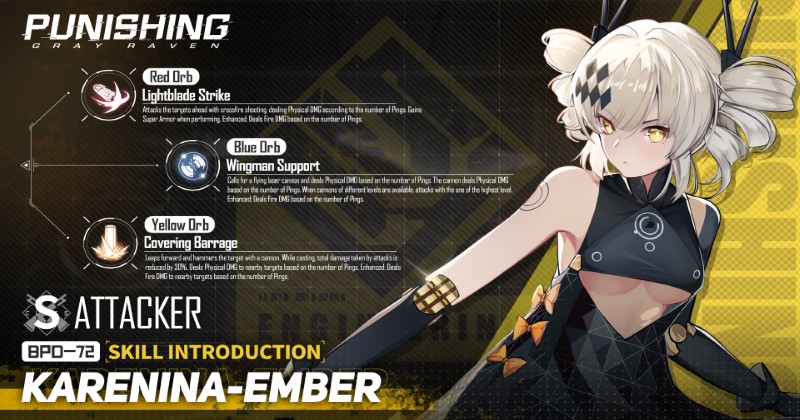 Below are all the abilities that Karenina possesses, which you can use at your leisure and skill. She is another S-Class melee Attacker, having an affinity for fire-elemental attacks. Although Karenina is a melee character by default due to her weapon being a heavy cannon, she still specializes in making AoE attacks. She can switch to her "fire mode" by consuming 3-Pings three times whereby converting most of her damage to fire instead of physical, all the while using her powerful flamethrower.
One thing to remember is that, as suggested by her name, Ember, she is a fire-type character. Whenever she burns the enemy, it will continuously burn the enemy until the enemy is weak as hell. In short, Spam triples and ult to maintain gauge.
Core Passive – 3 orb combos and ultimate will gain fire energy; when the fire bar approaches 50%, you will enter the fire mode. AA and skills get additional effects in fire mode and gain 10(20) % of fire damage increase. She loses 5% of fire energy per second in fire mode.
Karenina's basic attack is known as Thermal Armament. Karenina gains an additional 3% of Thermal Energy per skill level whenever she is in combat. You can gain Thermal Energy ability by performing 3-pings and her Signature move, which becomes enhanced and activates into a fire mode after the Thermal Energy reaches 50%. It gains additional effects and fire damage bonus from signal orb skills and basic attacks.
When enhanced, she loses 5% of Thermal Energy per second. Karenina's Core Passive skill, triggered by using a 3-orb combo followed by her Ultimate skill, activates her fire gauge.
Orb Skills:
Here are the different orb skills for Karenina.
Red Orb, Lightblade Strike – Normal Mode: Cross-wise attack an enemy, dealing 50/100/150(100/200/300) % of PHY damage. She deals 75/150/225(150/300/450) % of fire DMG in the Fire Mode.
Attacks the target ahead with crossfire shots, dealing PHY DMG and unleashing her cross attack, according to the number of Pings. She gains Super Armor when activating Red Orb Skill. In fire mode, this attack deals increased fire damage.
Blue Orb, Wingman Support – Normal Mode: Summons machines deal 10/20/30(20/40/60) % of PHY DMG. In the Fire Mode, she deals 15/30/45(30/60/90) % of fire DMG.
This Orb Skill summons many machines to the battlefield that can deal with minor PHY DMG each. In fire mode, the devices can deal increased fire DMG. She can also call for a flying laser cannon from above and deals PHY DMG based on the number of Pings. When there is more than one Cannon level available, she attacks the Cannon with the highest level. While enhanced, she can deal Fire DMG based on the number of Pings.
Yellow Orb, Covering Barrage – Normal Mode: Jumps towards an enemy, dealing 90/180/270(180/360/540) % of PHY DMG to enemies all around. She deals 135/270/405(270/540/810) % fire damage in the Fire Mode.
Karenina can leap towards an enemy and hammers the target with her Cannon. During her casting, she receives 30% reduced total damage from the surrounding area. She also deals additional PHY DMG to nearby targets based on the number of Pings. While enhanced, her cannons can deal Fire DMG to nearby targets also based on the number of Pings.
Active Abilities:
Attack – Deals a total of 360(720) % physical damage. Fire mode converts damage to fire damage.
Karenina's basic attack is known as Pressure Unleashed. It makes consecutive attacks at the enemy target, dealing PHY DMG. With the enhanced version, her basic attacks can deal Fire DMG.
QTE – Deals 300(600) % physical damage. Karenina's QTE skill simply summons her to the field to deal heavy physical damage to a single enemy.
Ultimate – Fires a beam of laser on the ground that deals 100(200) % fire damage, leaving a trail of Fire that deals 100(200) % of fire damage per second. It fills the fire bar fully.
Karenina's ultimate attack is called Scar of the Earth, and this is a massive AoE skill that consumes 100 energy when she unleashes it. She can summon a gun from the sun, which shoots a laser at the ground dealing Fire DMG and leaves a fire trail for 5 seconds after finishing the move. All enemies in the path take Fire DMG. This move fills her fire gauge.
Passive Abilities:
Leader – When all three characters are different classes, damage increase by 10%, attack-based characters gain an additional 5%.
Awaken – When entering the battle, get 3 signal balls (only once per battle).
Class Passive – Damage is increased by 10(20) %.
SS Rank – Gain an additional 10% in fire damage in fire mode.
SSS Rank – Gain an additional 10% in fire damage in fire mode.
SSS+ Rank – Enemies damaged by ultimate receive 15% more fire damage, lasts for 5 seconds.
Weapon Signature:
Nuclear Dragon ★★★★★★
DMG: 450

CRIT: 253

Skill: 1
Dragon's Breath – Increase Fire damage by 10%. When consuming a red orb, Fire damage increases by 10% for 5 seconds.
Weapon info – The Nuclear Dragon combines the characteristics of high thrust, high exhaust speed, and high thrust-to-weight ratio generates extremely high heat when in use. This energy can allow the Nuclear Dragon to destroy any target effortlessly.
Nuclear Dragon is a handheld cannon with a high-energy power unit. In the extreme state, the flames jets are like the breath of the legendary dragon.
Weapon story – "It uses its range as a price for its powerful lethality that can destroy everything. I don't want to stand in front of its muzzle."
Memories:
Build 1:
4-Piece Shakespeare

2-Piece Darwin
Shakespeare ★★★★★★
HP: 1491

ATK: 134

DEF: 223

CRIT: 64
2-set Effect – Increase all damage by 3% and fire damage by 7%.
4-set Effect – Each attack has a 50% chance to inflict Burn to the enemy for 8s. Attacking Burned enemies has a 20% chance to trigger an explosion, dealing 100% fire damage. Burned enemies have -8% fire resistance and take 12% fire damage every second. Stackable up to 3 times. Burn duration resets after each stack.
Shakespeare's memory goes exceptionally well with Karenina as its 2-Piece bonus firstly increases all damage by 3% plus Fire DMG by 7%. This memory is perfect for her due to the 4-Piece bonus having a 25% chance to burn the enemy for 5 sec doing Fire DMG and a further chance to explode along with decreasing the enemy's Fire DMG RES and DEF.
Darwin ★★★★★★
HP: 1491

ATK: 129

DEF: 218

CRI: 67
2-set Effect – Increase all damage by 3% for every orb consumed, lasts for 4s, up to 5 stacks.
4-set Effect – When consuming an orb, the orb's corresponding color is stored. When three colors are collected, release a 12m radius shockwave with the character as the center that deals 600% physical damage.
This memory is a universal memory type that you can use on any hero because of the game mechanics that support Pings.
Build 2:
4-Piece Ike

2-Piece Erwin
Ike ★★★★★
HP: 1208

ATK: 109

DEF: 181

CRI: 51
2-set Effect – Increase all damage by 2% and elemental damage by 4%.
4-set Effect – There's a 15% chance to Burn, Shock, Freeze, and Corrode (depending on the element). It lasts for 5s with a cooldown of 8s on each enemy.
Another great memory that works around her Ember burn core passive.
Erwin ★★★★★
HP: 1184

ATK: 107

DEF: 181

CRIT: 54
2-set Effect – Increase basic attack's damage by 10%.
4-set Effect – Increase basic attack's damage by 15%. Buff disappears when attacked, returns after 12s.
Adding Erwin to any build will add a 10% increased basic attack DMG, which will be a massive boost to any build as mostly you will be doing AA to have more Orbs appear on your Orbs bar. Erwin is a good memory when starting as a new player.
Aife ★★★★★
HP: 1184

ATK: 107

DEF: 181

CRIT: 54
2-set Effect – Increase all damage by 2% for every orb consumed, lasts for 3s. 5 stacks max, with each stack resetting the buff's duration.
4-set Effect – Every 60s, the next 3 orb skill will trigger slow-mo.
If you want, you can swap the Erwin set with Aife set to go into slow-mo easily and deal more damage with 3-Pings.
Build 3:
2-Piece Ike

2-Piece Erwin

2-Piece Hanna
Hanna ★★★★★★
HP: 1453

ATK: 129

DEF: 223

CRI: 67
2-set effect – 3 orb skills deal 25% more damage.
4-set Effect – Every 30s, the next 3 orb skill will trigger slow-mo. The character will gain 1 random orb.
Though unorthodox build, it synergizes well with Karenina's core passive and her 3-Ping requirement to gain thermal energy, enhancing her damage.
Content:
Here are some preferred partners, memory, and weapon for Karenina.
Kamui Tenebrion (Tank)

Bianca Zero (Attacker)

Liv Luminance (Support)

Liv Lux (Support)
For Warzone, Karenina is perfect for Fire Weather while equipped with Shakespeare memory, exponentially increasing her Fire DMG while reducing the enemy's RES.

Lucia Dawn

Liv Luminance (Support)

Liv Lux (Support)
Profile Data and Secrets:
| | |
| --- | --- |
| Profile Data | Trust Level |
| Through the application for a new Construct under the authority of the Gray Raven's Commandant, Karenina is granted a new Construct. Along with a change of looks, she also let go of her Hand Cannon's hidden attack mode. | 1 |
| The muzzle piece of her Cannon can continuously emit high heat and Electromagnetic Waves; it can be utilized as a blade with the ability to slice through everything. | 2 |
| Her new Construct utilizes the latest light reflective material and internal light energy receiver; this allows convenient energy recharge. Her Cannon is also upgraded to a high-speed Flotation Cannon. | 3 |
| Although she won't admit it, Karenina is delighted with her appearance in her new Construct. | 4 |
| She once aided in constructing the Gray Raven's underground base; She put it to perfect use throughout the course. Although she kept grumbling, everyone could see that she was enjoying herself. | 5 |
| After upgrading to her new Construct, she became more competitive by nature. Her obsession with Lucia did not wane for a moment. On top of that, her intention of keeping the Commandant to herself also increased. | 6 |
| | |
| --- | --- |
| Secrets | Trust Level |
| She does not get along with other Purification Force members. | 2 |
| Her new Construct's jumping ability is a massive increase compared to her previous model. | 2 |
| She enjoys Bianca's lap pillow. | 3 |
| She feels delighted when it comes to helping out Bianca with her hair. | 3 |
| It would be great if she could be transferred to the Purification Force, she thought to herself. | 4 |
| If she says "Dammit" three times, it means she likes it. | 4 |
| After she changed into her new Construct, she tried curly twintails. | 5 |
| While she was curling her hair, Bianca saw her. | 5 |
| Damage can be inflicted to herself should her weapon be unleashed in its maximum power state. | 6 |
| There are a total of 32 potholes in front of the Gray Raven team's base. They are the result of Karenina's explosives, and the number of potholes continues to increase. | 6 |
| She has previously stepped on the exterior decorations of her new Construct and stumbled into the ground, but this did not make her give up on this Construct. | 7 |
| She utilizes the specialized tracking system in the Purification Force to check on the whereabouts of the Gray Raven team. | 8 |
Karenina – Blast, A-Rank:
"Member of the Engineering squad, born from Cosmos Technicians Union. Currently, she is a support for the Purificator squad. She was born short-tempered and simple-minded, usually prefers to solve problems with explosions instead of a plan."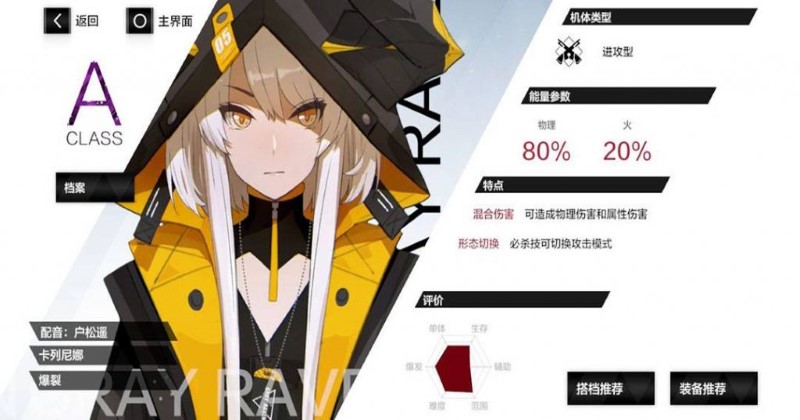 She is one of the Structures that you will get early on into the game by normally playing. Aesthetically speaking, she does offer a unique look. She is a fire Elementalist with 80% of her total damage as PHY. Her primary use can be summed up as mob clearing, so your main DPS can focus on the main boss due to her mobility and high area damage.
A-Karenina is a great burst-unit and benefits a lot from being switched in and out of combat because it stacks her core passive. Her core passive stacks with three orb skills used, and whenever a character enters the field, they do so with a set three orb skill.
However, if you want to invest, A-Karenina is a tremendous physical DPS early in the game. She makes for an excellent backup DPS for Alpha and a great filler for any incomplete Elemental Warzone teams, the reason being her QTE gathers; she's unique in that regard, and this alone makes her worth keeping around for a long time to come, 100% worth your resources.
She is a fantastic Structure and a viable option in multiple DPS teams, and she belts monsters in their face with her Cannon, and she is pretty good at AoE fights.
Stats and Background:
Elements

Physical 80%

Fire 20%

HP

1515

DMG

318

DEF

216

CRIT

151

Service Time

4 Years

Activation Date

03-Feb

Height

163cm

Weight

42kgs

Fluid Type

B

Mental Age

16
Skills and Abilities:
Big AoE kit girl, fun all around.
Core Passive – Enter Burst state after triggering any 3-orb combo three times. Basic attack changes to long-ranged cannon salvos for 3s, dealing 80% Physical damage per hit.
You have to stack 3-Pings as she has got a gauge at the bottom that you need to fill up three times, irrespective of the color, and as soon as you're done filling it up, her next three seconds of basic attacks she goes into FPS mode and fires literal Cannon at the enemies.
In short, you can stack up 3-Pings and have the ultimate available at the same time. So, you do the FPS mode, activate your ultimate, and go to that same mode. You get a terrific AoE burst with this.
Let's repeat this, 1st 3-Ping > 1st fill at the bottom > 2nd 3-Ping > 2nd fill > 3rd 3-Ping > FPS Cannon Mode > Activate Ultimate > FPS Cannon Mode again. You will be immune to most CC abilities in the FPS Cannon Mode.
Orb Skills:
Red Orb – Fire 6 shells ahead, dealing 40%/80%/120% Physical damage.
Fire explosives from this skill do AoE damage.
Blue Orb – Fires a special shell ahead, drawing enemies in and dealing 100%/200%/300% Physical damage. Enemies within the area take 50% Physical damage every second for 1/2/3s.
This Orb Skill puts an orb in and pulls in the enemies and deals damage all the time, making it one of the best AoE skills. Second only to Liv's wormhole.
Yellow Orb – Quickly launch a shell at the target, dealing 150%/300%/450% Physical damage and marking them. Marked targets have a 75% chance of receiving 10%/20%/30% Fire damage when taking damage.
It marks the enemy, so they take extra Fire damage when you deal DMG to them.
Active Abilities:
Attack – Continuously attack with the Cannon, dealing a total of 600% Physical damage.
QTE – Fires a whirling shell, dealing up to 500% Physical damage.
Her viability increases with the QTE skill even if she is just an A-Rank, on multiple DPS teams in later stages if you want to just invest in only one Tank. The QTE groups up enemies and is strong, especially if she is second in line for one of your other DPS as your main DPS.
Ultimate – Expend 100 energy and continuously bombard the target's area, with each bombardment dealing 100% Physical damage. Enter Burst state after using ultimate.
She just drops the cannon and procs many shots to devastate the enemy while doing PHY DMG. You can also use the Blue Orb skill to group enemies together before activating the Ultimate or combine it with Blue in the combo we have mentioned above. Though it will be challenging to pull this combo off, if you practice and learn about it, this can quickly help you clear waves in the most challenging content.
Passive Abilities:
Leader – Team members' attack increases by +10% when there are three different professions.
Awaken – When entering the battle, get 3 signal balls (only once per battle).
Class Passive – Damage +20%.
SS Rank – Yellow orb skill damage +50%.
SSS Rank – Marked enemies take 15% more damage.
SSS+ Rank – Basic attack damage +20%.
Weapon Signature – Berserk Fusion.
Memories:
When choosing her to build, you have to decide either you want to go full PHY or tune according to her bio, 80-20 PHY-Fire.
Build 1:
Hanna 4-Piece

Darwin 2-Piece
A-Karenina runs a 4-Set of Hana with a 2-Set of Darwin; Hana again helps her core passivity immensely. Team placement wise nothing changes; A-Karenina also gets significant damage from her yellow orb B-Nanami stays on yellow. B-Nanami also stays the QTE bot equipped the same as before.
Build 2:
Aife 4-Piece

Erwin 2-Piece
Aife gives her to enter the matrix upon 3-Pings; this is nice for resource farming because of her AoE abilities.
Content: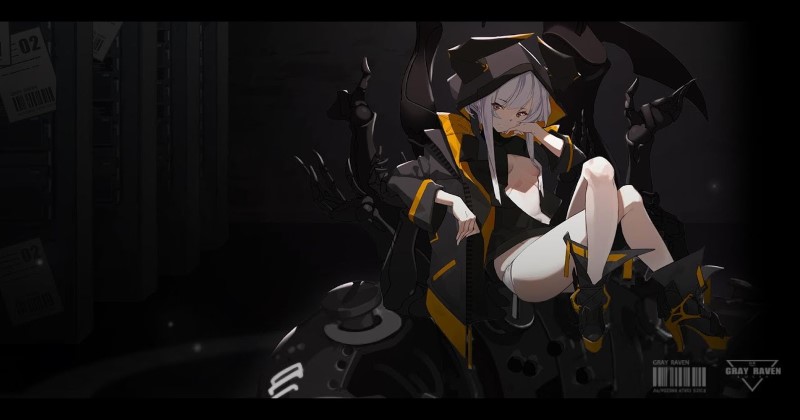 She is perfect for the challenge modes because of that AoE damage and burst capacity we have discussed above, the main combo for tons of damage.
Warzone – If you run the main DPS without a backup DPS like the story team, you'll run out of orbs if you go max DPS all the time; by having a secondary DPS, you can switch out your main DPS, which allows them to recover orbs while off-field. So, we'll be replacing B-Liv with A-Karenina.
She's also a phenomenal unit in War Zone because she can gather with her QTE and blue skill.
Teams:
Karenina, Lucia, Liv

Karenina, Kamui, Liv
Profile Data and Secrets:
| | |
| --- | --- |
| Profile Data | Trust Level |
| Purification Force support, as she is an Assault Model. Brandishing her way through with her heavy hand cannon, she is proficient with explosives and powerful destructive weapons. Although her hand cannon's abilities are limited, she possesses combat prowess no less than any Executioner Force's elite Construct. | 1 |
| She was defeated by Lucia once. Since then, she has had an intense rivalry with Lucia, looking for any opportunity to compete with Lucia, but Lucia manages to avoid her somehow. | 2 |
| She became the designated support for Bianca in the Purification Force that she was assigned to; they would often partner up for missions. They participated in the hunt for Kamui together. | 3 |
| Karenina's reckless and violent nature would often lead to unnecessary conflict. Surprisingly, it is elementary to appease and divert her attention. Bianca has wholly mastered the trick to quell Karenina's rage. | 4 |
| Her consciousness originated from the slums in the lower districts of the town as an orphan who other kids often bullied. She was raised by the "Crazed Grandpa," who came down to the lower districts from the upper districts of the town. The Grandpa's previous life in the upper districts and his death seem to be shrouded in secrets. During the breakout of the punishing virus, Karenina miraculously survived and later received structural transformation after being rescued. | 5 |
| Although she dislikes Lucia and the Gray Raven team, Karenina would not stand by and watch when she sees them get into trouble. Spiteful words may come out of her mouth, but this only proves how much she values her treasured friends. | 6 |
| | |
| --- | --- |
| Secrets | Trust Level |
| Within the Engineering Industry Association Huanyu, her primary responsibility is building demolition. | 2 |
| She would flip out when other people mention Lucia's name. | 2 |
| A compliment is what she wants to hear the most after getting angry. | 3 |
| She listens and is easily persuaded, especially if it was from Bianca. | 3 |
| She likes to act independently outside of scenarios and orders. | 4 |
| The typical 3-part occurrence pattern usually starts with her shouting out Lucia's name, attacking Lucia; Lucia deflects her attacks, and Karenina proceeds to get angry. | 4 |
| She is aware of Nanami's combat level being extraordinary and wishes to fight her one day. | 5 |
| She doesn't like it when the Commandant interferes with her battle. | 5 |
| She likes big Inver-Devices because they look powerful. | 6 |
| She made a hood capable of carrying the large Inver-Device for herself. | 6 |
| She uses the horns on her hood to gore at the Commandant when she gets angry. | 7 |
| She put various things into her hand cannon and blast away; certain characters were once treated as human cannonballs just for that purpose. | 8 |
Conclusion:
One of the main questions that can arise in any Gacha game is which character to choose. Plus, on top of that, which Variant to stick to for a longer run. With what we have mentioned above, both girls fill different roles, but the S-Rank will always top in most content from their A-Rank counterparts; with that being said, we will say a few final words for both of them.
S-Rank Karenina Embers is available from the S-Rank selector, which you can outright pick if you enjoy our guide and have liked her playstyle but do that after getting an S-Rank from a regular or drop banner, this way, you'll have 2 S-Ranks. Or you can pick her outright from the S-Rank selector and save up for a banner that you genuinely want to invest in down the line.
A-Rank Karenina is AoE based mob killer, and she is A-Rank to boot. She will have ample opportunities in the game to farm shards and level her up to SS rank at least quickly, so if you feel like loving and caring for Karenina Blast, she is a very viable option. She doesn't fall short of Karenina Ember. Being a PHY plus Fire DPS can add her to most teams which is good as she'll go along with you for a lot of content and help you in progression until you have other teams you can form.
After reading in detail about both the Variants above, choose whichever strikes your heart the most. Whomsoever you choose, remember always to have fun, dear Ravens.