Mobile Legends Advanced Server has just been updated to version 1.5.70 and we have the complete patch notes for your reading pleasure. Moonton releases most of their updates on the Advanced Server first before the main primary server in order to make sure there aren't game-breaking glitches or changes in the game. So, you can expect this update and everything about it to be coming on the main server soon as well.
Mobile Legends Advanced Server 1.5.70 Patch Notes: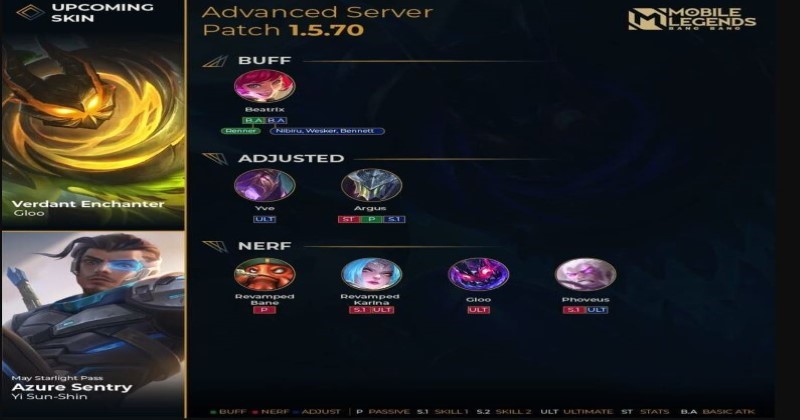 An integral part of the patch this time is the changes and adjustments made to heroes. Particular heroes have been revamped while most have been buffed or nerfed slightly. Here are all the heroes that have been changed:
Phoveus:
Most developers have observed that most rely on their 1st skill. The hero will have a slight nerf on her 1st skill in order to force players to start using her entire kit at every point.
She now has reduced bas damage and increased Magic power bonus on her first skill with a reduced Base Shield and increase Magic Power Bonus. Her Ultimate's Damage AoE has been decreased from 5 to 4 with the max duration increasing from 10 to 12 seconds.
His first skill range has been slightly widened with a reduced stun duration as well.
Karina:
Karina's skills have been slightly nerfed to stop her from snowballing to an extreme amount. Now, she needs to focus on either being mobile or just one-shot her enemies.
Her first skill's charge distance has been slightly reduced with her dealing reduced damage for the second proc of her ultimate.
If you want to test out Karina's skills yourself, you can download Mobile: Legends Bang Bang on pc for free.
Argus:
The developers have slightly adjusted Argus to make him feel much more natural and feel less pristine against other players. His Base Physical Attack and Physical Attack growth have also been reduced by quite a huge margin.
Here are all the changes made to his passive:
First 2 Basic Attack's Damage: 85% Physical Attack → 100% Physical Attack
3rd Basic Attack Damage: 100% Physical Attack → 120% Physical Attack

Increased the Attack Speed of enhanced Basic Attacks

Slightly increased Energy gained when dealing damage

Slightly reduced the Energy gained per second

If an enhanced Basic Attack kills an enemy, the attack will no longer continue.
Bane: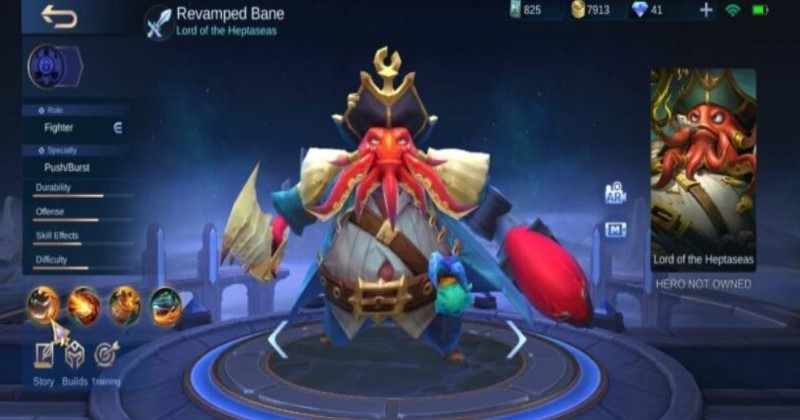 The hero has been changed quite a bit and has been made much more flexible. The developers have also nerfed his passive quite a bit to give enemies a higher chance to win against him in the lane.
Passive: Reduced from 128% to 170% Physical Attack to 125% to 160% Physical Attack. His rebounding cannon also no longer stacks Passive Effects.
Gloo:
Gloo is a new hero introduced to the game. The developers want to make some final adjustments to the hero before they are officially introduced. Currently, only the Ultimate has been changed. His damage interval after splitting has been decreased from 0.4 to 0.33 second with his Max HP gained after attached being reduced to 30-35%.
If you still haven't already, take a look at some tips and tricks for Mobile Legends to get better at the game.
Beatrix:
Casual Beatrix players have noted that her early game performs quite poorly if she does not come off to a good start. So, the developers are making some changes to make sure she evens out.
Her basic attack, Renner's Physical Health Steal has been increased to 80% with her Damage being pumped up to 225 + 450% Physical Attack to 125 + 500% Physical Attack.
Wesker's Basic Life steal has been increased to 80% with her same target damage degradation ratio reducing 50% to 40%. Bennet's Basic Attack has been rescaled from 120 + 240% Physical Attack to 70 + 280% Physical Attack. Moreover, Bennet's bullet flight has also been increased.
Yve:
Yve has been changed quite a bit. However, most of her changes can be considered aesthetic changes than anything. However, her gameplay has also been made much smoother. Here's everything you need to know:
Minor changes to Yve's Ultimate to better optimize the player experience when streaming.

Her perspective has been adjusted slightly when using her ultimate, to improve accuracy when using her starfield.

Fixed an issue where "Hero Lock Mode" could prevent you from sliding when using Ultimate.

Improved smoothness of movement after Ultimate, so that you can now move around as usual once it ends, no matter when you start moving the joystick.
Mobile Legends Patch 1.5.70: Other Changes:
Besides hero adjustments, various UI and gameplay changes as a whole have also been made to the game. Each of these changes will be present once the actual patch comes out in a few days. Plus, here are essential tips you need to know about how you can play Mobile Legends Bang Bang on PC.
Draft Selection Mode:
Slight changes have been made to the Draft Selection Mode to better suit the competitive game mode.
The Fill button is now displayed sooner after your second to last teammate has made their selection.
Likes given to those who have filled roles will now also show the name of the player receiving the same.
Adjusted the duration of the applause effect played when a role is filled.
Optimized the display of hero selection when filling roles. When you select the favorite hero suggested by a teammate, you will automatically be redirected to the hero selected in the hero list.
The Hero Preset now also displays the hero's corresponding lane.
Battlefield Prompt Changes:
Some new prompts have been added to help with the overall accessibility of the game:
Juggle and Kill Minions: These prompts are now displayed in the chat area, not in the center of the screen.
Language Prompts: Fixed inconsistencies between the current hero and hero role prompts displayed under certain circumstances.
Beginner's Alert Prompt displayed when attacking creeps: This alert no longer displays when attacking crabs or Lithuanians without juggling equipment.
Other Adjustments: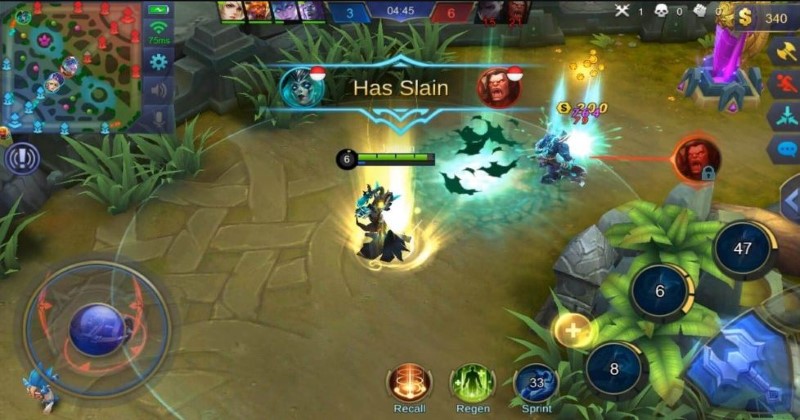 Some slight adjustments have been made to the lobby's UI
Optimized the lobby function, which allows you to receive invitations from friends when it's just you in the lobby.

Adjusted the frequency of pop-ups regarding Conquest of Dawn.

Updated corner markers for Elite, Special, Epic, Collector, and Legendary skins.
Bug Fixes:
Pesky bugs can be quite annoying to play against. Thankfully, most critical errors have been fixed in this update:
Fixed an issue where the same hero could trigger and stack glowing wand effects with their summon.
Addressed display issues that could arise when multiple views revealing functions became active at a time.
Fixed an issue where the pointer between the feet of heroes who were able to transform would disappear when transforming.
Fixed an issue where Benedetta could block Jawhead's throwing control effects, but still taking damage.
Fixed an issue where Diggie was sometimes unable to move after being transformed into an Egg.
Fixed an issue where, if Faramis died and then re-rolled with his Ultimate and killed the same target he was helped kill, he would be credited with both a kill and an assist.
Fixed an issue where Beatrix's passive icon would not change to match her current weapon on the battlefield.
Fixed an issue that prevented guide effects from appearing when setting up your favorite heroes

.
Fixed an issue that sometimes prevented banning draft pick
LDPlayer Features for Mobile Legends – Bang Bang:
LDPlayer is perhaps the best Android Emulator out there. It supports almost every game out there with dedicated support for more popular games like Mobile Legends. After the latest update, you are going to need all the advantages you can get. Thankfully, you can completely customize your keymapping on LDPlayer for Mobile Legends Bang Bang.
By using the Keyboard Remapping feature, you instantly gain a competitive advantage over other players as you are able to cast your spells in a much more efficient manner emulating exactly how you would play the game on the PC.
Conclusion:
Mobile Legends Advanced Server Patch 1.5.70 is an amazing update and will be released globally on all primary servers soon. Understanding the meta before it has been released helps you get better at the game especially once the new patch comes out. This new patch aims to resolve a lot of the issues players had when it comes to balance in the game.