With LDPlayer emulator, you're able to play Mobile Legends on PC with keyboard and mouse. But now, you may wonder how to set your customized keybinds and controls on LDPlayer. If you've played League of Legends, you will know that Mobile Legends can also be played in that mode with similar key mapping. Enlightened by that, LDPlayer has set the "LOL Mode" for you as default mode, but LDPlayer has also thought about your "quirks" and provided one more customized keyboard mapping.
Where Can I Enable the Customized Keyboard Mapping?
If you open the keyboard mapping without running Mobile Legends, you'll see the original key setting window, which is so "original". So, you have to launch Mobile Legends first and then enable the customized key mapping. Remember that and check the picture below. See that little "keyboard" icon?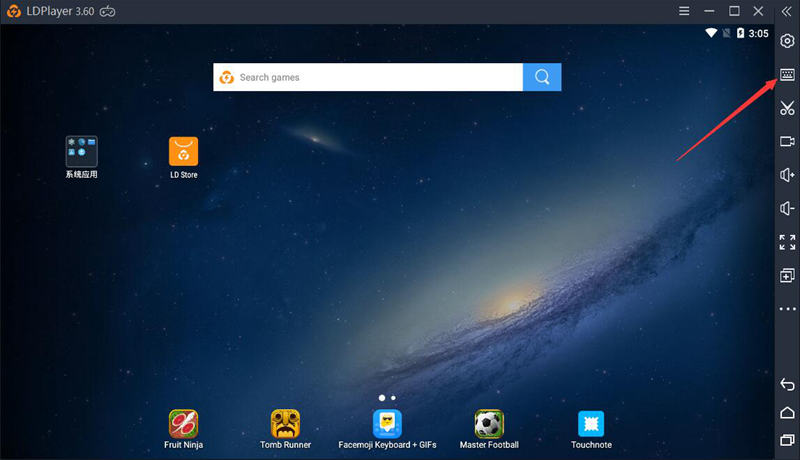 LOL Model: 3 Skills
As the name implies, LOL Mode helps you to play Mobile Legends in a way that is similar to playing League of Legends. You use mouse to control the movement of your hero and keyboard to release abilities.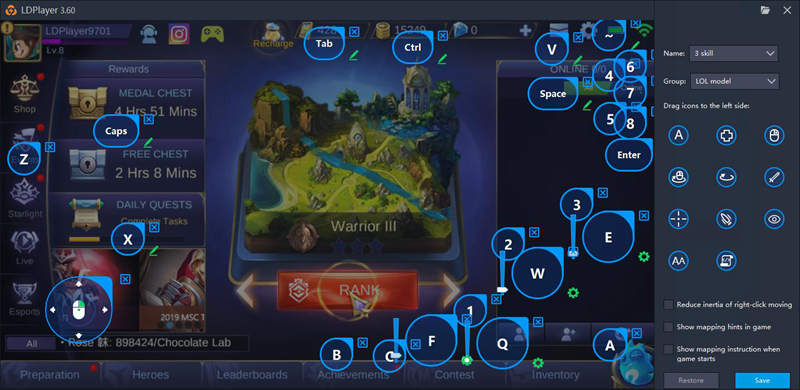 Default Setting List
QWE: Release three active skills of your hero
123: Add corresponding skills to your hero
Caps: Switch to small map (auto)
Z: Enlarge the map
Tab: Check the record/cancel skill
Ctrl: Cursor lock
Space: Cancel skill
~: Open store
4: Buy the first recommended stuff
5: Buy the second recommended stuff
6: Send the "attack" signal
7: Send the "retreat" signal
8: Send the "gather" signal
Enter: open your chat box
X: Stop moving
B: Recall
C: Regen
F: Battle Spell
V: Buy immortality automatically
A: Normal attack
LOL Model: 4 Skills
There are some powerful heroes like Zhask and Lunox that possess four active skills (could be harder than controlling three skills). LDPlayer made some slight changes from 3 skills mode to fit those heroes. For the fourth skill, press "4" to add the skill and "R" to release it. Just that simple! But make sure that you click "Save" after you choose the 4 skills mode!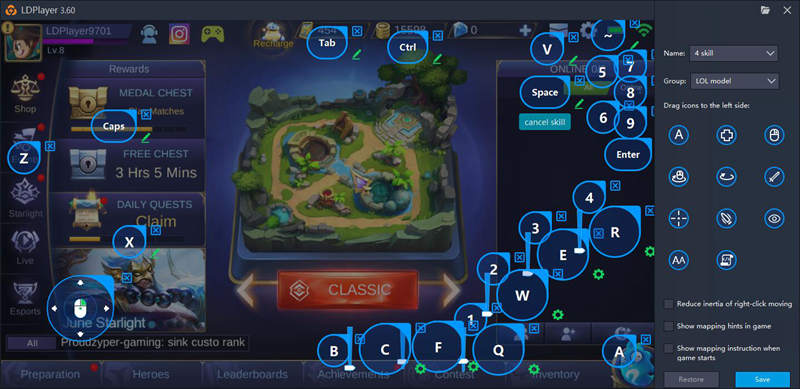 By the way, if you don't want to get annoyed by the showing instruction of key mapping, uncheck these two settings, "Show mapping hits in game" and "Show mapping instruction when game starts".
WASD Model: Different way of Playing Mobile Legends on PC
Some players might be more skilled at moving the hero by using "WASD". That is totally no problem at all. You just need to choose the WASD Model and click "Save" to switch.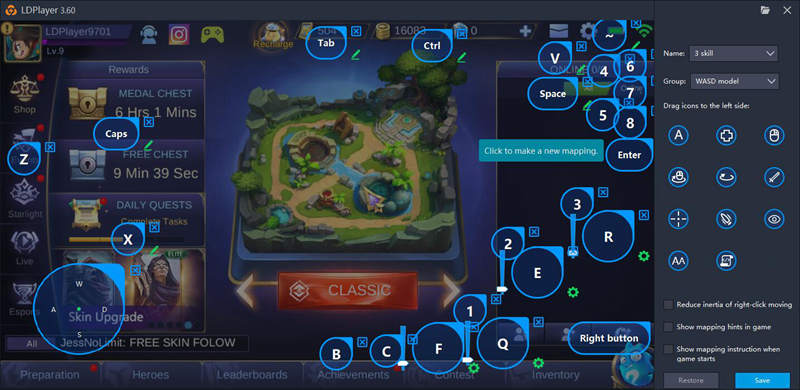 Actually, compared with LOL Mode, WASD Mode doesn't change much in some basic settings. Except for the setting of "WASD", the differences are that you use "QER" to release your active skills instead of "QWE", and "Right Click" of your mouse to strike the normal attack instead of tapping "A". As for the 4 skills set, you tap "4" to add the skill and "T" to release it.
Not Satisfied? Set Your Own Key Mapping for Mobile Legends
To set your own key mapping, you need to drag the command icon from the display panel to the window. After that, you set a key for your command. It won't be very difficult for you to set basic command icons, but for the "keyboard macro" command, you have to check this instruction first: Introduction to Keyboard Macro. If you encounter any problems, or have any questions about the setting, please report your issue by contacting LDPlayer official Facebook!
Download Mobile Legends: Bang Bang for PC Guide
Master Guide for Setting Skill Casting
You think setting the key mapping is enough? How about a little help in skill casting? LDPlayer has also developed three modes for skill casting. They are "Smart Casting", "Not Wait Release", and "Simple Click". You can enable these three features by clicking the green gear to bring up the selecting panel.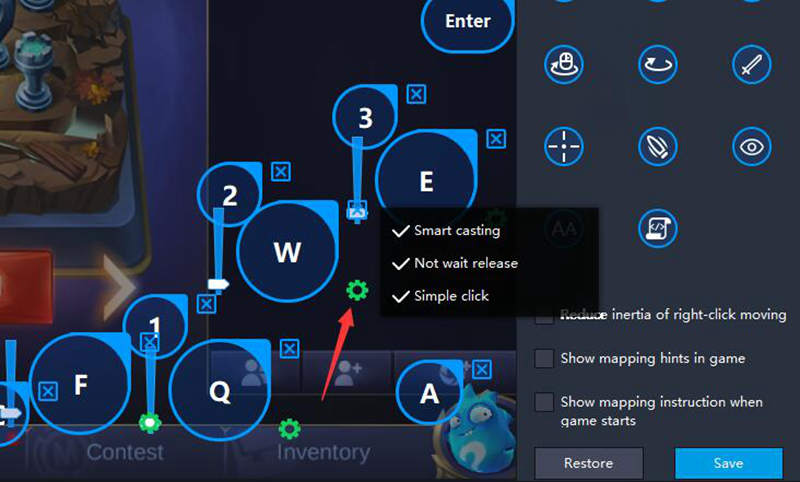 Smart Casting
Some skills require a target, which means that you have to press the skill key and use your mouse to click on the target. But with smart casting, your skill would auto-target your enemy and it saves you a step when using skill. This could be very helpful in saving time and making fast skill casting.
Not Wait Release
This feature is also useful to shorten your skill casting time. If you don't enable this feature, you need to press down the skill key and then release the key to cast the skill. But with this feature enabled, the skill will be released at the moment you press down the hotkey. For some directional skills, this feature will shorten the aiming time and cast the skills more accurately.
Simple Click
This is an amazing feature for auto skill casting. Imagine that you're running from getting killed by your enemy, but still you want to hit him back while running. You don't want to hold back your running, but at the same time, you have to "face back your enemy" to accurately cast skills. Usually, this is impossible! But if you enable this feature, the skill will auto target your enemy without turning back. In other words, you can go any direction but your skill will definitely be casted towards your enemy.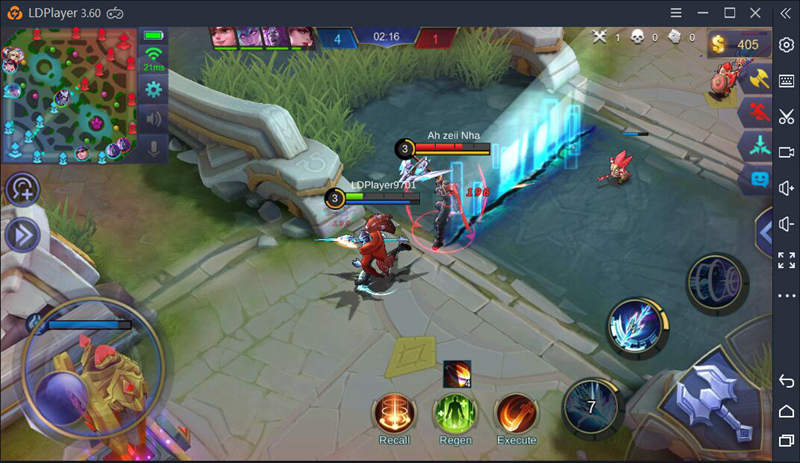 If you have any great ideas about setting customized key mapping for Mobile Legends, feel free to contact LDPlayer and possibly your key mapping idea might be used as default mapping for other players.