Bling Bling Games Studio created Idle Shop Manager, which allows you to virtually run your own business. You can download it right now on your mobile devices from the Google Play Store and the App Store. The studio that developed the game is based in Germany and also has made many successful titles such as Idle trading empire, Idle Tycoon: Space Company, and many more. If you didn't know about Idle Shop Manager before and want to learn how to play it, this is the perfect guide for you.
Idle Shop Manager Gameplay
---
If you haven't played an idle game before, it's one of the better types of games where if you don't have much time, the game does stuff in the background for you. So you don't really have to spend as much time on it as you might have to in an RPG or an MMORPG game. The primary idea of the game is that the longer you play, the more you earn and progress in the game, making it much more addictive.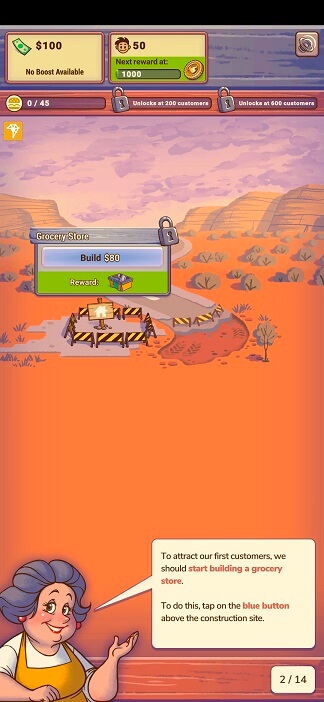 At the beginning of the game, it lets you build one grocery store. Once you do, you have to unlock peanuts. It generates a small amount of money per second as it sells. As it sells, it produces a little bit of money per second. You can increase the amount of money it generates by upgrading for a minimal charge and getting more and more each second.
You can use your money to unlock more things to sell in the grocery shop, such as bread and milk, as you earn more. The more items you unlock, the more money you can generate. These are the basic things that you need to do.

As you go along, you can also upgrade a store all at once. Upgrading a store increases the value of every single unlocked item and increases the multiplier that you have. Multiplier generates more amount of income per second than the original that we have. Every upgrade increases the multiplier by 0.25%, and it starts from 1%.

Your main goal in this game is to generate as much revenue as possible.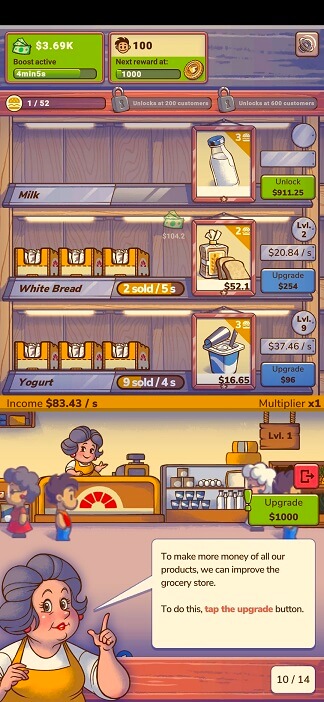 Another feature in the game is that you have to reach a number of customers for every single store that you unlock. You can do that by upgrading the rate of the items that are available in your store. It is to be noted that every single item has a different customer rate, for example, in the Grocery Store, peanuts can bring in only 1 customer while yogurt can bring in 3 customers.
But the catch is that yogurt can be more expensive than peanut so you have to decide that by yourself, but I would definitely suggest the more costing one. But it's not always that way, there are some items that are more expensive than yogurt but bring in fewer customers, so if you're trying to gather in more, go for the item bringing in the most customers. It is always displayed on the top right corner of the item's icon. Unlock more stores as you earn more money, and generate as much income as possible.

Tips and Tricks to play Idle Shop Manager
---
You might know the basics of how to play the game now but these tips and tricks are going to help elevate your gameplay even more and strategically move forward in terms of it.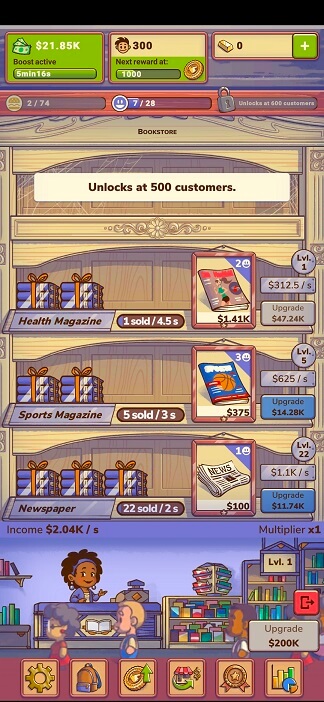 Invest the money as soon as you have it: The primary premise of this game is that you must spend money in order to make money. Once you have enough money to unlock new items, do so. It is also necessary to upgrade them to higher levels when they have been unlocked. Also, you have to unlock the other buildings that are available, you can unlock a book store, clothes shop, diner and so much more.

Upgrade the level of your items, always: This is very very important to do since it really helps you get more money as you keep leveling it up. It may not be a lot at the beginning, but it will really help you in the long run. You can unlock a lot more valuable items with the help of the money that you can accumulate.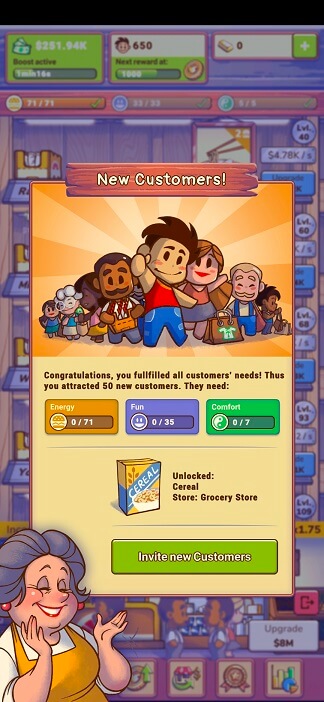 Reach your customer goals: This is also an important factor to consider to go ahead in the game. You might just automatically reach the goal by upgrading the level, but this allows you to focus on all of your numerous businesses and upgrading the items in each of them.

Upgrade as many of your stores as you can: It costs a lot of money to do this, but it pays off handsomely. As mentioned before, upgrading individual stores grant you a multiplier, and even though it is 0.25%, that can significantly increase the income that you get.
Review of Idle Shop Manager
---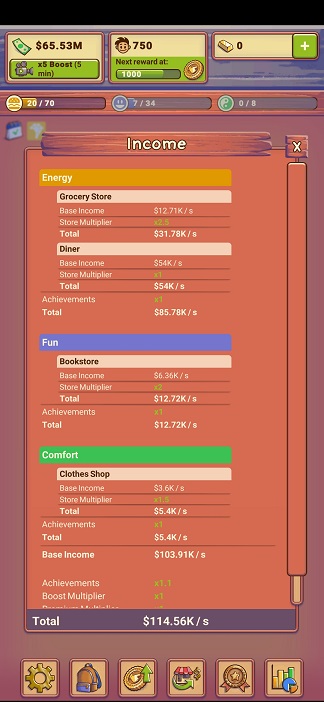 Overall, playing this game is a lot of fun. I didn't have to spend much time on it because it's an idle game. However, after downloading it, I spent hours upon hours attempting to upgrade and play as much as possible. After that, I just left it alone for a day or so to see how long it could run and how much revenue it could produce in the background.
It honestly shocked me that you can gain a lot of money just by not playing and use it all to upgrade further and get more and more each time I keep it idle, that actually keeps me going back to the game more and more. There are additional achievements that you can complete which are a lot of fun.
There is also a boost system that you can access by watching 30-second ads, which honestly is so worth it. This game as a whole has been nothing but a positive experience for me, and I hope it is the same for you too.

Conclusion:
---
If you're planning on downloading Idle Shop Manager, we highly would recommend it. In terms of Idle games, it definitely is in one of the top ones. The graphics are adorable, the characters are very appealing, and they can entertain you for days or even months to come. And if you're planning to download the game, Happy Gaming!