Candywrite has official launched Bitlife on Sep 29, 2018 and it's available to download and play in Android platform. For Android users, there's an option to play Bitlife on PC with an Android emulator and get a better gameplay using your high performed computers. You can actually use keyboard and mouse to control the battles on Bitlife with the best emulator - LDPlayer.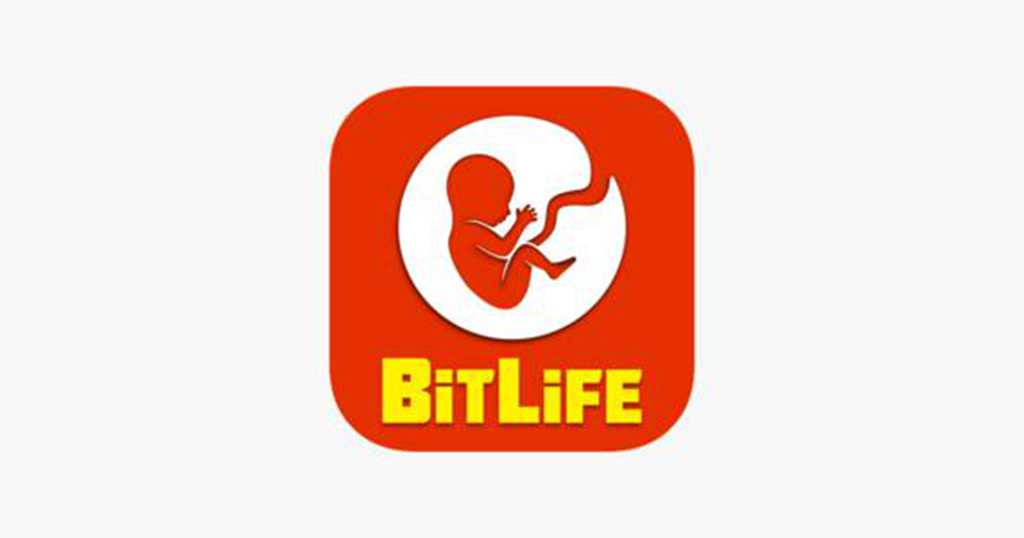 Setting up to play Bitlife on PC with LDPlayer is quite simple. You can download LDPlayer 3 simulating Android 5.1.2 or LDPlayer 4 using Android 7.1.2 first on your desktop. Both versions are capable of playing Bitlife smoothly on PC while LDPlayer 3 is more stable and LDPlayer 4 is faster. You can download LDPlayer 4 from our home page.
Note: If you already had LDPlayer 3 installed on your desktop and you want to try LDPlayer 4, then you should install LDPlayer 4 in a different path from your current version of LDPlayer 3. These two versions are separated.
If you are looking for the best way to play Bitlife on PC, then LDPlayer is the recommended Android emulator that helps you to power up the gameplay. The following will show you how to install Bitlife on LDPlayer.

Step 1: Download and install LDPlayer on your desktop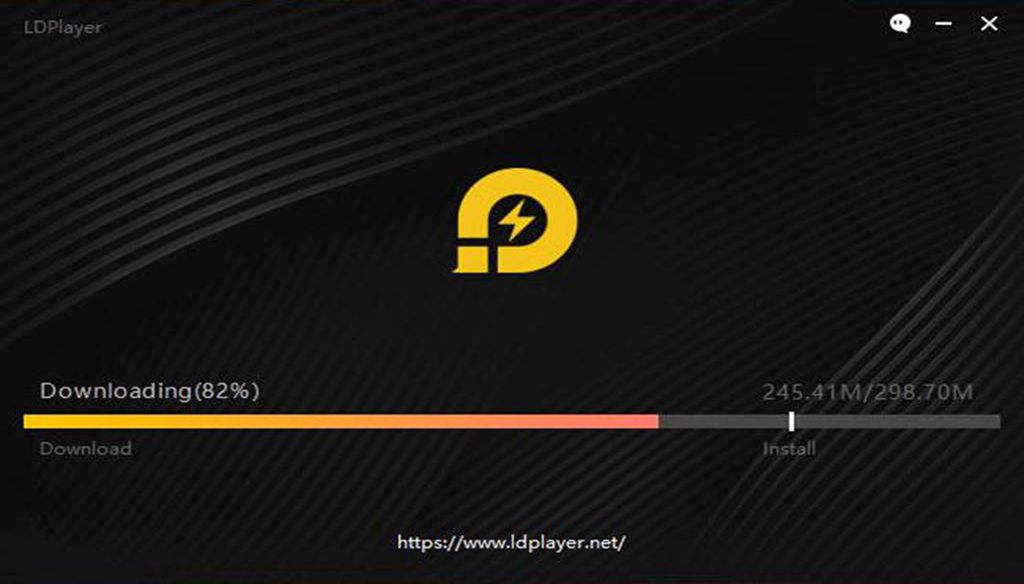 Step 2: Search and download Bitlife from LD Store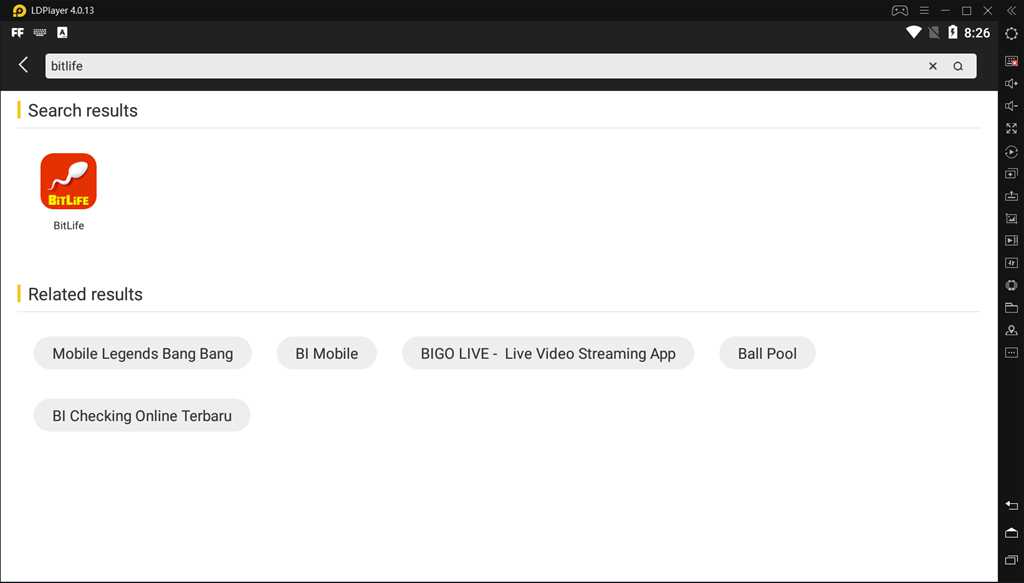 Step 3: Install Bitlife on your emulator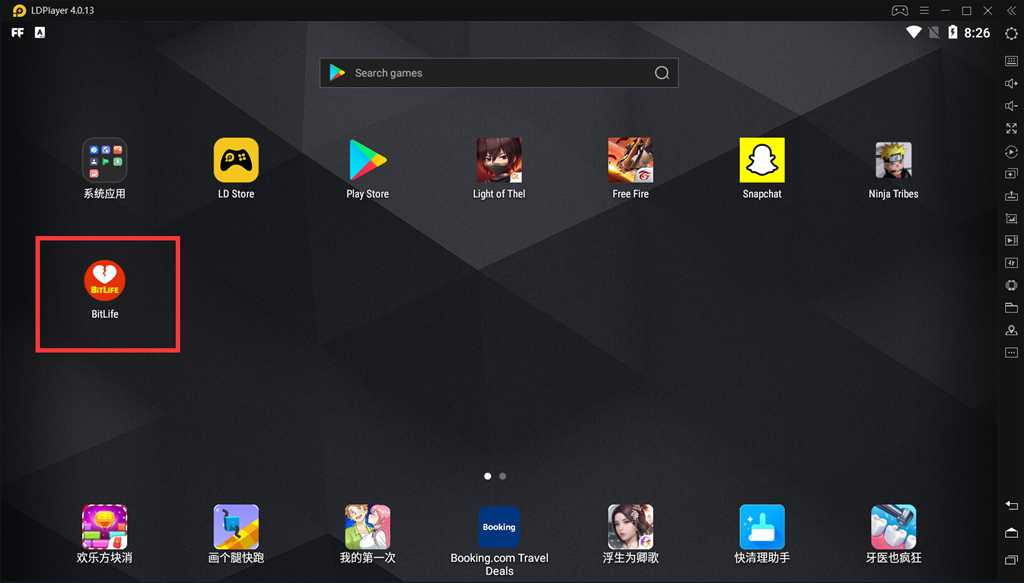 Step 4: Enjoy playing Bitlife on PC with LDPlayer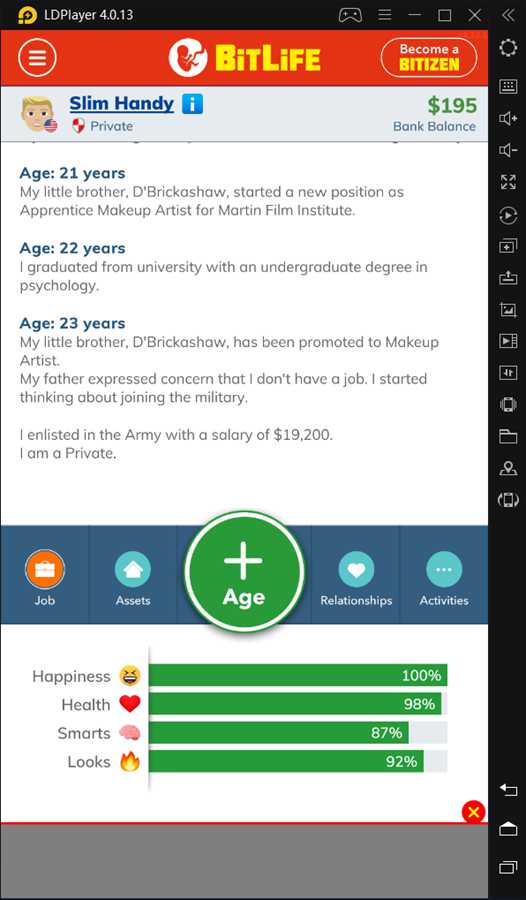 Bitlife features a blunt but powerful sense of humor with probably the best use of irony in a video game ever. The age limit is 16+ in Google Play. But in some other platform, it can be moved up to 17+. This game is free to download and no additional purchases are necessary throughout gameplay. However, some items are only available through in-play purchases. The game requires Android 5 and up.
How to Use Keyboard to Control Bitlife PC
By using LDPlayer Android emulator, now you can use your mouse and keyboard to operate your Bitlife gameplay. After you enter the gameplay of Bitlife, you can go to the tool bar and enable keyboard mapping settings. You will see a panel with several icons that command different actions. You just drag the one you need to the exact input position and assign a key for that command.
Maxing out the Performance for Bitlife
If this is your first time playing Bitlife on PC with an Android emulator, then you can check the following tips to optimize your gameplay performance for Bitlife.
Enable Your Virtualization Technology
Most CPUs come with the Virtualization Technology(VT) and this technology can enable your CPU to act as if you have several independent computers. It's designed to enable several operating systems to run at the same time on the same machine. That's how LDPlayer Android emulator operates on your computer. By enabling VT, you can boost the performance of LDPlayer and Bitlife.
Read: How to Enable VT (Virtualization Technology)
Update Your Graphics Driver for Maximum Gaming Performance
Graphics driver is the software that allows your operating system and programs to use your computer's graphics hardware. However, if you have both integrated graphics and dedicated graphics, you may want to make sure LDPlayer is using the dedicated graphics. After that, you can use a free Driver Booster to update your graphics driver, which will increase the graphics and FPS of Bitlife.
Read: How to Update Graphics Driver for Maximum Gaming Performance
Configure More CPU/RAM to LDPlayer
The performance of your LDPlayer emulator depends mostly on your computer. The most computer resources you assign to LDPlayer, the better performance you can get for your Bitlife gameplay. However, if you have a beast computer, there's no need to allocate too many resources to LDPlayer as well. It might slow down your computer.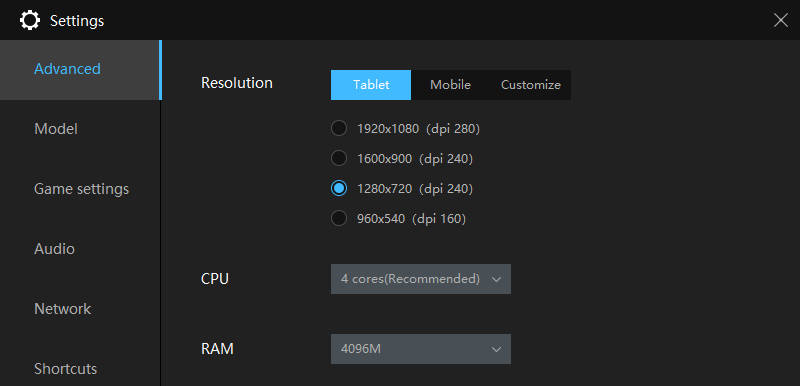 Gameplay Tips of Bitlife on PC
Text-adventures
Different from other games, the interface system of Bitlife is the old school text-adventures. There is no stunning animation. You read an illustration of your life and make a choice based on the illustration. That is how the game goes. The story evolves based on your choices. What makes it attractive is that people are eager to see what would be the consequence of their choices.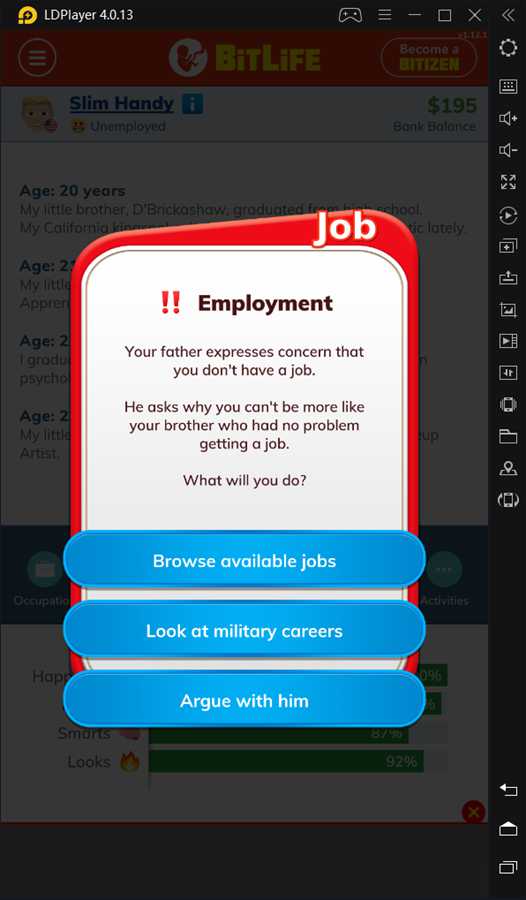 Age
This is the most important button, as this ages you for a year. Based on your choices and settings, stuff will happen. The fun in BitLife – Life Simulator begins when things go wrong, like in real life. You may want to kiss someone, but end up not liking it. Or you may even be imprisoned. Like in real life, BitLife online will give you an unbiased and unscrupulous taste of life and the destiny's sense of irony.
Relationships
One of the major choices in the game concerning relationship building. You can interact with your parents since you are born. Your relationship with you parents would become intensive or close as a result of your interaction. If you insult them, your relationship would go bad. If you compliment them, it would become better.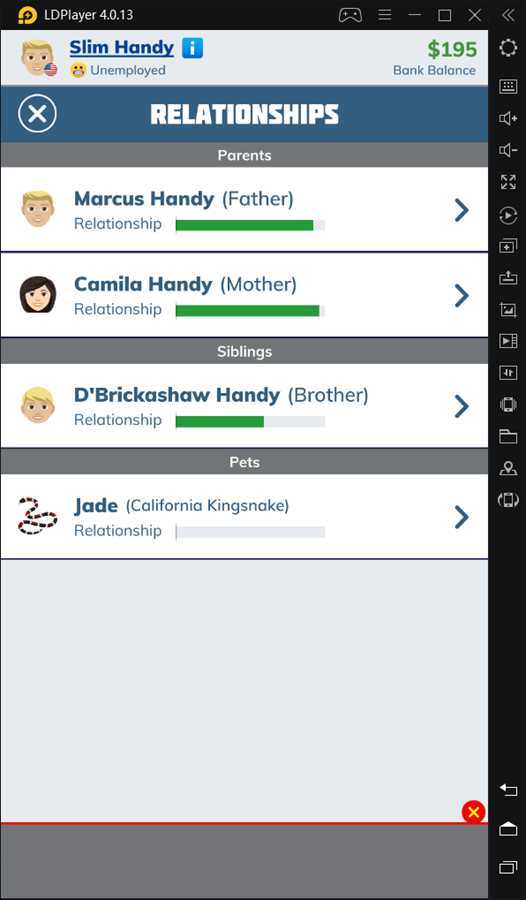 Occupation
The options in Bitlife will increase as you grow older. When you are a baby, you do not have too much stuff to do except for the interaction with your family. However, when you reach 18, you need to choose a path for your life. There are three options.
Education – where you can choose to pursue it and enroll in a college or a university of your choosing, like business school, law, medical, veterinary, and others. Here is where you will also be given an option to study harder, once you are enrolled.
Jobs – instead of pursuing education, in BitLife – LifeSimulator you can also go for a job, like a physician, electrician, reporter, and stuff like that.
Military – and, finally, you can join the navy, army, marines, or other units.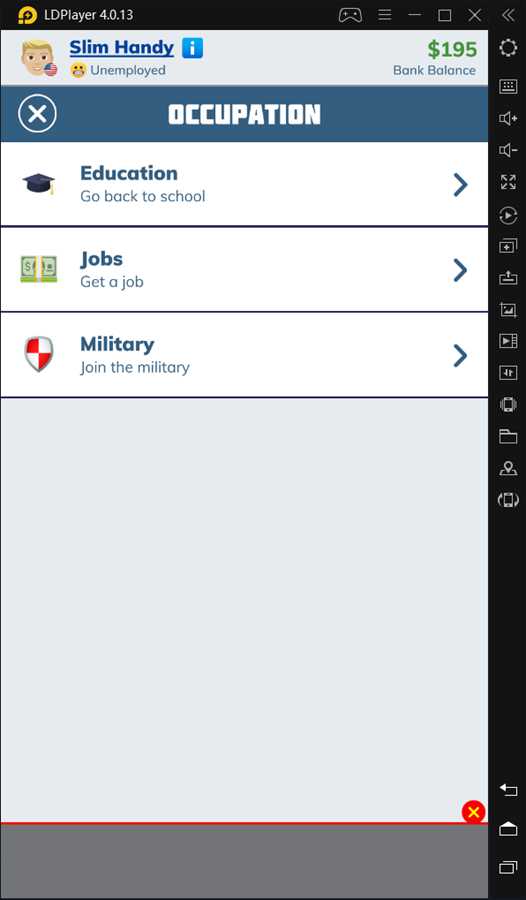 Conclusion
LDPlayer is one of the best Android emulators for playing Bitlife on PC. Bitlife is a game catering for all people. It allows you to explore what life will become if you make a different choice at a certain moment. Now, feel free to download LDPlayer as the Android emulator for Bitlife on PC.