Genshin Impact 2.2 update is just about a few days away from being released. The next update comes with a new island, the Tsurumi Islands, a bunch of new events, and re-runs of the much-awaited characters, Tartaglia and Hu Tao alongside Thoma. Thoma was already announced before the release of the 2.2 update.
Just like that, Genshin Impact has already announced the two new characters that will most likely appear in the 2.3 version update. These are some of the game's most eagerly anticipated characters, and their official announcement has sparked a frenzy among fans. Let us look at them individually and know more about them.

Arataki Itto:
---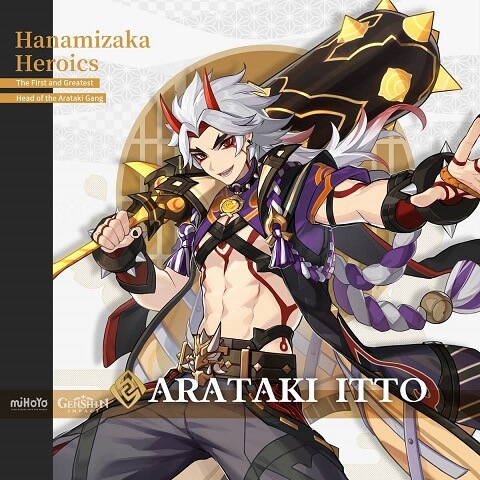 Arataki Itto is a new character that hasn't really been introduced to us via the main story. He has the blood of Oni running through his veins, one of the races from Inazuma. Another Oni character that we've already known about is Chiyo, who was friends with Raiden Shogun's sisters. He is the boss of the Arataki Gang and is deemed to be "The First and Greatest Head of the Arataki Gang." He has the Geo vision with Claymore as his weapon of choice and is a 5-star character. His striking features are the horns and his sharp voice which can never go unnoticed.
He is an untamed soul who is wild and free, capable of surprising even the most daring imagination. Wherever he travels, his courageous spirit and burning heart lead him.

He was leaked earlier in the last week and was trending on Reddit. There is no information about his playstyle or talents and constellations yet. It is said that we might just end up getting new bosses for his ascension materials and an entirely new artifact set for his kit. We will have to wait and see and once we know, we will update you.
Gorou:
---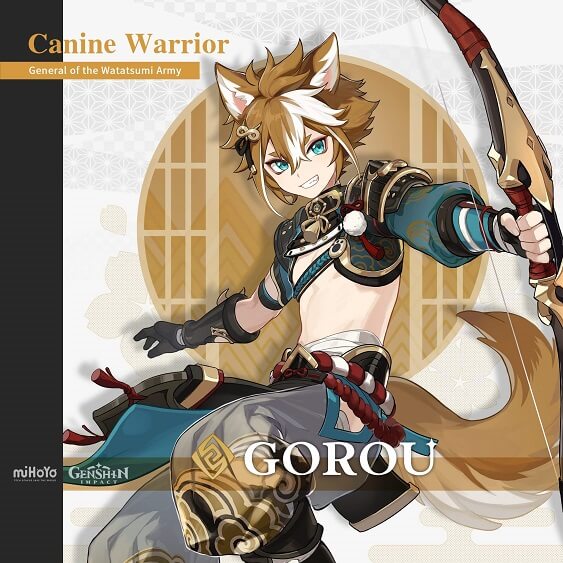 Unlike Itto, Gorou has already been introduced to us in the Archon Quest and a few world quests, but just wasn't playable as of yet. Now it's been confirmed that he is coming in the future update. Gorou bears the Geo Vision with a bow as a weapon of his choice and is a 4-star character.
He will be the first Geo Bow user that we will have in the game. He is extremely loyal and trustworthy and the best friend of Kaedehara Kazuha. His role is as the General of Watatsumi Army, under Sangonomiya Kokomi. He was born with a beast-like fighting instinct and a tenacious determination to win, even in the direst of circumstances.

He is the commander of the Watatsumi forces, which had significantly fewer military resources than the Shogunate. Gorou works hard to ensure that the people of this island live in peace and safety. Outsiders may find it difficult to believe that Gorou, despite having fought hundreds of foes on the battlefield, is pleasant and gets along with all of his subordinates.
The individuals who surround Gorou are not just his strong warriors, but also his cherished comrades. They are treasures that must be maintained and cared for. The land that sustains us, our comrades who stand by us, and the faith that propels us ahead; For Gorou, they are the most valuable things, to whom he commits his dedication and courage. Gorou possesses a soul as broad and dependable as the land.

There is no further information about Gorou and how he would work either, so we'll have to wait and see.
When will they be released?
---
There is no confirmed information about when they will be available for the public to play, but it is being speculated that it will be in the 2.3 version. They could be in the same banner, but it's unlikely because it's also being theorized that Albedo would be in the second banner in that version, and Gorou would be a 4-star in that banner, similar to how Thoma is with Hu Tao. But also having 2 geo banners seems very questionable, so now we just have to wait till further information.
Conclusion:
---
Arataki Itto and Gorou seem like really strong and reliable character additions to our teams. There haven't been many Geo characters, so having two at once is a dream come true for any Geo main. Till then, we have a ton of look forward to in the next 2.2 update, so have fun exploring it. Happy Gaming!