Epic War: Thrones is now time to enjoy the newest beta in Southeast Asia. Here we are revolving around three kingdoms as players at the era, and this game consists of a multiplayer strategy game. You will come to experience this game by Archosaur Games, and every player is accessible to explore every kind of SLG enthusiasts you see in this 3D ancient world. Download the Epic War: Thrones on pc and enjoy the best gaming experience!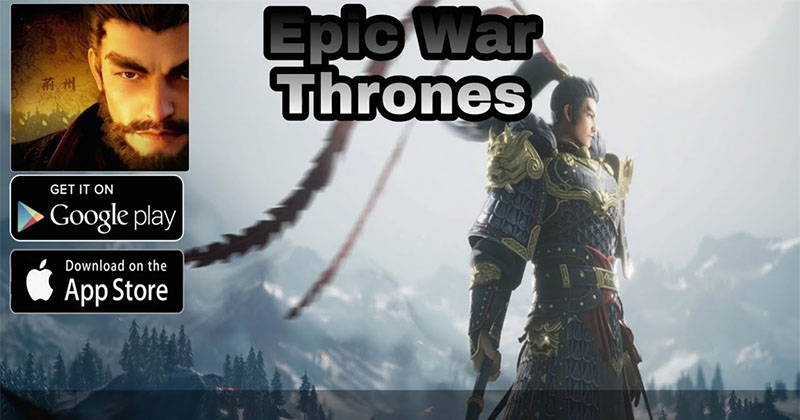 There are over 300,000 preregistrations for this game already in Southeast Asia. In Epic War: Thrones, you are given a role of a lord to lead the troops, and you have to conquer the lands, recruit the most powerful generals, creating alliances and also destroying the enemies.
The publishers of this game have done so much to create a uni9que world to play wars and they have successfully utilized the unreal engine 4 to create a brand new game that has four million square kilometers in the war field.
You can play Epic War Thrones on PC by using LDPlayer to earn full features from it and make it a unique experience for your war battles.
Epic War Thrones Gameplay
In Epic Thrones' gameplay, you will need o to assume a role, and that role will be an emperor. This emperor has to recruit his generals from various categories, and through that, he has to lead his army. Your battles with these generals and emperor would be found in the sea. Or in the landing fleets were their ships initially against for you.
Your collected general can be found in the foot to fight as well, and they use concrete siege towers for that. The victory these generals seek comes in those bowmen hordes, and all they need is the victory. You are getting a big army here, and you need to manage the resources you have in the gameplay carefully. If you are a player who seeks a longer survival rate in the Epic War Thrones, you need to be concerned about your units.
Keep your track of those rates to have a high survival rate and take breaks from conquest. If there are breaks take from the conquests, you can be the wealthiest nation in the game. There is no need to deal with trades, which would be the simplest method to be rich.
Every player has to play a single lord role to lead your nation. You need to occupy every base of the enemies you see, and to do so, you need to combine your high levels, generals, in the best way. Upgrading generals' skills can also be a reason for the victory as it can destroy heavy amounts of alliances held by enemies. You can only once occupy the central area. This party is the same one who can win the game in high reputation.
Every military general is obeying the lord, and they consider him a wise and a virtuous leader. So they generally respect their lord unconditionally, and you can use this to turn into a dominating figure in Epic War Thrones' gameplay. You need to fight with followers constantly, and there are so many strategic layouts to deal with.
There is a pretty much fantastic graphic included in Epic War Thrones, which resulted from the use of Unreal Engine in the game. This feature is described as a PC quality visual in a mobile game by the Epic War Thrones developers.
Epic war Thrones Gift Codes
There are several gift codes available with Epic War Thrones, and we can list them as follows.
CAZFQWLE – this gift coed will be responsible for getting rewards as much as you need

LUCKY – you can gain 300c skill points, capital city skin, hulao pass, 100x bead, general Jiang Wei and 48000x copper through this CD key code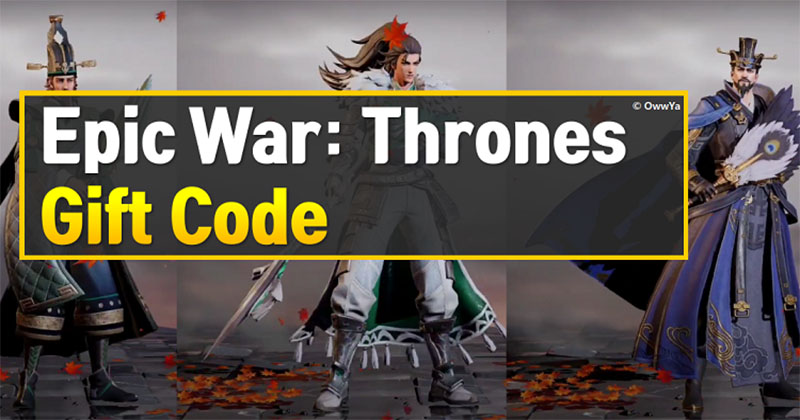 How to redeem these gift codes?
There are several steps to follow to redeem these codes as follows.
As the First step, give your attempts to the official CD key redemption page of the game

As your second step, you will need to enter your server details, character name and I, and the CD key here. Fill in every detail and enter your CD key.

After you finish every gift codes and CD keys entered, you need to click on the confirm button. Then the game will return your rewards.
Finding the character ID
If you face trouble finding your character ID, you can top on that character profile to see a section called to account. It will be at the top left corner on your screen; after that, you click that account section to see your character ID.
Tips to note on Gift codes
Make sure to choose the server in which you have created your character to redeem your gifts. It is also a must to know your character ID as you have to put it in the correct box. To enter on the confirm button, you need to enter CDKEY, and when it has been successfully exchanged, your email will receive your CD key code rewards. So always remember to check the mailbox to know if there are rewards.
Every CD key has a time restriction. So you need to use them before it exceeds the timeline. You will never be granted a chance to redeem your CD key codes again.
Epic war thrones release date 2021
This game has already announced an open beta and will let you enjoy some features until it is released ultimately. The Epic War Thrones' open beta has been released on March 31 st, and there are 100s of general to select from various states. You need to wage war and expand your whole territory into wide.
There are over 300,000 preregistrations in the Google play store and App store for this game, and because of that, game developers have decided to give free rewards to pass those significant milestones. Milestones are included with
Free capital skins

100x Bead

5-star general Jiang Wei

300x skill points

48000x of copper

4-star Hulao Pass
Epic War Thrones 2021 download through LDPlayer
Now you are free to download this fantastic game by using LDPlayer, and it will give you a lot of features consisting it to make your gaming experience better. You will have your key controls. So you don't ever want to control from the usual keyword. Set your unique kind of key controls through LDPLayer Key Mapping Tool.
The Keymapping tool lets all players have their own independent key sets for playing their most liked game and using it can maximize the game's effectiveness.
Conclusion
Epic war Thrones will be a decisive state fighting game with lots of unique scenarios, and no one can ever resist this game as a dump. You are making history in new, and you don't have to end everything as it seems. You have a chance to rise in your charming history and never miss the opportunity to do. Every scenario is mind-blowing, and every battle you engage with is fantastic. So grab your weapons, hold your everything. Let's convert as a lord to become the best leader and lead our nation to be the best.