Dragalia Lost will appeal to fans of versatile, dynamic, and jaw-dropping action role-playing games (RPGs). The game has a fantastic storyline and world with dragons and a beautiful fantasy world that will keep you entertained. Because of the reasons stated above, many people enjoy playing this game. Of course, as with many other action RPGs with a dynamic and enjoyable playstyle.
Version 2.10.0 will be available for download around 07/24/2021 at 20:00. An automatic update will occur at approximately 07/26/2021 at 20:00.
When you update to version 2.10.0 and play co-op, you will no longer be matched with players using earlier versions of the game. Rooms created by players playing earlier versions will not display in the Room List, and you will not be able to join them using Find a Room, Join Nearby Players, Enter an ID or alliance chat.
We'll be sending all players a Tenfold Summon Voucher after the automatic update to celebrate the update. This notice will be updated after it has been distributed.
Note: The Tenfold Summon Voucher will not be distributed until after the automatic update, even if you complete the update to version 2.10.0 early.
Update Details
Players will use skip tickets to clear quests that award a daily bonus (excluding Trials of the Mighty) with just one tap from a central location.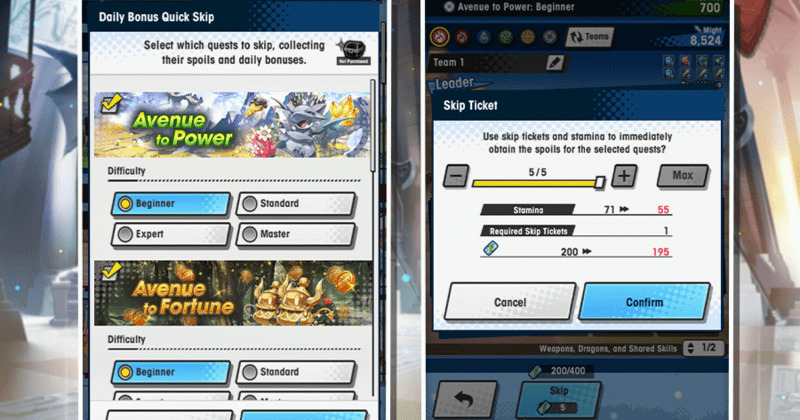 The user interface for the primary campaign will be improved.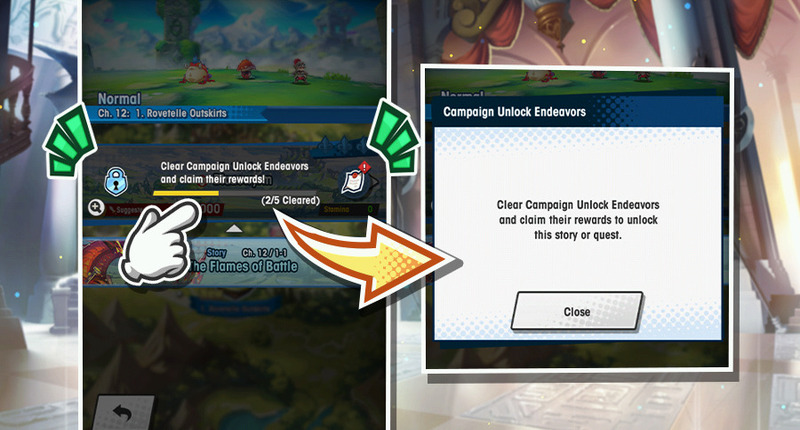 Players will be able to choose whether or not to accept the daily bonus (assuming that they have one stock available) when clearing a Trials of the Mighty quest starting on 07/26/2021 at 23:00.
Players will be able to exchange items steel bricks, moonlight stones, and mana for certain items in the Special section of the Treasure Trade starting on 07/26/2021 at 23:00. Players may obtain valuable resources depending on the item offered for trade in exchange.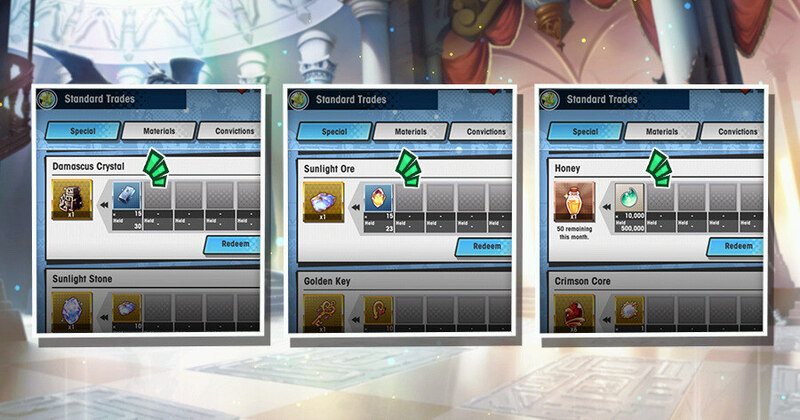 To improve the auto-play experience in version 2.10.0 and beyond, all adventurers with the dragondrive mechanic will activate dragondrive when controlled by the game's AI (in the current version, only sure adventurers do), and Gala Notte will use her unique shapeshift (metamorphosis) automatically when controlled by the game's AI.
The user interface for the Summon screen will be adjusted to include the ending dates and times for each active summon showcase.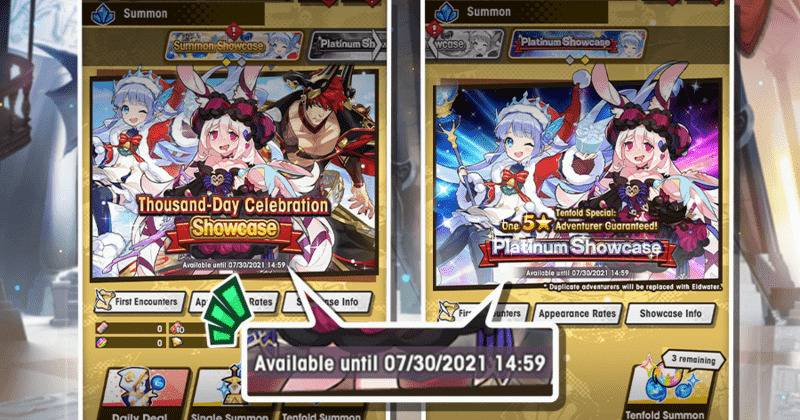 Other Changes
The user interfaces for matching with other players in co-op will be adjusted (with certain adjustments for Rising of the Sinister Dominion quests on Master difficulty).

The name and email address for Nintendo Account will be displayed on the Account Management screen (accessible by tapping the book icon on the Home screen, then Other, then Account Management).

An indicator will appear on a particular weapon type's icon on the Crafting and Upgrade screens when players have enough materials to upgrade one or more of those weapons. In addition, the number of copies of a particular weapon will no longer affect whether or not the game displays an indicator for that weapon.

On the Weapons and Crafting screens, the text that indicates the number of copies of a particular weapon will be replaced with text that shows the number of slots the weapon has.

If an adventurer equips a Battleworn version of a weapon, their Wyrmprint tab will be grayed out on the Edit Teams screen.

On the Wyrmprints and Upgrade Wyrmprints screens, players will be able to search for a particular wyrmprint by entering its name or the name of one of its abilities directly into the search field.

Players will be able to sort wyrmprints by their abilities in the Details view.

An animation that plays when augmenting a wyrmprint will be added.

When returning to the Upgrade Wyrmprints screen after viewing a wyrmprint, the scrolling slider will return to its previous position instead of resetting to the top of the screen.

Players will choose whether or not a sound effect plays when an overdrive counter is successfully executed.
Balance Adjustments
Starting on 07/29/2021 at 23:00, while playing co-op in Tartarus's Wrath, adventurers who Dimensional Shift binds will no longer be freed after a certain amount of time has passed.

Starting on 07/29/2021 at 23:00, while playing Tartarus's Wrath, Tartarus will use Retribution when the entire team becomes bound by Dimensional Shift. Unless players destroy the weak point that appears, Tartarus will wipe out the whole team.

When successfully executing an overdrive counter, the amount that players can reduce the enemy's overdrive mode gauge may not exceed a set maximum. This change will not affect how players strategize for quests.
Issues Addressed
When using a helper skill with an effect that doesn't activate again for a certain amount of time after activation, the result may start earlier than intended.

While playing co-op in Ayaha & Otoha's Wrath on Standard and Expert difficulties, the effects for buffs and debuffs applied to enemies will not always display on guest devices or will continue to show after they have ended.

Skill and ability buff durations and the duration of effects from abilities that don't activate again for a certain amount of time after activation may not decrease as intended if used by a helper.
LDPlayer features to play Dragolia Lost:
Dragalia Lost is a fast-paced, action-packed RPG that requires you to act quickly and make quick-time events (QTEs) decisions that are made simple by using macros to set up your skills and combos to win. Despite the fact that many mechanics require you to continuously tap and slide your finger, you'll get the best results on PC by playing this game with a gamepad or controller, as it feels more natural to play an action game this way.