Bloons Adventure Time TD is the latest crossover strategy game from the Bloons TD franchise developed by Ninja Kiwi in collaboration with Cartoon Network. It allows you to pop bloons, explore new maps, discover new characters, and embark on exciting adventures after passing certain levels. The game offers fun and flexible features that will help you pop as many bloons as you can. The latest version has advanced features to enhance your gaming experience and progress.
Content
So today, we will discuss the game's good and bad points in this review article and give you a detailed idea of our view about its features, gameplay, graphics & visuals, characters, and much more. So without any further ado, let's get started.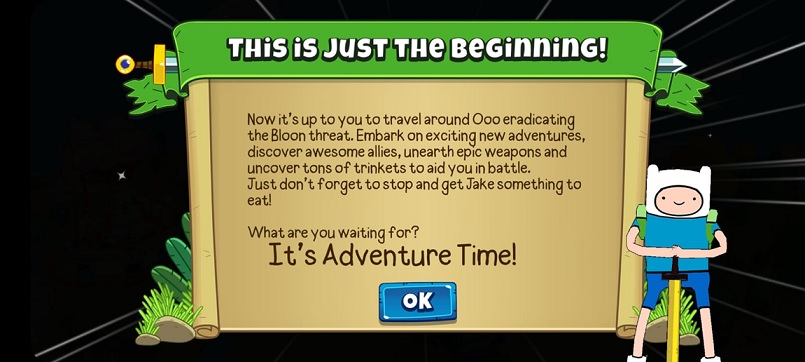 THE GOOD
---
The game starts with a conversation
As mentioned earlier in the beginner's guide, the game starts with the conversation between Finn & Jake. This conversation gives you a fresh idea about what you have to do, what is happening, etc. This seems to be a good part of the game because when you begin the game, you need to know the background on where you have to go, who will be your companions during the game, etc. These conversations also give you an idea about the story and solutions to deal with the enemies. Also, it is interesting too because we will hear these conversations in the voice of the Adventure Time actors.
Gameplay
The gameplay probably does not have any major difference compared to previous versions of Bloons TD series. You have to control the number of towers and pop the Bloons coming across the track to the end. However, the game changes things a bit, with multiple characters from the show helping out. Then also, the gameplay is fun and flexible to play for everyone.
The gameplay can be said that it works in an auto-combat mode, where your job is done by characters rather than you. You place characters in a certain position, and they get you to score high. However, there are chances that you can lose too due to regrow bloons and the character's ability to attack, but then also this idea of gameplay is great enough to help you progress in the game faster.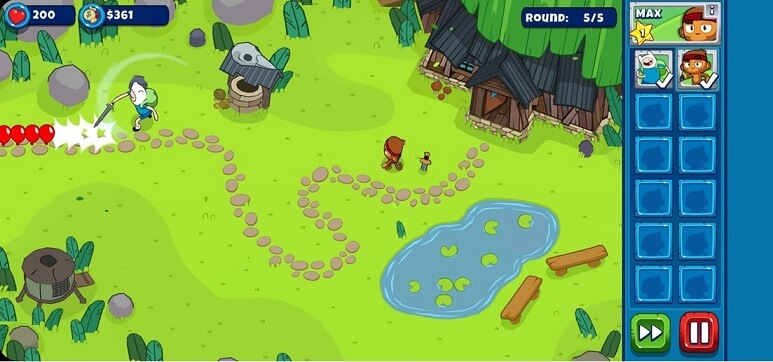 Graphics & Visuals
The graphics of the game starts when you open the game. A whole animated themed picture appears in front of you with characters holding weapons, characters surrounded by colorful bloons, and an interactive title. Visuals of the different maps are also interactive and give us a feeling of the real-world animated series.
The graphics look better when characters pop bloons, when conversation appears and whenever the map appears. The game's settings and features are easy-to-use for everyone. The usability of the game is flexible. It also depends on the device you are playing with, which will decide how your graphics will look. Overall, the graphics are interactive and good-looking.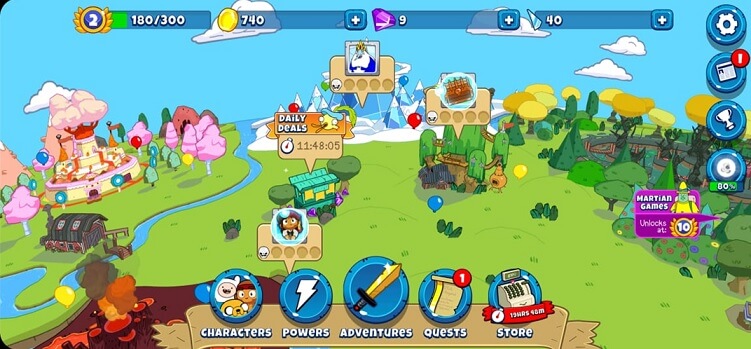 Concept
The concept of the game is mind-blowing. This game is a strategical game, where you have to use your intellect to defeat your enemies. To defeat your enemies, you have to use strategies like where is the best position to place your characters to pop as many bloons as possible. With the help of this game, your brain increases. You can get ideas by playing this game every day about dealing with certain problems and what strategies can make it successful. So we can say that this game helps you develop the skill of problem-solving.
Not many Ads
Usually, the biggest issue players face during games is Ads. As mentioned in the earlier review of Trivia Crack Explorer, Ads are necessary but not after every match. Here's where Ninja Kiwi had done a great job. Here, you encounter Ads, but not after every game. You encounter Ads when you tap for doubling your rewards, or Ads appear occasionally. Here, players can play the game without interruptions and full flexibility.
THE BAD
---
The game needs more development
The game probably needs more development because there's a need for little difficulty levels and updation of advanced gaming controls and gameplay. The game is only about hitting bloons and upgrading characters to hit bloons harder and just travel from one map to another. This kind of thing might be good for a short period, but not for long.
Everything here is automated. The game's concept and gameplay can be good for beginners, for whom the game is yet a stranger. But for intermediate and advanced gamers, these developments need to be considered because they need more action and engagement. The developers need to look forward to this issue and update the game.
Conclusion
---
So here's our full review of Bloons Adventure Time TD. It offers brand-new features and themes to you with full flexibility. The game is fun to play that allows you to explore new maps after completing every game. The game probably reminds us of Noah's Heart, where phantoms do their job. But still have to do some of the combat, but here you do not have to combat at all.
However, we understand that there is a difference between gameplay and enemies of both games. Still, in these games, you would find that characters only take hold of everything, and the player remains without any action. So the game itself helps you win every level without any chance of losing or rare chances. But then also, these games are at their best.
Overall, the game is the best & enjoyable and worth your time. However, there's a need for some development, and we hope that developers will look towards improving the issues in the future.