Witch Market: Adventure RPG is the new start of a fairy tale, and you are going to run a vending machine of a witch here. This is your new RPG game with some amazing characters as well as gameplay mechanics, but everything needs a good start. You have enemies to fight against here with several strategies, so you must be ready for the game to succeed. So, this Witch Market: Adventure RPG beginner guide will bring you the perfect tips that you can use to advance more through the game.
Table of Contents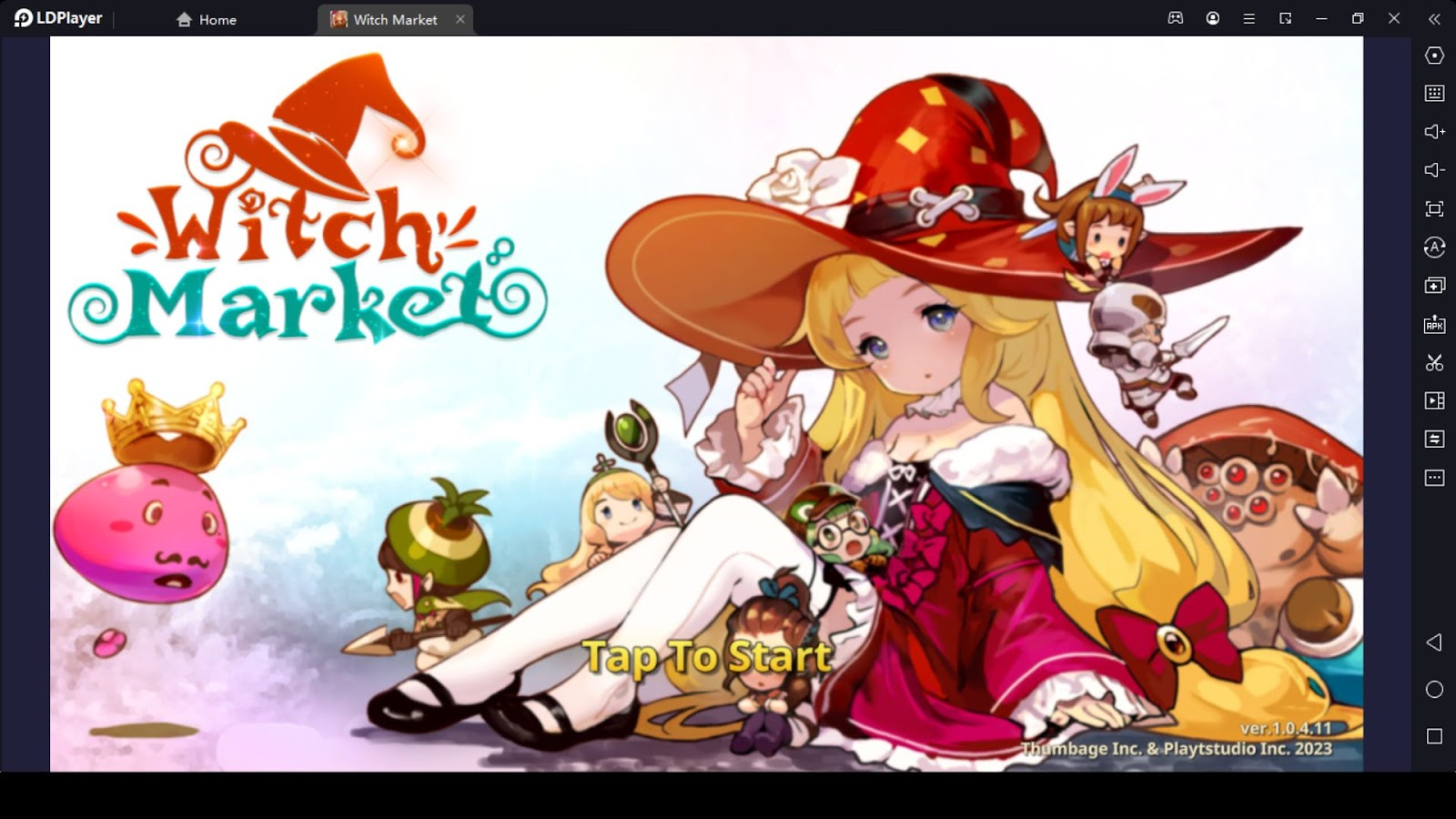 Download Witch Market: Adventure RPG on PC
We will bring you tips on how you can start the game, how you can advance more through it, and how you will benefit through the game to the best here. We also recommend you play Witch Market: Adventure RPG on PC with LDPlayer 9 to make it a perfect setting for the game, and with that, let's start our guide.
Understanding the Witch Market: Adventure RPG Characters
Let's start our Witch Market: Adventure RPG gameplay guide by getting to know about our characters. In total, there are 11 characters available for us, and they will be different in their skills and from the role. So, let's have a quick look at them one by one as follows.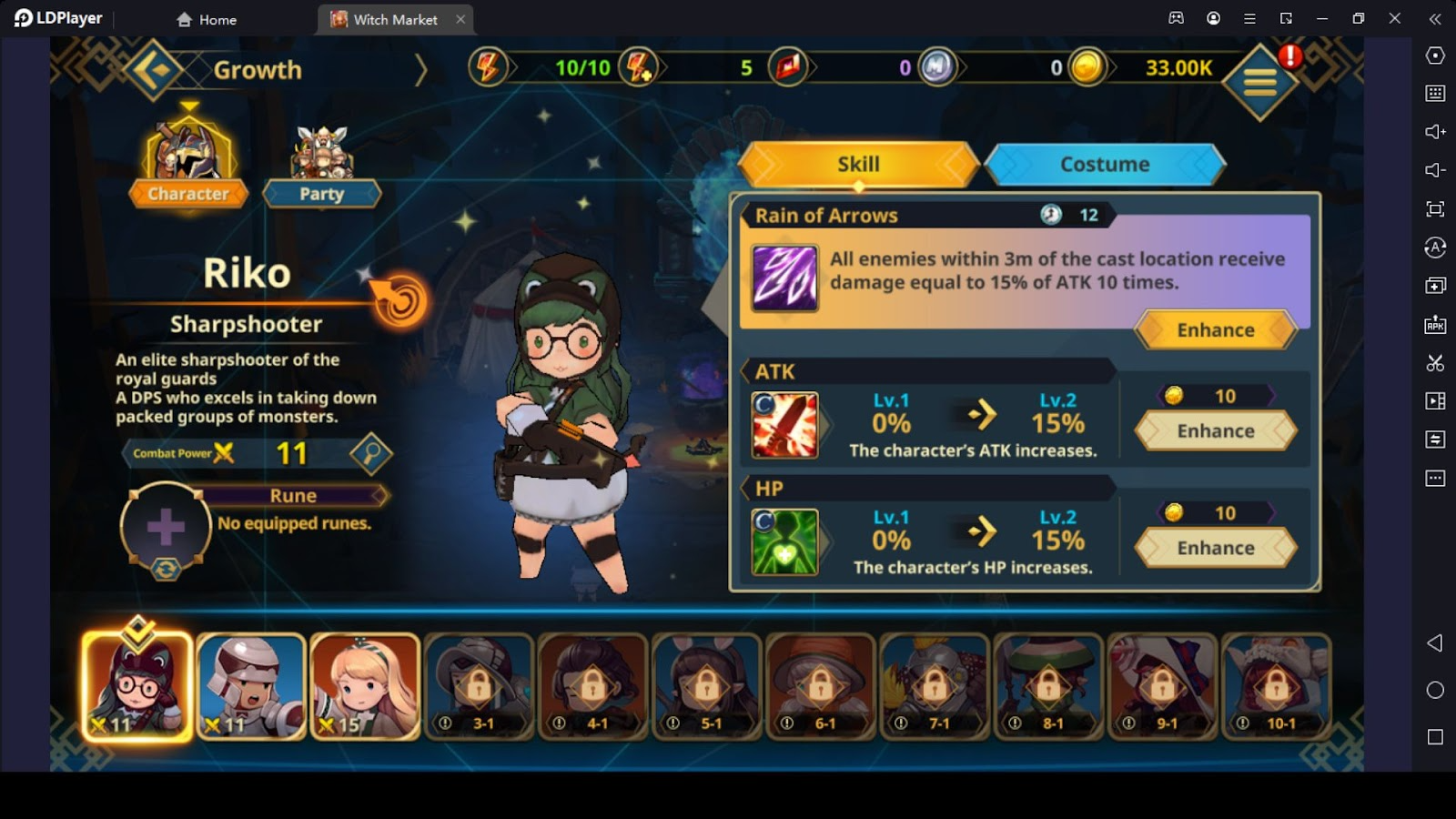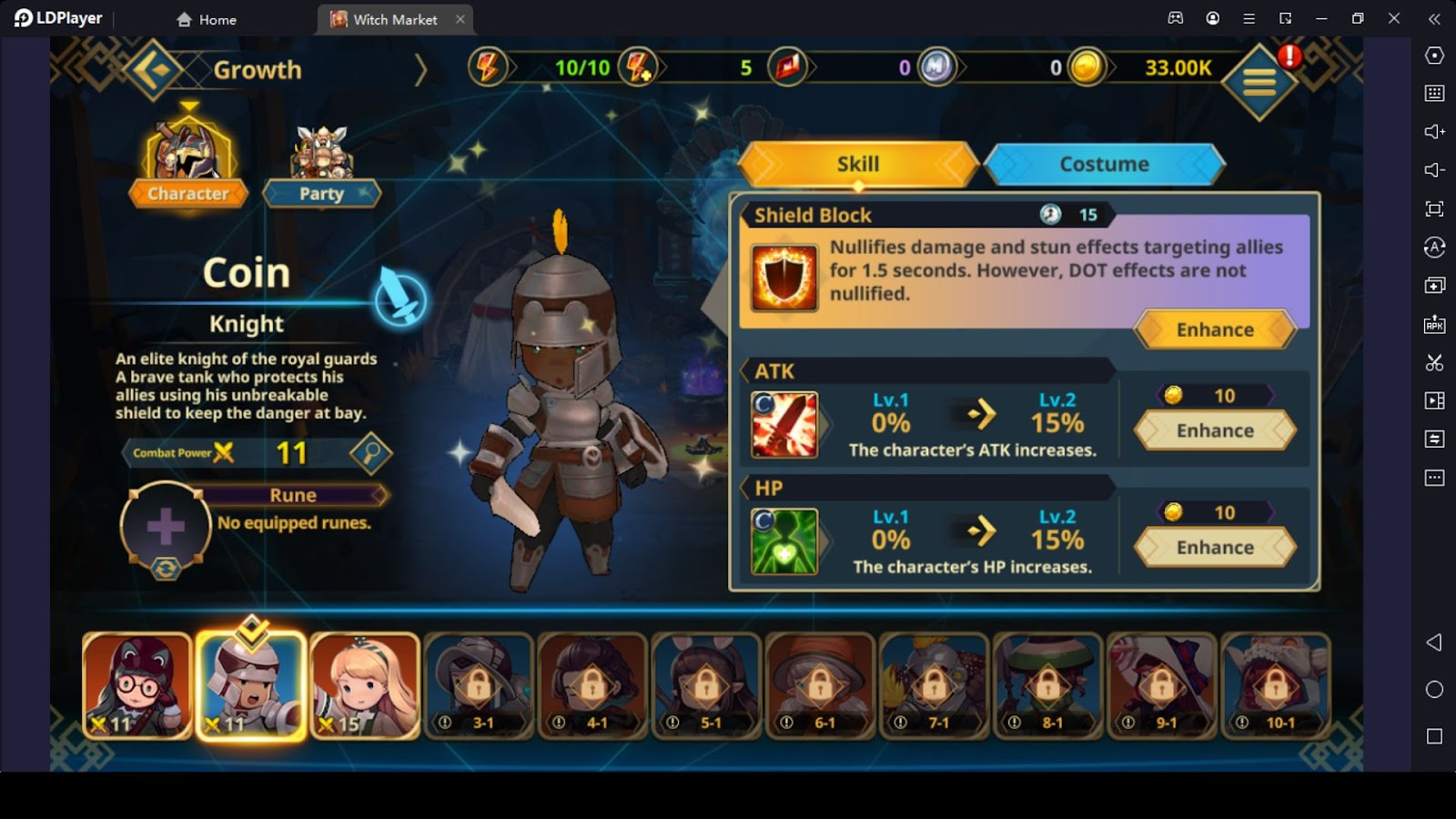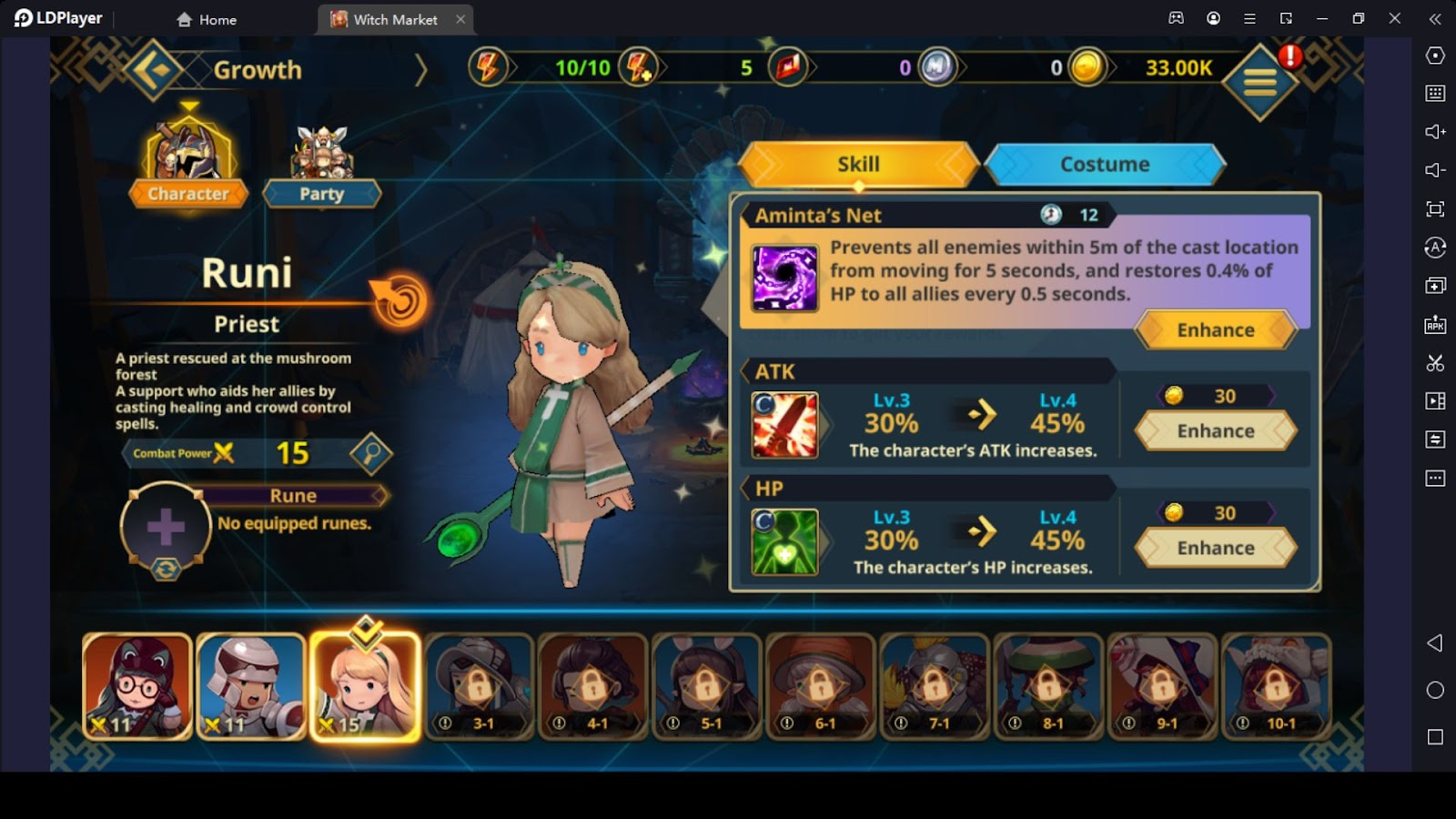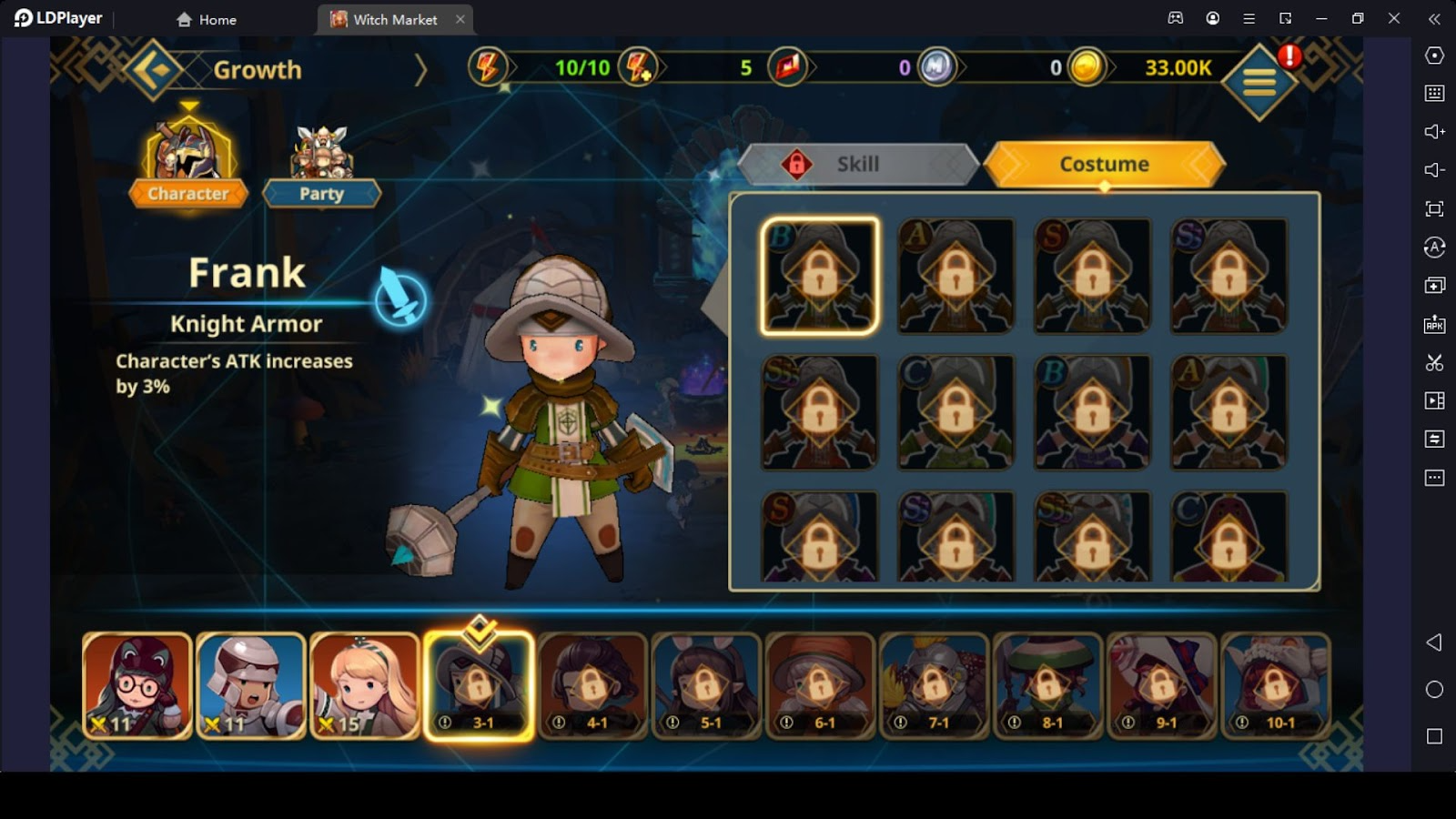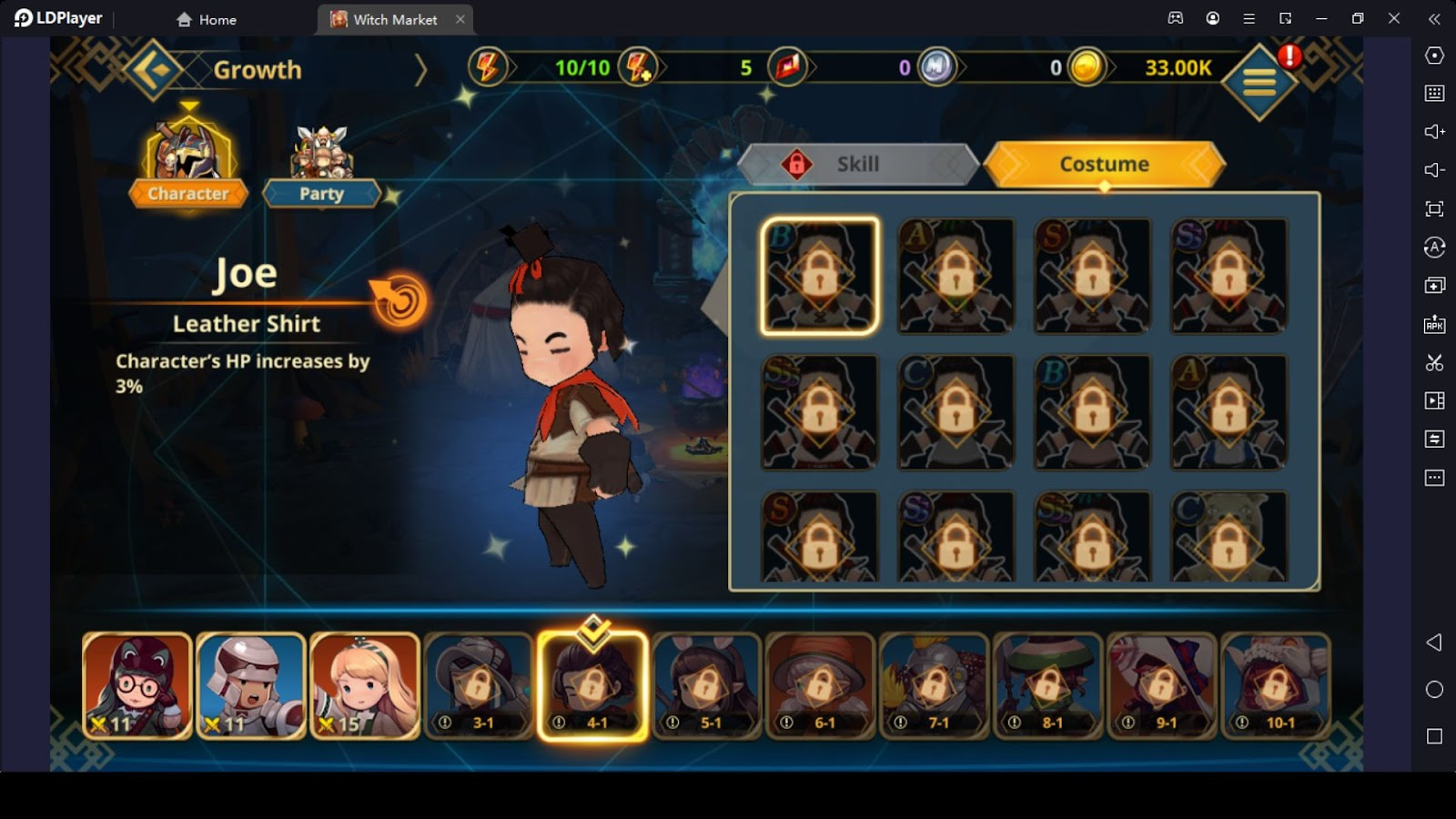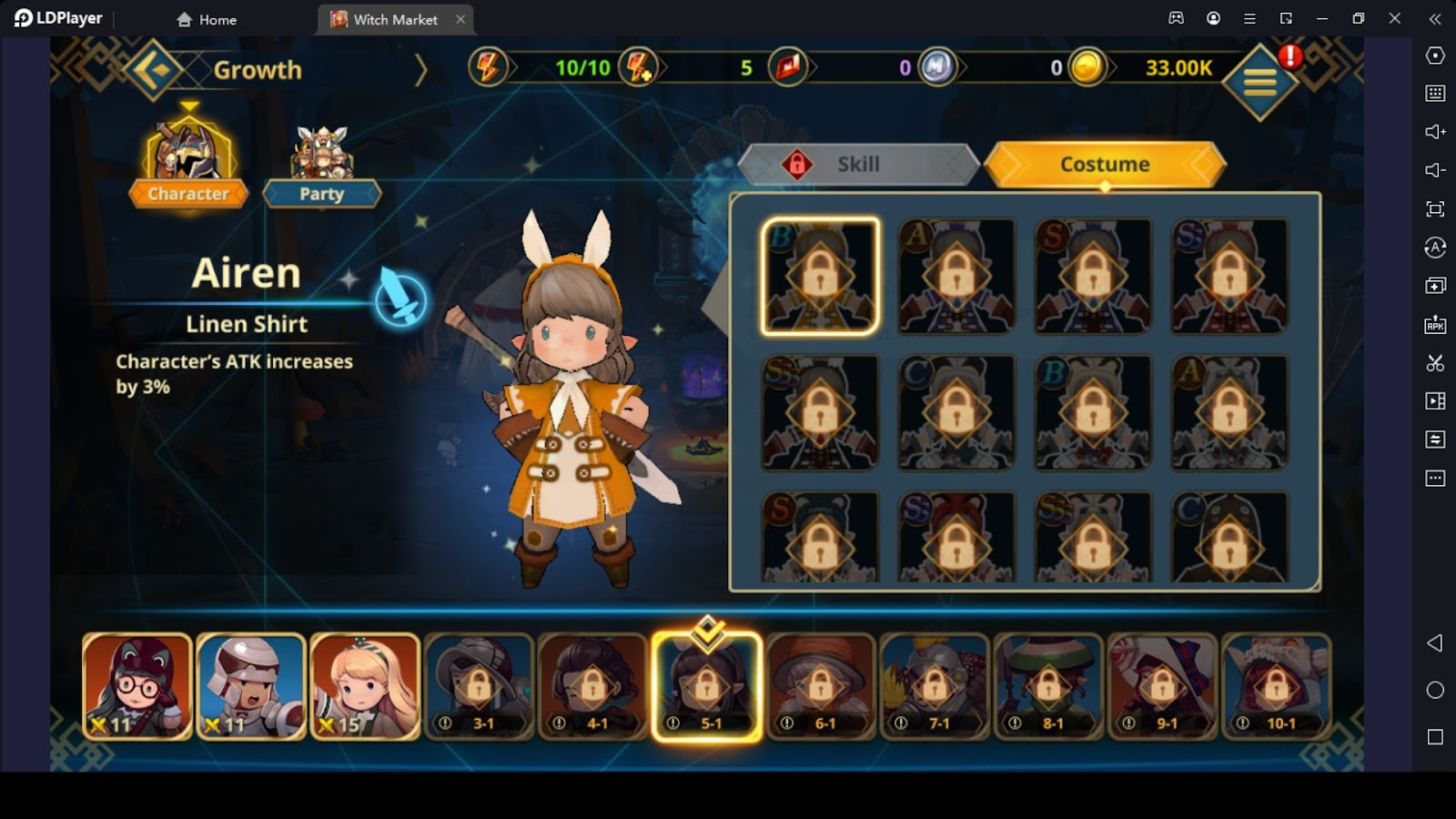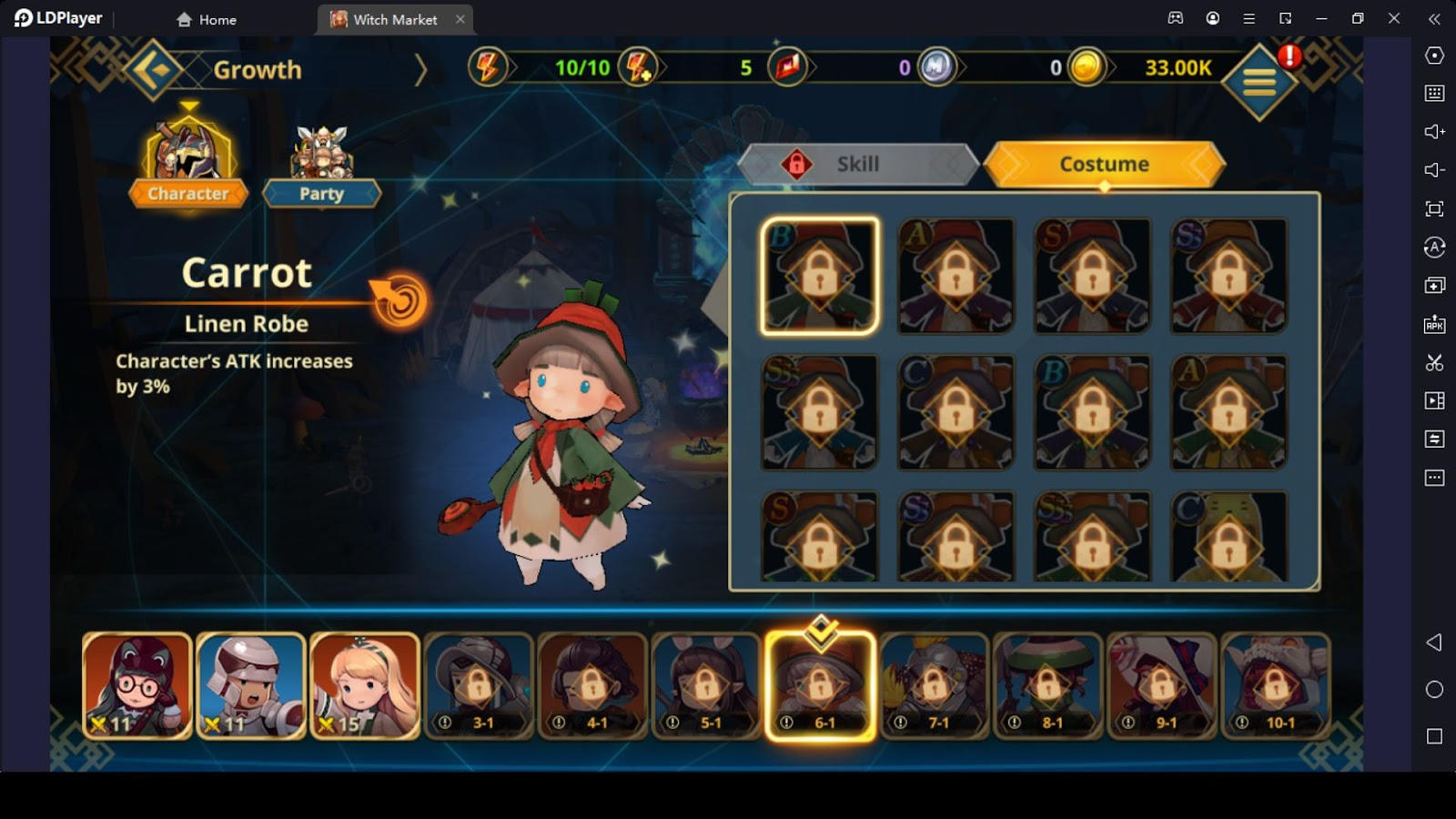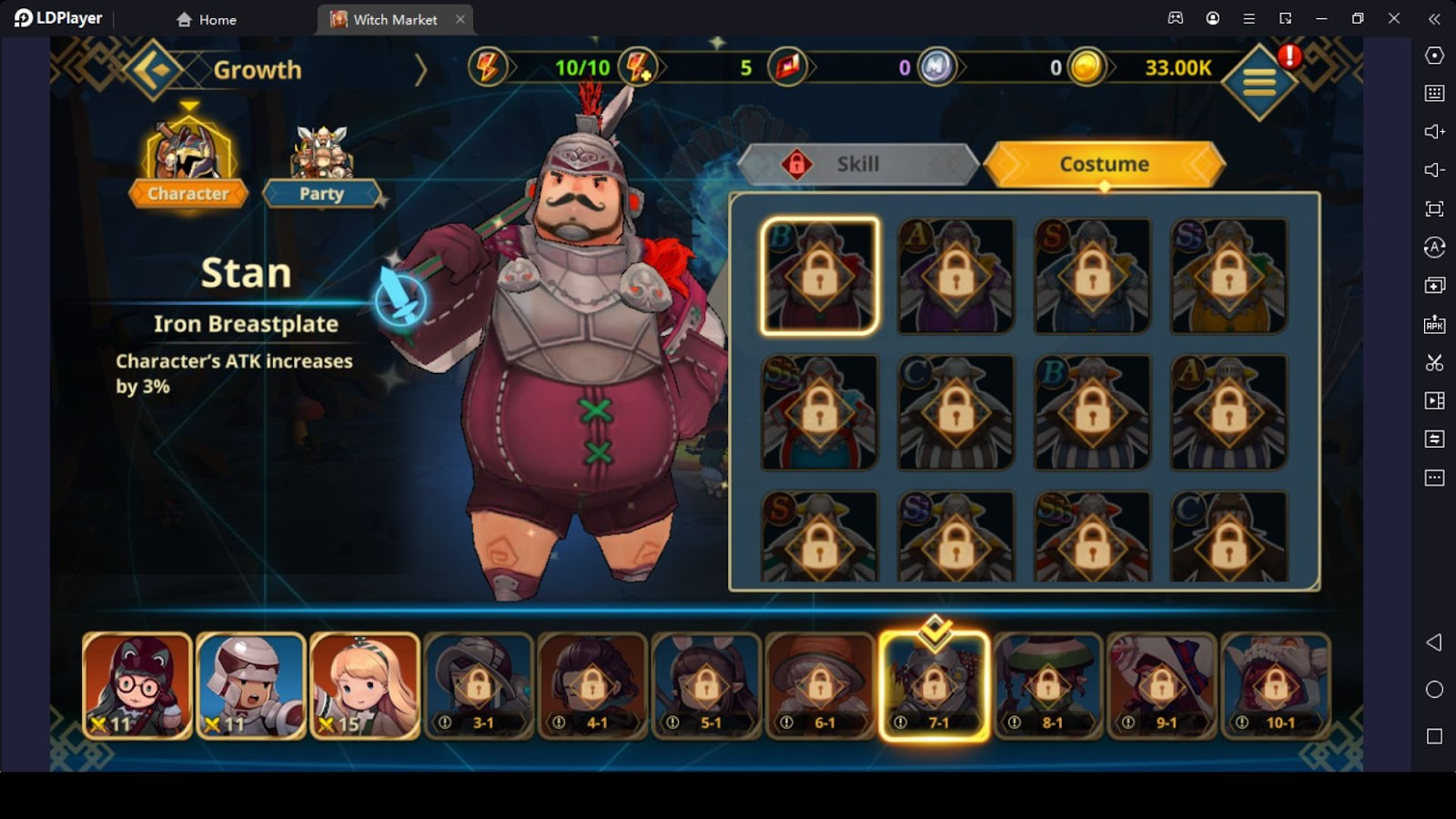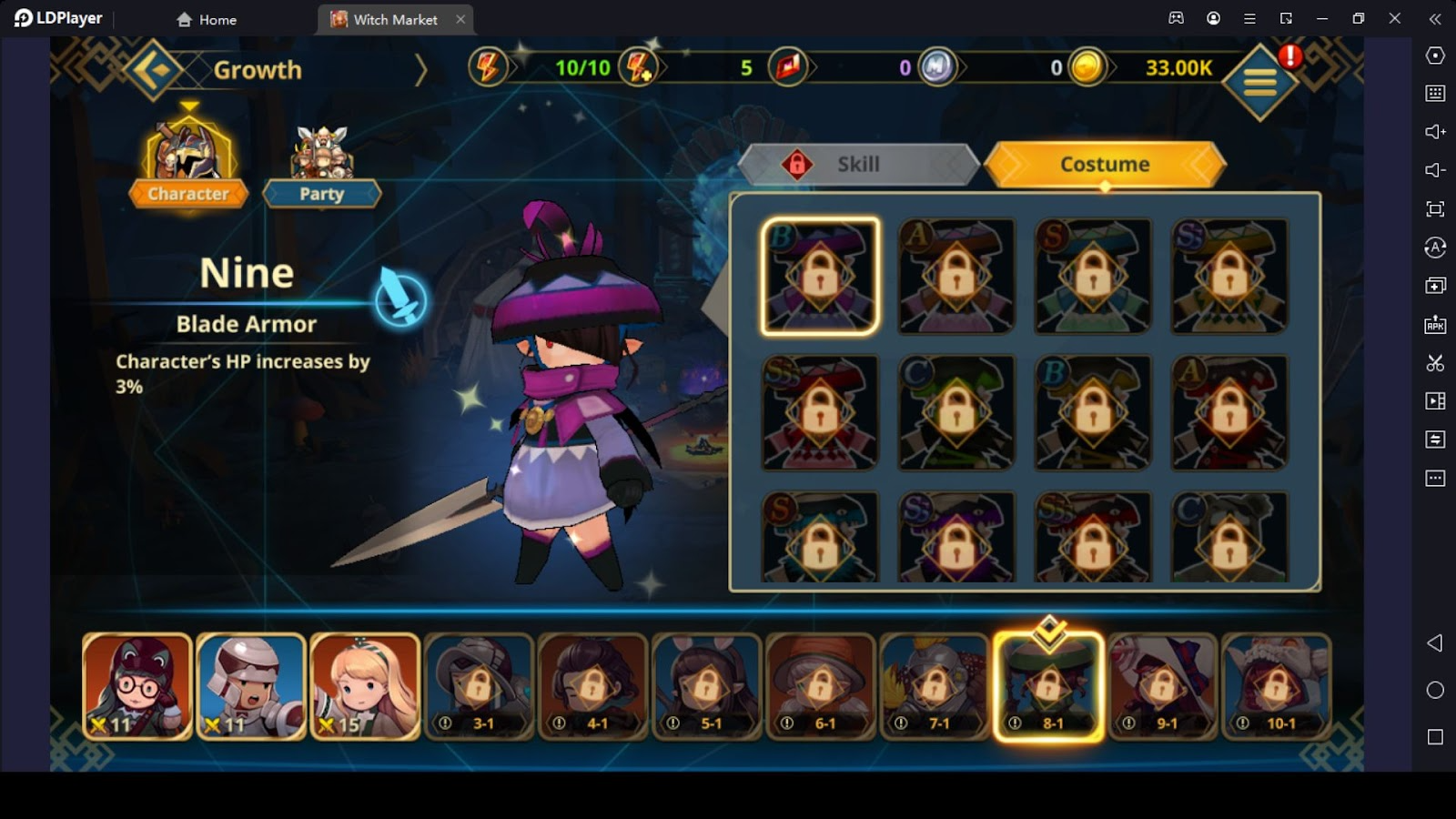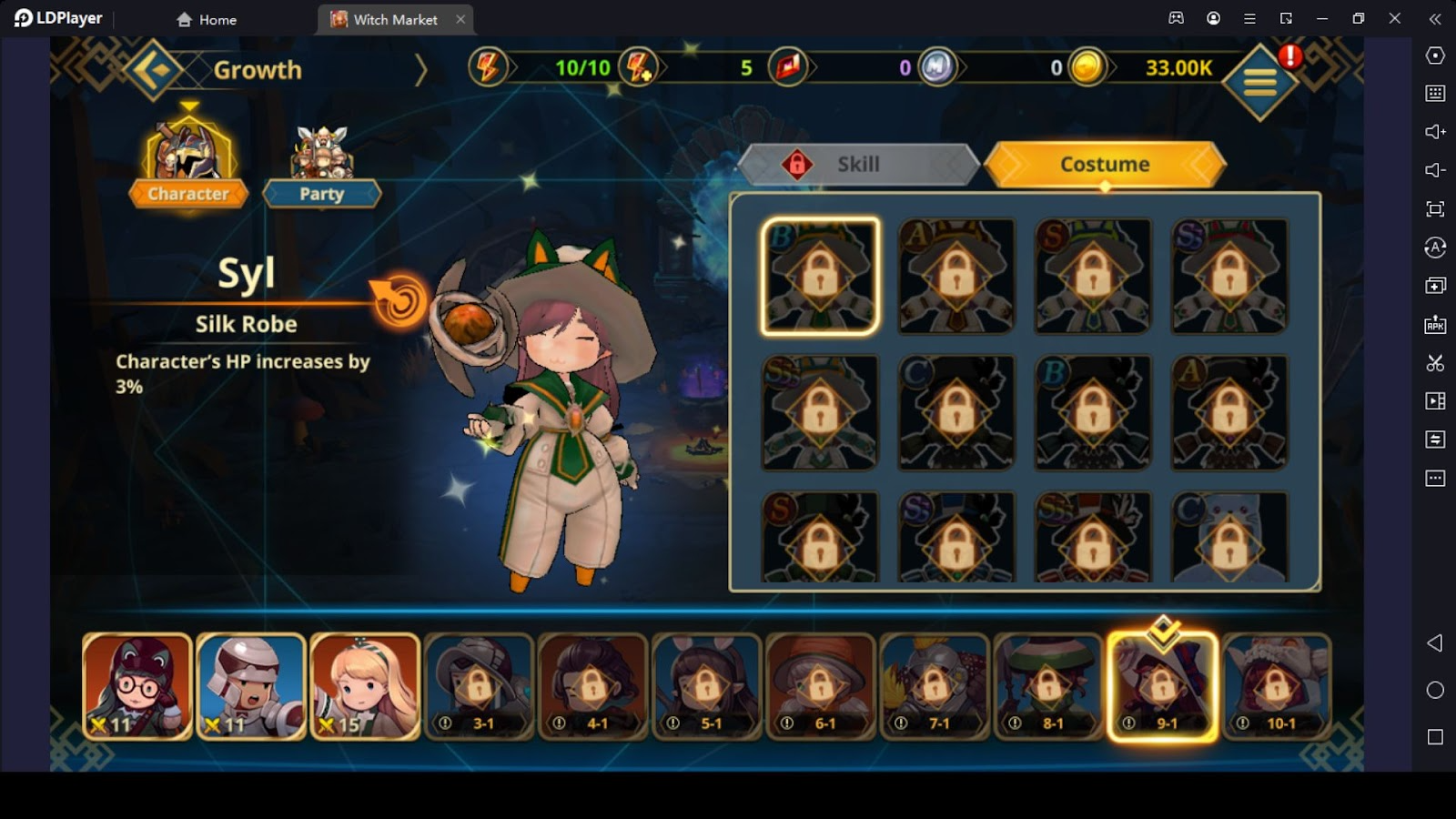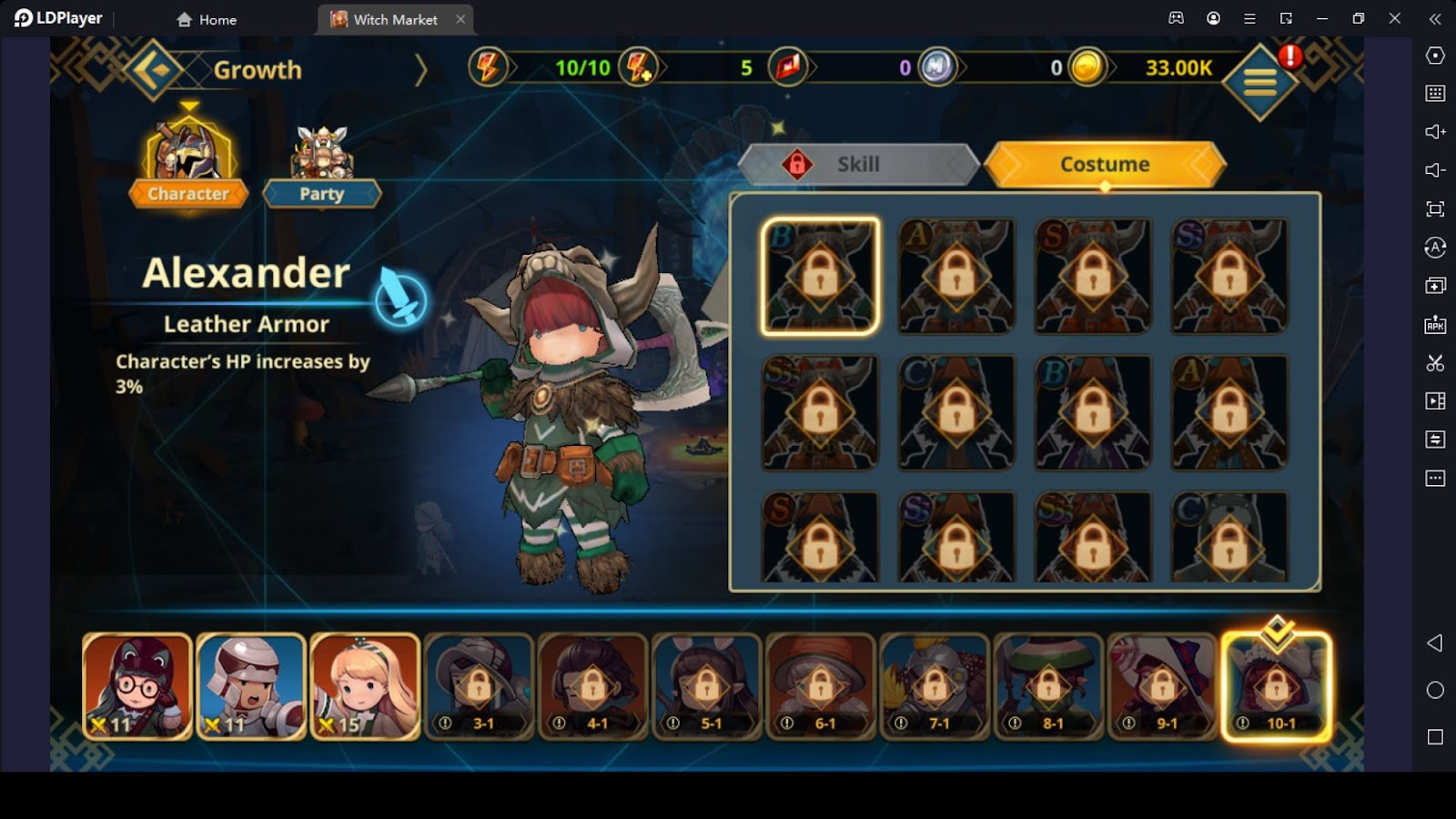 Follow the Tutorial
When you are a first-time player of the Witch Market: Adventure RPG, we know that a lot of things have to be figured out on your own, and sometimes, it will be really helpful if the game can help you with the basics of it. Now it is here with the tutorial.
We strongly recommend every new player follow up with the game's tutorial because it allows you to learn the basics concepts, the basic operations, and the mechanisms of the game as a first-time player. It is a great way to figure out what is happening right in this game, so as a newbie, you can learn your game through this tutorial. Take this as an advantage to go through the game as a pro.
Battling Guide
All your Witch Market: Adventure RPG characters can be placed as a team to battle, and you can create a team of four units. Since all of your characters have their own types of skills and movements, it is a must to position them well to get the best advantage from your fights.
You, as the player, have the freedom to command your characters to place themselves in certain positions, and you have to mix all your character's fighting styles, roles, skills, and stats to fight against the opponents and give them the maximum damage. If you want to see what team and what strategy can work well in battles, you can try mixing different types of characters into your team so you will know which combination can work out for the best performance in this game.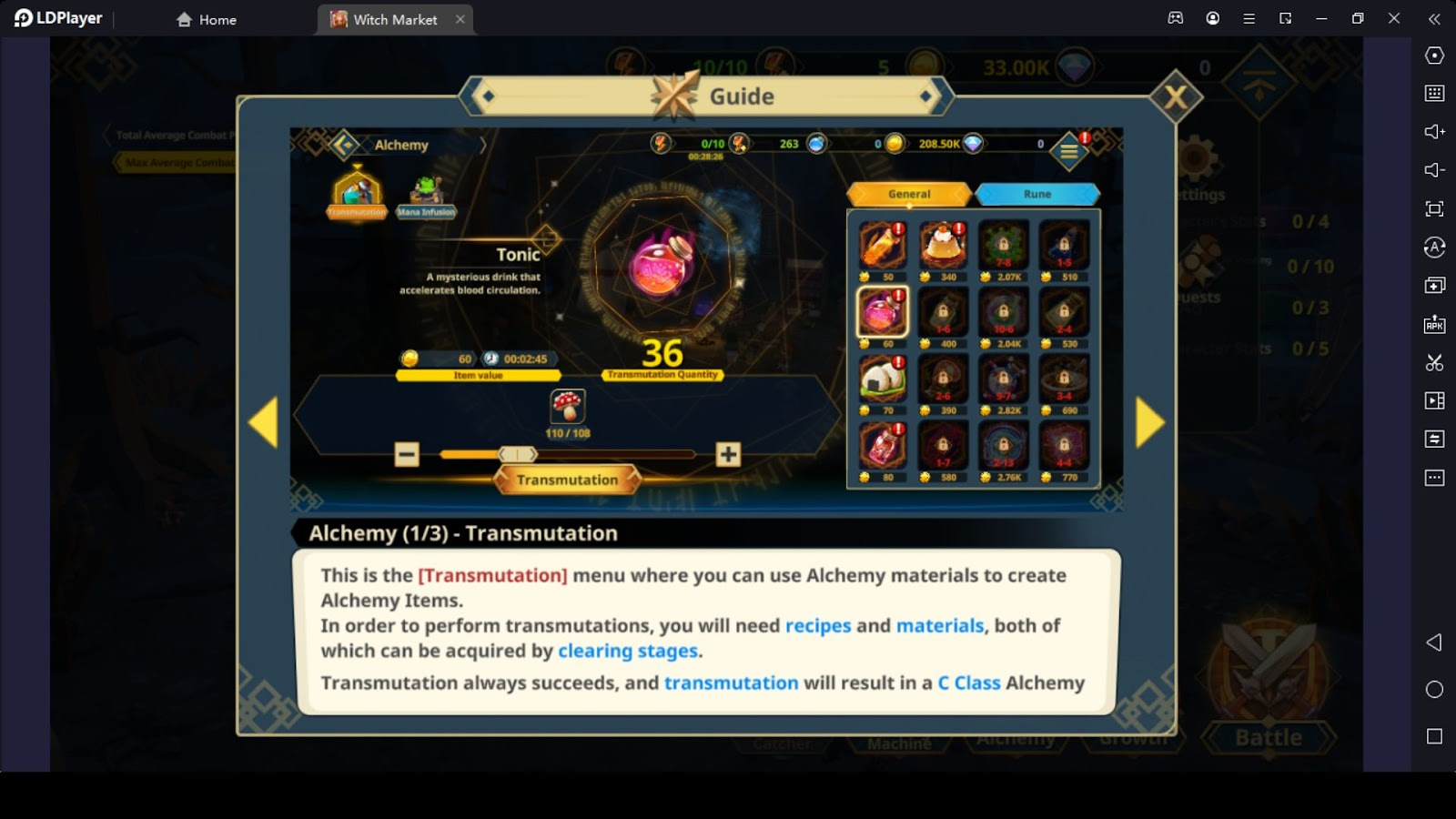 When you start the battle, your companions are going to attack automatically for the closest enemies, and if you want to move them in certain directions close to the enemies, you should touch the ground. So these companions can move, but you should better be aware that they become vulnerable to attack whenever they move. So, you need to wait until you see a clearance of risks in the ground so that you can move your companions safely. Or else they become defenseless.
If you want to attack a specific enemy with all your team, then try to press that particular enemy so all your companions will attack him together and beat him to the death. You also need to pay attention to the dot bar in the upper part of the screen because it shows how enemies will appear in this game. By looking into this, you will understand the pattern of your enemy waves so you can plan your attacks and defeat them accordingly for a victory here.
Since all our Witch Market: Adventure RPG characters hold skills, they can be cast as you want, and you can tap their skill icon to use it during the battles. You can use these tactically in battles so it can become the easiest victory you can take from the game. Use the right skill at the right time so you can effectively fight the battles to the best.
The Worldview in Witch Market: Adventure RPG
The gameplay in Witch Market: Adventure RPG consists of two parts: the Story and the World Map. The things that you have to involve in these two are different from one another, so let's have a look into them now so that you can have a brief understanding of them as a newbie player.
Story – story is where you can see the most powerful mana in the game, and it just involves the ecosystem. You can see different monsters and magical treasures here, and the story part is so full of artifacts as well as treasures. So, involving in it can pay you better.
World Map – world map is where you can have new companions meet in this game, and the first starting characters are going to be placed here. There will be material as well as the progression of the story that can be taken through the world map.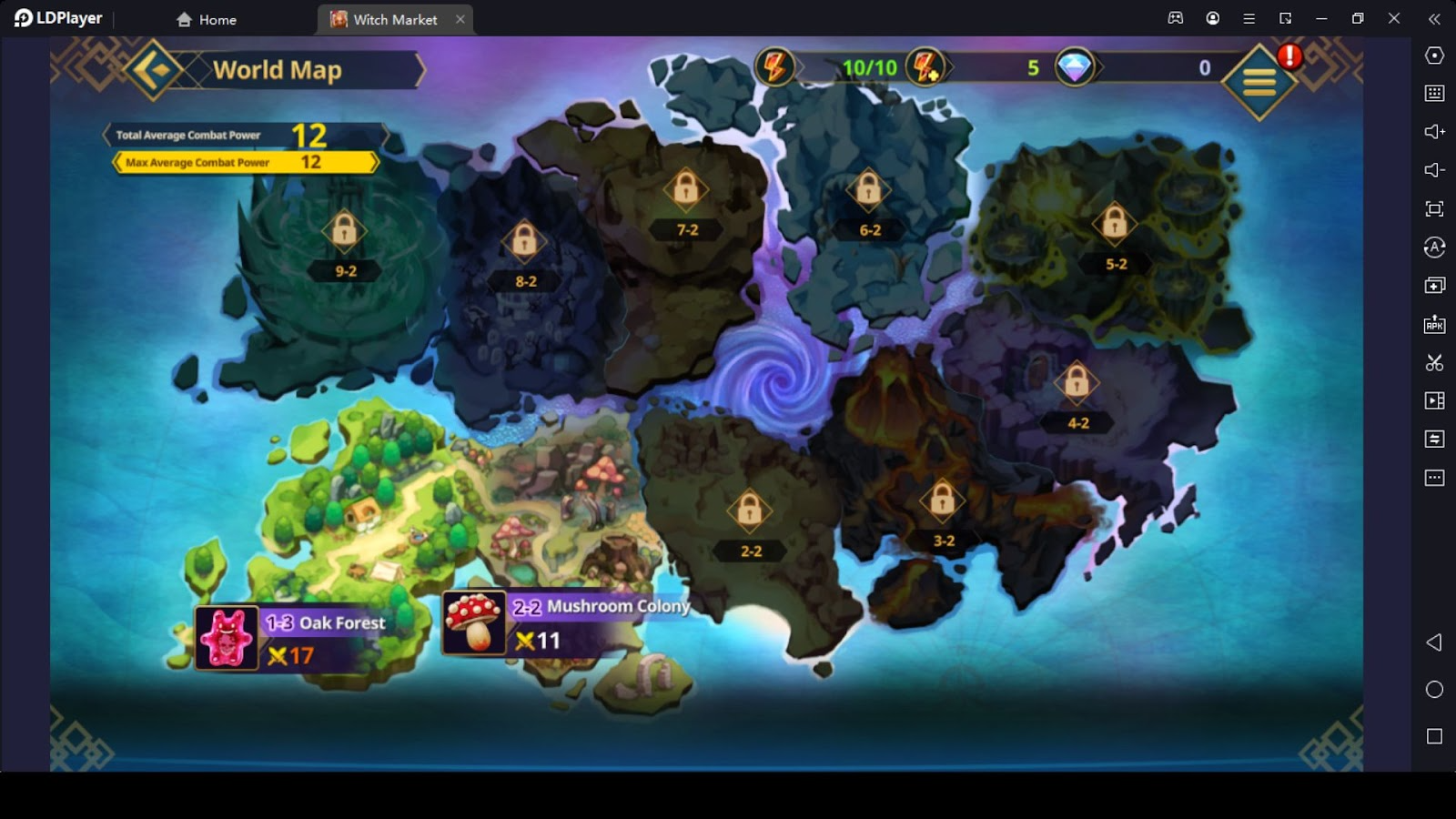 Do The Quests
You can take on different quests through the Witch Market: Adventure RPG gameplay, and we suggest you go with them whenever you can. There will be diamonds, coins, and many other things to earn here by just completing the quests so you can start the game better as a beginner.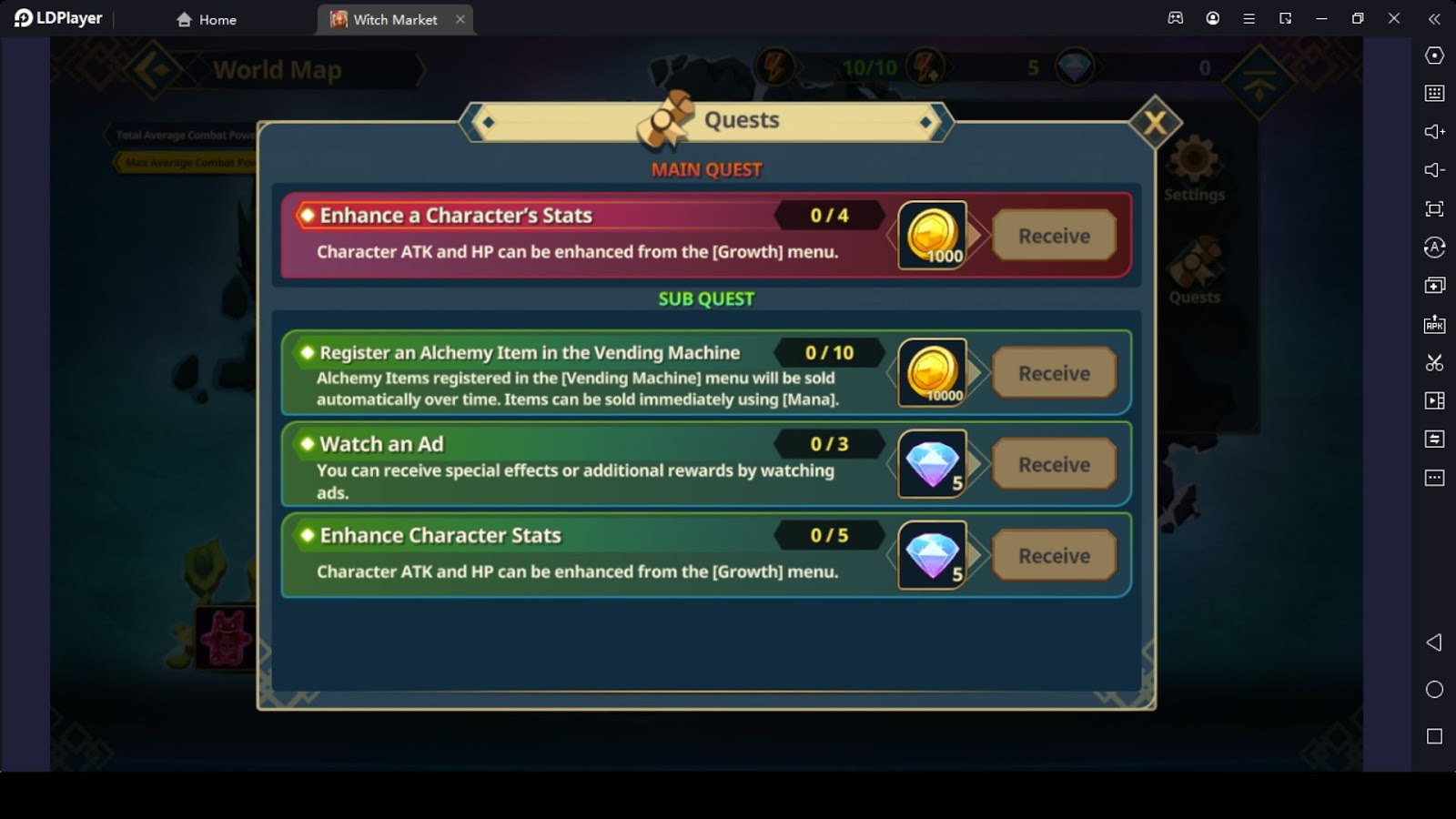 Quests come in two types. It can be the main quests or the sub-quests. Whatever you decide to do, they all can pay you off better, so make sure that you are engaging in quests daily.
Upgrade Your Heroes
If you want to become better at the battles, then make sure you are upgrading them to the best. You can now upgrade your characters with both of their stats as well as with the skills, and if you can equip them with some runes, it also makes them more powerful.
Witch Market: Adventure RPG is generous in terms of providing rewards for the players, so you will likely find more gifts from your mailbox daily. Among them, there can be high rarity runes as well, and if you use one of these with your characters, it can increase their attacks, defense, and many other stats. So, focus more on taking the highest rarity runes and try to earn more and more resources from the game. So you can eventually increase the powers of your characters, making them become the most powerful through the best upgrades.
Grow Your Companions
It is about more than upgrading the characters because if you want to excel better at the battles, you need to ensure that your companions also hold the best powers. There is an option that you can use in this game to level up your companions, and it is called Growth.
You will have to proceed through the first stages of the game in order to unlock the Growth option, and after you have unlocked it, you can go to the Growth Menu and see the basic stats of the characters. These can now be enhanced, and the HP, as well as the ATK stats, are there that you can enhance by using Gold.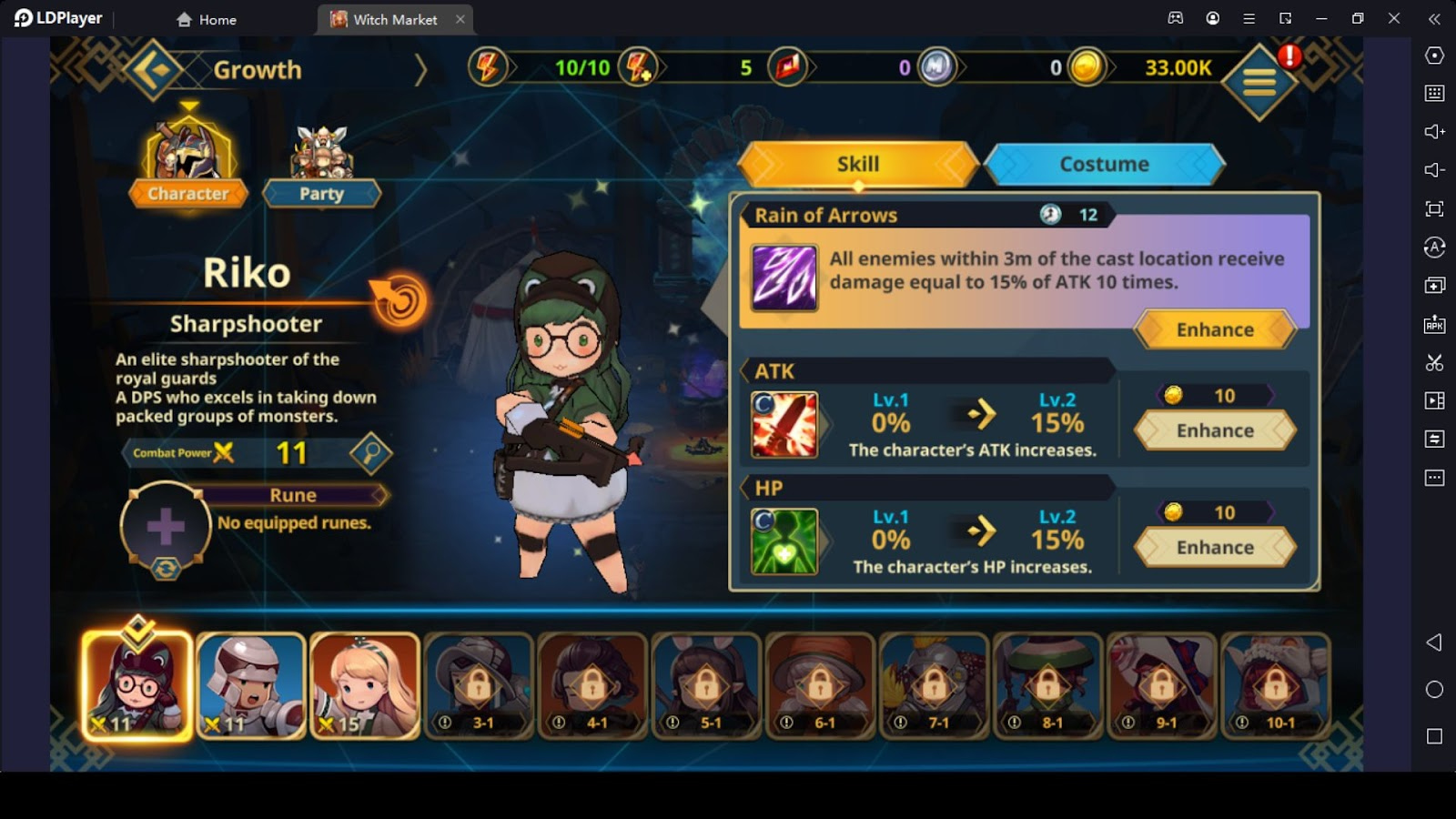 Please note that your stats are going to be featured with different classes such as SSS, SS, A, B, and C, and there will also be a maximum level applied for these classes. If you reach the maximum level, then you can have the Promotional Alchemy Items in your hand.
Taking Part in a Guild
If you are a beginner, please make it a priority to take part in a guild. A guild is made up of different players who are playing the Witch Market: Adventure RPG game at the current time, and this is such a great way to share your gameplay ideas as well as to take the support rewards.
There are daily support supplies that you can take from the guilds, and they will be offered to you on a daily basis. It is very useful to capture anything you can from this game as a beginner, which will help you continue through the game. So, always ensure you are participating in these guilds.
Watch Ads for More Resources
If you run out of any resources that you need to progress better in the Witch Market: Adventure RPG gameplay, there is a great option that you can use. It is to watch an ad. Ads are going to be loaded only some of the time, but once it is there, you can watch them to earn some resources for free.
Please note that to have the resources and the perks that ads bring to you, you have to watch it until the end, and if you skip from the middle, you won't be able to take that particular resource or the offer to your hands.
Don't Forget About the Events
There are different events hosted by the Witch Market: Adventure RPG developers, and these will appear in the game from time to time. They are featured along with some different types of rewards and offers. Whatever it brings, you can have additional support to progress better through the game.
Events will bring different tasks and operations that you will have to finish and fulfill, and after you have done it, there will be free rewards like Gold and many other things. But please note that these events are usually there for a limited time, so try to take these best advantages whenever it is in the operating period.
Witch Market: Adventure RPG Codes
Like the events and quests, the Witch Market: Adventure RPG game has another specific feature that allows you to take more free rewards: the Witch Market: Adventure RPG codes. These are some of the free gifts offered to you by the developers of this game, and you can use them to benefit from your gameplay as well as to upgrade your characters.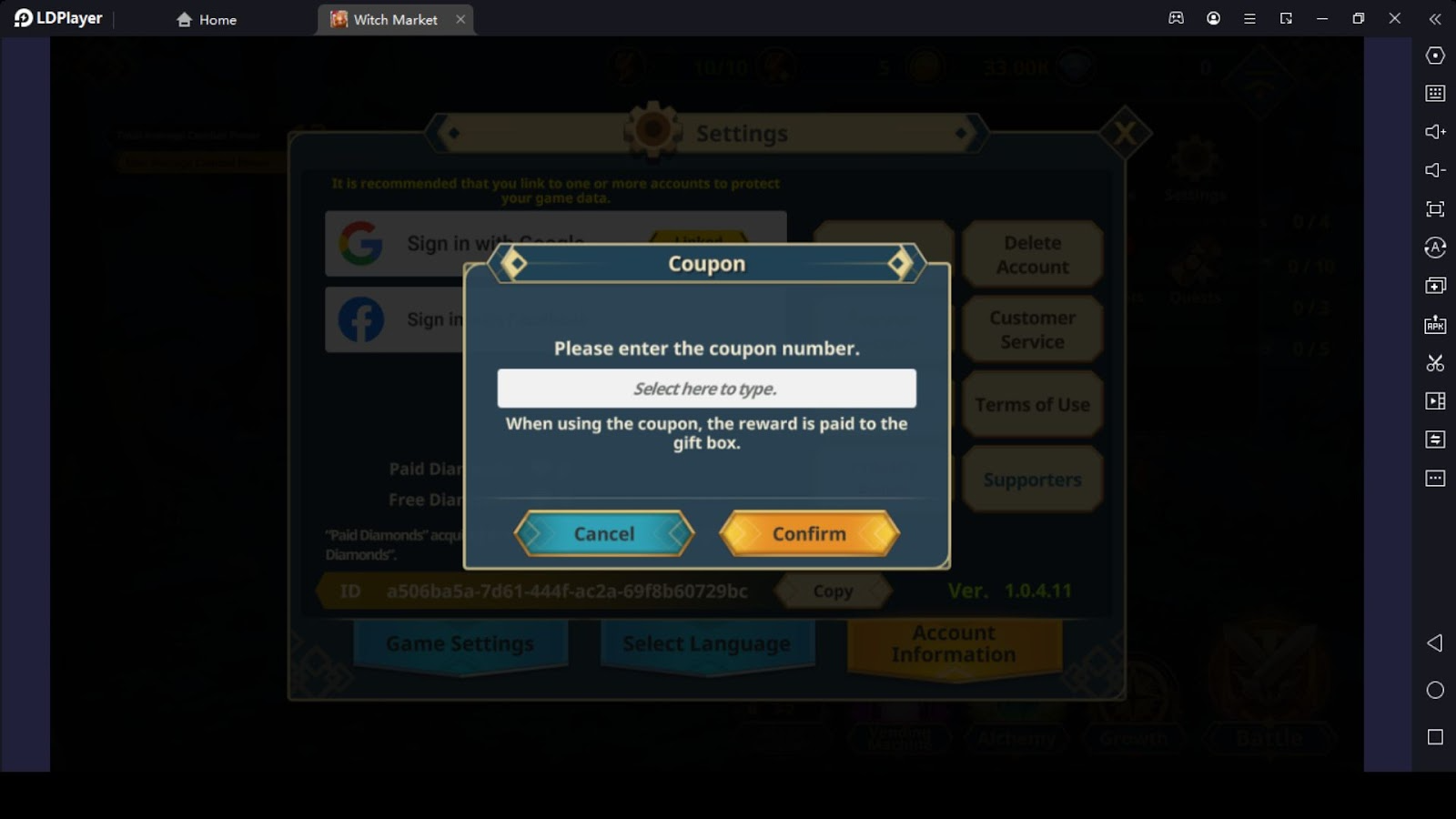 But there are certain things that you have to be aware of before using codes. First, the codes are timely activated and will only sometimes be there for your use. And the second thing is that they are case-sensitive, so you have to use them exactly as it is for the game. Make sure that you are checking the social media channels of this game so that you can have more codes earned in your hands for more free perks.
Conclusion
So, this is all for the Witch Market: Adventure RPG gameplay tips, and this guide will help you proceed better through the game for sure. Please go through this guide from the beginning to the end, so being a new player will always be challenging for you. Now you know the tips, and the rest is in your hands.