Would you like to explore endless darkness killing monsters unlimited? Dark Banquet will be the perfect choice for you, letting you engage in endless battles and explorations. The game is challenging as you encounter stronger monsters to deal with. You have to subdue yourself for darkness without the best tips and tricks. If you want to rise above the darkness on your feet without subduing yourself for it, you should start reading this guide, as it includes the best Dark Banquet tips and beginner guides to have a perfect auto-grinding journey.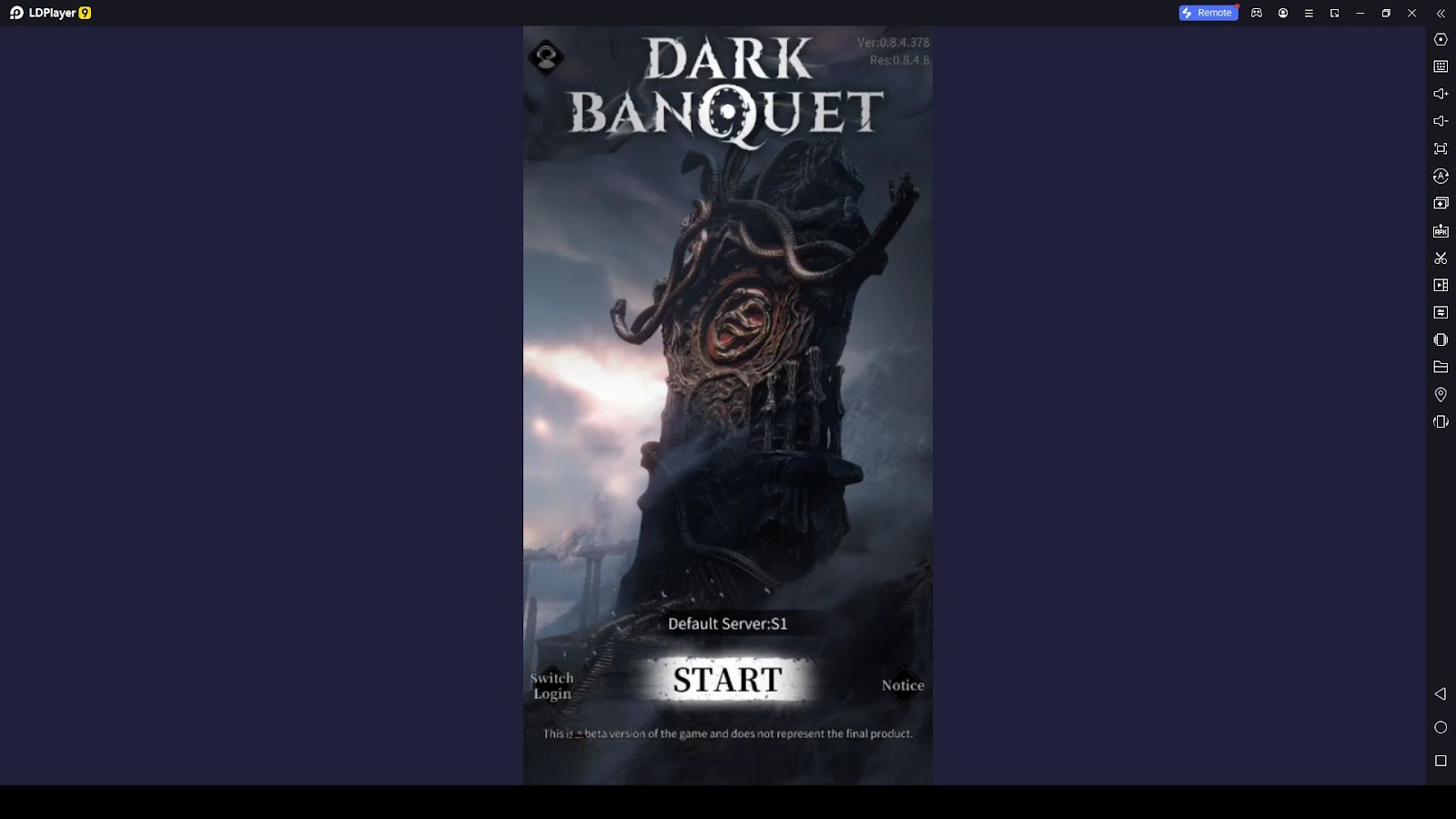 Download Dark Banquet on PC
If you want super action gameplay but are still idle, this would be great for you as this is like an idle game where everything is super easy. Most things will happen automatically, and there are a limited set of actions you should take to succeed in this Dark Banquet gameplay. What you need to do to succeed here is all mentioned in this guide, so you can start reading this guide now and have a great Dark Banquet on PC gameplay.
When you play this Dark Banquet game on your PC, we recommend using the LDPlayer 9 as it has more features that make your whole gameplay comfortable and easy. So, you will always be able to achieve more than you think if you play the game with LDPlayer 9. While playing it with LDPlayer 9, you can watch your hero slaying down enemies without any app crashing or lagging. There are many features that let the players take part in different wars together, such as guild wars. But you need to know the best tips to be good at them, so read this guide.
Choose the Cultivation Path You Admire
Once you begin the Dark Banquet gameplay by choosing a character with a given name that you like, the game lets you choose a cultivation path for you first. When choosing a cultivation path, you have only two options. You can be a warrior or mage according to your chosen cultivation path. So, let us discuss the cultivation paths available for you to choose from here.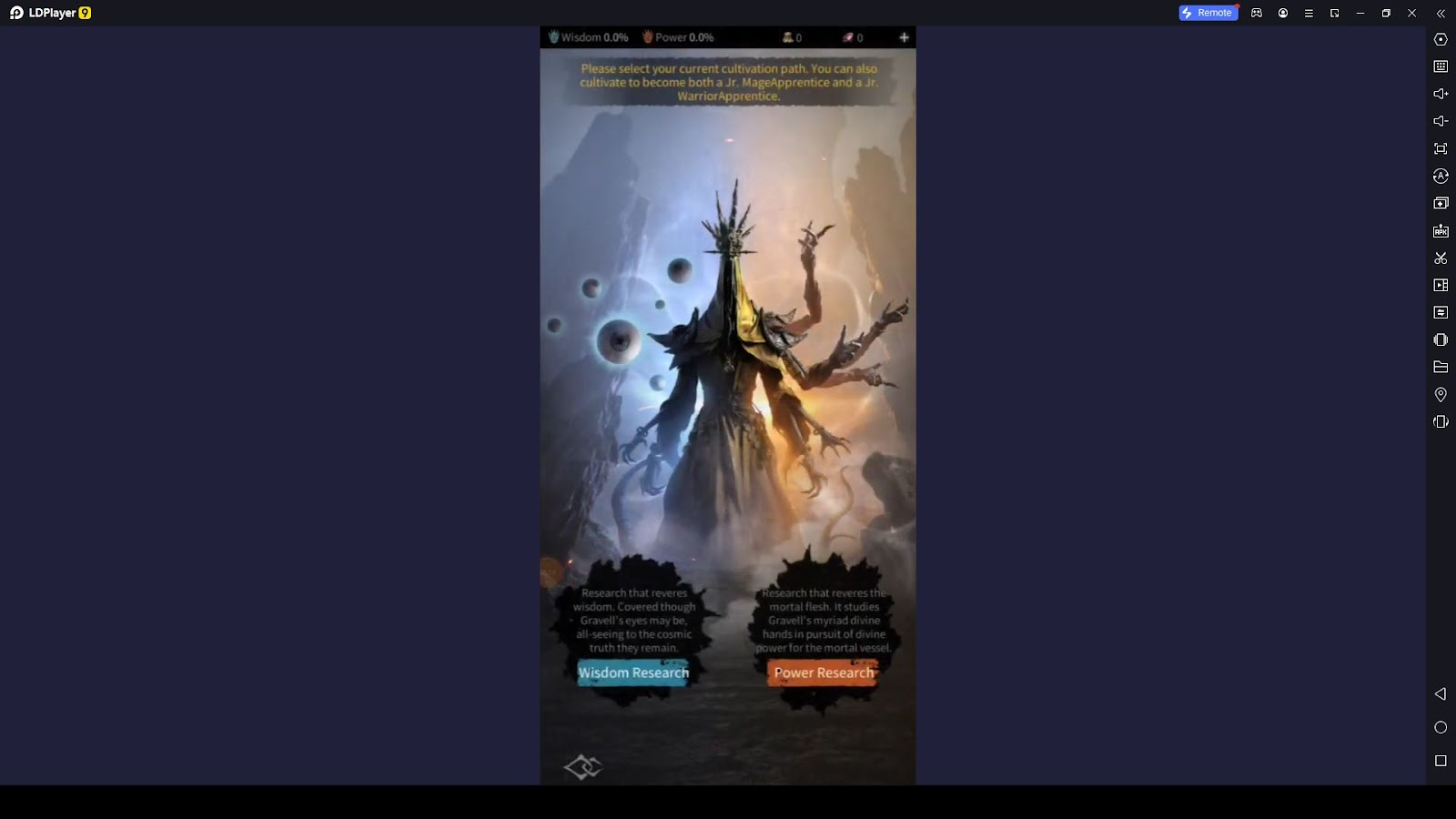 Wisdom Research
The first available path is the wisdom research path, where you will research wisdom other than depending on the power of the flesh. On this path, you become a mage and will always find the truth in everything more than the naked eye meets.
Power Research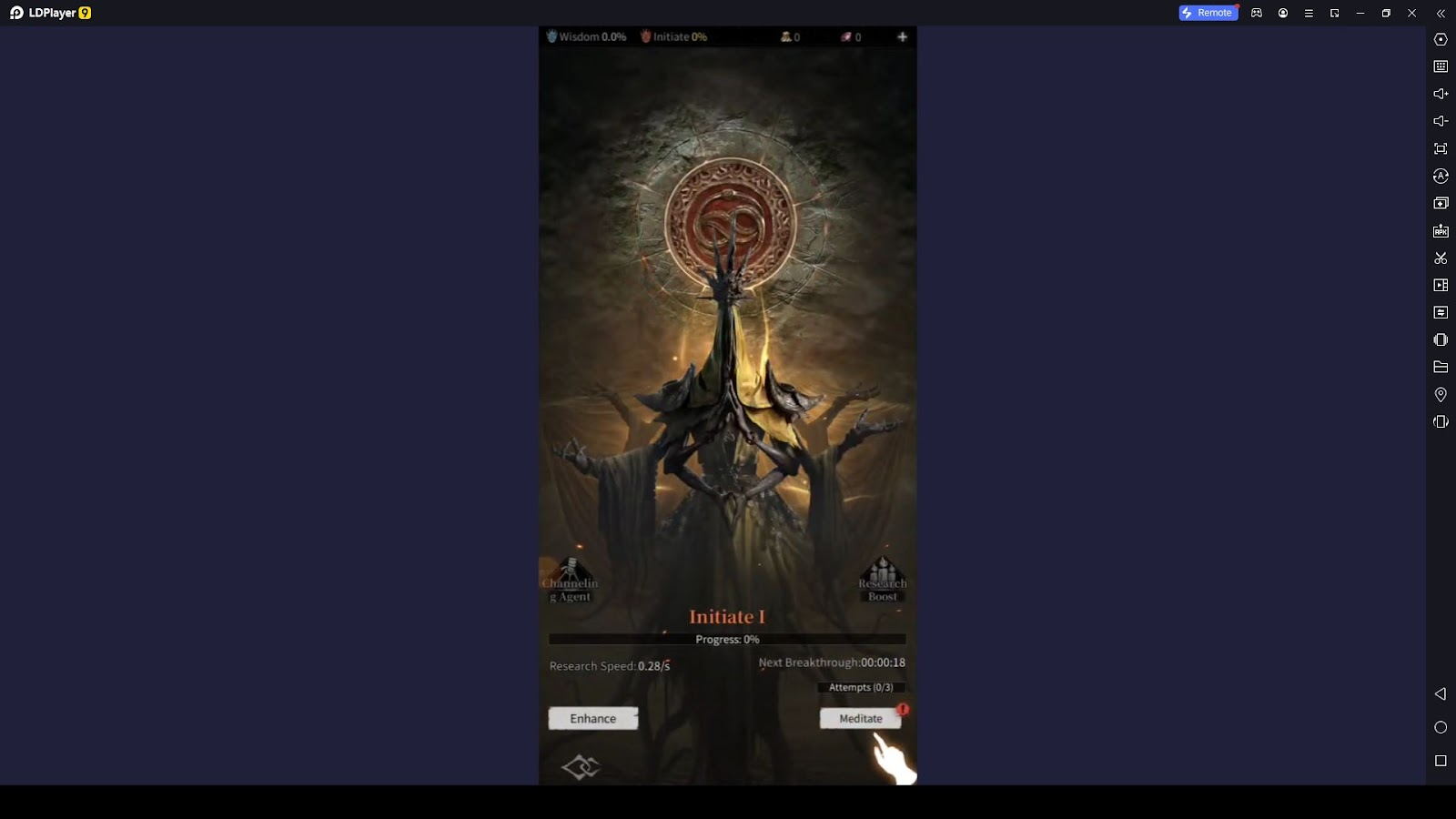 The second cultivation path is power research, where you depend more on the mortal flesh. You become a warrior after choosing this path, and you admire power the most in this world. So, which one are you going to choose? According to your choice, the gameplay style and everything will change. So you better be wise about your choice. Though you choose a cultivation path at the beginning of the game, you can cultivate both paths to become a warrior and a mage at the same time.
In the cultivation path you choose in Dark Banquet, you can start researching, which will take a certain time to complete. You can enhance your cultivation using various items crafted from Witch Doctor's Camp or purchased from the traveling merchant. When you enhance your research on your chosen cultivation path, your cultivation will be leveled up, increasing all your attributes.
Begin Your Journey with Chapter Stories
The beginning of the game is very easy as you have to progress with the missions. The missions here we explain to you are directly connected with the chapter stories where you are going to achieve progress in the game. In the early phase of the game, you will complete only the chapter stories by completing missions related to them. Depending on how fast you accomplish those missions will decide how you advance in this game.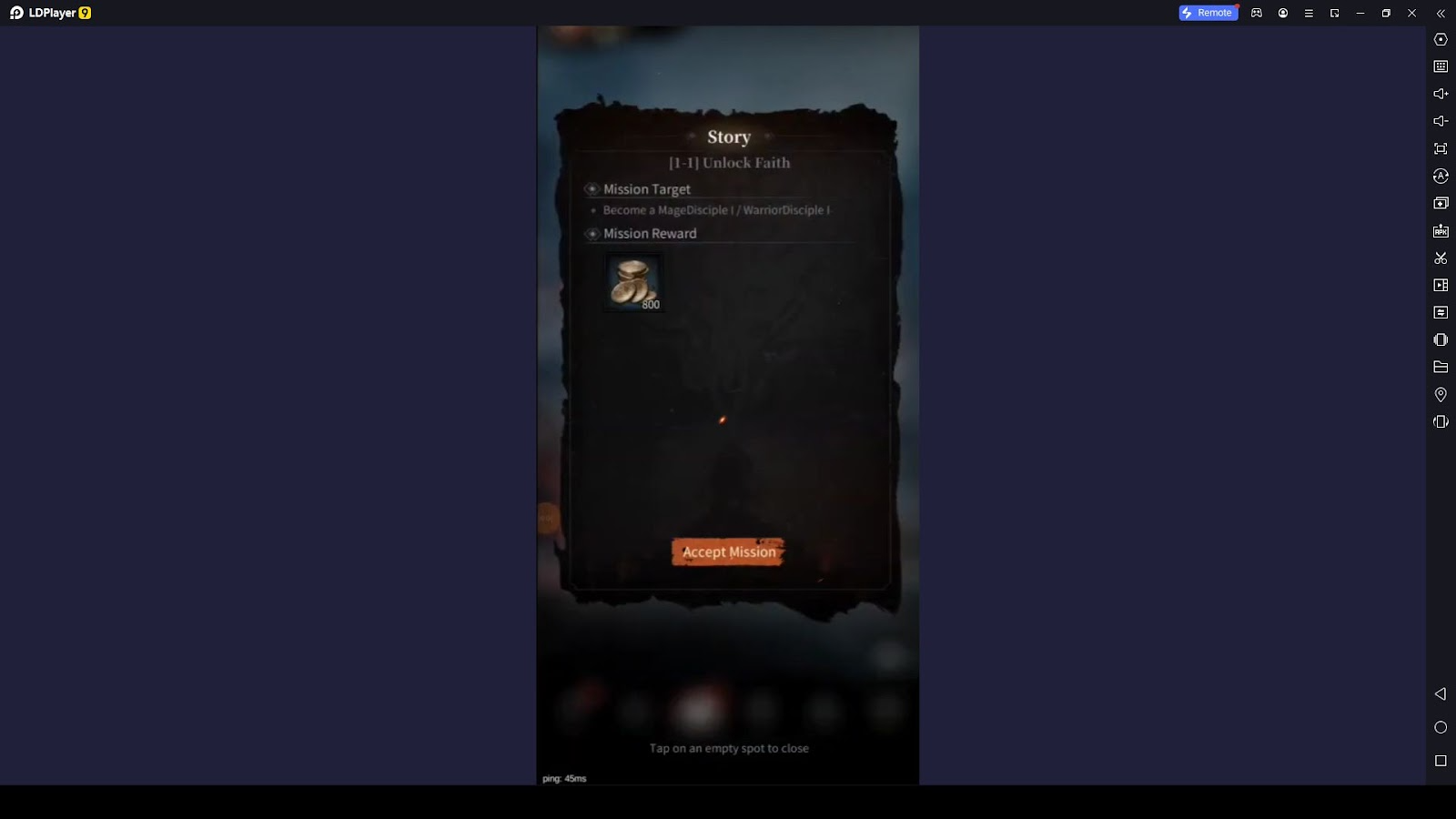 So make sure to complete the missions in the chapter stories faster so that you can quickly progress up in the Dark Banquet game. While achieving greater progress, you can earn greater rewards with the accomplishments of these missions.
Go to Witch Doctor's Camp for Crafting
The elementary witch doctor in this Dark Banquet is essential for you, so it is good to visit the place more often as it is your crafting place. There are many items mentioned, and you can craft them when you have enough materials needed to craft what you need. When you craft items using necessary materials, you should try to use higher quality materials because when the quality of the materials is higher, the final product will come with top-notch quality.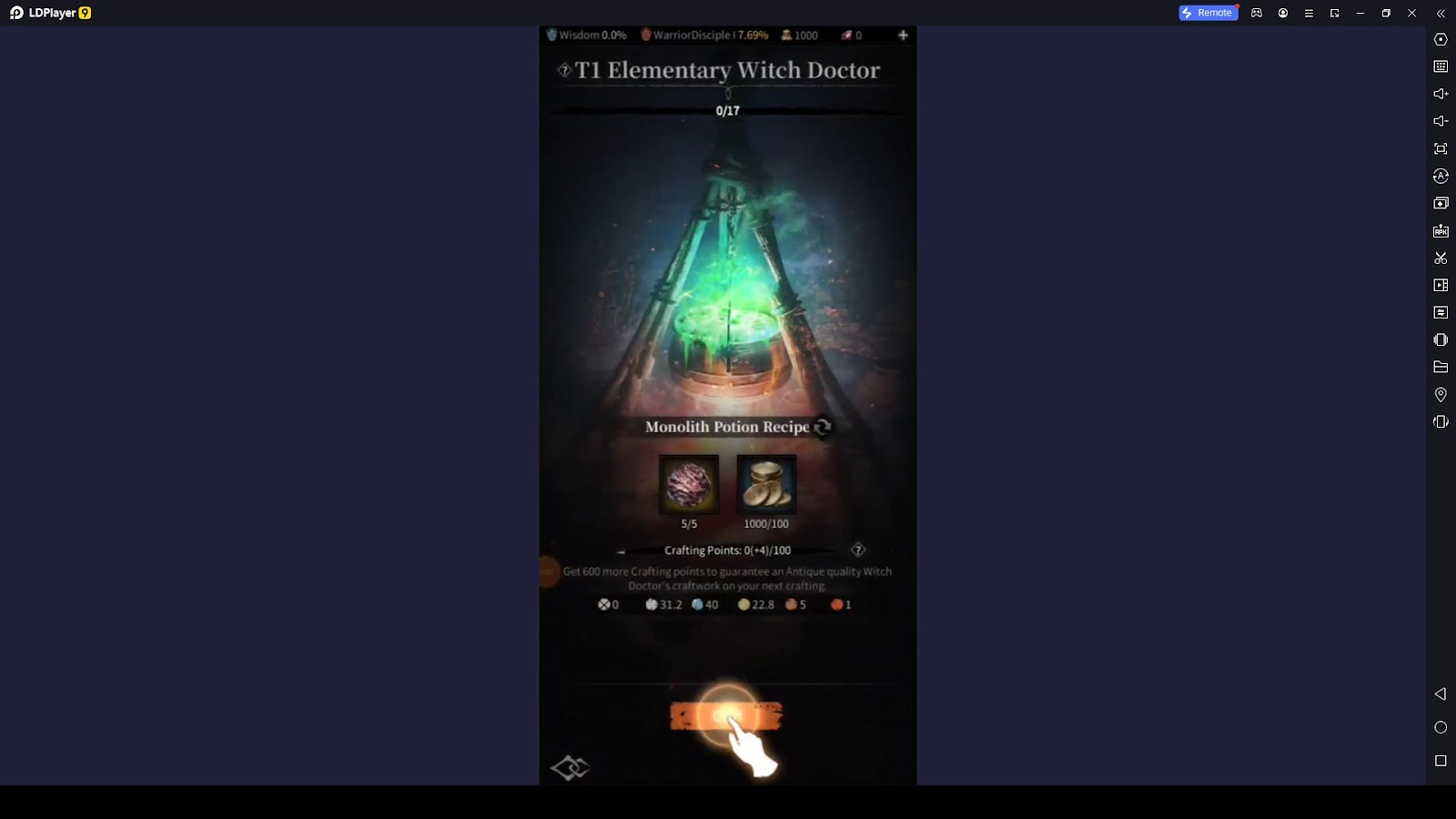 Since this is the place to craft items you need, don't neglect it; visit the camp when you have enough materials.
Abilities for Your Hero
When you go through several missions in the gameplay, you can unlock the Hero feature, where you can look at the hero's attributes. When you go to the hero option, you can see your hero's powers. Your hero's powers are mentioned as an ability tree in this game, and these abilities can be unlocked and let your character learn them when you have enough materials for it.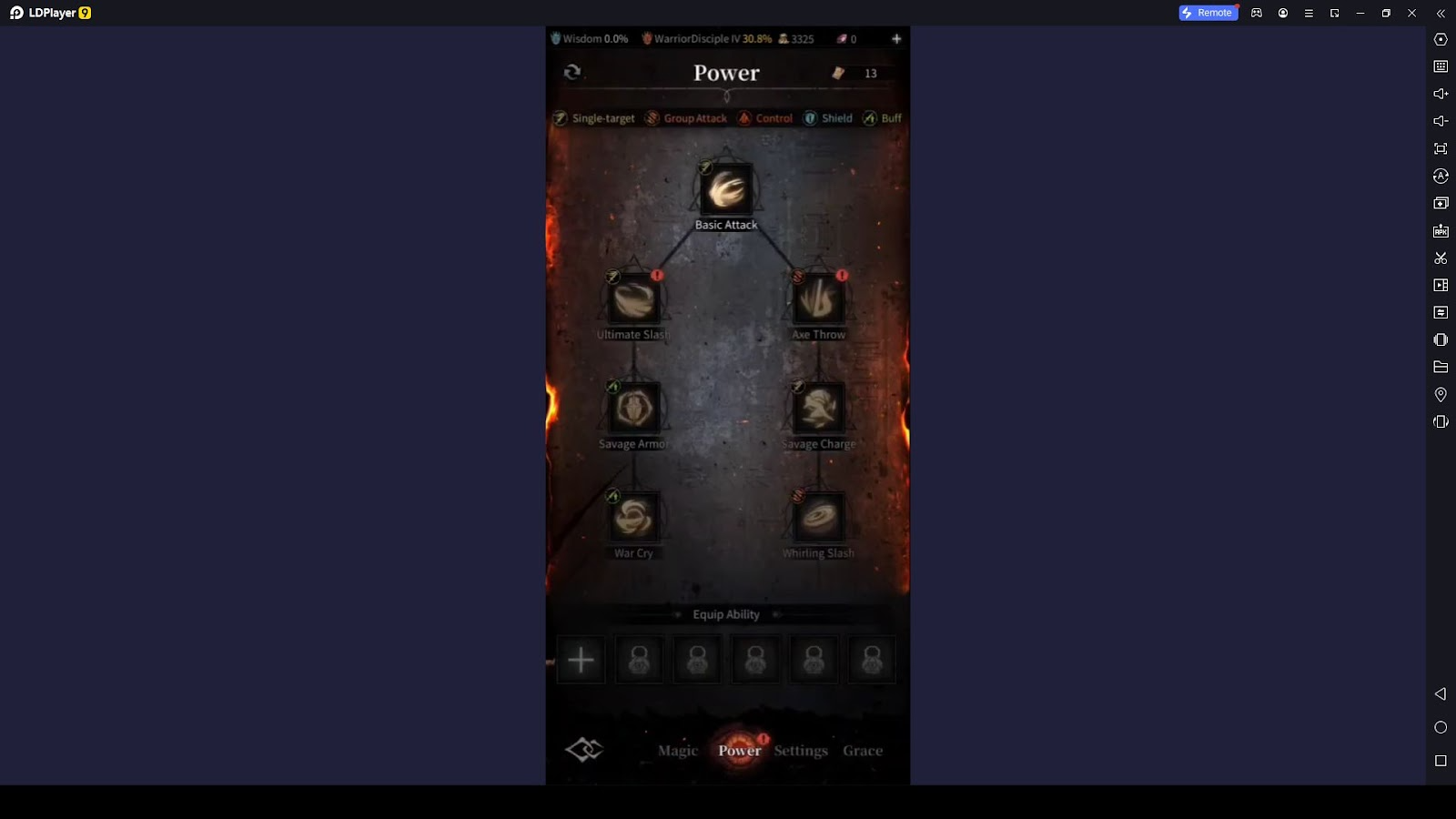 Every ability has an effect that is useful in battles and when engaging in something dangerous. So you better visit the abilities in the power section of the hero menu and unlock the abilities using the necessary materials to let your character learn them. After learning the abilities, you can upgrade the skills at the required cost. When you level up these skills, their effects will increase, enhancing your hero's power.
Challenge the Fissure's Doors
The Fissure's Door is an option that lets you enter dungeons and battle the monsters there. There are doors in the battleground, and enemies guard each door. You need to defeat these enemies to pass the doors. When you pass a door, you can earn rewards.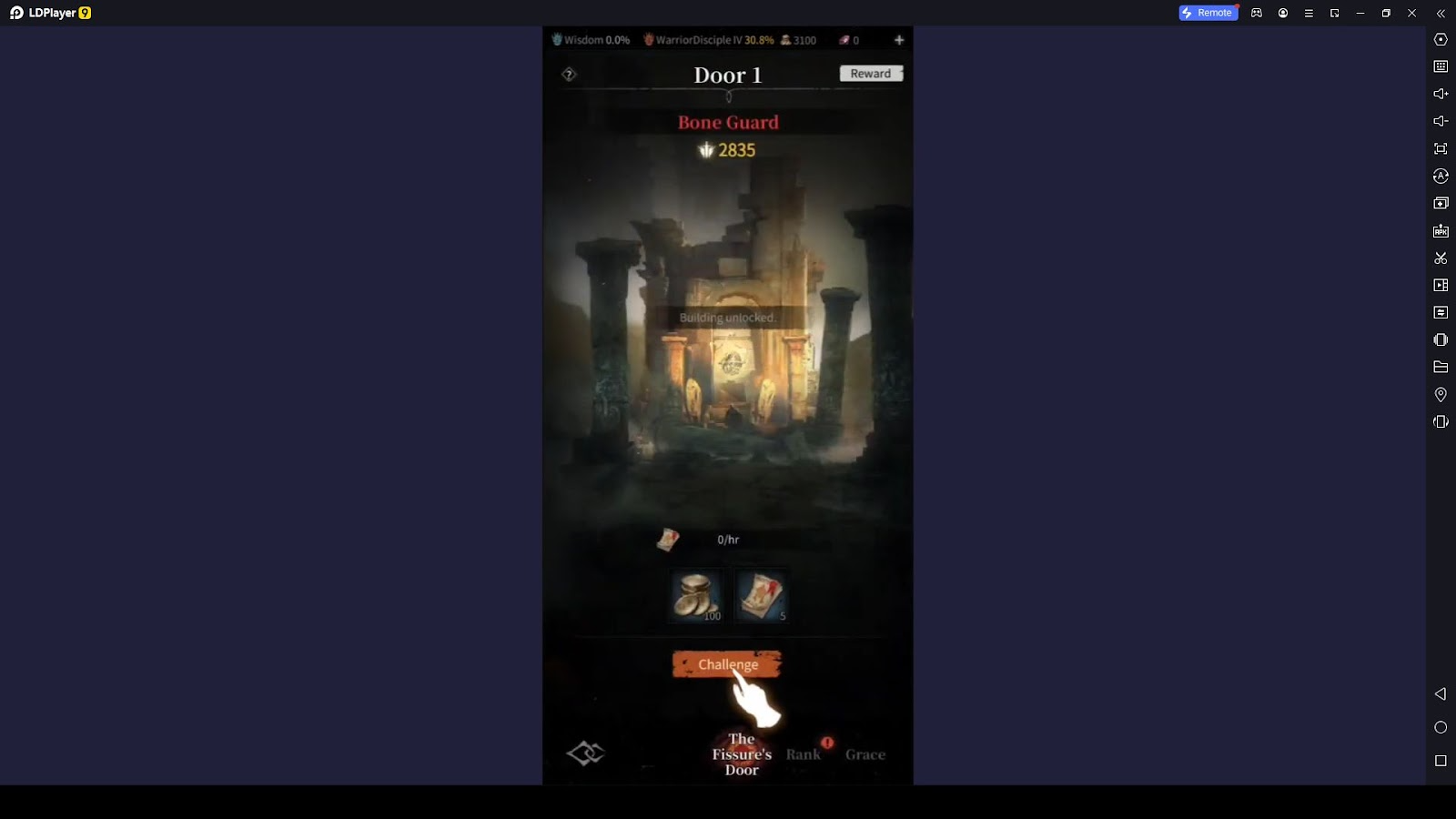 Each door challenge has a specific time limit, and you need to eliminate the enemies guarding a specific door within the given time limit. Doing so will help you to get more rewards for your Dark Banquet gameplay. This game mode has a sweep option where you can get all the rewards accumulated for a certain time.
Explore and Battle at the Same Time
Going to the battle option, you can see various regions. Each region is covered with fog and still not cleared. So you should clear the fog in these regions through explorations while battling. When you clear fog with battles, you can get free rewards for your huge contribution during the battles. During these battles, you may encounter various enemies, and your character must be powerful enough to defeat them throughout the explorations.
Defeating these enemies will depend on how powerful your hero is because you have nothing to do with these battles, and your hero will automatically battle with all the enemies it encounters. As mentioned in this Dark Banquet guide, you should enhance the abilities of your hero to make it powerful. After all the explorations, you will be paid off with the best rewards, so don't stop explorations and battles, as you can earn more resources needed for your Dark Banquet gameplay from them.
Complete Side Quests for Valuables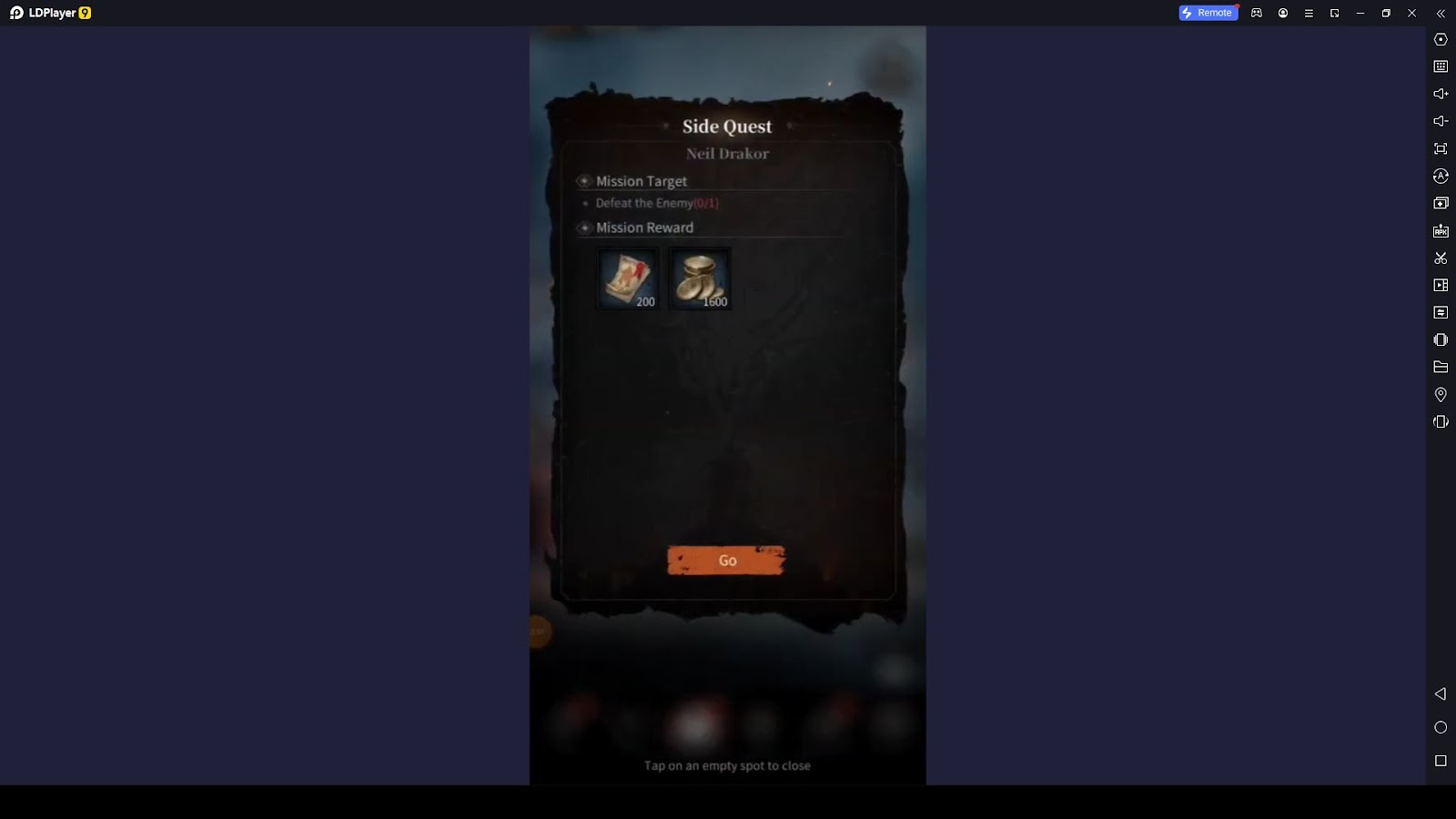 When you go through the game, you will unlock side quests which are another way to get more valuables for your game by completing them. Every side quest lets you do something special such as defeating an enemy, and once you complete them, you can get rewards. The side quests are simpler than you imagine. Therefore, you should complete them without being hesitant. With these side quests, you can claim the valuables you need for your Dark Banquet gameplay.
Equip Gear for Your Hero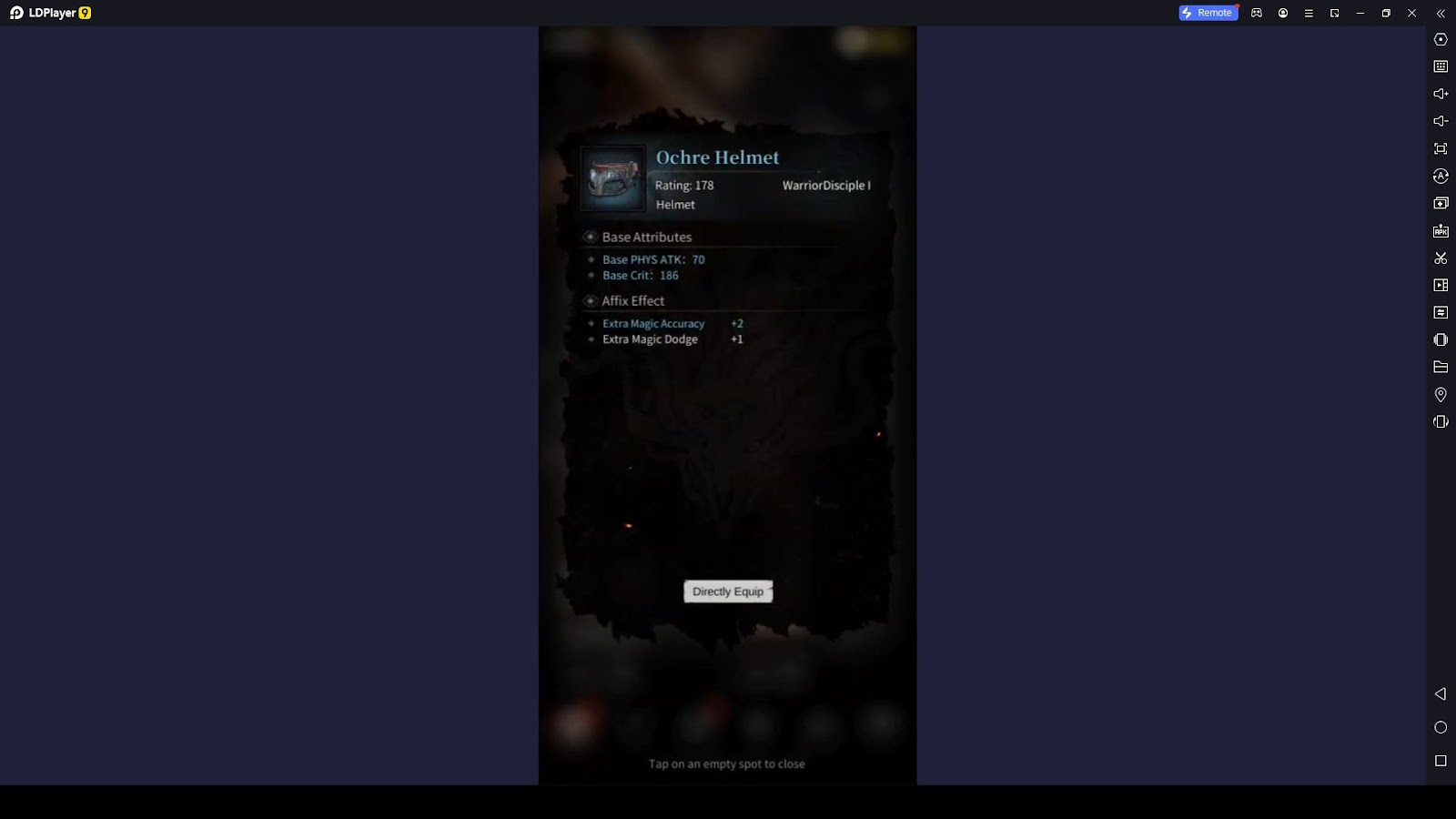 Various gear items can be earned through different means in this Dark Banquet gameplay, and when you earn them, you should equip them for your hero. There are many empty slots in which you can equip different gear items for your hero, and when compatible and suitable gear items are available to equip in these slots, you can equip them quickly. When you equip gear items for your hero, it becomes powerful as the gear items you equip for your hero will provide extra attributes making them powerful enough to deal with any enemy it encounters.
Follow the Tasks in the Grace
When you enter the hero's menu, you can see a tab called Grace; in it, you can see several tasks given to you. These tasks are mainly aimed at increasing the combat power of your hero. So it is good for you to follow the tasks mentioned in the Grace tab. When you follow these tasks, you contribute to increasing the combat power of your heroes even without noticing it.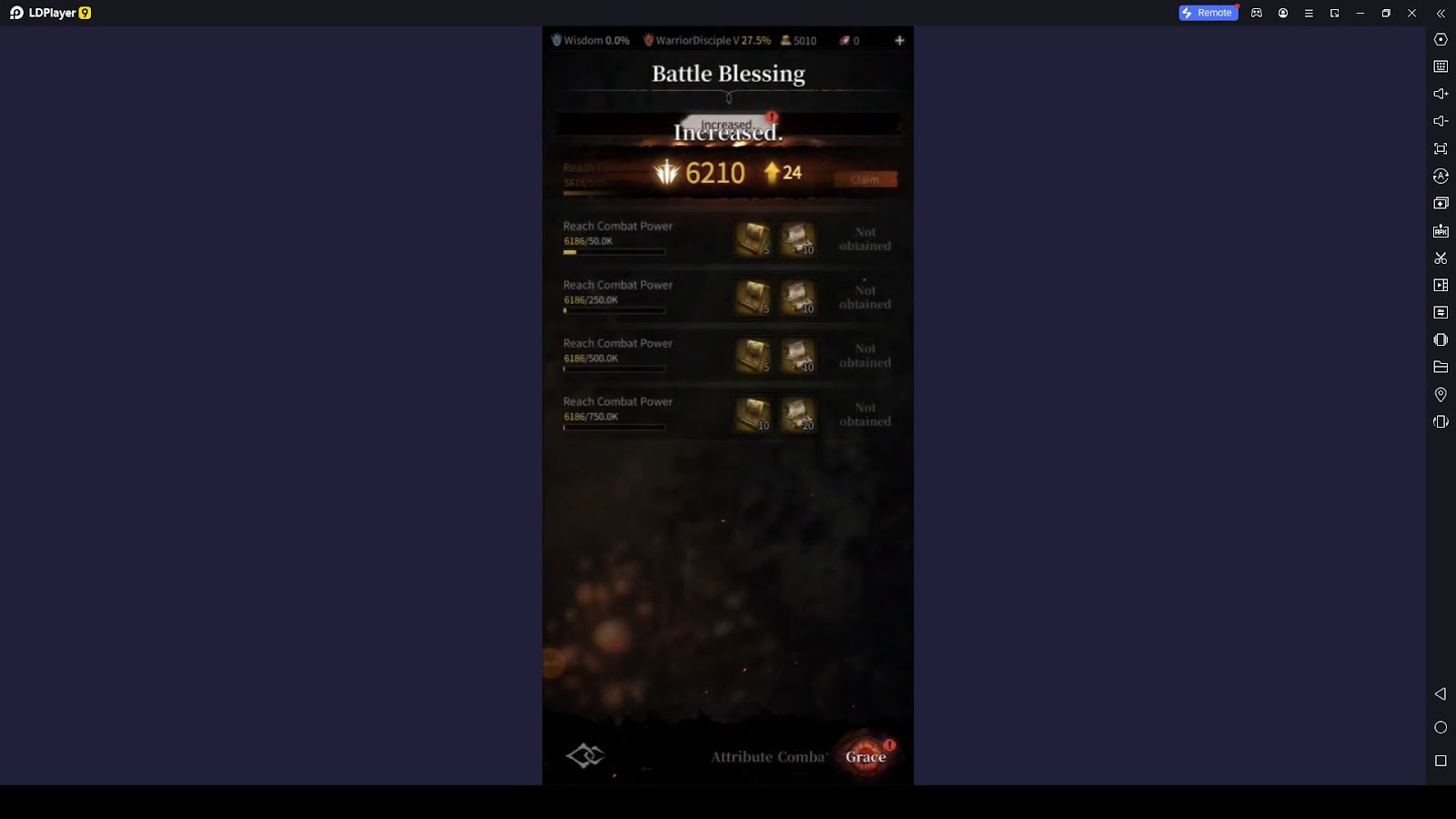 When the combat power of your hero increases, it becomes very powerful. Since you need to power up your hero to use it in any battle, knowing you will only be victorious, you need to follow these tasks in the Grace tab and improve the combat power of your hero. When you complete these tasks, you will receive rewards for every task you complete.
Conclusion
Here we have gathered all the tips and guidelines you should know when you play this game. As everything happens in this game automatically, such as the battles, you should only have to do some little things to ensure that your hero will remain powerful while enhancing its power occasionally. If you follow the tips mentioned above, you can build your hero to the strongest one so that no one can defeat your hero. So, start playing the Dark Banquet game right now with LDPlayer 9 and raise your hero with strength and power using these tips.