Summoners War is a large-scale multiplayer online action fantasy role-playing game. In the Sky Arena, users collect monsters and engage in RPG battles in a stunning 3D universe. Gamers can participate and watch the fight; Monsters can fight in real-time and use skills to attack enemies, giving the game a strategic and participatory feature not found in most mobile RPGs. These experiences can be enhanced with the use of summoners' war promo codes.
Content
The producers of various mobile games frequently provide discount promo codes for their users. Users are usually rewarded with free in-game items, cash, and other products when they enter the codes.
Spending money will allow you to get mana, scrolls, and energy; however, this will not be feasible. You may use these Summoners War redemption codes to gain plenty of free goods from the publishers. These codes are generally distributed through social media accounts and a discord server, and here is a complete list of all Summoners War promo codes now accessible.

Active Promo Codes for Summoners War - 2022 May
Here's a list of Summoners War promo codes that are currently active and working: You can get scrolls, jewels, and summoning stones by entering the codes below.
| | | |
| --- | --- | --- |
| Redeem code | Rewards | Exp date |
| sw2022dec06 | Redeem this promo code for Water Scroll x1, Fire Scroll x1, Wind Scroll x1 | Valid until December 31st, 2022 |
| swc23shallreturn | Redeem this promo code for Mystical Scroll x1 | Added on November 12th, 2022 |
| 2022wfliveinseoul | Redeem this promo code for Energy x200, Crystal x200, and Mystical Scroll x5 | Added on November 12th, 2022 |
| hwanyounghaeswc | Redeem this promo code for Mana x200000 and Mystical Scroll x5 | Added on November 12th, 2022 |
| sw2022nov25 | Redeem this promo code for Summoning stones x50 | Valid until November 30th |
Enter the redemption code in the game's list correctly, including any unusual characters or letter cases. These Summoners War promo codes are usually activated for a limited time only, so use them immediately.
How to Activate Summoners War Promo Codes
You can get Summoners War codes by following the steps below:
Step 1: Go to the Events area of Summoners War on your devices.
Step 2: Scroll down to the bar where you can type the code.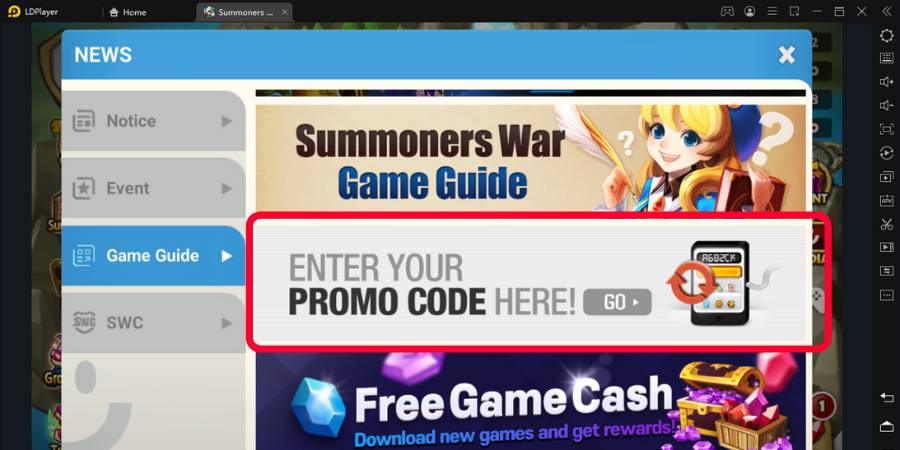 Step 3: Then copy and paste the working code into the "Redemption Code" text area.
Step 4: Redeem the code to get reward benefits.
Releasing Summoners War codes will benefit you more than your enemies, winning battles faster. Summoners War Codes only work for a limited time, so take action as soon as possible to redeem them. Please check back as we publish this site regularly with updated codes.
How to Earn More Summoners War Promo Codes
The most recent summoners' war promo codes are updated regularly via the game's official social media platforms. After reaching a specific goal, the developers usually release new summoners' war codes. And whenever the game developers announce a new partnership or organise holiday events, the summoners war game will provide new Codes and reward all of the loyal players.
Furthermore, because we regularly update this guide with the latest update, you can always check this guide to see which codes have expired and recently been introduced to the game.

How Can You Play Summoners War on a PC?
You may play this game on a PC using the best android emulator, LDPlayer, and you can download Summoners War after downloading LDPlayer by going to their download site. Or else, follow these instructions to play your game on a PC.
First, choose the 64-bit or 32-bit versions of this emulator.
Then go to the LD Store, which is inbuilt within the emulator and lets

you search for games and download them directly to your PC
After downloading the game, you can install it on your PC, and then you can play Summoners War on your PC in the best possible way.
There are various advantages to playing Summoners War on a PC with the help of an LDPlayer. The option to customize your keyboard is one of the most enjoyable features of Keyboard Mapping, which can help you win more battles. The Keyboard Macro command feature thus makes repeated activities easier. Utilizing LDPlayer for Summoners War will most significantly enjoy excellent gameplay.
Conclusion
So those are all of the valid Summoners War promo codes we have for you and keep in mind that they will be changed and updated into the latest stuff quickly. So check this guide regularly to see what's still working and what codes have been modified since we promise to update it with each latest version.