The most recent Seven Knights 2 cheat codes might assist you in leveling up your characters and overcoming some of the game's more difficult boss battles. They aren't strictly necessary. That would be a poor design choice. However, there's no disputing the warm and fuzzy feeling you get when you get something from the developers directly.
If you're new to this massive gacha game, check out our Seven Knights 2 Gameplay Guide for some helpful hints. You can also check out the Equipment and Accessories guide to understand the game more deeply.
Seven Knights 2: Active and Working codes
---
110SEVENKNIGHTSS2 - Five summon tickets (Common Coupon)
Currently, only this single code is active; we will update here if we know any other active code(s).
Seven Knights 2: Expired codes
---
SK2LIVESTREAM - Three equipment pulls (Common Coupon)
QUIDCXZSPFG - 150 white maps (Common Coupon)
SOEFCKSPGJA - 100 rubies (Common Coupon)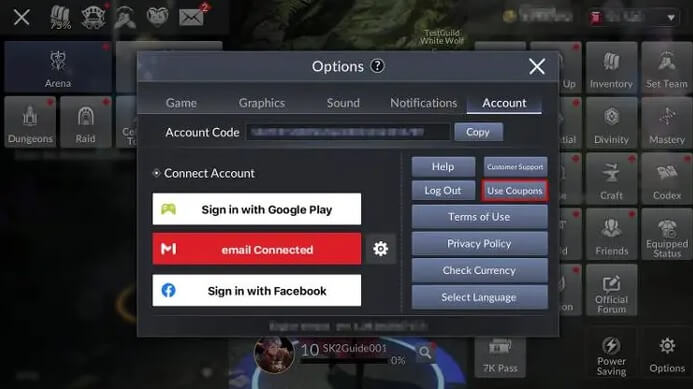 What are the Seven Knights 2 codes, and how do I use them?
---
Create a new account or log in to your existing one.

Navigate to the options menu.

Go to the Accounts tab.

Make a note of your 'Account Code.'

Select 'Use Coupons' from the drop-down menu

Depending on the code you wish to use, go to the Seven Knights 2 Serial Coupon website or the Common Coupon page for iOS.

Choose between a Common Coupon and a Serial Coupon Type, or paste your coupon code and 'Account Code' into the field.

Press the 'Redeem' button.

Your rewards will be sent to you in-game.
As soon as you start the game, you can utilize your Seven Knights 2 codes. Once you've created an account, go to the top-right corner of the launch screen and hit the button. Tap the Reward button under the Account tab. You'll be able to receive the prizes if you type or paste a valid Seven Knights 2 code here.
Instead, you'll have to use the Seven Knights 2 website to redeem the codes on iOS. You'll need to use two pages for Serial Coupons (single-use) and one for Common Coupons (universal). To get to whatever you need, use the links in the bulleted list. To redeem your Seven Knights 2 codes, follow the same instructions to get your account ID and paste it in with your codes.
What's the Difference Between a Serial Coupon and a Common Coupon?
---
Seven Knights 2 distributes codes in two ways: via social media and through third-party promotions (such as merch sales and product partnerships). The former is referred to as Common Coupons. It's a set of coupons that are universal and can be used by everyone. Serial Coupons are codes found on real-world products that are one-of-a-kind and can only be used by one individual.
What are the Codes for the Quiz?
---
Before the game's release, players who completed a promotional quiz received three serial Seven Knights 2 codes to use at launch. Right now, they're all over the game's community pages. However, because they're one-of-a-kind, one person can only use them. They won't work unless they were handed to you by their original receiver, who hasn't used them yet.
When Do Codes of Seven Knights 2 Expire?
---
Codes expire at the end of 2022, according to the fine print on the Seven Knights 2 coupon code redemption site. That's still a long way off. This only relates to serial codes; it should be noted. That means you'll want to utilize a Seven Knights 2 coupon code if you buy something with one by the end of the year.
Why doesn't the Code 110SEVENKNIGHTSS2 work for some players?
---
You can't use the 110SEVENKNIGHTSS2 Seven Knights 2 discount code that's circulating in the community if you're playing on an iOS device right now. This may or may not change in the future. It's a Common Coupon, so anyone should be able to use it; however, the only way to get to the redemption page is through the button, which isn't there on the iOS version of the game.