Play Together is one of the most popular Social MMORPGs made. Based on creating friendships and worthwhile experiences, the game has many activities to enjoy alongside places where you can spend your time and money, like the pet shop and place. Here's a guide that tells you everything you need to know about the game including, Items, Locations, and Popular Mini Games. If you haven't already, you can download Play Together for free on LDPlayer.
Overview:
Play Together is a game that has made many strides. As such, whenever you start playing the game, you might feel confused as to what might be the most optimal way to play it. While there isn't a set guide, here are some steps that you should take into account first: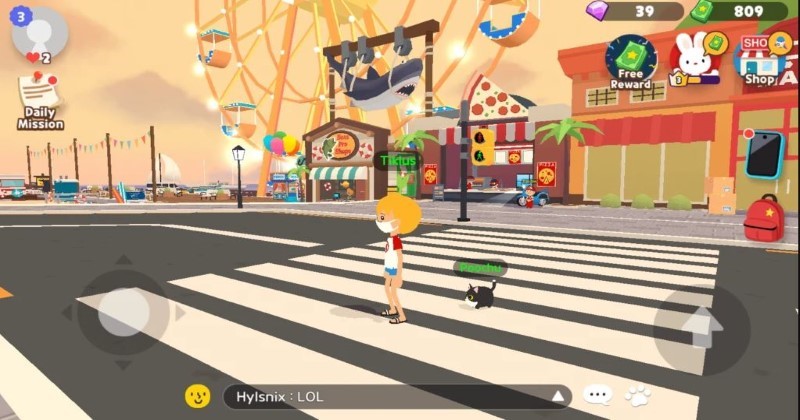 Exploring the World: First and foremost, you should look around the world and interact with the communities present at every location. You will get a feel of where you belong.
Getting a Pet: Getting a Pet is quite a fun part of the game that most players seem to miss. It adds an interesting dynamic to the game and keeps you occupied.
Mini-Games: We've listed down all of the mini-games in Play Together down below. You should try and check out all of them before you pick which one is your favorite.
Purchasing Property:
Purchasing a house is one of the most integral parts of Play Together. While there are many ways to get one, this is the most updated method as it provides you with the latest prices of the houses as well as provides you with complete guidelines on how you can decorate your house, implement furniture and ensure that your house looks as clean as possible at all times.
Firstly, you'll need to start navigating to your hometown to make your own first house. You can do so easily by teleporting to your house by clicking on your smartphone, which is found in the right corner. After you open your phone, a small corner will be appearing on the right corner of your screen with tons of apps and options at the bottom side of your screen. If you haven.'
You can then click on the go-home option to learn more about your house and visit it. This will also be where you can use furniture to decorate your house and invite your friends. When you aren't in the major towns, you will probably be spending most of your time trying to decorate your house or hanging out with your friends.
The house acts as a hub for all major activities that you do in private. Like in real life, you can have parties and engage in fun mini-games just by going to any of your friends' houses or even your house. While furnishing your house is a completely cosmetic choice, it makes a difference in making your place look clean.
Once you are in your house, you can go close to the nameplate in front of your house and then click on the icon that resembles a house. As soon as you purchase a house, you will have a house that looks like cardboard at the start. You can then upgrade it with bucks and gems. When you move over to your house, you will see tons of different houses, each having its perks.
Generally, the size of houses remains the same. However, there are a few differences in size between houses purchased with gems compared to ones that you get from gems. But, all of these are cosmetic differences and do not add a difference to the overall game. Do note that you cannot change the color scheme by a huge margin once you purchase it.
Here's a list of all the houses currently available in the game:
Milk House: 14 Gems
Small House: 7.2k Stars
Doll House: 9k Stars
Cuckoo House: 72 Gems
House With Orange Roof: 10.8k Stars
Modern House: 21.6k Stars
Magic Castle: 172 Gems
Dream House: 54k Cash
House Decoration: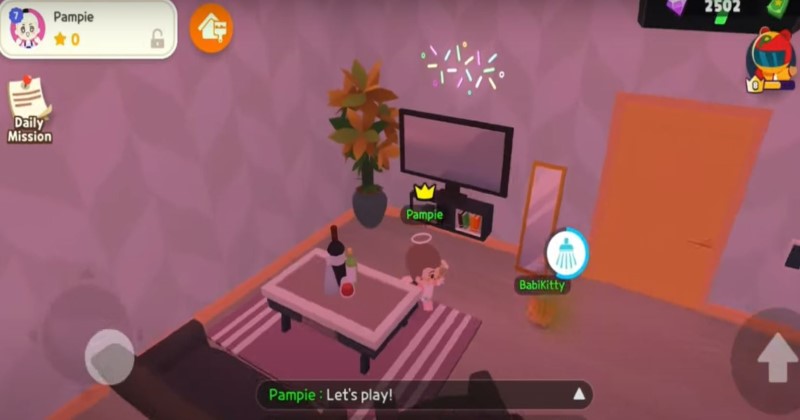 As you get into house decoration, you'll realize that you can buy tons of different items, including new nameplates, fences, and even floor designs. After you get into house decoration, buying just a good-looking house is not all that matters. You also need to spend time decorating it.
To decorate your house, you must enter it from your home town and then when present inside the house, click on the orange color icon that is in the shape of a home present on the top left of your screen. You will then see a shop icon button to the right, which portrays a list of all the items that you can currently buy and decorate your house with properly.
Some notable items are a fish tank, for example. You can purchase a fish tank and place fish in it, which you can then show off to your friends. Moreover, you can also put up a visitor count meter next to your wall, which portrays the number of visitors coming to your house at any time.
Just like in real life, you can also purchase multiple furniture items like beds, sofas, tables, chairs, and more. Like you purchased the house, there's a particular currency that you can use to purchase any of these items. Generally speaking, items that are made up of gems usually look much better and aesthetically pleasing. The reason why they look better is that they are a premium currency and therefore look better. However, that does not mean that items that are made up of stars do not look good. You can find tons of items that are non-premium that still look good.
If you have a pet, you can also buy furniture items from them in your home. If you own a pet, you realize that they have tons of desires, like needing to shower and sleep. Taking your pet to the mall constantly for these needs can get a bit annoying. Therefore, you can just purchase a fence for your house and keep your pet at home. However, their needs will still not be met.
To meet their desires and needs in a much easier way, you can purchase pet furniture items. These items include stuff like pet beds, bathtubs, and more. With these items now at your disposal, you will not need to take your pet to the Shop over and over again and can rest easy knowing that your pet will be taken care of even if you are not exactly close to them.
Moreover, as you get further along in the game, level up, and have more resources, you can also add multiple appliances and electronic furniture (purely aesthetic) like a TV, Computer to make them look more complete and homely.
How To Progress Rapidly:
Suppose you have just gotten into the game and want an idea of how you can progress quickly in the game. Well, there are multiple ways to do that. However, there are somewhat that is always better than the other in making sure that you level up as quickly as possible.
Firstly, you have your Daily Missions. Like any other MMORPG fan, even more, serious overtone, Play Together also has daily missions that you can take advantage of. These Daily Missions, when done in conjunction for a long amount of time, actually reward you with tons of free stars and gems as well on some occasions. You can also start establishing streaks which also provide you with more resources the more you complete them.
Here's a list of all the Daily Missions currently available in the game:
Checking in for the day!

Participate in a game. (3)

Reach level 3 in Arcade (1)

Earn 1st place in Arcade (1)

Play Zombie Virus (3)

Play as the Purple Zombie (1)

Play as human (1)

Drink Lemonade

Eat Spaghetti

Cook

Customize your character

Decorate your house

Help the people of the village (3)

Give the girl balloons

Do police task

Play with your pet

Tell your pet what to do

Complete a desire

Get A+ in school (3)

Attend to classes at school (3)

Earn 100 Stars by selling Fish.

Participate in a game (3)

Send a "like" to a different player. (5)

Eat cake from the mall

Try eating a hot chili dog.

Decorate house yard

Try working part-time at the pizza place.

Go to a friend's house (5)

Try sleeping at home.

Try eating a hot chili dog.

Change clothes at the shopping mall.

Visit the pet shop.
Another factor that can help with your overall XP gain is by completing and doing achievements. To access the achievements tab, you can tap on the mobile icon in the right-center leading up to your game party menu. Once you are there, you can access all the achievements present in the game. These achievements are only unlocked after you unlock all of their requirements. The difficulty of these achievements indicates the rewards that you get. In most cases, you get tons of gems and stars just by completing the hard achievements.
Play Together also has a school setup. While you won't be doing much learning there, you will need to attend it quite often. The main advantage of attending school is that you get to socialize with many people, which the game inherently promotes. Moreover, you can also get many XP and progress much quicker by attending school every day. You also get a streak for each day that you attend that can go on for extremely long times and adds up cumulatively.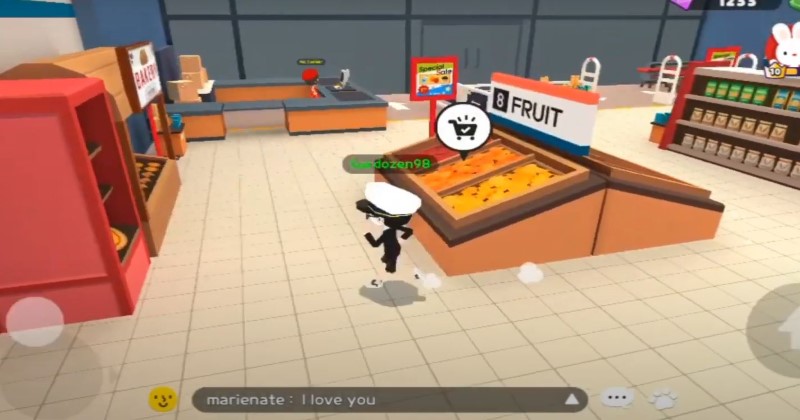 Another way to get tons of XP and is perhaps the best currently is to play mini-games and earn XP. Here are all the current Mini Games in the game:
School: You can attend classes here like Maths, Arts, Biology and more and get rewards and XP from them.
Home Party: Attend and organize home parties with you and your friends.
Fashion Mall: You can buy clothes and also accessorize your character. You can also try on your clothes. Currently, the Fashion Mall has five themed stores.
Car Shop: You can buy two-vehicle motorbikes or cars with stars and gems. You can find Luke inside the car shop, who follows you around as you browse cars.
Pet Shops: You can also buy eggs and get access to pets for beds and bathrooms as well. You can also find the Pet Shop Clerk, who can be found standing near Pet Eggs.
Furniture Shop: You can purchase and buy furniture items for your house. You can find Sara in the Furniture Shop, and she follows you around when you are browsing.
Mart: You can purchase and buy food items. It has eight aisles and has different offerings of Food. You can find Dairy, Drink, Sauce, Snack, Coffee & Tea, Grain, Meat, vegetables, and Fruit isles.
Camping Ground: It is an extremely popular area that allows players to come together for activities to make quests. In the day, you can see players fishing or moving up to the Shrine. In the night, players also gather around the Campsite as fireflies start illuminating the Lake. Players can also catch Fish at the Lake or Waterfall.
Dock: The Dock is found near the beach. It is located within the Plaza. Players can catch Fish and talk to Captain jack and get to the Forgotten Island.
Hot Balloon: Go for a Hot Balloon Ride.
Ferris Wheel: Go to the Ferris Wheel and enjoy the ride by going to any one of these seats.
Outdoor Stage: Enjoy music with the band.
Skatepark: Go skateboarding with your friends.
Pizza Shop: Head to the Pizza Shop to purchase some pizza and get it delivered to yourself.
Beach Café: Enjoy the tropical vibes in this hangout spot that ensures you always get the best sunset view. It is a popular place that lets players gather around to speak with Sika to get Food. You can also deliver pizza for quests for Papa Mino. It is also much more popular at night, where lights illuminate a beach for a beautiful experience. You can also find players nearby fishing in the ocean.
Beach: Go surfing or fishing at the beach. If you are not in for both, you can always go and enjoy a deep ocean swim. You can see boats and lighthouses in the ocean.
Café: Just like the Beach Café, enjoy the view with your friends and feast in!
Ghost House: Exactly like a Haunted House, you get to go inside and enjoy your time with your friends while also getting spooked out. Don't worry, though! It isn't that scary. You can also play the Zombie Virus mini-game there. You can talk to an NPC present there to start the mini-game for yourself and your friends.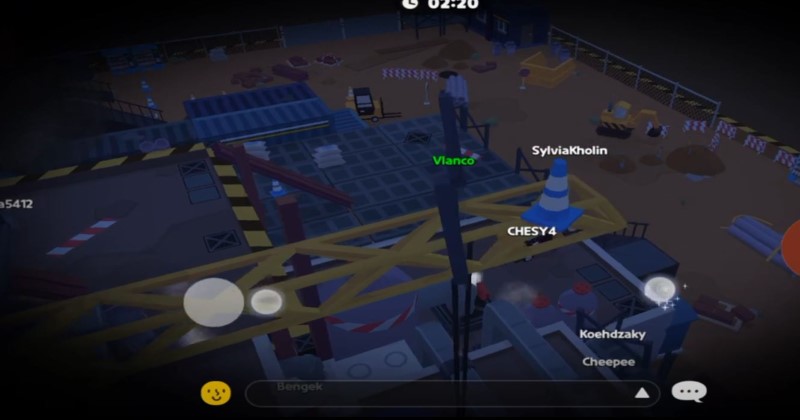 Mini-Game (Zombie Virus): The Zombie Virus is an exceptionally fun mini-game that you can play solo or with your Friends.
Subway: Go home with your friends or take them with you on a fabulous train ride.
Food Items:
You can also purchase various food items in the game. Here's a list of all of them:
Hotdog

Chilli Hotdog

Cheese Hotdog

Pepperoni Pizza Slice

Marshmallow

Grilled Vegetables

Barbeque Skewer

Muffin

Slice of Cake

Bagel Sandwich
Tower Of Infinity Mini-Game: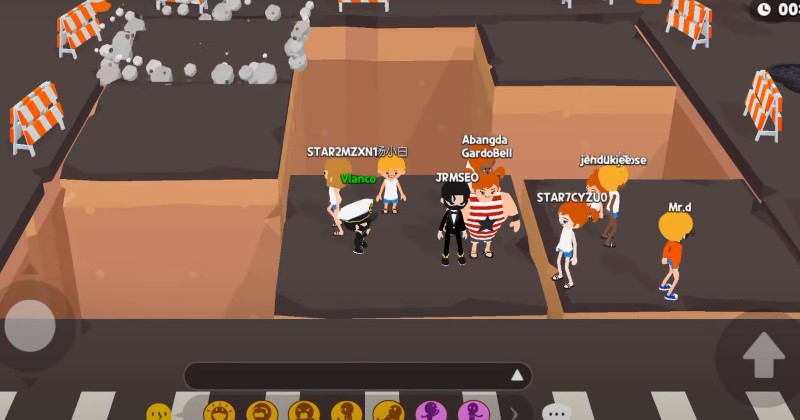 There are tons of different mini-games that you can take advantage of. However, the Tower of Infinity is an extremely popular mini-game that awards you tons of XP and money.
The game has a tower appearing after every 6 minutes. Your goal in the mini-game is to get to the top before the timer runs out. Each tower is unique, with each having its stages. The stages will also appear randomly. The game has no checkpoints whatsoever. So, if you end up falling or also go out of an out of the bound block, you will have to re-start right from the bottom of the tower.
There are currently a few power-up items in this mini-game that provide you with different boosts.
Double Jump: The power-up lets you jump twice. This also helps you reach higher areas as well that also be hard to get to otherwise.
Speed Up: The power-up helps you move much quicker. You can use this to climb a tower faster than everyone else.
Gravity Down: The power-up allows you to become much lighter and also jump higher. This also decreases the effects of gravity.
Invincibility: The power-up also provides you with invincibility from out of bound blocks. So, you can walk away from them with no worries whatsoever.
Forgotten Island:
Another extremely popular mini-game is Forgotten Island which is a weekly event present in Play Together. You can open up to the residents of Kaia Island every weekend for about 24 hours. The main focus of Forgotten Island is inherently to obtain stars and, if you are lucky, exclusive items that are mainly obtained from Golden Boxes only.
Here are all the Golden Box Outfits that you can get from this event:
Zipper Rash Guard Top

Zipper Rash Guard Bottom

Pink Sandal With Holes

Frilled Rash Guard Top

Frilled Rash Guard Bottom

Dotted Ribbon Sandal

Ahoy Pirate Hat

Pirate Captain Coat

Pirate Boots

Pharoah Hat

Ancient Egypt Costume

Desert Sandals

Ninja Mask

Ninja Top

Black Leggings

Box Dinosaur Head

Box Dinosaur Body

Box Dinosaur Shoes
Getting To Various Locations: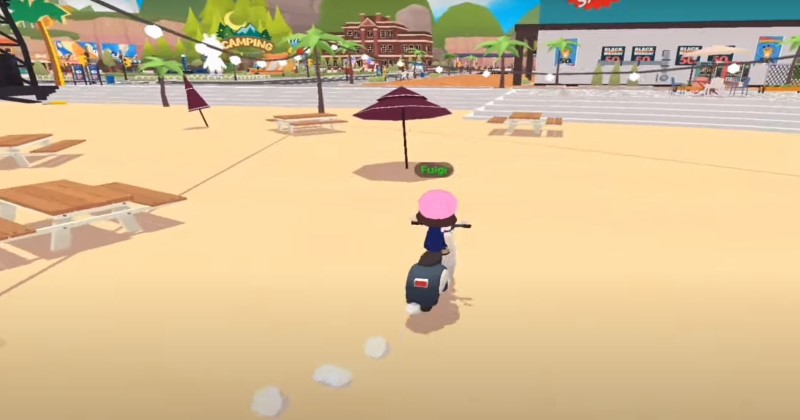 To get to the Plaza, you need to get to the right side of your screen. Next, you will then need to tap on the map. Once you get to the map screen, you will see tons of different spots with hot zones present on the map. You can then get to the town and visit them to perform particular activities.
Info Center: The Info Center provides you with tons of information about the game, which can be accessed on the left side of the center of the screen. There, you will find a map board which you can interact it by opening up your map.
Playing Together In The Gamezone: The Gamezone is where you can access all of your mini-games simultaneously. You can enter it by opening the game center and clicking on play. You can then start playing any of these mini-games, which reward you with stars and crowns.
The game has tons of different mini-games which have you compete with other players. The person who wins will always be the last one standing. In every round, players will also get eliminated if they end up failing to beat others.
Vehicles:
Vehicles are primarily used as a commute in the game. They provide players with the ability from one place to the other. Each vehicle has a special effect which might consist of Boost or Jump depending on the type of vehicle. One vehicle can come in different colors, with each having a different monetary value. The only thing that differs between vehicles is their size, color, velocity, and the number of people they can seat at any given moment.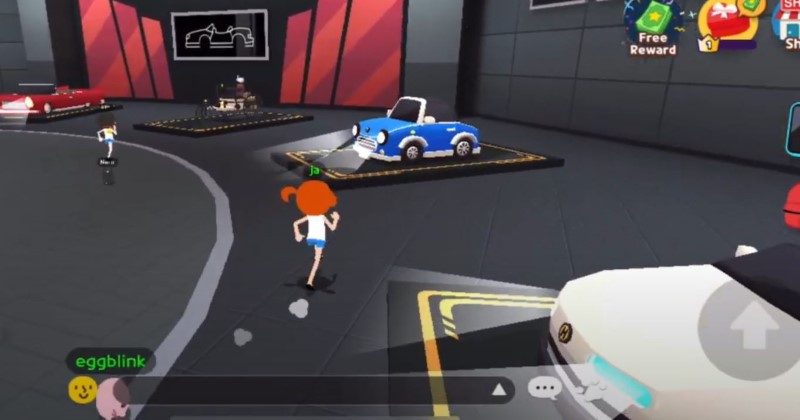 Airport Baggage Card: You can obtain the vehicle from the Global Airline Season VVIP Pass. It has two seats and has a velocity of 3 with a Boost Effect.
Bicycle: The Bicycle can be purchased from a skater and comes in 3 colors; yellow, khaki, and blue. Blue costs 22 gems, and Khaki costs 2700 bucks. It has one seat and a velocity of 3.5 with a boost effect.
Block Police Car: The Block Police Car is obtained from the Enforcement Draw in the Shop. It has two seats with a velocity of 4.5 and has a boost effect.
Bumper Car: The vehicle is obtained only from special events. Currently, you can only get Bumper Cars from compensation whenever the Play Together servers go under maintenance. It has one seat and a velocity of 3.5, and a boost effect.
Cherry Pogo Stick: It is obtained from the Sweet Desert Draw in the Shop. It has a velocity of 1.75 and has a high jump effect.
Classic Sedan: The Sedan can be purchased from the Car Shop. It currently comes in 2 colors, black and yellow. It costs 12000 bucks and has a velocity of 5.5 with two seats.
Formula 7: This vehicle can be purchased from the Car Shop. Currently, it comes in 4 particular colors. It has different colors, Silver, Alpha, Enzo, and Big Mac as well. The silver costs 13500 bucks, Alpha costs the same, while Enzo and Big Mac cost 108 gems. They have one seat and a velocity of 5 with a boost effect.
Mini Blue: The Mini Blue can be purchased from the Car Shop and cost 54000 bucks. It has a velocity of 4.5 with a boost effect.
Off-Roader: The Off-Roader is one of the few vehicles in the game that cost real-life currency. It is available for a limited time in the Shop whenever the Off-Roader Package is available in the game. It costs 14.99$ and has a Velocity of 5.15 with two seats.
Super Pogo Stick: The Super Pogo Stick is a vehicle gifted to some players after Play Together's maintenance. Currently, you can't purchase a Super Pogo Stick. Other than most vehicles, the Pogo Stick is very slow but lets you jump very high.
Convertible: The Convertible is also known as the Roadster. You can purchase it from the Car Shop, and it comes in 3 colors, black, red and yellow. It costs 54000 bucks while the red color is 540 jewels. It has four seats and has a velocity of 6 with a special boost effect.
Roadster (White): The Roadster in White Color has a velocity of 5.5 and can be purchased from the car shop. It has two seats and a velocity of 5.5 with a boost effect.
Scooter: The Scooter is purchased from the Car Shop and comes in 9 colors, the most in the game. Almost all colors cost 4050 bucks while only the white color costs 54 jewels. It has one seat with a velocity of 4 and has a boost effect.
Shopping Cart: The Shopping Cart can be bought from Ms. Cashier at the Supermarket. It allows you to push another player around Kaia island. It has two seats with a velocity of three with a boost effect. It costs 32 jewels.
Side Car: The Side Car is purchased from the Car Shop. It looks quite similar to the SuperBike and has a sidecar attached to it, allowing owners to drive them around with a friend. It has two seats and a velocity of four. It costs 27000 bucks with a boost effect.
Skateboard: The Skateboard can be purchased from the Skater with five color options, each costing 1350 bucks. It has one seat with a velocity of three and has a jump status effect.
Sports Car (White): The go-cart can be purchased from the Car Shop. It can be obtained from getting the Welcome! Vol.2 Package in the Shop. It costs 108 jewels.
Sports Car (Yellow): This is the most expensive and fastest car in the game. It can be purchased from the Car Shop and costs 12000 jewels. It has two seats and a velocity of seven.
Steam Punk Car: The Steam Punk Car can be purchased from the Car Shop as well. It has a price of 540 jewels and a seat with a velocity of four.
Super Bike: The SuperBike can be purchased from the Car Shop and currently has five different colors. It costs 54000 bucks in Orange and Purple. The Blue, Red, and Black Super Bike costs 432 jewels. It has a boost effect.
Social Meetups: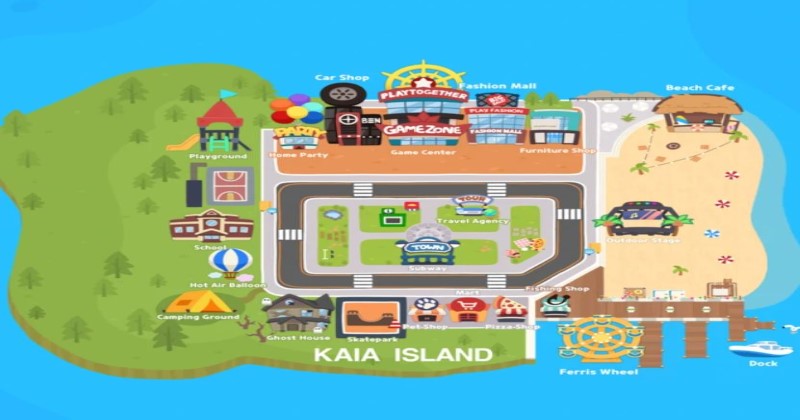 All in all, the factor that drives Play Together forward more than anything else is its reliance on social hangouts, meetups, and friendships rather than the gameplay content itself. If taken in hindsight, most of the mini-games can feel quite repetitive and dull if played alone. However, they are a perfect mix of competition and fun for those who want to make new friends or spend time with existing ones.
You should try and engage in the mini-games and always focus on communicating with people present there and responding to those who wish to talk to you, as it is the true essence of the game. Unlike other MMORPGs where you will communicate due to guilds and parties, no such system exists in Play Together. Instead, your willpower and sheer determination help you become a better player in the game.
Inherently, suppose you just play the game and interact, socialize with other individuals. In that case, you'll end up getting most of the rewards present in the game anyway just by passively completing them. So, buckle up, don't get into senseless grinding, and make the most out of your time playing the game!
Conclusion:
With all of these activities in the bag, you are bound to have a stellar time in Play Together. Make sure to pace yourself and always have a friend or two tag along as it makes the most out of the game.