Brown Dust, published by Neowiz, is a turn-based SRPG with excellent graphics and beautiful anime style. Players will be set in Karian Empire which was destroyed by Devils. Your mission is to defeat the rebellion caused by devils, bring peace to the empire and protect the innocent.
For that, you have to spend time and energy to train mercenaries and fight with devils. Thus, To obtain a better gaming experience and progress the game faster, there are many Brown Dust players are searching for a way to play it on PC. And it turns out that everything will be very simple if you download an Android emulator, like LDPlayer, on your desktop.
What is LDPlayer?
LDPlayer, one of the best free Android emulators in current market, is designed to optimize the PC gaming experience for mobile gamers. With a series of additional powerful tools and features, LDPlayer can easily help you run your favorite Android apps and games on PC. Learn more details about LDPlayer at Emulator Guide: How to Run Android Emulator for Windows.
How to Play Brown Dust with LDPlayer on PC
Now, we will provide you a detailed tutorial about how to install Brown Dust with LDPlayer on your computer. No worries, LDPlayer is a very safe and clean Android emulator and we guarantee that it will not cause any harm to your computer during the setup process

STEP - 1: Click the Download button up there to download LDPlayer and run the installer.
STEP - 2: Open the installer to complete the setup and then run LDPlayer on desktop.
STEP - 3: Head over to the search bar and search for Brown Dust.
STEP - 4: Click Install icon to download it from Google Play or choose Local Install.
STEP - 5: Follow the on-screen instructions to finish the installation of Brown Dust.
STEP - 6: Once installation completes, click the Brown Dust icon to launch the game
When you are all done, enter the empire of Brown Dust and start your brand-new adventure!
Advantages of Using LDPlayer to Play Brown Dust on PC
Longer Duration than Mobile Devices
The core gameplay of Brown Dust is that you get the chance to fight against various enemies and win epic battles with a group of mercenaries. And gaining experience and leveling up your mercenaries must be the key to strengthen your battle effectiveness.
Inevitably, you may have to spend a lot of time and energy to do so. Thus, to ease the concerns about the duration of mobile devices during the upgrade process, you can choose to play Brown Dust on PC with LDPlayer.
Run Several Accounts Simultaneously
To maximize the game rewards and upgrade efficiency, many players are trying to launch several Brown Dust accounts and challenge PVE maps simultaneously. Surprisingly, LDPlayer has developed a useful tool called "LDMultiplayer". It can help you log in several accounts at the same time so that you can cultivate as many accounts of Brown Dust as you want.
Detailed guide of using this tool at : Multi-Instance on Emulator | How to Use LDMultiplayer Tool.
Better Visual Experience with Larger Screen
Set in a world of fantasy, Brown Dust is an excellent role-playing game with stunning artwork. The high-quality design of game characters and battle scenes will surely attract your attention. Compared to the small screen on mobile devices, you are able to truly enjoy those amazing designs with large screen if you choose to play Brown Dust by using emulator on PC.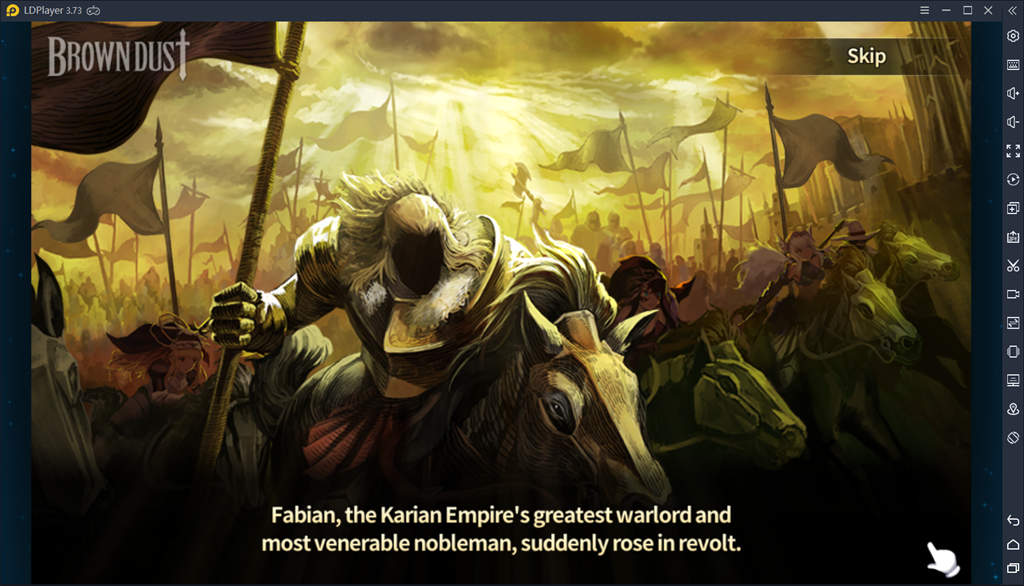 Want to share those stunning battle scenes to others? Absolutely! Video Recorder, one of the most powerful build-in tools on LDPlayer, can help you easily record those important game moments in Brown Dust. More details at User Guide – How to Use Video Recorder.
5 Essential Tips for Brown Dust Beginners
1. Acquire New Mercenaries
Believe it or not, there are more than 300 different mercenaries in Brown Dust. With such a remarkable diversity of heroes, we recommend you explore more as many as heroes before you choose them. You can acquire new mercenaries for Campaign system, Recruit feature and some missions.
2. Upgrade and Improve Your Mercenaries
Generally, the mercenaries of Brown Dust are divided into four distinct groups – Defenders, Warriors, Magicians, and Supporters. As the game progresses, you will find you need to invest more effort to level up your mercenaries for harder fights. Please note that the final improvements for a mercenary is awakening. This action will transform your mercenary into a top-of-the-line hero.
3. Build up a Balanced Team
A balanced team will always be one of the essential winning factors in Brown Bust. And what we mean by balance is the fact that you have to build up a team with the mercenaries of different types. For instance, the front field of your lineup should be filled with Defenders. What's more, we strongly recommend having at least one Supporter which can heal your units in your team.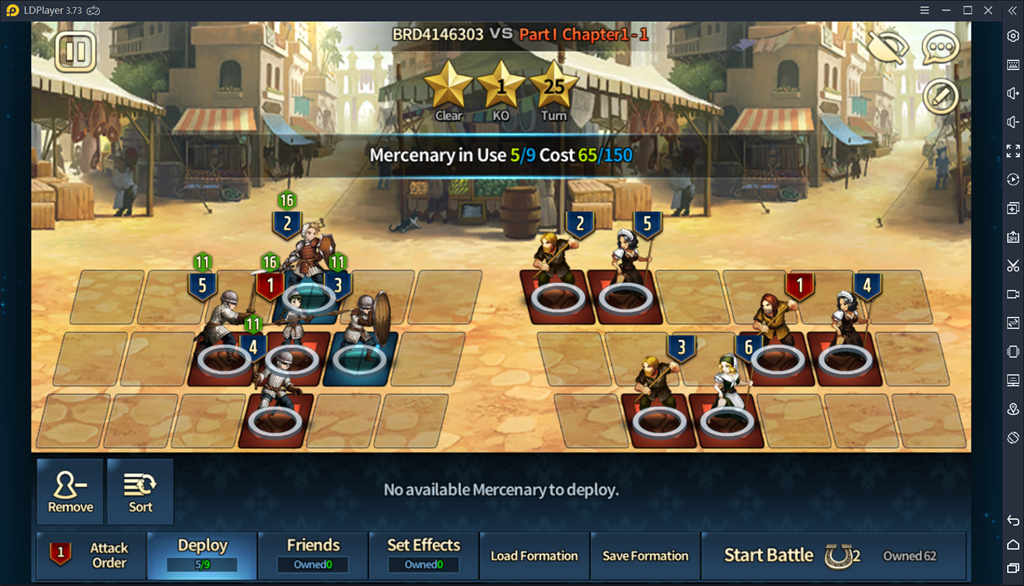 4. Carefully Plan Your Attacks
During each battle, the location, formation, and lineup of your mercenaries will greatly decide whether you can defeat the opponents. And those evil enemies, form demonic, vampiric to assassins, will all stand in your way. That is why it is so important that you need to analyze the situation of your opponents and optimize the lineup of your mercenaries.
5. Utilize the Guild System
If you are tired of fighting alone, you can try to become a member of an alliance by joining a guild. With the guild system, you will get the chance to fight shoulder to shoulder with your friends. Furthermore, the guild resources such as gold, diamonds, and currencies could be shared within guild members. These are always valuable to you.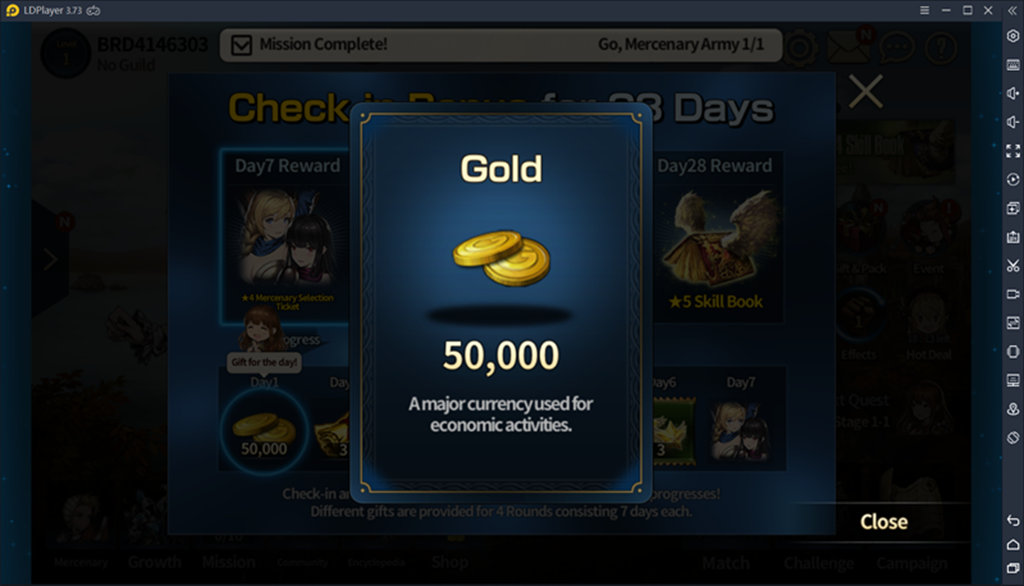 Conclusion
As one of the most popular Android emulators in current market, LDPlayer can help you play Brown Dust on your large screen computer and offer you a better gaming experience. So, what are you waiting for? Now, download the latest version of LDPlayer and bring peace to the empire in Brown Dust.