Developed by Nexon, OVERHIT Global is now available worldwide. As one of the best turn-based gacha RPGs for Android, OVERHIT features all the basic elements: summoning heroes, upgrading their combat ability, fighting campaigns for you, etc. But there are things you may not know about OVERHIT, like "How to get free SSR hero in OVERHIT?" Here, we're going to give some beginner's tips to help you make faster progress and raise your combat ability.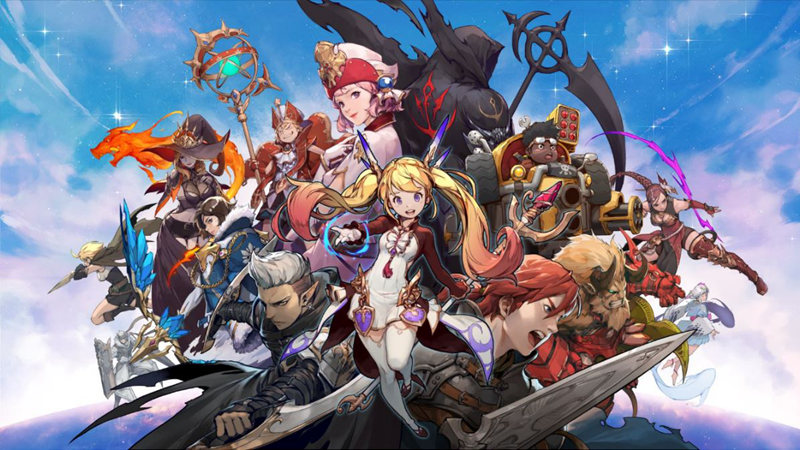 Follow the Guide Missions
This is what we usually do when starting a new game. Just follow the guide missions and you'll be more familiar with the game story, fighting mode, and more importantly, get the reward! Most of our resources come from finishing the guide missions at the beginning. You can access the guide missions through the iron at the lower left side on your screen.
Summon Your Heroes and Build a Well-Balanced Team
OVERHIT has thought about the beginner's gaming experience on the initial stage and will give some initial heroes including Sophia, Ash, Victoria, Cicero and others to enable you to form a good basic team. They are powerful enough to help you battle the campaigns.
Gacha Your First Free SSR Hero
As you complete the tutorial and reach the 1-4 stage in the campaign to unlock the gacha feature, you'll be given a free chance to launch Celebration Gacha. The Celebration Gacha will guarantee you one of the following five SSR heroes: Jasper, Reiz, Blossom, Leika, Teze. Each of them has distinctive skills and positions, helping to effectively perform tasks of any battle. They really are strong starter SSR heroes.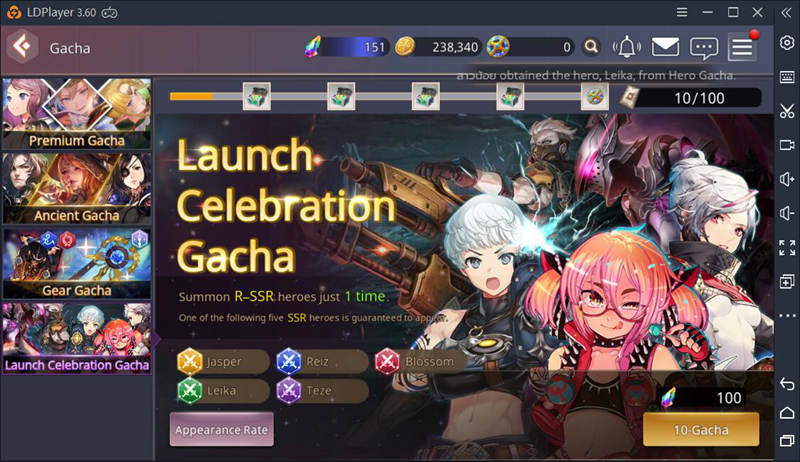 Jasper: Rated 4.8 - Launch a ranged physical attack - Good for PVE, AOE
Reiz: Rated 4.3 - Launch a melee magic attack - Good for PVP, Raid, Single Attack
Blossom: Rated 4.8 - Launch a ranged magic attack - Good for PVE, AOE
Leika: Rated 4.9 - Launch a melee physical attack - Good for Raid, PVE, AOE
Teze: Rated 4.9 - Launch a melee physical attack - Good for Raid, PVP, Single Attack
Free to Reroll OVERHIT SSR Heroes
Blossom and Leika are recommended for starters to roll. If you want to make sure you get the wanted free SSR hero, you can log in as a guest account and don't link it to Google or Facebook. Repeat the initial game play process and remember to collect all the rewards. It will take 100 gems to launch the Celebration Gacha. If you're not happy with the results, then tap the menu button >> Settings >> Info >> Delete the account. Start over and Reroll again!
One Trick to Faster the Rerolling Process
Sometimes we just have bad luck and it takes too much time to reroll again and again. We might run out of patience before we roll our favorite free SSR hero. But what if we create several guest accounts and repeat the rerolling process at the same time? It's possible by using LDPlayer Android emulator. The LDMultiPlayer and Synchronizer features will enable you to log in several accounts and control them at the same time.

Introduction to LDMultiPlayer: Create multi instances to log in several OVERHIT accounts
Introduction to Synchronizer: Control different OVERHIT accounts simultaneously
OVERHIT Team Assembly
Now you may have a bunch of powerful heroes in your hand but you need to effectively assemble them as a well-balanced team. In general, a basic team should compose of two attackers, two defenders and one supporter. The game also has the feature of elemental restriction. (Fire against nature, nature against water, water against fire, light and dark are neutral against all elements except their counterpart) Team formation may vary on different game modes but the basic team assembly should be at least fine.
Check this OVERHIT Tier List and build you team effectively with the best heroes.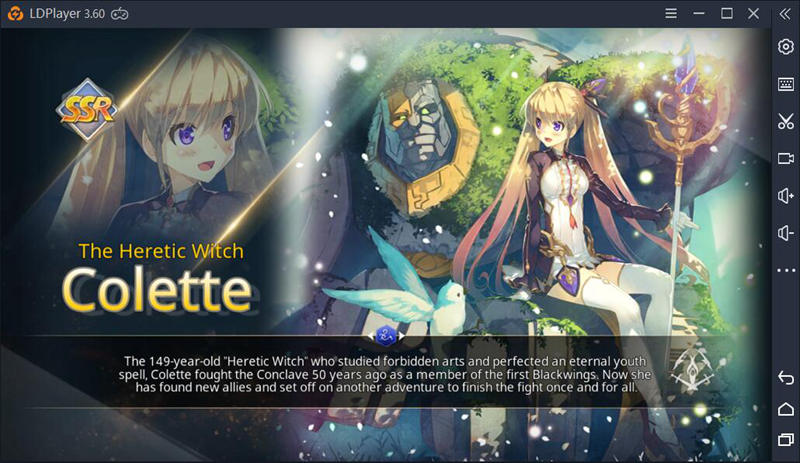 Essential Materials Reference
In-game currencies and materials are must-collect resources and they are used for different purposes. Having a quick awareness of the importance of those resources can help you effectively use them to promote your combat ability and comprehensive strength.
Dimension Gems: Used primarily to summon heroes and purchase materials from shop
Arn: Used primarily to strengthen heroes
Adventure Points (AP): Used primarily to enter campaign dungeons
Essence: Used to increase a hero's abilities
Low/High-Grade Table: Used to increase a hero's special abilities
Level Boost: Used to boost equipment level (weapon/armor/accessory)
Soul Stones: Used to craft heroes by type
Catalyst: Used to upgrade heroes' grade by type
Jewel: Used to upgrade the skills of heroes by type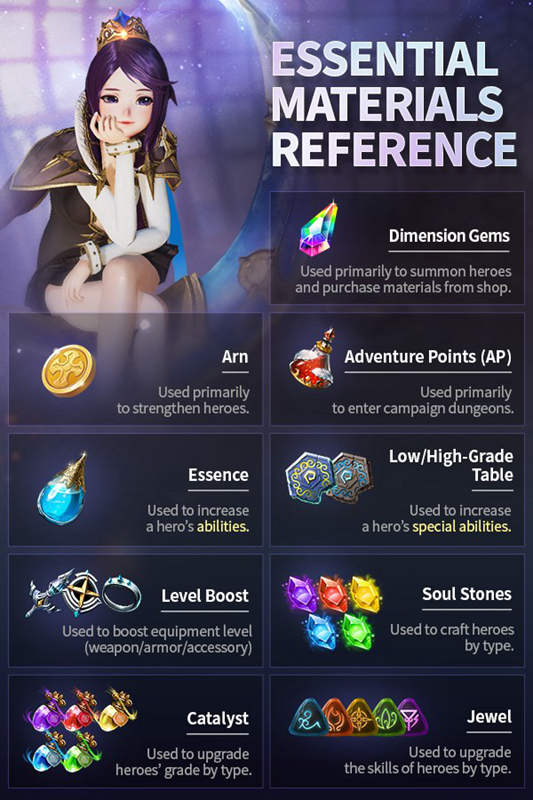 Upgrade Your Heroes
As you complete more campaign chapters, your heroes become more demanding and need to be upgraded. But resources are always limited, especially in the early stage. You have to select those who are worth investing in and spend each available resource wisely.
Fortify the Level
Actually you can gain experience points for your heroes from campaigns and other game modes. This is the primary and basic method of leveling up your heroes. But still, you can also scarify all the N and R heroes to fortify your top SSR heroes through the fortification feature. This is a quick way to level up your heroes without fighting too much battle.
Increase the Grade
Heroes can also be strengthened by increasing their grade, which enhances all of their base states by a significant amount. You'll need catalyst by type to upgrade your heroes' grade from D to S (D, C, B, A, S).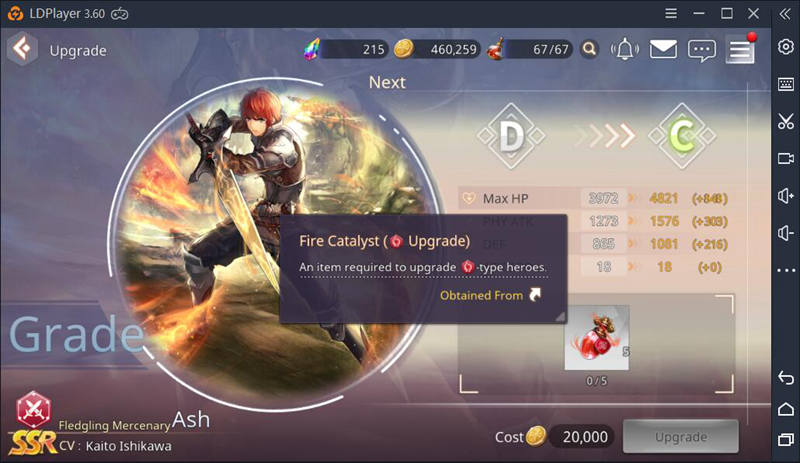 Raise Level Cap
The base level for a hero is 40, which means that heroes stop gaining experience at level 40 until their level cap is raised. Each hero can raise his level cap 5 times and achieve a max level of 65. The requirement for raising a hero's level cap is that you have to use the same hero as material. As SSR heroes are quite difficult to roll, it's suggested that you assemble a team blending SSR heroes with more commonly found SR heroes. (L65 SR heroes are better than L40 SSR heroes)
Activate Hero's Abilities
One easy way to increase your heroes' combat ability is that you activate their abilities with Essence. You can obtain Essence by retiring heroes or through exploration. This will gradually boost your hero's states but different rarity heroes have different limits. For SSR heroes, their abilities can be activated 42 times and for SR heroes, it's 40 times.
Equip Powerful Gears
Like other games, OVERHIT also has the equipment system. Wearing equipment can greatly strengthen the combat ability of a hero. Gear can be improved in a similar way to heroes. You have to use weapons to fortify weapons, and armor to fortify armor. Moreover, you have to use identical equipment items for material to raise the item's maximum level cap. Remember that there are common weapons that can be equipped by all heroes but there are also elemental type weapons that can only be equipped by the same type of heroes.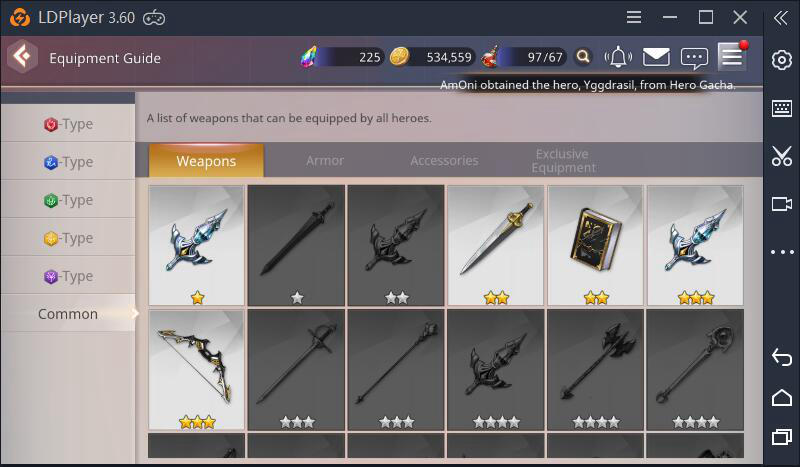 There are more content and features waiting for us to explore, but this is where we will end our beginner's guide. Hopefully those tips and tricks can further your gaming progress. But still, time and resources are needed to invest in the game so as to greatly improve your combat ability in OVERHIT. Find yourself a "helper" by playing OVERHIT on PC with LDPlayer emulator.

Check other Articles Related to OVERHIT