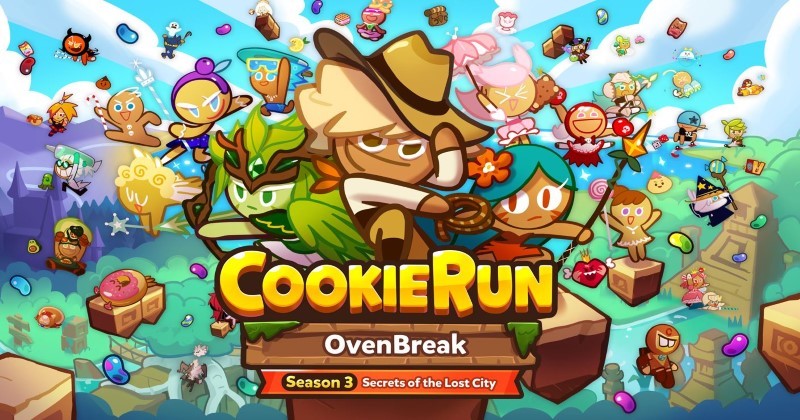 Cookie Run: Kingdom is a resource management RPG game developed by Devsisters Corporation. Your main objective is to build a kingdom to battle and wage war against evil desserts. The game offers a wide variety of classes and characters that you need to sift through to build up a squad lineup.
This game brings tower defense and RPG elements into the same place. Therefore, it offers a lot of strategy with some mechanical depth-integrated as well. Since you have to choose your cookies before a match starts, you always have to anticipate the worst and prepare for it accordingly.
Create New Cookies in The Oven:
You can create new cookies using the Cookie Cutter. You can also create cookies using the Oven as well. If you are not sure of particular lineups, perhaps the best Cookies you can get are Espresso, Clover, and Rye Cookie. Each of them fills in different roles but are usually considered at the top of their respective classes and types.
The Gacha mechanic of Cookie Run: Kingdom is quite strong, with RNG playing a major role in what summons you will end up getting. But, in most cases, you might need to spend some money before you can get extremely good lineups. However, you should not worry so much about your starting lineup, as playing them well can lead you to go quite far without any trouble whatsoever.
Always Balance Your Squad:
Even if you know what the best characters in the game are, balance is still a fundamental aspect of the game that must not be ignored. Whether you are a veteran player or have just started, if you cannot beat certain bosses, there is a high chance that you have the wrong squad balance.
In this game, you have nine different classes to choose from, each with its special abilities and rules. Therefore, you need to compose your squad with extreme precision, or else you might end up losing a lot of battles.
You can also tap the Auto button in the squad lobby, which lets the AI optimize it. This particular button might not be useful in every case as when you move. Further, the AI might not be as strong at drafting compositions for you. So, take all the suggestions with a grain of salt.
Do Not Forget Your Toppings!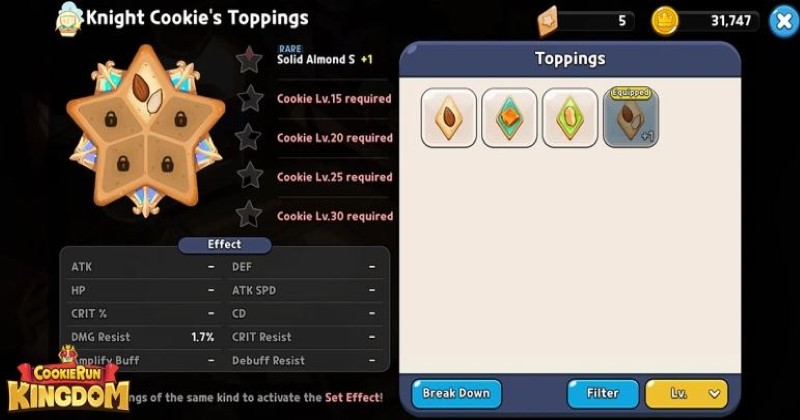 You can make your characters much more powerful by introducing Cookie Toppings to your particular character's skills. Toppings can give different buffs to your character. They can add stats from HD to CD Reduction to higher Attack Damage and Defense Stats.
Each Cookie can have only 5 Toppings at one time. Choosing the proper cookie topping is important as it can make your Cookie extremely powerful very quickly.
Improve Your Cookie Skills:
All cookies have a skill that you can use by tapping on the hero's portrait. You can upgrade these skills by using Skill Powders. You can get these by competing in various events and completing them. After you use your Skill Powder, you get a higher chance of beating your enemies as you will deal a lot more damage.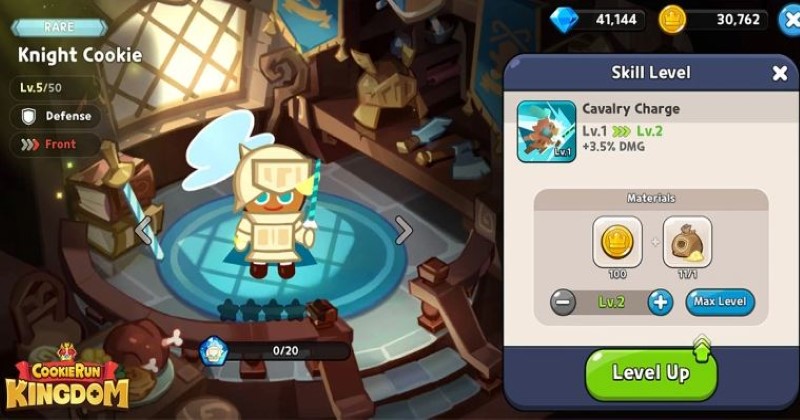 Remember that your skills are going to be the most important part of your Cookie. So, upgrading them using your Skill Powders is of pivotal importance. We recommend that you generally use your Skill Powders on the strongest character in your team rather than distributing them evenly as their skill usage can make the most difference.
Participate in Daily Quests:
Every time you open the game, you can turn into a Cookie Bounty Heater and get rid of Monsters that are most wanted. You can participate in any three bounties a day for a lot of rewards. If you do end up taking up any of these bounties, you get a Skill Powder as well.
Daily Quests are the most consistent way for you to always get Skill Powders. If you want to accumulate them for upgrades, Daily Quests are the way to go.
Donate Your Resources:
The Tree of Resources in Cookie Run: Kingdom gives you free Coins and XP. However, there's a catch! You need to donate a few of your resources to get these rewards in return. There is no upper or lower limit to the number of rewards you can. Generally, they are dictated by how much material you are donating at a particular point.
All of these donations are classified as wishes. You can only make eight wishes every day, so there is an upper limit to the amount of XP and coin you can get from the Tree of Resources.
Use the Tran Station: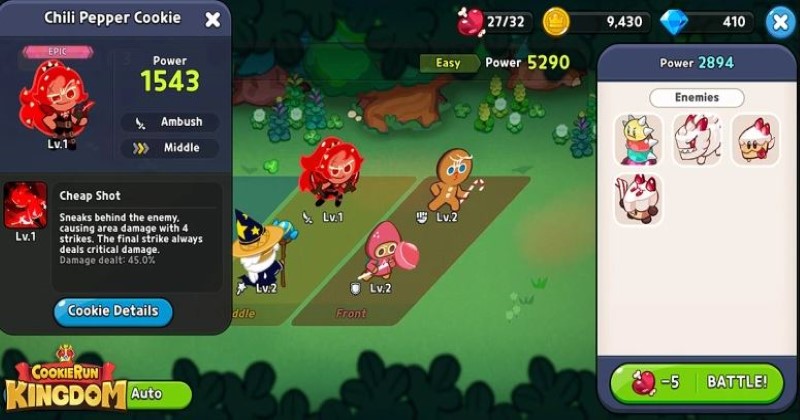 If you cannot collect the resources you need to upgrade buildings, go towards the Tran Station and perform the Jelly Brain Trade. You can then ask and request resources from kingdoms near you and get different materials as a trade offer. These offers are quite pivotal to getting items such as Tall Pillars and Royal Jelly Honey, which are usually not obtainable in the game by normal means.
Send Hot Air Balloon Expeditions:
After building a squad of cookies, send them to Hot Air Balloon Expeditions. If you send a character on an expedition, you get items such as Coins, Cookie Toppings, and more. You also have a chance of getting Skill Powder, but it is not guaranteed.
Hot Air Balloon Expeditions do take away your character for a little while, so you cannot use them in any matches. So, keep that in mind.
Conclusion:
Cookie Run: Kingdom has quickly established itself as a top-gun of Mobile Entertainment. With intricate RPG mechanics, the game has broken the general norms of this genre by introducing something different.
Therefore, it only makes sense that the game is loved by a set of niche fans who are extremely passionate about the game. In any case, these tips should help you get a solid group of what the game is about and how you can get better at it extremely quickly.