Fairy Tale the manga Series has already ended. But the creators of the series don't like to complete the japan manga yet. It is all over the world popularized, and now It has converted into a game.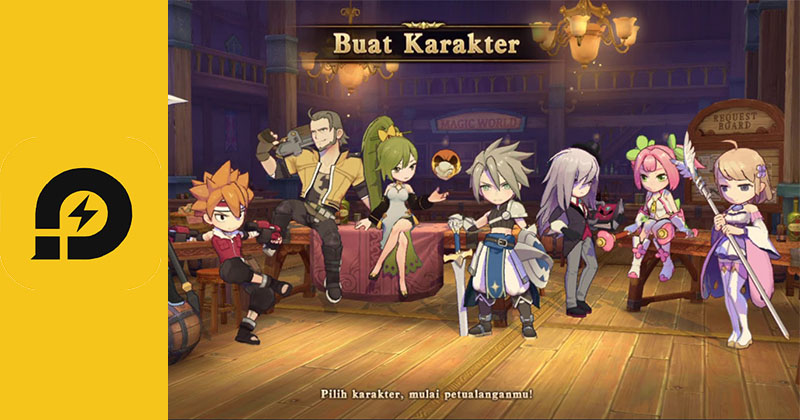 Author of the manga series Hiro Mashima has continued the story to complete the missions by a game. It has become another different story for Natsu and the teammates to going on content by the main characteristics.
Fairy Tale Forces Unite a game that has originated from the Manga series fairy tale by Kodansha. This game will be a release for Asian regions like Thailand, Indonesia, Taiwan, in a garena. It will also be available with a version of the English language to the global with beautiful gameplay and a captivating plot.
You will get into the classes and be accompanied by the guild with our friends. You will be placed to create the strongest guild situated in Mongolia. You can have the same characters in the japan manga series, and it will be closed with its story in gameplay to the story carries in the series.
Once you play with the game as a beginner, you will see that you are engaging in a turn-based game in Fairy tale Forces Unite. Guess what. This game also goes with the RPG lovers. Every RPG game lovers will be so closer to the gameplay of this, and every turn in the game, you are expected to select the move. What move? It's your teammate's moves.
Necessary attacking skills are already opened with the Fairy Tale Forces Unite, and there will be endless powers to make your team stronger. You will experience a world where you see more 3D features in a 3D world, and you will deal with NPCs.
Characters and the Character Creation of Fairy Tale Forces Unite
There will be several characters available in the game Fairy Tale Forces Unite, and all of those characters are taken from the original manga series. Characters are Known to be Nico, Schoena, Sheila, Yui, Crimson, Keneally, Dena, and Tia. Each of these characters holds different types of unique abilities based on the classes, and they have got different types of developing branches with them.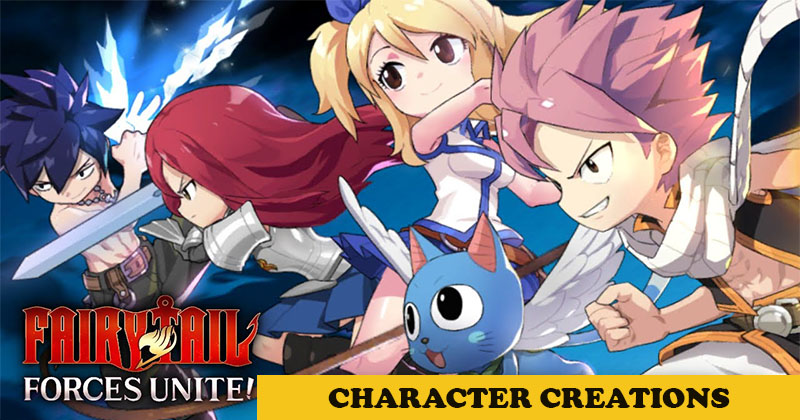 In the Fairy Tale Forces Unite, players can create a development direction, and those will be entirely based on their own choices. You have to make these development directions according to the system levels and determine how your system will be distributed. That is the way you have to create your path. The right type of distribution level can be made you become a SS mage rank in the gameplay in advance.
Character Creation
When you start to play the game Fairy tale Forces Unite, you will see a significant introduction in the game start, and then you will see all of the characters. After that, you will create characters in the game, and you see them sitting in front of you.
As the first step in character creation, you will see that you can create your avatars in the game. Take up your first character as Sheila. She can get a glass of powers she needs as force or velocity. Velocity is a wizard in this game, and if you choose the wizard, you will preview a screenplay of the wizard's gameplay on the screen. T shows how the wizard is battling with the powers.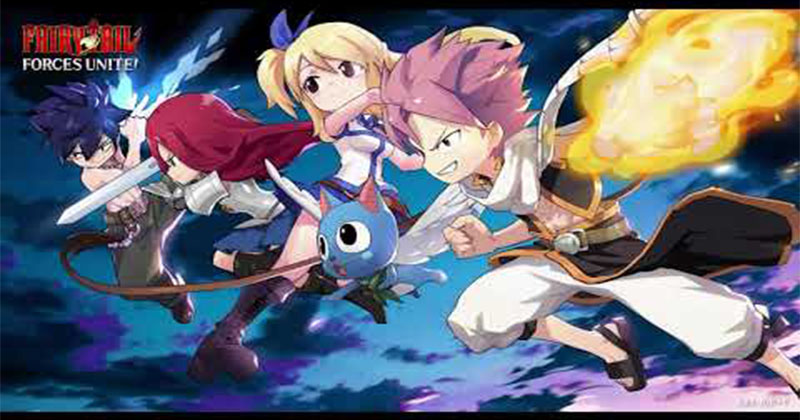 When creating the avatar as your character, you will see different types of skins available in there with Fairy Tale Forces Unite, and they all are going to be very cute and pretty at the same time. So that will be a useful feature available in a gacha game for sure.
Each character belongs to different classes, and they cannot use all of the courses at once. These characters are specifically designed to act in some classes only.
Characters and their Skill Combinations
All of the characters available in the Fairy Tale Forces Unite will hold a class for their unique and powerful skills as follows.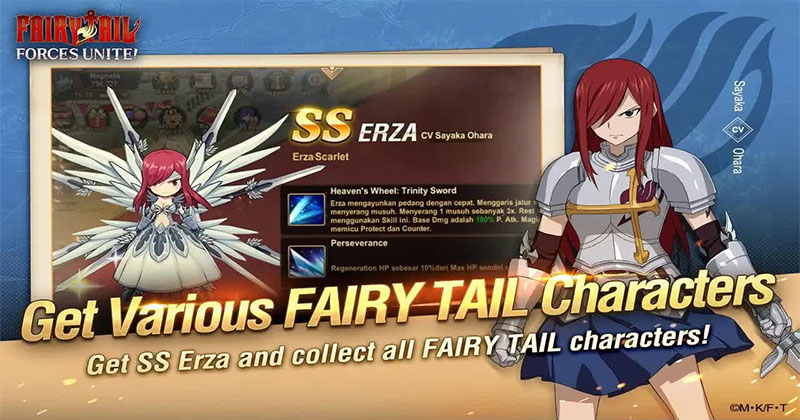 Class Sleet Characters
Nico belongs to the powers of AOE magic attacks, and the class Sleet is the class that goes with her. Her magic attack on the gameplay can clear a path to victory for a player, and powers are associated with buffs and the ices.
Schoene also belongs to the class Sleet and holding the same skill as Nico to AOE magic attacking. The reason for being the same powers as the character Nico is their class. They belong to the same class.
Class Force Characters
Sheila is a one, and Powerful physical attacks are dealing with Sheila. Force wizard is the class she goes with.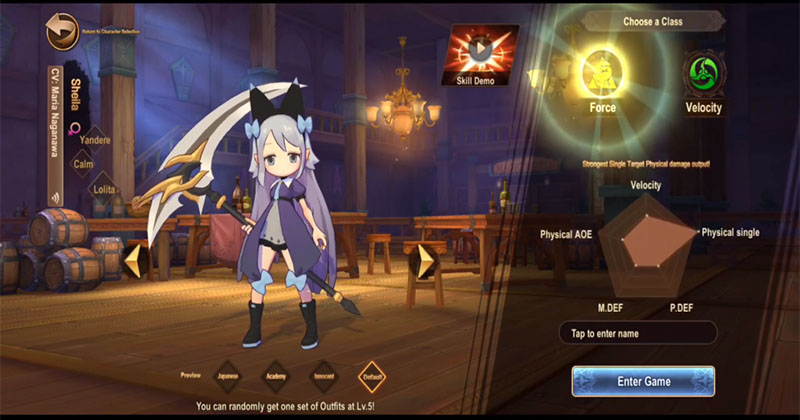 The other character who goes with the force class is Yui and have the same skills as Sheila
Class Alphabet Characters
Class alphabet will control enemies' minds and have mysterious letters to the routine path to the victory. There also comes Nico and Schoena to perform the power of seal controlling and deals with a greater chance to the winnings.
Class Velocity Characters
Crimson and Sheila are the characters to come with velocity magic. If you want to have a more vital ability on both offence and the defence in the battleground, these two are the perfect combination. They both use the high power of speeding up the tactics.
Class Requip Characters
Keneally and the Dena are characters coming with Requip and having a great capacity for physical attacking. Combats will be very easy with these two characters on Requip, and they are capable of dealing with any combat easily.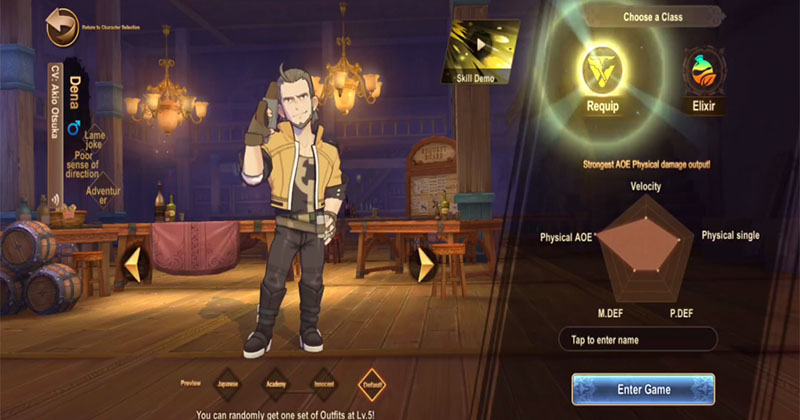 Class Cure Characters
Crimson character is again coming on the class cure, and his other member is Keneally in here. As they will have a forever healing and a recovery with the class cure, Crimson and Keneally will spread their survivability through teammates in emergencies.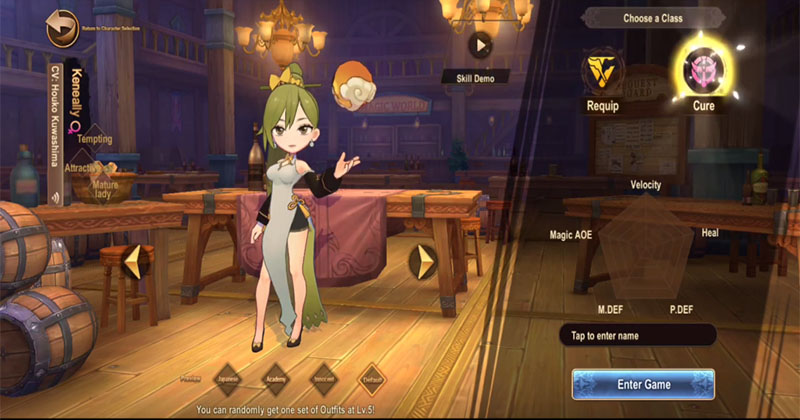 Class Guardian Characters
Class guardian is acting to the protection of their teammates and using a powerful magic shield to attack. These abilities are going with the characters Crimson and Nico.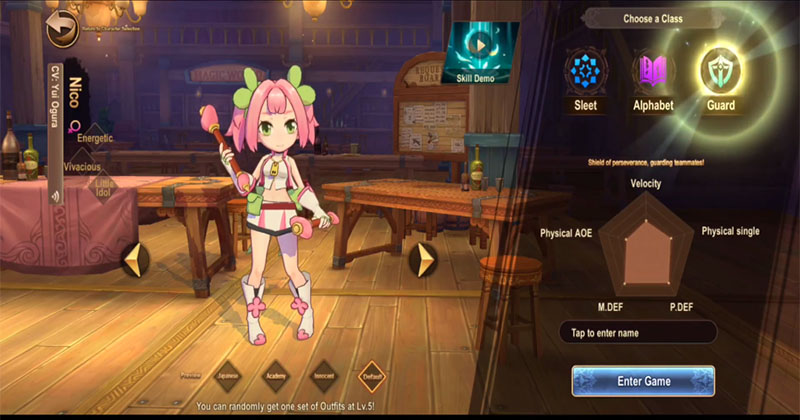 Class Elixir Characters
Tia and Dena are the characters coming with Elixir, and they help support and heal. These two characters are also creating a poison for cure and buff among their team.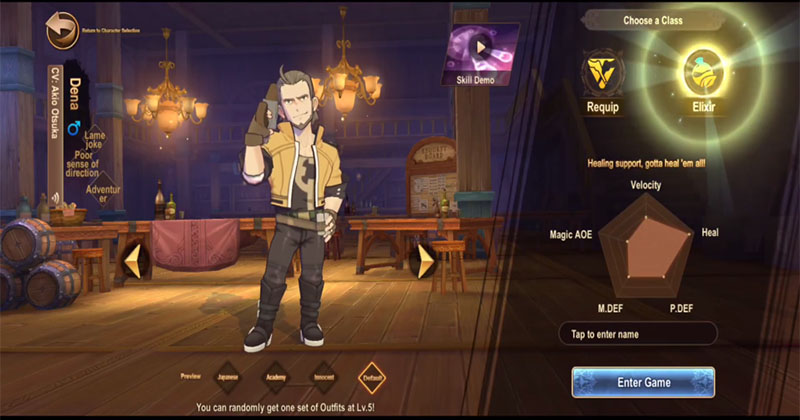 Class Sound Wave Characters
Yui and Tia will be the sound wave characters. They are capable of the attack. These two sound wave class characters are using a sound wave to deal massive damage and use it as a power to take down the enemies.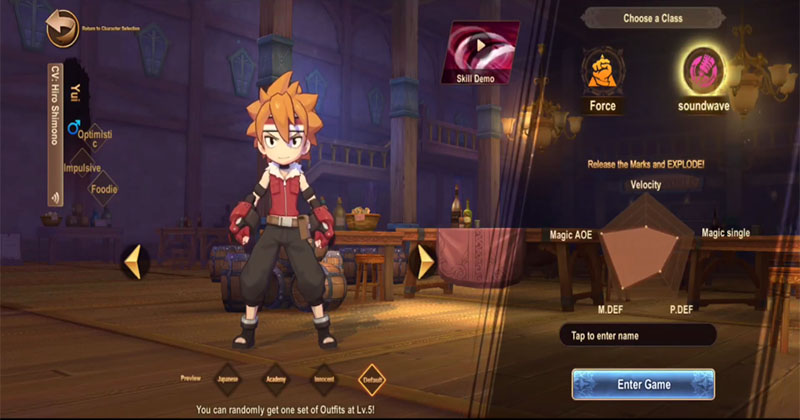 When you consider all these characters, you will see that some characters are repeating on the same lass simultaneously. It will not be a matter because some characters can deal with two different classes all along. If you want to make a powerful team among your all characters, it will be better to choose them from a combination of
Magic + Attack

Attack + healing

Attack + Sealing
So if you consider moving with the characters better to choose combinations like
Nico / Schoena + Sheila / Yui

Sheila / Yui + Crimson / keneally

Yui / Tia + Nico / Shoena
These combinations are not proving that their characters are pretty bad. You can still use them wisely according to the skills they hold and take a chance to test them with their abilities to match your gameplay.
Conclusion
When talking in basics, we can say that fairy Tale Forces Unite's character creation can be fun as they got choices from different classes and schemes. You can customize them from your eye perceptions, and always they will go with the power you are likely most. So pick up a class and choose whatever you like to do with these all characters and reach the fairy tale Forces Unite victory.