Cookie Run: Kingdom is the latest addition to the very popular Cookie Run RPG game series. The game made its way to Android and iOS in January 2021 and is currently available to download on both the Apple Store and Google Play Store.
There's a lot to admire in Cookie: Run Kingdom, as it allows players to build a dream cookie kingdom and protect it from dangerous and evil dessert monsters. So in this guide, we'll be sharing tips and tricks with strategies that will be of use to guide players throughout their journey in Cookie Run: Kingdom.
First of all, in this game, players get to rebuild the Cookie Kingdom and further explore the vast world in order to uncover the story and defeat the evil darkness.
Forming your Cookie Squad
---
If you're having a hard time defeating the cake monsters, balancing your squad with proper attack and defense class cookies is the best way to go. The game offers up to 9 different types of cookie classes that are: Healing, Attack, Bomber, Defence, Ambush, Support, Ranged, and Charge.
Newbie players to the game who don't know about cookie combinations can try choosing Auto In the squad building lobby and allow the game to optimize your squad. Players can also give an extra boost to the cookie squad by equipping treasures ahead of battles. And remember, each player can only equip as many as three treasures at once.
Also, star jelly should only be used to upgrade your character's stats and only use them on characters you plan on using for battle.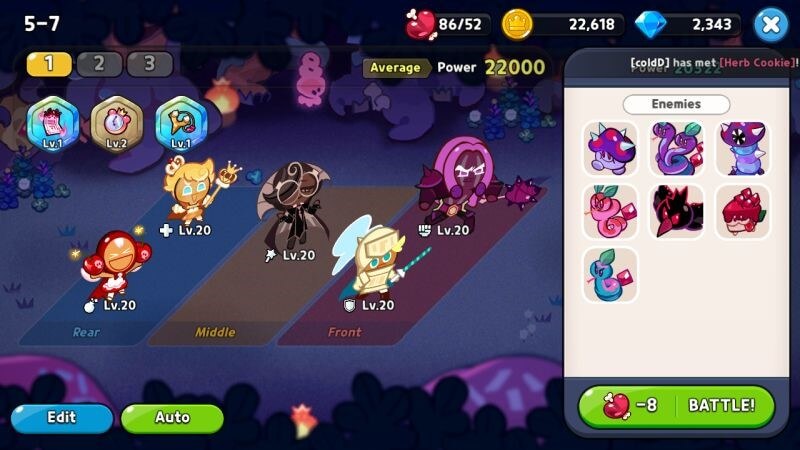 Adding Cookie Toppings
---
Prep up your squad of Cookies for battles by adding cookie toppings on top of their respective cookies. Toppings possess that make your cookies extra lethal which helps them deal with special attacks against enemies such as Extra damage attacks, Increasing HP levels, Reducing cool downtime, Shielding effect, and others.
However, Toppings can also cause you to lose a battle instead of winning one. Always remember that every cookie can have a total of 5 Cookie Toppings equipped at a time; adding anymore can come at a cost.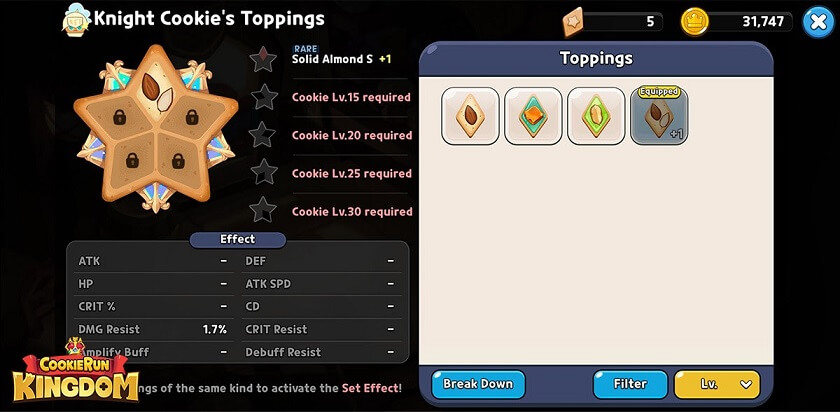 Using Skill Powders
---
Every cookie possesses a special skill and upgradable skill that players can upgrade by using skills powder. In order to get skill powders, you must complete a couple of tasks and take part in the game's Daily Bounties. The advantages of upgrading your cookie's special effect increase your cookies' overall stats and will amp up your chances of winning battles and protecting your squad. We advise looking for ways to maintain balance without wasting resources on one particular skill.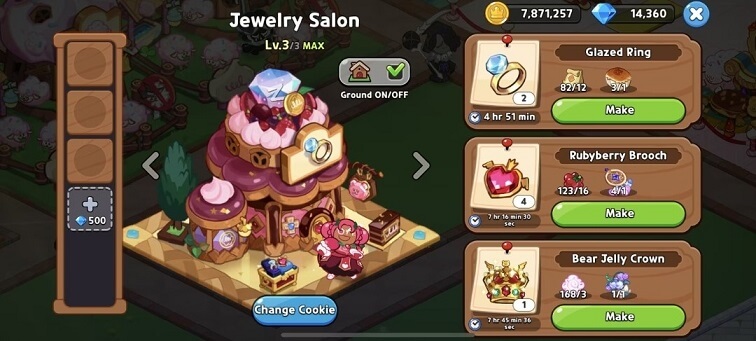 Check out those Hot Air Balloons Often
---
Getting rewards in any way possible is one of the necessary things to do in this game and one of the ways to get free rewards through the Hot Air Balloons. It can be located near the cookie castle. To get rewards from it, you will have to arrange a team of cookies to undergo an expedition trip on the Hot Air Balloon. When you get to the expedition, you'll be rewarded with Toppings, Coins, Soul-Stones, and lots more cool rewards.
Build up and gather up resources
---
Like in any similar game, collecting resources is an important part of Cookie Run and is a key aspect of building the ultimate Cookie kingdom. Constructing buildings such as Lumberjack's Lodge, Sugar Quarry, and Smithy will help you in producing resources for a long time. Also, they can help in unlocking other resources such as Roll Cake Wood, Candy Saws, Sugar Cubes, and many other sweet buildings. You can use Crystals to unlock more slots for storing your resources in case you run out of space.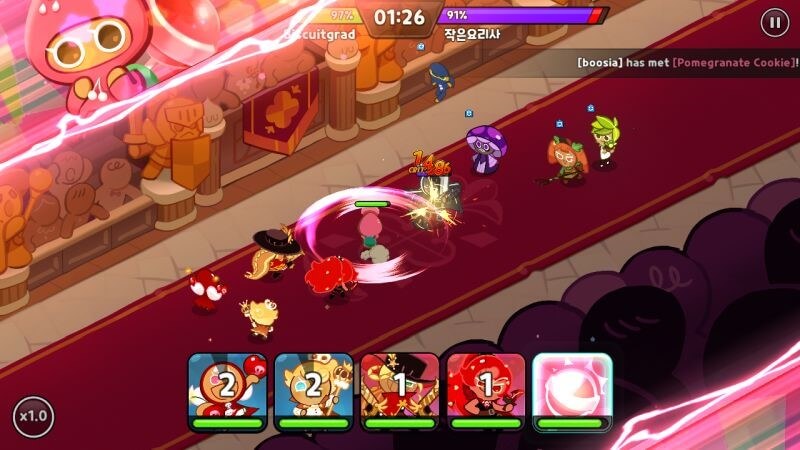 Using Daily Bounties
---
Daily Bounties has to do with creating a squad of Cookie hunters to battle with monsters. If you want more ways of getting resources, all you have to do is join the fight in Daily Bounties. It's an easy way of getting relevant resources as rewards, and you can even obtain skill powders as well. You can only participate in the Daily Bounty thrice a day.
Sharing Your Kingdom's Bounty
---
If you're finding it difficult to collect the correct materials required to upgrade your buildings, you can go to the train station and participate in the ongoing Bear Jelly Trade. Players can exchange items and resources at the train station with other neighboring kingdoms and receive unique materials for theirs such as Royal Jelly Honey, Tall Pillars, Sturdy Bricks, and lots more.
Tree of Wishes
---
The wish tree is a place to visit once in a while if you're in serious need of something. It's a tree you visit and make wishes and have them fulfilled by donating certain necessary materials to the tree to fulfill your wishes. If you fulfill as many as right wishes per day, you can unlock a bonus Daily Reward. You can also get Coins and Kingdom XP in exchange. Note that the greater the donated resources, the greater the rewards you'll be compensated with.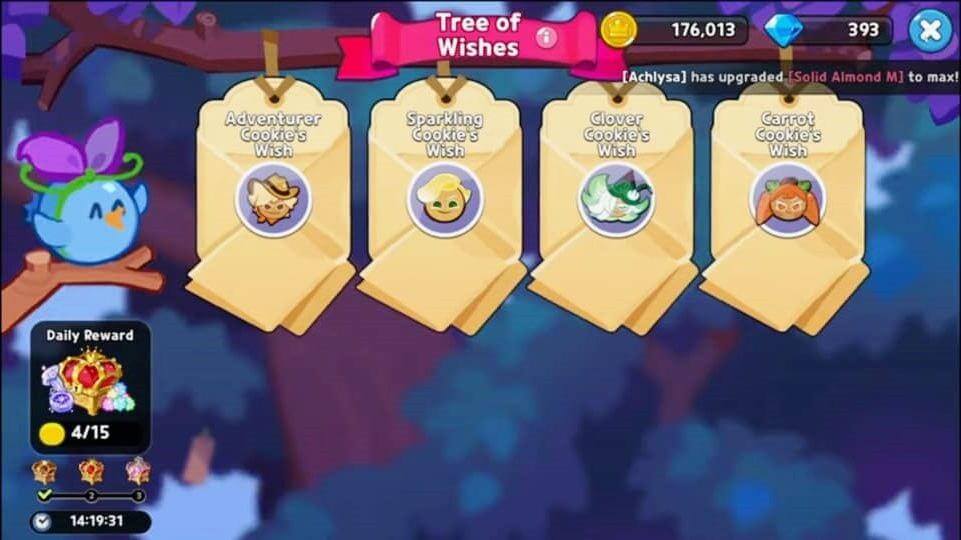 Keep a close eye on your coins
---
Coins are one of the game's important currencies, and you should always have your eyes on yours. You'll need them to progress faster in this game. If you wish to unlock new characters, construct new buildings, you'll need coins to produce these things and more. A lot of things require coins, so you must spend your coins wisely and avoid spending them in less important areas such a decorating and instead focus on spending your coins on unlocking new characters and constructing new buildings.
Conclusion
---
Cookie Run Kingdom has a lot to offer players, and its exciting features are never-ending. You must work your way up, build your dream Cookie Kingdom, and fight off uninvited monsters who wish to destroy it. The game ultimately challenges you to manage your resources while battling enemies and design your kingdom with beautiful decorations and buildings. There's only fun In Cookie Kingdom, and we hope our guide has been helpful to you in building your dream kingdom.