Clash Mini is one of the new strategy game installments from developers Supercell, which allows players to play with other real players using the famous Clash of Clans characters called Minis in this game. So using these minis, you take on other players with minis of their own in intense battles that will take place in the game's mini-board.
The game's concept and overall gameplay offer a new direction for strategy lovers, and the fact that you get to play with some of the characters from Clash of Clans, many players can't wait to get their hands on the game. Clash Mini is currently available in select regions and is scheduled for a worldwide launch in the coming weeks or months.
So whether the game is available to download in your region or not, our guide will help you understand and become familiar with some of the game's concepts and controls (which involves strategizing your minis and sending them into battle). So without wasting any more time, let's dive into the guide.
Collecting your First Duel Rewards
---
After you have completed your first Duel and chosen your preferred Mini, you'll be taken to the next screen, which will see you get tons of rewards to give you a head-start for upcoming battles. The rewards include coins and Mini characters such as:
Healing Ranger
She can throw a magic spear at allies from the farthest range, which helps them heal up to 4 HP.
Mini PEKKA
His attacks have a small chance of dealing X2 of the initial damage to enemies.
Barbarian King
He can increase the damage of nearby allies for a short time with his Iron Fist ability.
Barbarian
This is a regular Barbarian Mini.
Magic Archer
This is another archer whose arrows can pierce through enemies and hit more than one enemy with one shot.
Spear Goblin
This Mini fights with a huge spear that can deal massive damage to them or even take out weaker enemies in one shot if allowed to throw at enemies.
Wizard
Using the wicked Fireball ability, the Wizard can clap his hands and unleash a fireball towards enemies in an area. When using a well upgraded Wizard, the fireball attack can deal deadly damage towards enemies.
Completing Quests
---
Clicking the Calendar option on the top right corner of the screen takes you to the Quest section, where you can complete various quests and earn special rewards. Some quests also come with requirements, such as equipping your newest Mini or minis to your team. And you can substitute minis from the menu screen by simply tapping on the Mini you want to replace and selecting the new Mini from the bottom corner of the screen.
Some Quests will also require you to have a particular mini, not just your newest Mini. The requirement might be to include your Magic Archer mini or Barbarian King mini. Other quests will require you to upgrade heroes before moving on to the nest quests. Completing each quest gives you cool rewards from Minis to lots of coins.
You can access your heroes anytime from your collection, located at the lower bottom corner of the screen. When you click on it, you'll come upon any Mini that can be upgraded in your collection and upgrade it for a certain amount of coins. Once you've upgraded them, head back to the Quest page and claim your quest completion rewards.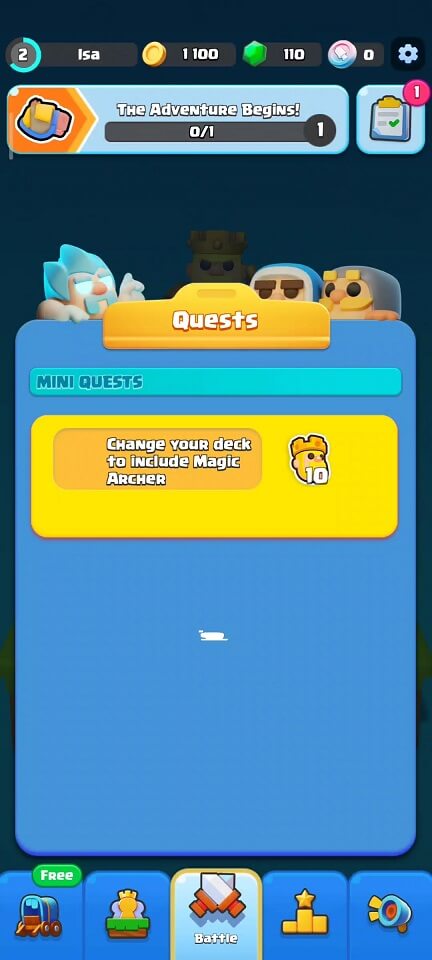 Challenge Coins
---
Completing quests gives you various types of rewards, with one of them being Challenge Coins. Challenge Coins are special coins that you can use to play and win matches in return for extra gold and trophies. To use your challenge coins, click on the Game Modes button at the menu screen and tap the "Switch On" to select the "Ranked Modes" toggle. Once you've done that, click on Duel and challenge a random real-life player like yourself.
The rules are the same when facing real-life players or AI-controlled minis, but it is more challenging against real people, and depending on the type of minis you have on your team, your chances of winning are slim unless you upgrade your minis, the right ones at that.
Archers are also advised against tougher or challenging opponents because of their far-range attacks. If you're using an upgraded mini archer, you could take out Barbarian enemy minis before they even deal any damage to you.
Using challenge coins usually comes off as a quest at first, but you can play it repeatedly to get cool rewards by beating other players. And you can always check the quest section to retrieve your existing quests rewards, which can include different minis almost every time.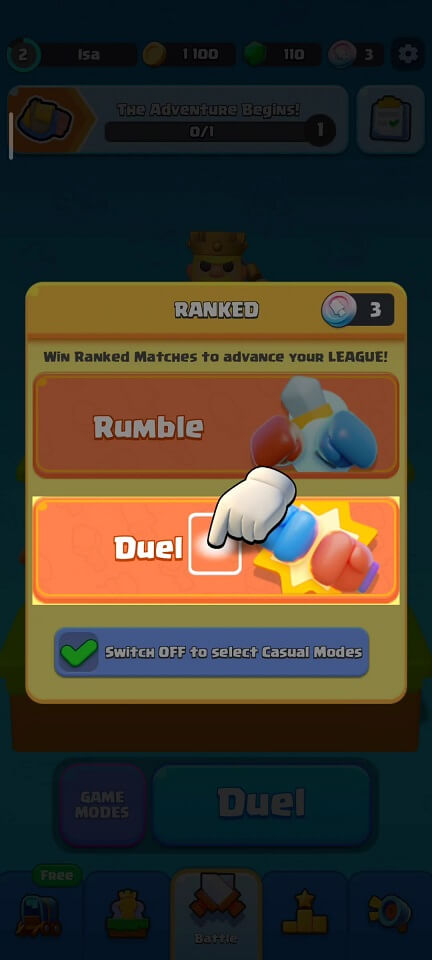 The Shop
---
As usual, a shop is a place where you can unlock and add more mini heroes to your team. Additionally, you can also unlock and use different types of skins for your heroes. And if you don't have enough in-game currency to buy items from the shop, then always remember that you can substitute heroes for better ones gotten from quest rewards or Duel rewards.
Only selectable mini heroes can be purchased from the store, and their prices range from 750, 500 to 250 coins. Playing the Duel helps you progress through the game, and if you progress well enough, you'll increase in apprenticeship, which will see you get tons of rewards as well. You can also view the Top 1,000 players in the league from the game's leaderboards.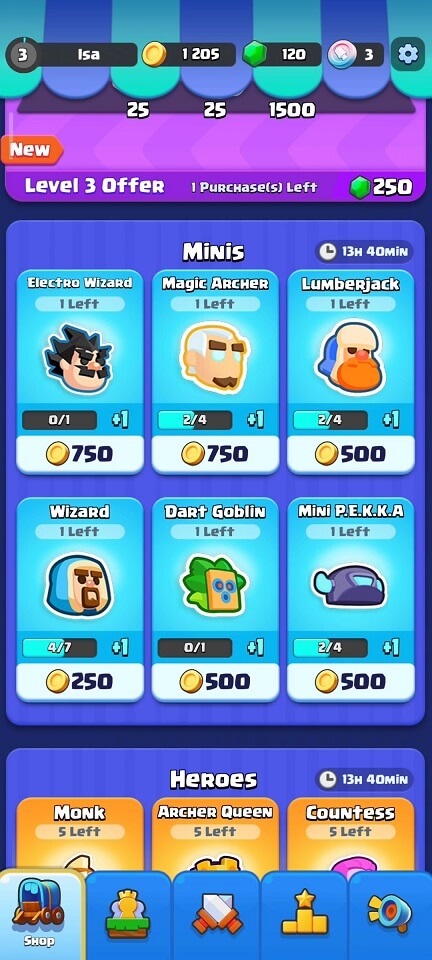 Your apprentice-level will also depend on the sort of opponent you get. If your apprentice level is 3, then your opponent will be pitted against an opponent whose apprentice level is also at level 3. So that's a pretty fair concept in the game rather than just putting you against a random opponent whose apprenticeship is around 10-20.