Blue Archive, as a role-playing game, has gone so far with many events, updates, and more new things added. And here, we have another update released for the game, and it is a rerun. Blue Archive Summer Sky Wish List is returning to the game, and if you are not aware of the things in this event, we are ready to give you every little detail about this new event from here.
Table of Contents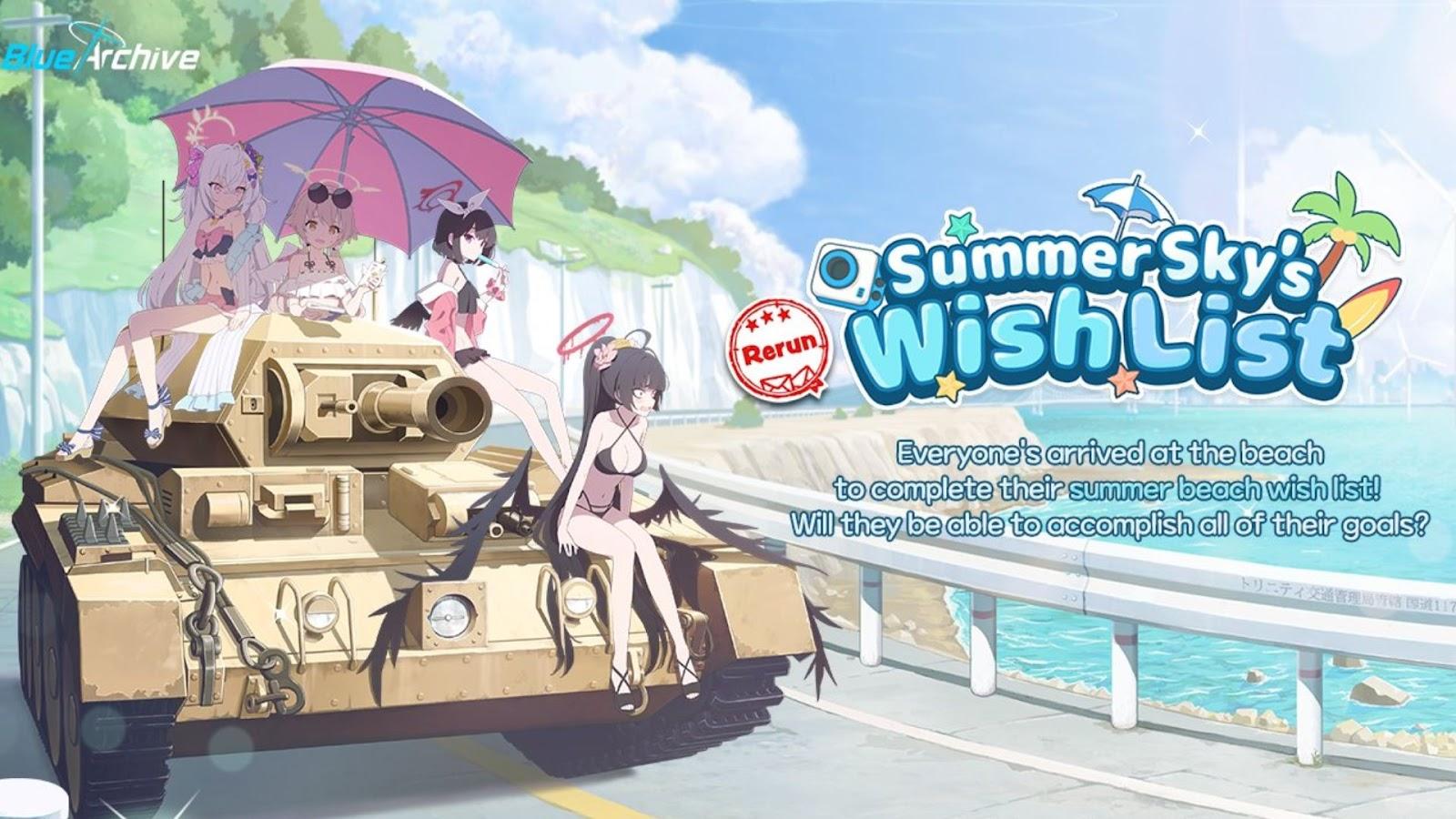 Since this Blue Archive Summer Sky Wish List event is a returning event, it will only last for a short time and is only here for a period of a week. There are several things you can farm, accomplish and earn through the event and let's have a full guide about these. Take your Blue Archive on PC today with LDPlayer 9, and here we are going to have a sneak peek at the event.
Blue Archive Summer Sky Wish List Event Overview
This is an event which makes the Blue Archive summer special, and students from the game now have a goal. They are trying to complete their whole wish lists, and this will be accomplished with many rewards earned. And you will also have the Specialized Student Effect here.
You will have to clear missions 2 to 3, and then it will make you unlock the quest as well as the Story from the Sky's Wishlist. And you will also be able to trade the earned currencies as well as the rewards for taking some items via the Event Shop. You can access the event by tapping the banner for Summer Sky's Wishlist from the main lobby, and there is also an icon for the event coming from the main lobby, which gives the same access to the event.
As a player, you are also entitled to enter the battles with episodes with the Story. And there is also the Quest and Challenge, which allows you to battle without episodes.
The event story, along with its challenges as well as the quests, has already started, and those are going to last here till the 29th of November 2022.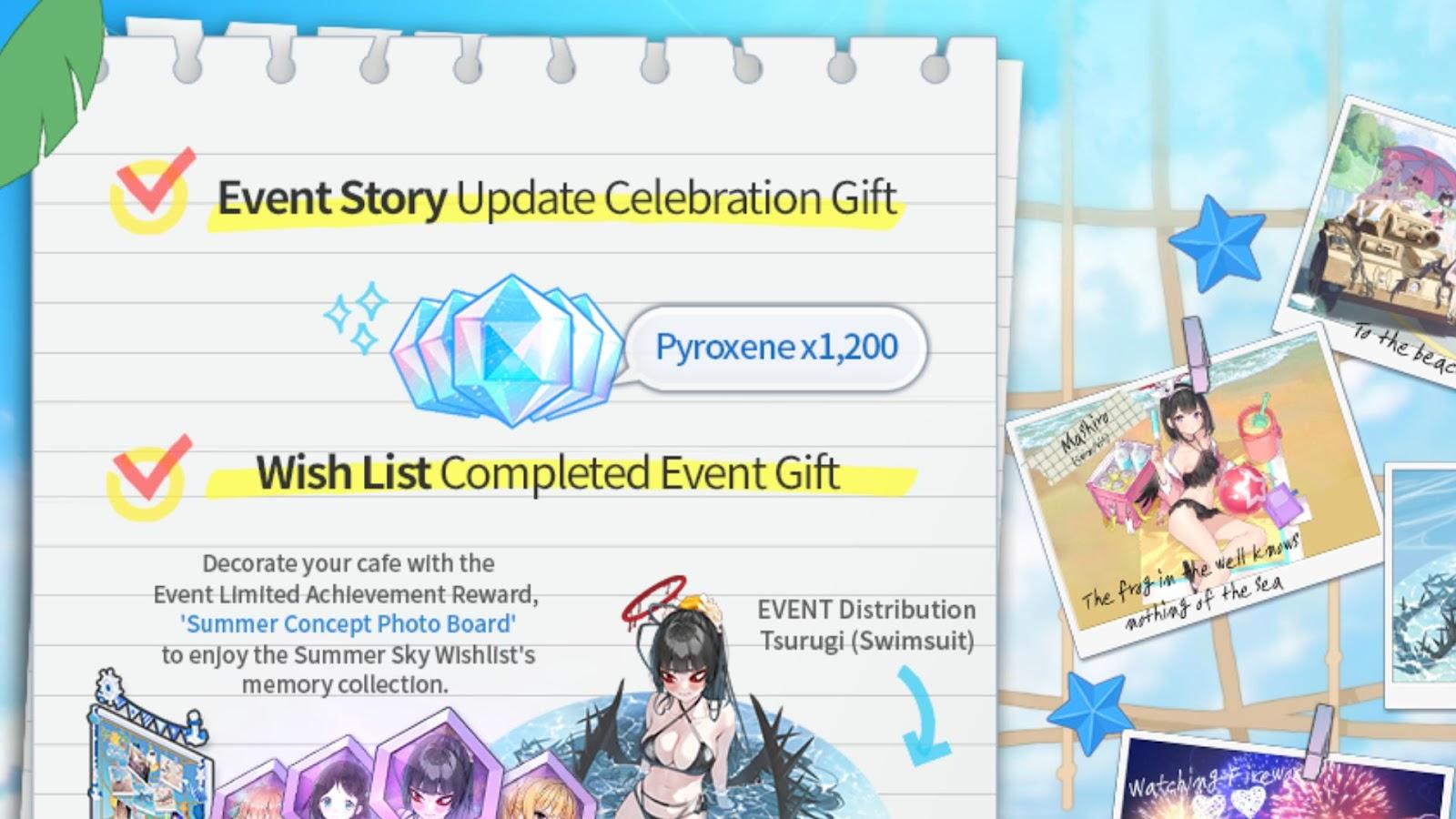 Story, Quest and Challenge of the Blue Archive Summer Sky Wishlist
The Story makes you clear the Oceans Side Road 64, which is the Event Story 01 and will make you earn the one-star Tsurugi. For those who have already earned the Tsurugi, there will be 1x Eligma, and 1x Eleph provided for the Tsurugi. There is no chance to sweep your stories, and there will be Credit Points, event currencies, as well as the Pyroxenes to be earned through the Story.
All the unlocked episodes can be later watched by clearing a story after you have entered the event Blue Archive Summer Sky Wish List.
When it comes to the quest, it is sweepable, and there are 30 Pyroxenes to be earned with three stars on each quest. Same as the Story, the same types of currencies with points can be earned with the clearing of event quests.
Then there is the Challenge, where it takes 5AP for the entrance, and this is not allowed to sweep. There are 3-star clear rewards to be earned here with the first-time clear rewards, and those are the only things you will obtain through these challenges. If in need, there is also a chance to replay these challenges, but it doesn't allow you to earn additional rewards.
Artifacts to be Prioritized with the Event
If you need to know which artifacts you need to give the main attention to, there are a few as follows.
Ether

Hard Drive

Biscuit

Roblox Face
The artifacts are not limited to these; you can go for anything you want.
What Quest Stages are Needed to be Farming?
Since there are a lot of quests available with this Blue Archive Summer Sky Wishlist event, we recommend you for the numbers 5 to 8 because those are coming up with the most balanced rarity drops. And you better note that these quest stages will drop you more T2 to T4. But if, in any case, you have enough of them, it is okay to follow up with the 9 to 12 quest stages too.
Daily Missions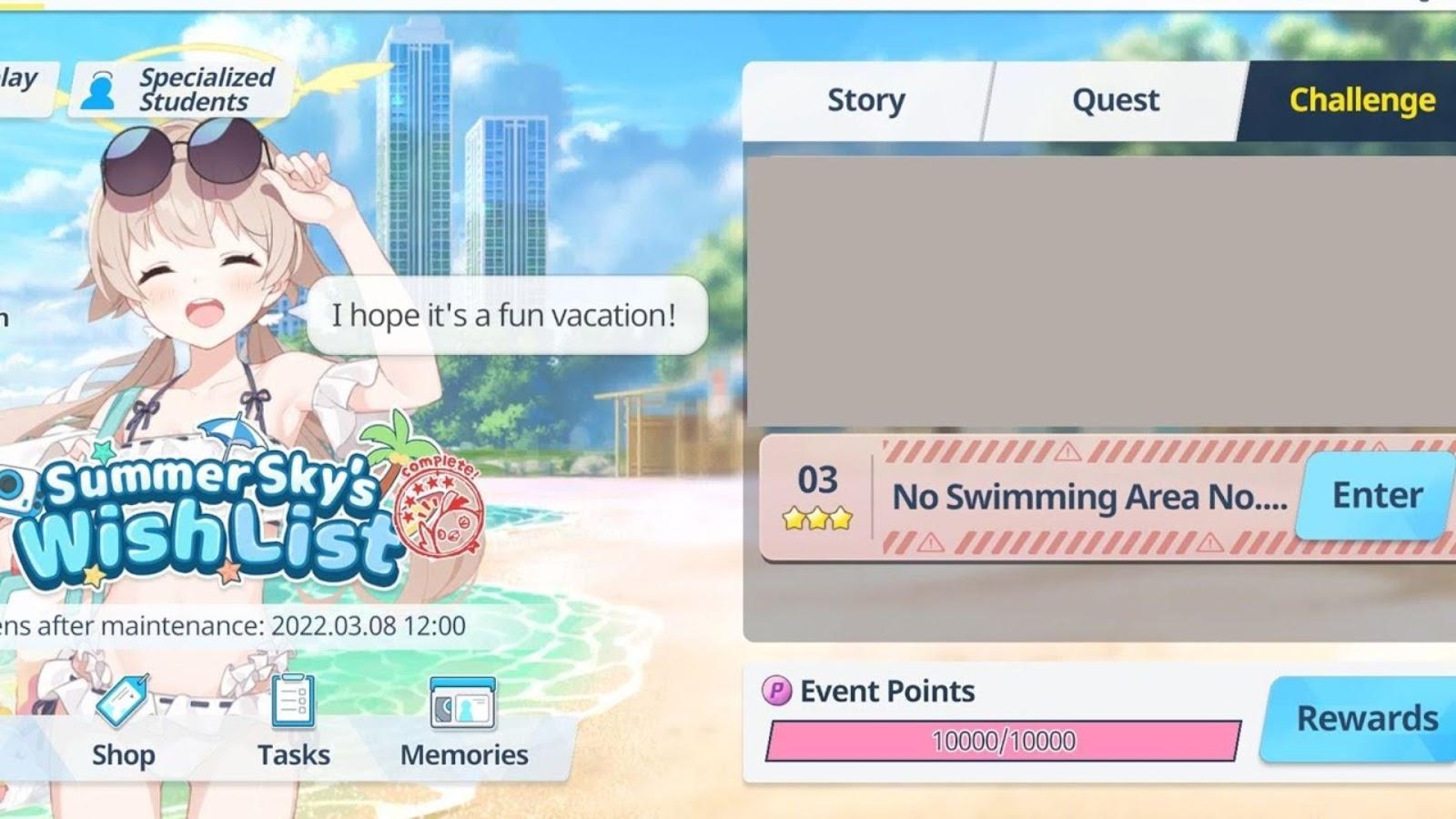 Blue Archive Summer Sky Wish List is also coming with some daily missions. So you must make it a priority to clear them all before you start doing other things from the gameplay itself.
Blue Archive Summer Sky Wish List Event Shop
You can take several things from the event shop, but not all should be taken if you already have some from participation in the previous event. There will be items to be taken from the Beach Volleyball and Weird Fireworks as well as from the Beach Shack Meal Ticket shops along with the Event Point shop.
The event shop will be there until the 06th of December 2022, and you can exchange the four currencies you have already earned there. The Icebox, Beach Chair, Sand Play Set, Water Play Equipment, Parasol Table, and Sailing Board will be there as the items in the Event Shop, and once this shop has been closed, the currencies you earned will be exchanged for the credit points. It will follow up a ratio of 1:1, and every credit point will be sent to the mailbox.
Conclusion
And with all that being discussed, we have come to an end for this Blue Archive Summer Sky Wish List guide, and it is time to take part in the new returning event. So much to earn and so much to do with so much enjoyment, and please do remember that you only have one week to enjoy these all. So it is not wise to be late and take your best android emulator: LDPlayer 9, for better gameplay achieved and take a taste of the new event today.