With the last days of the year coming to an end and the new year fast approaching, players of Fate/Grand Order can expect great and exciting things to wait for them this 2023 new year thanks to the newly announced Fate Grand Order new year Celebration Campaign with brand new gameplay quality of life update, events and campaigns featuring the long-awaited GSSR and the release one of the most anticipated 5* servant in the history of Fate Grand Order - the 5* Saber Muramasa.
In this guide, we will go over the details of the events and campaigns leading up to and celebrating new year 2023 in Fate Grand Order and advise players on which GSSR banners they should roll on should they spend their money this new year. In addition, we will also debate on whether or not players should roll for the famous blacksmith - the 5* Saber Muramasa.
---
Contents: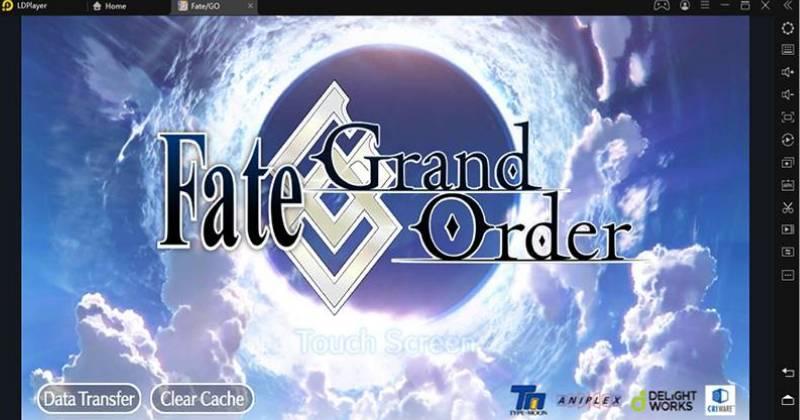 Let's play Fate/Grand Order on PC and find out together !
---
Fate/Grand Order New Year Celebration Event
With the new year fast approaching and one of the few big celebratory times during the year, Fate Grand Order is offering its players various events and celebratory campaigns to help them start the new year with the most well-wishes and luck. These campaigns include several log-in campaigns, special new year panel missions, limited-time double rewards campaigns and more.
New Year Log In Campaigns
Several rewards are available for all players for the new year's eve simply by logging into the game and participating in the festivities, these rewards include various amounts of character upgrading materials, special limited time available premium currencies and more, waiting for players to claim.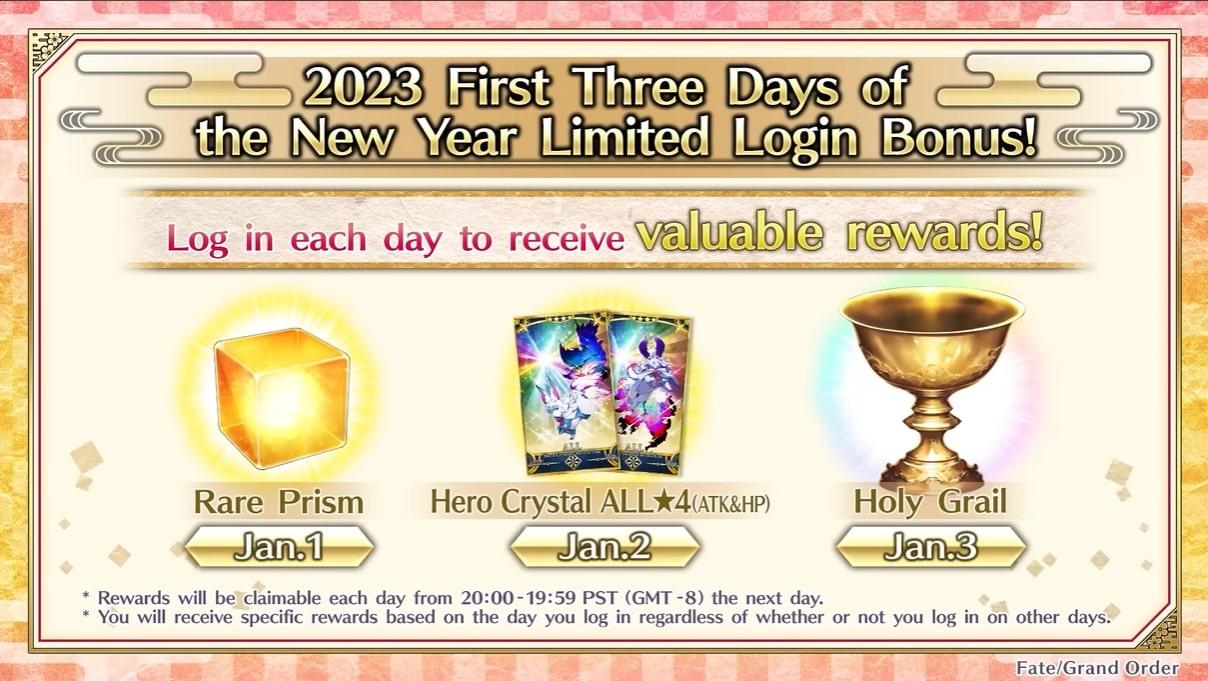 For the new year 2023, when players log into the game for the first 3 days straight, they will receive special valuable rewards such as a Rare Prism to exchange for special rewards in the shop, 2 4* Fous cards to upgrade servants' stats and a special Holy Grail on the 3rd day, the most premium currency in the game capable of further upgrading your servants to higher level than they usually are.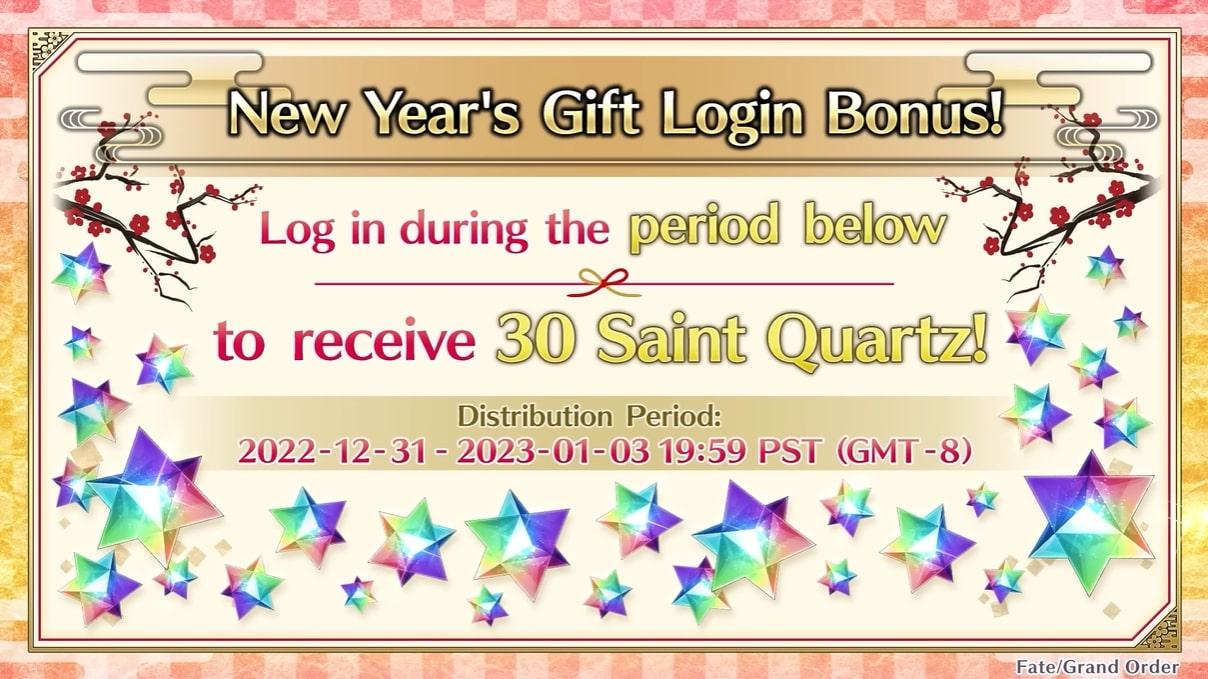 In addition, on new year's day, the 1st of January, when logging in, all players will receive 30 saint quartz as a new year gift, which can be used for 1 free multi summon or be saved to be used in other banners later on in the year. Therefore, players should remember to at least log into the game during this period to claim these special rewards made especially available for the new year occasion.
Special New Year Panel Missions
Together with the log in rewards making their returns, the special annual new year panel limited time missions are also making their grand return to offer players special rewards like Mana Prisms, Special New Year 4* CEs, Character Upgrading materials and more.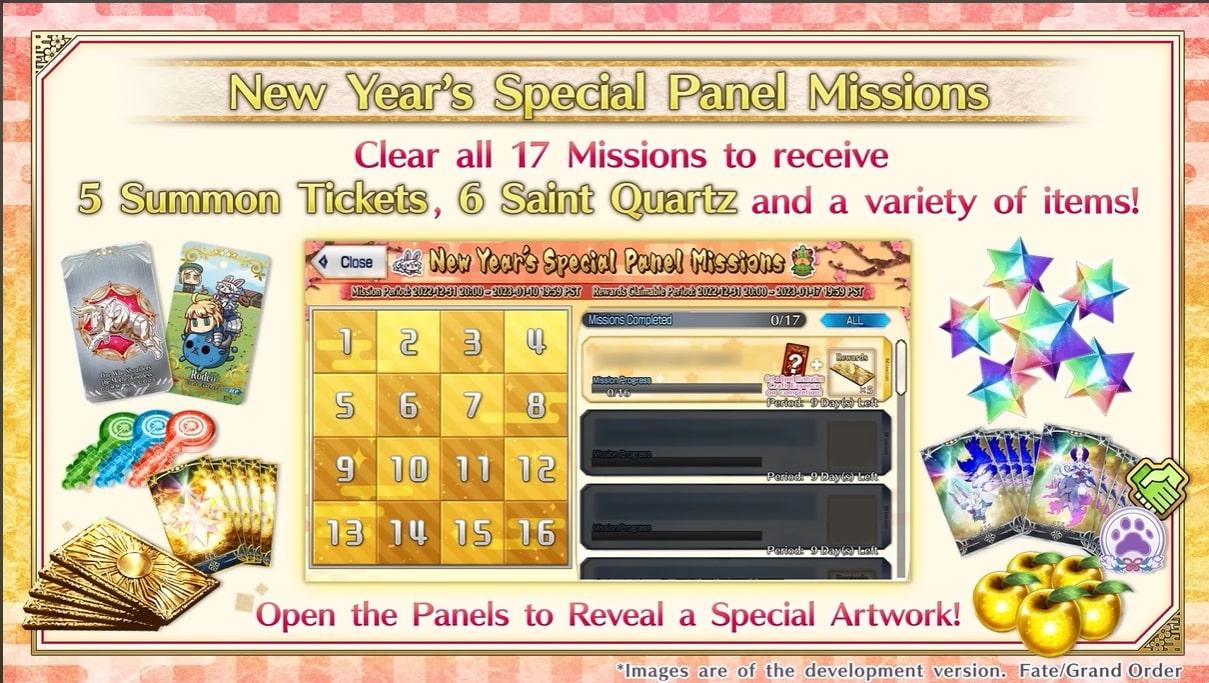 During the New year celebration campaign, players will be tasked with 16 different missions to complete, ranging from defeating a certain number of enemies to leveling up certain classes of servants. Completing the missions will reward players with special gifts, which includes 3* fous, mana prisms and even up to 6 saint quartz and 5 summoning tickets. Once they have finished all 16 missions, the full panel art will be revealed and players will be rewarded with a 4* New Year CE featuring the art.
Double Rewards Campaigns
During the New Year Celebration Event, several campaigns will be held for both returning and new players coming into Fate Grand Order to participate in the festivities, these campaigns will essentially double the rewards these players can gain.
For normal players, when doing quests and farming during the event period, they can earn double the Mana Prisms given from daily missions, from 30 Mana Prisms daily to 60 Mana Prisms, for a total of 420 Mana Prisms for 7 days.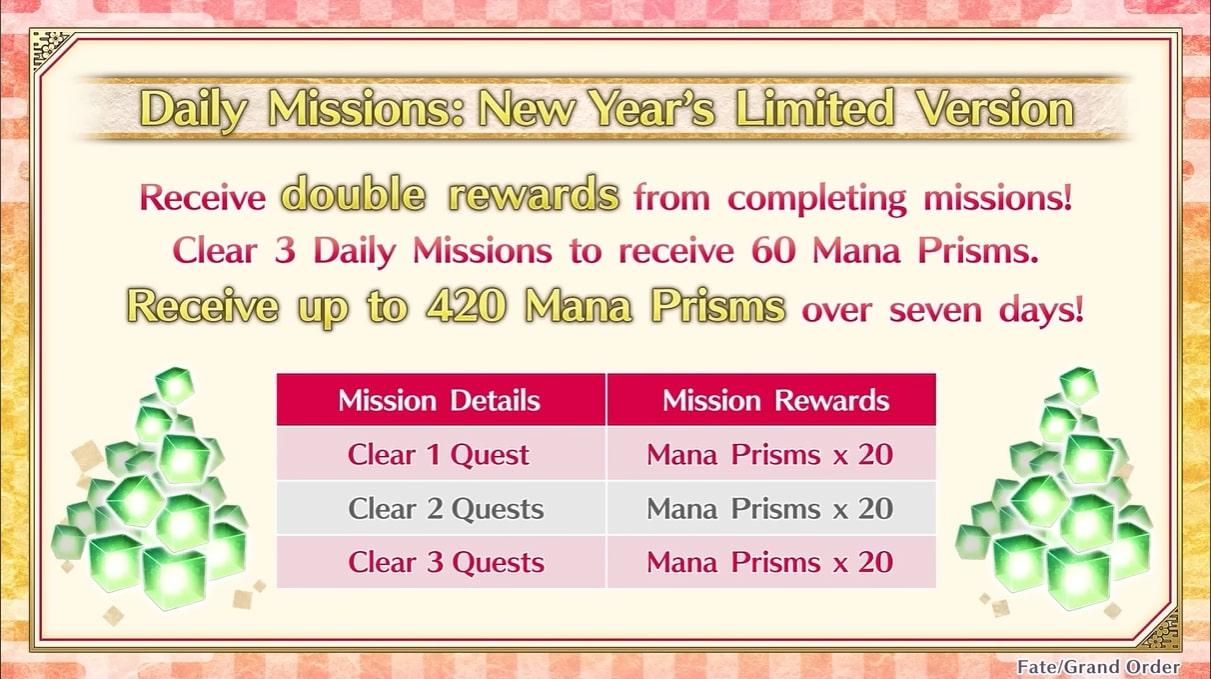 For new players and returning players, the special log in campaigns for the corresponding type of players will have their rewards essentially doubled, providing them with double the amount of pulls and servant upgrading materials, making it the perfect time for new players to join and for old players to come back.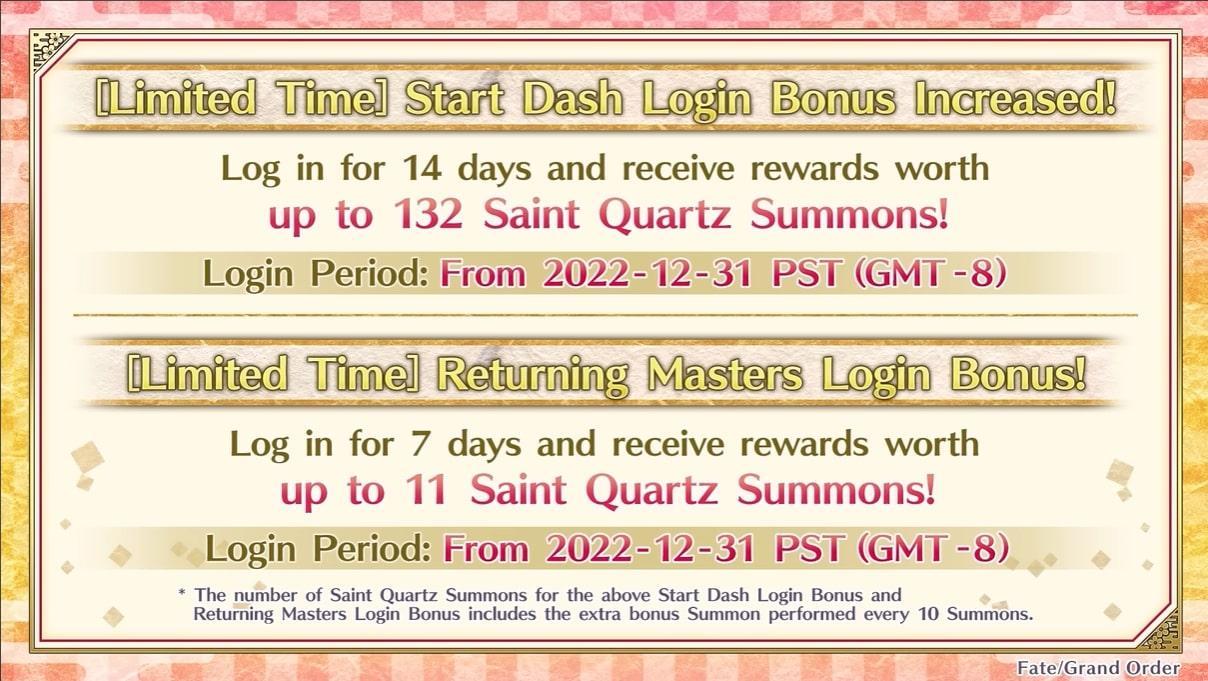 Special New Year GSSR Banners
For a limited time only, the special SSR Guaranteed Banners will be held for players who are willing to spend some money on the game to roll for a specific SSR servant. These special banners will feature various SSR Limited Servants and rewards players with 1 Holy Grail should they roll on these banners.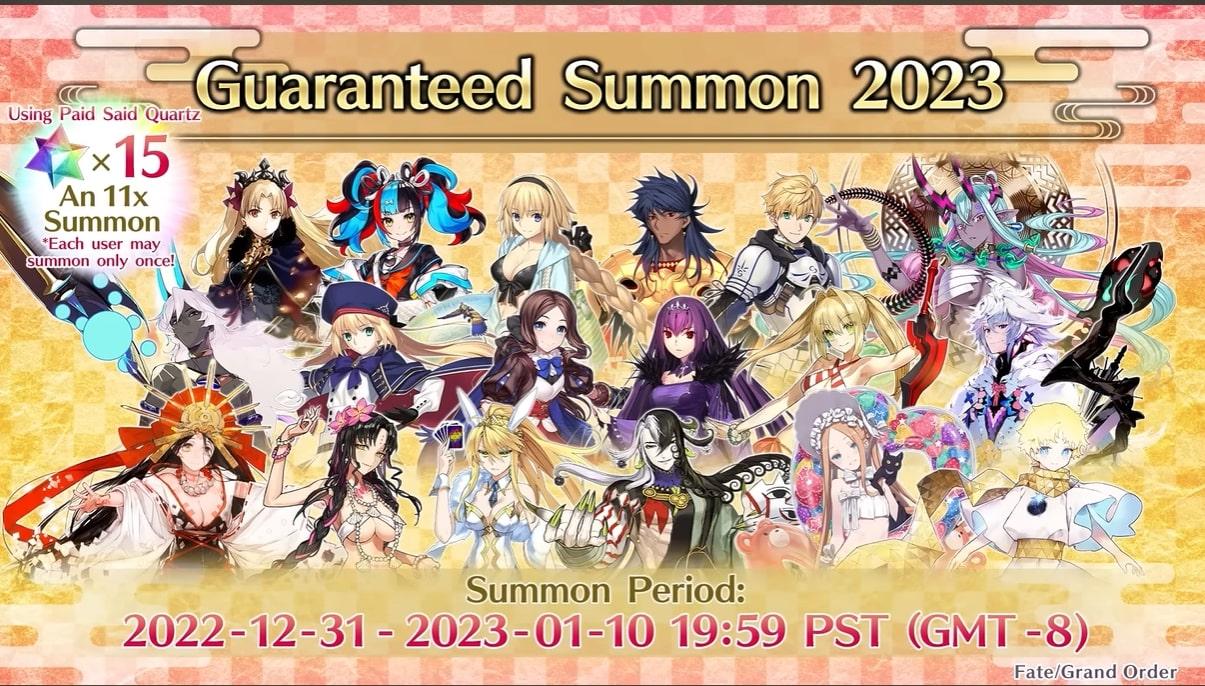 This year, the special New Year GSSR banners will be divided into 9 different banners - 6 for female SSR servants based on their classes and 3 for male SSR servants based on their classes. The GSSR Banner can only be rolled on once and players can only choose one of the 9 different banners to roll on. Each banners will cost 15 paid saint quarts (= 15 US$) and will guarantee one of the 5* servants available on the pool of servants the players choose to roll on.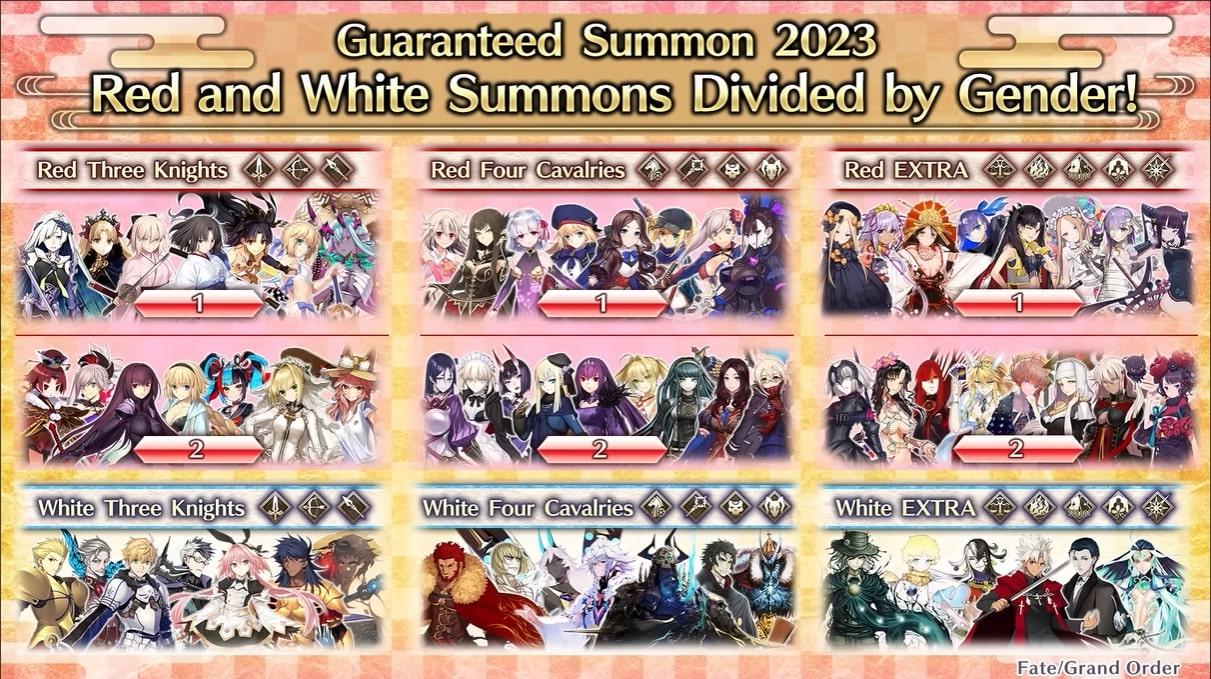 Generally speaking, there are no best banners to roll for in this GSSR as the state and size of individual players' Chaldea determine which banners they should roll on. However, the advise for rolling GSSR banners should following these principles in order:
1. Choose The Servants You Love and Absolutely Want to Have.
2. Choose The Servants That Will Benefit Your Chaldea and Gameplay.
3. Choose The Servants That You Don't Have.
Follow the principles to choose the best possible servants pool and GSSR banner you would like to roll on.
---
Special New Year Rate Up Banner - Should You Roll
Together with the new year comes Fate/Grand Order annual New Year servants. This year, the game will feature a banner that have one of the most anticipated servants in the history of Fate/Grand Order's history, the 5* Saber Muramasa.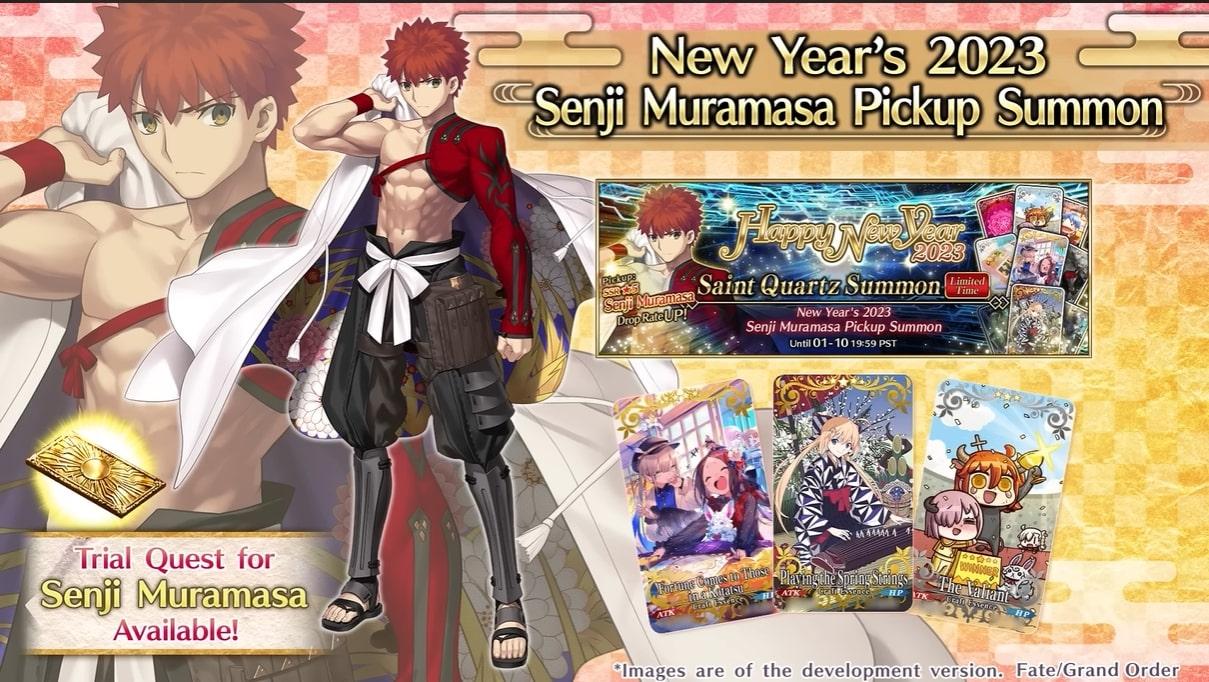 Muramasa
Muramasa first made his debut 2 years ago in the Epic of Remnant chapter of Shimousa and has since been one of the game's most anticipated servants to be released. His popularity and fame resulted in his release being a massive thing and his kit is fit for such a grand occasion.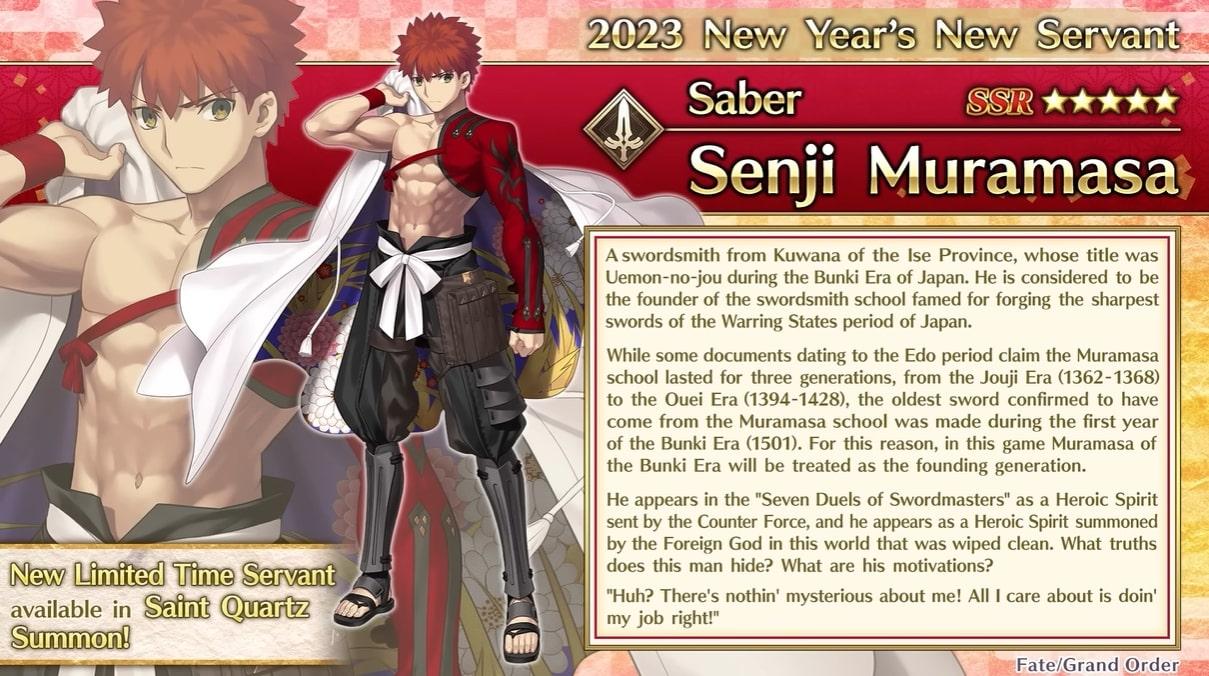 Muramasa is a 5* Arts-based Saber that excels exclusively at dealing massive amounts of offensive attacks and killing the enemies as soon as possible. His kit and Noble Phantasm consists of every single offensive buff in the game aside from normal attack up buff, making him extremely powerful when it comes to dealing damage, both in clearing mobs and killing bosses.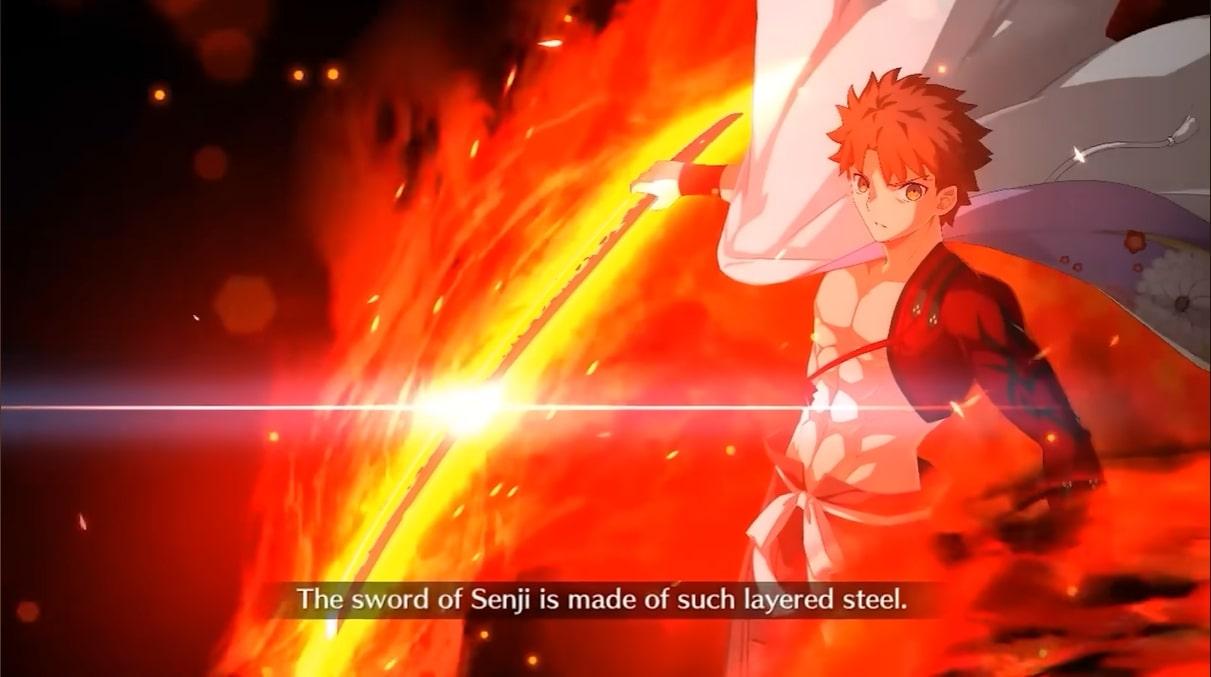 Muramasa's kit revolves around 2 different uses, 1 is pairing him with Caster Artoria in order to clear 3 turn waves of enemies with ease and help players farm many stages as long as the enemies aren't of the Archer class. His 2nd use is to kill bosses and enemies that rely on Invincibility by dealing massive amounts of Critical damage with his face cards. Muramasa's skills allow him to shred the enemy's defense and pierce their invincibility, dealing 100% more critical damage to enemies with invincibility in the process.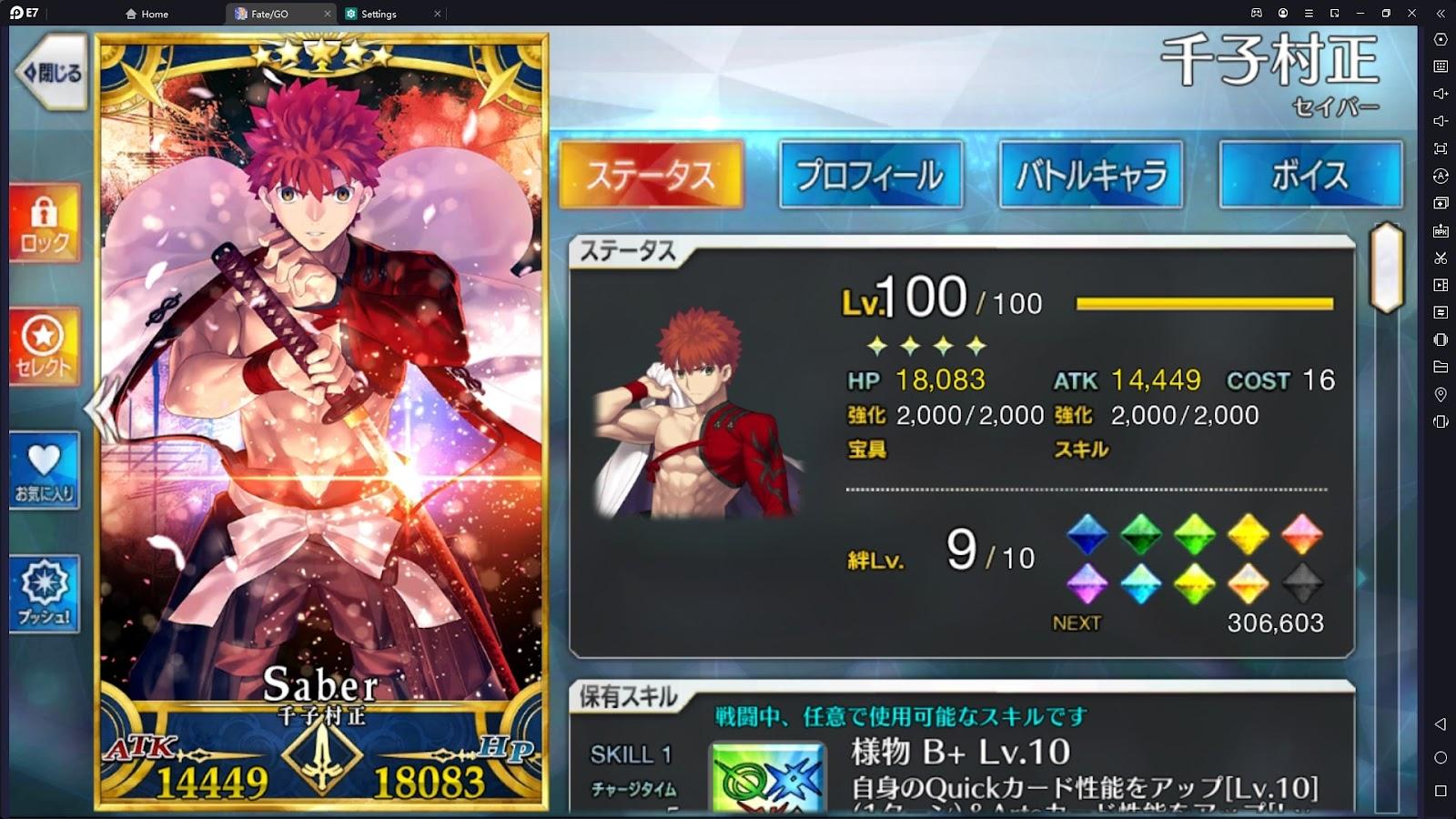 Should You Roll
Absolutely Yes. Muramasa is one of the game's most powerful DPS characters in terms of both farming and boss killing. Having him in your roster not only helps to improve your overall DPS output, he also helps you with many difficult fights overall in the game, making him an extremely valuable servant to have for upcoming future contents.
---
LDPlayer - The Perfect Starting Engine For Fate/Grand Order
As Fate/Grand Order is about to launch one of its most important servants and celebrate the new year with many rewards, now is the perfect time for old and new players alike to play Fate/Grand Order. And what better way to play Fate/Grand Order than on PC using LDPlayer's amazing emulators.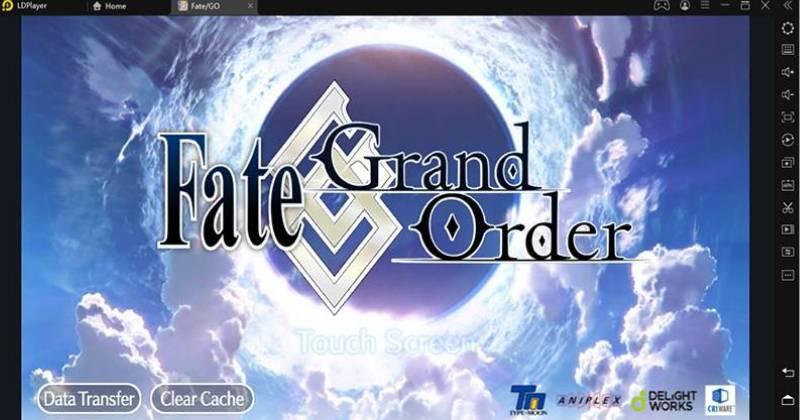 With the ability to play the game on 120 FPS and high Graphics settings, coupled with the ability play multiple accounts at once using the Multi-Instances function and the Key Binding Function, LDPlayer is the best choice for an emulator to start playing Fate/Grand Order on PC for all players, old and new alike.