Hello! Today we are here with Tower of God: Great Journey beginner guide for the game that was inspired by the webtoon anime Tower of God. This two-dimensional role-playing game follows the adventures of Twenty-Fifth Baam, the show's protagonist. Though it draws heavily from the events of the anime adaptation of Tower of God, the game also provides its own unique take on the tale. So what you now want is to have a perfect beginner guide as it helps you to go through the gameplay with the best knowledge.
Table of Contents
Download Tower of God: Great Journey on PC
The combat system relies on using talents through a card system, which players use to control their heroes' attacks manually. Even though this is the norm of most games like this, its card will be changed once used, and you have to mix it with other heroes' abilities to get optimum results. The outcome is visually stunning and provides a thrilling gaming experience.
For the greatest experience, play Tower of God: Great Journey on PC with LDPlayer. Okay, let's take a look at the Tower of God: Great Journey beginner guide.
Game Modes
We have several game modes available in this Tower of God: Great Journey game and let us define one by one as follows.
Rice Cooker
As a Tower of God: Great Journey beginner, you will first encounter the place called Rice cooker (meaning may have been lost in translation); this is where you will be farming your idle reward, and you can use this to strengthen your characters further. The Rice cooker has two modes: boss mode, where you will fight elite enemies and clear the floor. When you clear one, you will be automatically sent to the next level, and as you go through the floors, the enemy levels also will be increased.
If a beginner is not strong enough to clear the next level of the rice cooker, they can turn off the Boss auto challenge mode; this will stop them from advancing into the next level and start farming the enemies in the current level. You can use the team summon option to go back to the start of the level if the current stage is also too much to handle for your team.
This will roll back the rice cooker stage to the saved point. Once you have leveled up and upgraded your heroes, you can turn on the Boss auto challenge and start progressing in the rice cooker stages normally. You can acquire the Idle reward from the box in the middle of the top screen, but remember that if you disable the Boss auto challenge option, you will only earn goodies and items, not experience.
Story Mode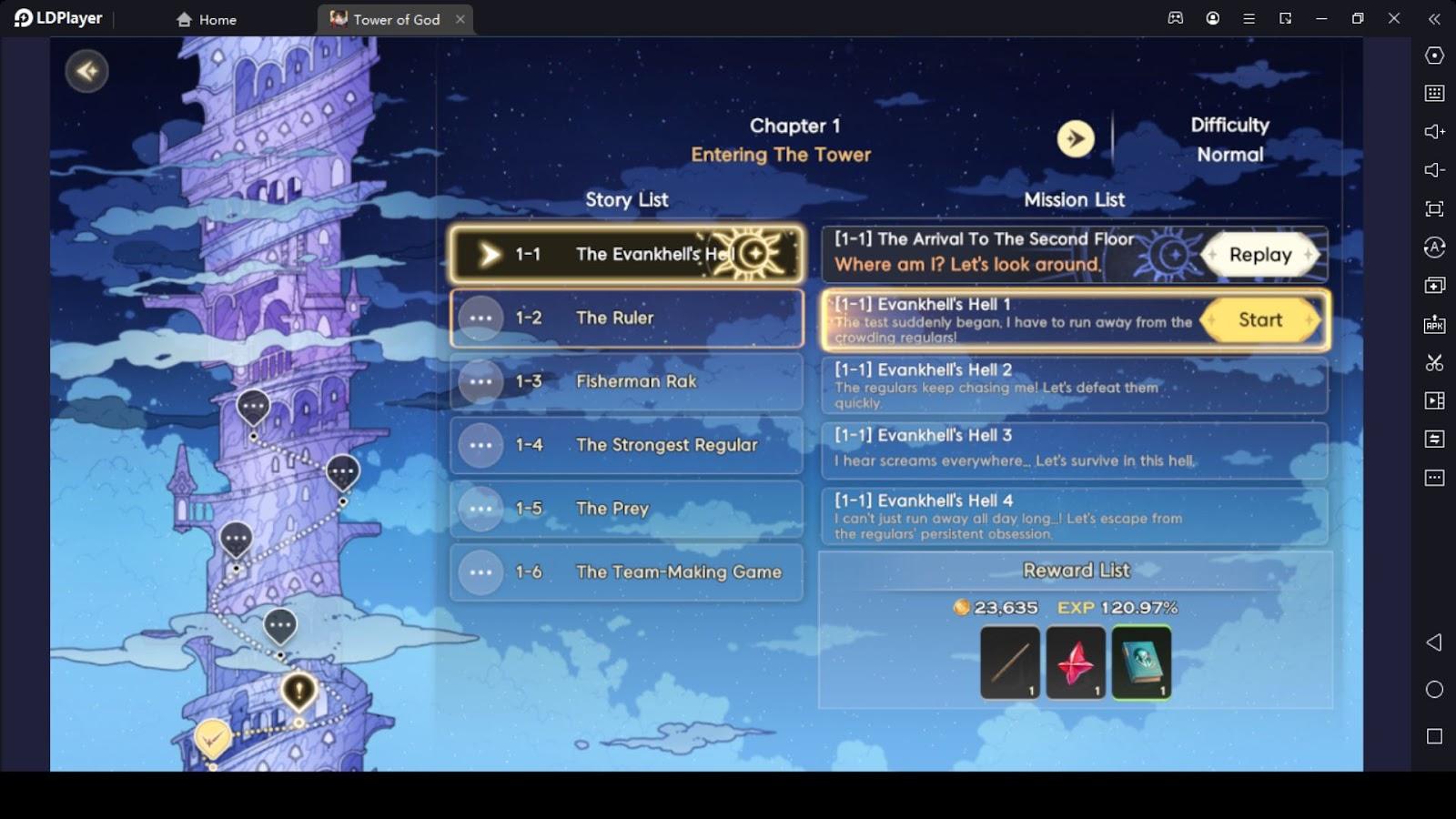 This is where a Tower of God: Great Journey global player can enjoy the plot of the game. Here you don't have to do anything other than enjoy the story. All you have to do is turn on the auto-battle and click on the mission tab, and the game takes care of the rest; once you hit a hard spot, move to the rice cooker and grind till you are strong enough. Completing each level in the campaign will award you summoning stones, upgrade materials, items, etc.
Challenge Mode
Challenge mode has several sub-challenge modes. As a Tower of God: Great Journey beginner, you have to progress through the game to unlock them. The tower of trials is where you will be fighting bosses to obtain the material needed to increase the bond with your characters. You will also be awarded gears, gold, and material required for upgrades.
Each boss has different skills, and the next one will be harder than the previous one. But You need to clear a few levels of story mode before doing it.
Character Affection System
The Tower of God: Great Journey character affection system allows you to build a bond with the heroes you earn through the gatch system. Increasing affection with them allows you access to many new skills and increases the characters' power. Also, there is a mechanic called bond skills; once you use your characters long enough in battles, you can equip them, and it will start using them in battles. To use these skills, you don't have to include them in your squared; just having the bond is enough.
Starter Weapons
There are new mechanics in the Tower of God: Great Journey that makes every player be aware of. Here each character has a dedicated starting weapon. We have one of the best Tower of God: Great Journey tips that we can offer you here. Equipping a dedicated starting weapon allows you to use each character's unique skills. You can get powerful starting weapons through banners. You can upgrade them using starter weapon enhancement stones. You can obtain them from the main story and tower of trials.
Tower of God: Great Journey Gears
Other than starter weapons, you will acquire many other pieces of equipment like gloves, boots, armours, etc., through the story and idle system. You have to equip and upgrade your gear as well as all of the characters in your squad. You can level up these gears using lesser armor enhancement stone and gold. To raise the star level, you need normal armor transcendence stones. It will increase the effectiveness of the equipment. You can get the transcendence material by defeating the tower of challenge bosses or buying them through the shop in the Tower of God: Great Journey. You can also use your older equipment to upgrade your gear.
Gears are the items that your characters are equipped with, and these are going to be a high influencing factor to have the best Tower of God: Great Journey gameplay. Those can literally make you powered up with your characters. All of your characters are allowed to be stronger here by having five parts from the gears.
By going into the inventory in Tower of God: Great Journey, you are allowed to see all the gears that you have right now, and there will be the options to see the transcend levels and upgrades of those too. If you are specifically into one type of Gear, it can be locked as per your need, and all the gear comes in four grades: Plan, Worn, Fine, Useful, Fansy and as well Shiny. These grades are not allowed to be upgraded by a player at all.
As a player, you can also equip your gears for five parts on your characters: Armor, Weapon, Gloves, Helmet and for Boots. Gears are literally something that all these characters can equip, and a similar gear can be equipped for different characters on Tower of God: Great Journey at the same time. You can compare their stats with the Gear comparison option to find the best and most powerful gears. By going through the story, beating the monsters, crafting and completing the missions, you will be able to earn more gears.
Economy
TheTower of God: Great Journey has a few kinds of currencies acquired through spending real money or doing objectives, and they all have different shop sections you can use; let's see what they are and how you can spend them.
Diamond: these are the premium currency in the game; you can only get them through achievement or by buying them with real-world money. You can spend them on purchasing upgrading materials, banner tokens, Market coins, or anything you wish is yours if you have them.

Market Coins: using them, you can buy summoning stones, gold, and keys to enter the tower of trials. They will be rewarded when you fight the bosses in your guild's king's command challenge, or you have to buy them with diamonds.

Summoning Token: Each banner has a few different tokens that you can buy with market coins and diamonds. You can also get a lot of tokens by completing game orientation quests or story levels, which will give you a lot of tokens.

Gold: You need gold to improve your hero's skills, armor, and spells. This is the most common currency, and you can use it once a day to buy tower keys or a few summon stones. You can get them for completing any mission or as the Idle reward.
Tower of God: Great Journey – Team Building
As a beginner, it is essential for a player to know how they are going to make the team in Tower of God: Great Journey and let's get to know about it first,
You can use a section to add or replace your characters, and it is called the Edit Team. Doing so allows you to organize a perfect team to make it a great output for the gameplay, and based on the situation of your battles, you will be able to replace your characters here.
You can access the organizing of your team through the Edit Team option, which is available from the game's main screen. By visiting here, you will be able to see how much power your team holds, and if this doesn't suit you, you are allowed to change the characters to choose a more powerful one from the Tower of God: Great Journey tier list,
A team can be made automatically here, and you are even allowed to choose the Fate Skill too. If you decide to change the Fate Skill, then remember that the game makes you resume the training from where it was the save point. Even if you have exited this section, what you have changed will be there saved automatically.
If you are looking for some specific teams for specified content, please note that there is no such team to choose from in Tower of God: Great Journey. So you have the whole freedom to create a team as you want for each and every content and make sure to be more strategic as it is the best way to become stronger for each and every content you face.
Regarding the Fate Skill, it can be placed the way you want, but remember that these skills will be sued based on the order from the lowest slot.
What is God's Inventory in Tower of God: Great Journey?
This is the next thing that you have to know when you start playing Tower of God: Great Journey global as a beginner. If you need to have more collection effects and add Gear, know that this is where you need to pay attention. By going into God's inventory, you will be able to have all the gears you want for the collection and go through the hunting; you will be able to earn them and craft them all.
God's Inventory is available on your main screen, and you will be required to clear the Guide mission here to open it. This means you will have to craft one of your items five times in order to open your God's Inventory. But please note that you have registered some gears; those cannot be equipped here twice.
Collecting God's Inventory is not that hard in Tower of God: Great Journey because it only requires you to have a simple thing to register on it. It means that you need to have the same Transcend level holding Gear, which is similar to the collection item. If you fulfill both of these conditions, you will be able to register to this inventory and then have the collection effect activated.
You may have a high transcend level gear with you, but it doesn't make you allowed to register into a Transcend Gear of a lower level. Keep that in your mind as a Tower of God: Great Journey beginner.
God's Inventory – Menus
There are different types of menus available in the God's Inventory; if you want, you can apply different filters to them too. It even allows you to display the items you have already collected and the items you didn't manage to complete. Your items can be shown here based on the gear Grade, and you are even allowed to display them depending on the collection effect too.
Basically, we get four menus for the God's Inventory, and they all come up with different types of level effects as well. Those can be listed as follows.
Kranos Menu is for ATK speed, and DMG resist level effects

Pocket Menu is for ATK speed and DMG boost level effects

Wing Tree Menu is for ATK speed, and Crit DMG resist level effects

Thorn Menu is for ATK speed and Crit DMG boost level effects
You can increase faction progress by adding several gears here, and if you do it, you can also increase the inventory level of the faction too. If you manage to increase the inventory level, you will have different effects taken for each and every faction.
The Best Gameplay Experience through LDPlayer 9
Let us recommend the perfect way to have the best gameplay as a Tower of God: The Great Journey beginner. The visual aesthetic of the game is stunning. Playing it on a larger screen is recommended, and LDPlayer 9 makes that possible. And it's loaded with features that improve your gaming experience. The best tool you can use to simplify your gameplay is the Operation Record. Through this, you can fully automate the game; For example, if you don't feel like playing the story but want to enjoy the story, you can create an operation record to do it for you.
You simply need to play the story mode for a few minutes while the operation record is running before upgrading your hero's equipment and abilities.

Repeat the story for one minute after upgrading your heroes, then stop the recording.

Go to the configuration page and select "run until manually stopped" before saving.

When you run the created record, the game will begin to play itself, leveling up your characters and allowing you to sit back and enjoy the story.
Not just that, there are many useful tools like the Keyboard Mapping tool that allow you to control the game with your keyboard and mouse; you can even play many other games while you play Tower of God: Great Journey with the help of Multi-instance Manager. Give it a try right now to see how much better your gameplay can be.
Conclusion
These are the basics you should know as a Tower of God: Great Journey beginner; we will update this guide when the game comes out globally since many things may be changed on the global release, but this guide will help you to play the game comfortably as soon as it comes out. So it is time to end this Tower of God: Great Journey beginner guide; thanks for reading.