Hero Cantare with WEBTOON is a game developed based on popular webcomics. These three named webcomics have their heroes, and their purpose is to bring peace into the new world, Tetra. This game is a turn-based RPG game, and it has several characters include with it. These characters are taken from several webtoons as The God of High School, Hardcore leveling Warrior, Tower of God, and the Noblesse.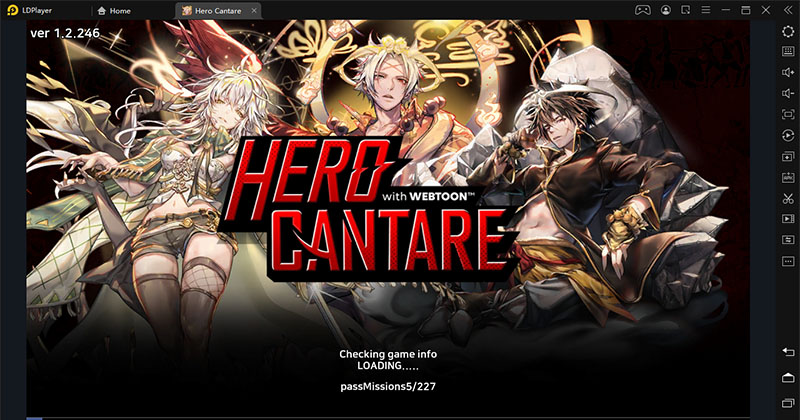 So what is this Reroll and the Tier List? Here we are going to talk about the basics of the Hero Cantare Rerolling guide, and its Tier list of 2020. So download Hero Cantare with WEBTOON on PC and enjoy the details we take you through this article.
What is the Tier list of Hero Cantare?
As we said earlier, Hero Cantare is an RPG game based on several WEBTOON characters. These characters are collected in the webtoons named God of High School, Hardcore Leveling Warrior, Tower of God, and the Noblesse. In every webtoon, it consists of 4 tiers of heroes as S, A, B, and C. their skills are prior to tier S and Tier S heroes are the best. Next to powerful heroes are in tier A and Tier B are average. The weakest ones compared to tier S, A and B come in tier C.
If you are doing the rerolling process, you should know what you are looking for in a summoning. A Korean website takes Hero Cantare's tier list. Let us take an idea of each of the webtoon characters for the tier list.
The God of High School Heroes
The God of High School Heroes is known as a Korean webtoon. Yongje Park officially writes it, and he illustrates these characters. This Korean webtoon is telecast in Naver's webtoon platform called Naver Webtoon from the date 2011.04.08. since 2014 Line webtoon gave the English translations to the God of High School Heroes.
The main character of this webtoon is a 17-year-old martial artist. He is from Seoul, South Korea, and named Mo-Ri. At the beginning of the story, Mo-Ri is invited to a Martial Arts Tournament. The Mo-Ri, who is the lead character, goes through the whole tournament and identifies so many competitors. Those competitors have a unique way of fighting. Not only the martial arts skills, but they are also using the power called "Borrowed Power" (Charyeok) for their fight.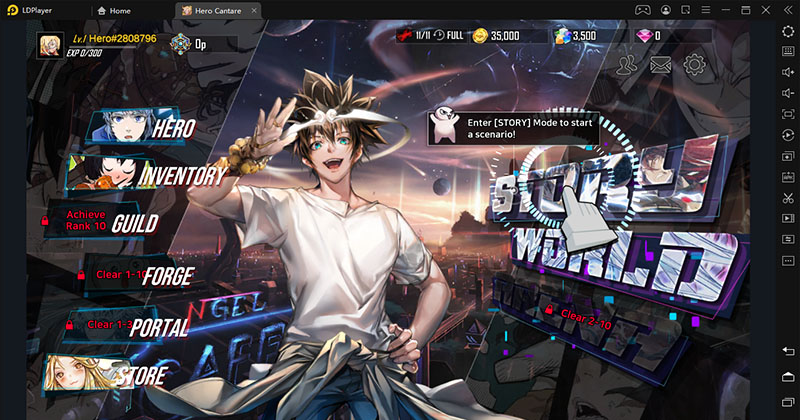 This Borrowed Power is a mystical power gain by supernatural things like Gods, demons, and Mythical creatures. In the opening rounds, Mo-Ri comes with two other prodigies of martial arts as Han Dae Wi and Yu Mi Ra. They are full contact experts for karate and an epeeist masters, respectively. If you are lack S tier characters, you can use Han Dae Wi as a good tanker, and as a good dealer, you can use Yu Mi Ra. Mo-Ri's awakened form has the highest stat in the game, and he is then known as Jecheondaesong.
Hardcore Leveling Warrior Heroes
Hardcore Leveling Warrior or HCLW is a webtoon series by Kim Sehoon. It is South Korean and is a set of the world of Lucid Adventure, which is known to a place that can only access my dreams. HCLW is the best-ranked player in Lucid Adventure. He is the only person who has a Golden Armor and max stats. He is well known for stealing the quests, blocking the users from completing quests, and stealing the M.O.B.s, which are already finished.
In an S.S. class Quest, he is getting beaten by an assassin who is very mysterious. Then his Golden Armor and the other items are stolen before he finishes level 01. So he should go on a long journey to take all stats, power, and the money he owes for loan sharks.
Tower of God Heroes
Tower of God heroes is a South Korean webtoon by S.I.U. Which serial in Naver webtoon from 30th June 2010. It has an official English translation in 2014 by the webtoon LINE. Here there is a young man called Twenty-Fifth Baam, and he has no experience in society.
But he has the presence for Rachel. Rachel is the one and only girl care who cares about the Twenty-Fifth Baam. When this girl Rachel wants to go to the top of the Tower, she ends up associating with Baam to follow her tracks, and she becomes the main enemy there.
Noblesse Heroes
Noblesse is a webtoon in South Korea by Son jeho and Lee Kwangsu, which is published on 30th December 2007. This webtoon is taken for south Korean animation in 2015 and an anime television by I.G. productions. Noblesse is the most potent member of the Noble race. Noble society has two pillars as lord and power. Lord is for the authority, and the Noblesse is for the control. While the lord rules the nation, Noblesse is acted as a hidden power, protector, judge, and executioner for the Nobles.
Tier Heroes in each WEBTOON
Tower of God Heroes
Black March Bam – tier S

Mascheny – tier S

White – tier S

Urek Mazino – tier S

Green April Ha Yuri – tier S

Bam – tier A

D Jahard – tier A

D Edan – tier A

D Mascheny – tier C

White Albelda – tier C

Rak – tier C
God of High school Heroes
Holy War Yu Mira – tier S

Monkey King – tier S

Okhwang Daewhl

– tier S

Witch Yu Mira

– tier S

Haetae – tier A

Lee Sujin – tier A

Han Daewhl – tier A

Jin Morl – tier A

Yu Mira – tier A

Park Ilpyo – tier B

The King – tier B

Jaekal Taek – tier B

King Uma – tier C

Sang Majin – tier C
Hardcore Leveling Heroes
Master Pooh Upooh – tier S

No Name – Role: Support – tier S

Max Level Warrior – tier S

Armes – – tier S

Dark – tier A

Light – tier A

Heart Heater – tier A

Zero – tier A

Lime – tier B

Sora – tier B

Choco Bibl – tier B

Pooh Upooh – tier C

HCL Warrior – tier C
Best Heroes in Hero Cantare with WEBTOON
The best characters of the Hero Cantare come in different aspects. Some of them are good at PVP and some are excellent for the advent boss. So let's see who are the heroes come with these different sections as the best hero.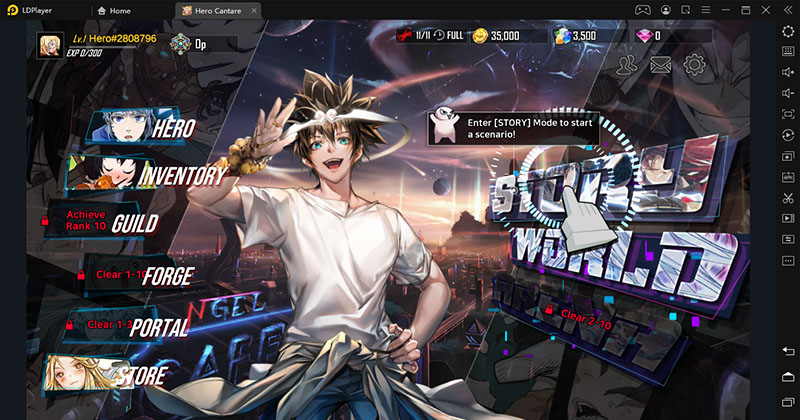 Best heroes for the PVP
Night Queen

Rachel

Jue Viole Grace

Prince King Uma

Raskreia

Ghost Bride Hwaryun

God Killer Zero

Oure Green Arin

King Dark
Best Phoenix Advent Boss Heroes
Ghost Brid Hwaryun

Pure Green Arin

Kaiser

No name

God Killer Zoo

Queen No name

King Dark

Yeon's Flame Khun

Mame Shiba Daisy

Sweet Dream Charlotte
Best Salamander Advent Boss Heroes
Mame Shiba Daisy

God Killer Zero

Kaiser

White Albelda

Baylord Yama

King Dark

Yeon's Flame Khun

Sweet Dream Charlotte

Queen No name
Best Kuvara advent Boss Heroes
Yeon's Flame Khun

Sweet Dream Charlotte

Kaiser

Black March Bam

God Killer Zero

Jinsung HA

White Albelda

King Dark

Queen No name

Mame Shiba Daisy

Pure Green Arin

Baylord Yama
How to reroll the best heroes on Hero Cantare WEBTOON?
Rerolling can be named as a process where you can gain the best characters in the very beginning. It is a method for making a good start in any gacha game. By doing the rerolling in Hero cantare, you will be able to obtain strong S.S. characters at the beginning of the game, and it will be a massive start for your game. This method allows you to play well in campaign mode and play hard against other players through the arena.
Start to play the tutorial of the game and play its story mode. You need to make this play up until it's 1 to 3. The tutorial is usually taking you into the first free summons.
You need to collect the essence of dimension and it will be on the mailbox. Then you need to summon the black march bam banner
You need to get at least a SS hero for the gameplay and if not you can reset the rerolling process.
A reset can be done by the account settings on the settings and go to the reset data option. Reset your all data and now you can repeat all the processes again until you take the hero you want. After completing the stage 1- 5, players are getting a roll chance of unlimited.
Once you use your first initial summoning and are not satisfied with it, you can restart your data and start over again. Simply go to settings and there you will see a gear icon on the right top. Click on it to view the Account settings. If you want to start overall, you have to do is reset the data on here. Then it will delete your progressing data, and it will lead you to start over your game.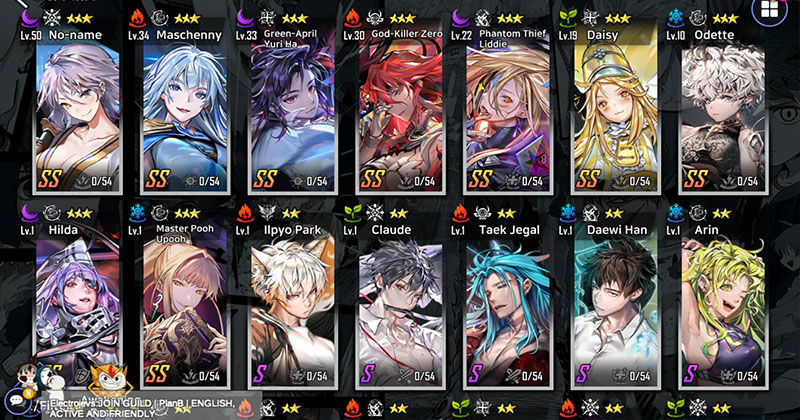 Usually, the rerolling process may take up to 5 minutes. But these five minutes are only happening if you skip the cut scenes. The overall rerolling process may take up to 30 minutes. If you take the chance to summon a strong character, you can progress your team from it by leading to clear stage 1-5. After you clear up the 1-5 stage, you will have the ability to make a selective summon so you can choose another compelling character for your strength.
Usually, most of the players are trying to take an S.S. tier hero by summoning. If you are satisfied with your first summon Hero, you can look into stages 1-5. When you beat this, you will ask to take the selective summon. (Selective cube summon). A selective summon will give you one S.S. hero in ten times rolls. And after that up to three of S heroes.
After that, you will have the chance to reroll until you are happy with what you are taking. Think that you get two S.S. tier heroes and three S tier heroes. We can name it as the best start. Because this result will take you to the beat-up for early stages and earn more materials to upgrade the levels of your heroes.
Hero Cantare WEBTOON Fast Reroll with LDPlayer
Usually, a reroll from the Hero cantare will take 30 minutes for summoning one hero and that is a lot of time. So if you didn't get the desired hero from the first pull, you will have to spend a lot of time to take a better hero. It is a time-wasting matter. So there is a solution by LDPlayer for this matter and it is called Multi-Instance Sync.
Multi-Instance Sync Feature will make your rerolling process much easier with several copies from the main emulator and no need to wait. Now get a chance to have a set of rerolls at the same time. Follow these steps to earn your best hero with LDPlayer.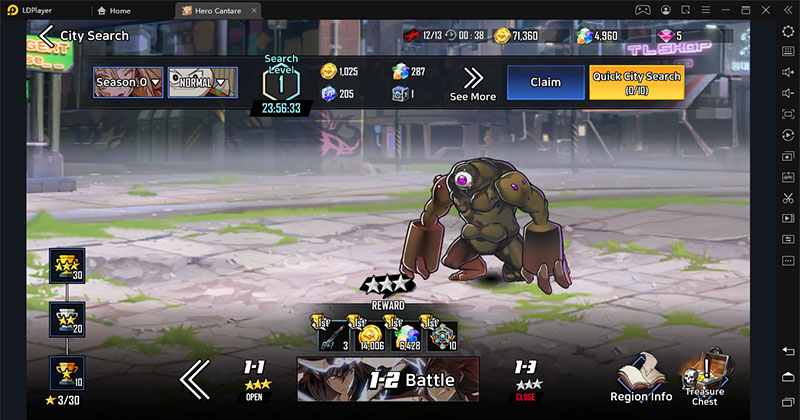 Download LDPlayer

Install it to your device and search Hero Cantare with WEBTOON on its store.

Download the game onto your PC and install it

Keep your game without opening and take the taken path for the

LDMultiplayer

. Make clones from your first emulator.

Open all of the cloned LDPlayers and click the

Synchronizer

feature to begin syncing

Synchronizing will start Hero Cantare with WEBTOON from all the emulators you have copied

Follow up on the reroll part.
Conclusion
Hero Cantare is an addicting game with a fantastic combat system and the series followed by different amazing webtoons. Those webtoons will take you into a new world and explore the Hero cantare world. Gain peace for the world of Hero cantare with these all heroes.